Global Earphones Market to Reach ~US$ 14,386 Mn by 2029
The global earphones market is projected to reach ~US$ 14,386 Mn by the end of 2029. The market was valued at ~US$ 8,917 Mn in 2019. If these figures hold true, the market will exhibit a CAGR of ~4.9% between 2019 and 2029. Regionally, North America is expected dominate the market. However during the forecast period, East Asia will exhibit more lucrative growth opportunities. In terms of product type, the market can be classified into in ear and over ear earphones.
In ear earphones will have highest CAGR during the forecast. Based on technology, earphones are categorized into wired and wireless. Wired segment holds the highest value share however wireless are expected to expand at highest CAGR during the forecast.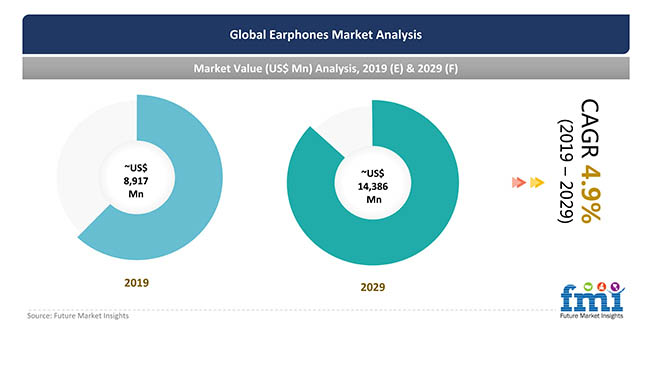 Gaming & Virtual Reality Earphones to Grow Highest
Music & entertainment earphones are considered as the highest value contributing category in application segment. Increasing smartphone numbers and growing usage of internet based apps propels the market for higher sales however at present, consumers are more included towards games or gaming application. Growing preference for games have fuelled the usage of such earphones. Moreover, manufacturers are coming with gaming earphones which also accelerated the market for higher sales. Gaming and virtual reality earphones are projected to grow at highest CAGR during the forecast.
How will Growth Unfold?
Earphones market is primarily dominated by North America market owing to high number of smartphone users in the region. Moreover, lower prices, intense competition and easy availability of earphones have fuelled the usage in the region. Increasing adoption of consumer electronic products and wearables, presence of prominent manufacturers of earphones, economic growth, and increasing population with high disposable income are fuelling the market growth of earphones.
Europe holds a significant market share in the global earphones market. East Asia is expected to expand at higher CAGR during the forecast as compared to the other regions owing to large population, growing usage of smartphone & internet related services, and presence of Chinese and Japanese manufacturers.
Market segmentation
The global earphones market is segmented in detail to cover every aspect of the market and present complete market intelligence to readers.
Product Type
Technology
Application
Music & entertainment
Sports & fitness
Gaming & virtual reality
Price Range
Low
Mid-range
Premium Range
Sales Channel
Wholesaler/ Distributor
Hypermarket/ Supermarket
Specialty Stores
Exclusive Stores
Online Stores
Others
Region
North America
Latin America
Europe
East Asia
South Asia
Oceania
Middle East & Africa
Need specific information?