Earphone and Headphone Market By Product Type (Ear buds, In-ear, On-ear, Over-ear), Technology (Wireless, Wired), Headset Type (ANC, Non-ANC), Application (Personal Use, Professional, Sports, Gaming), Distribution Channel (Distributor & Value Added Resellers, Retail Stores), Price Range (Low Price, Medium Price, Premium Price) & Region - Forecast to 2018 - 2028
Earphone and Headphone Market - Analysis, Outlook, Growth, Trends, Forecasts
June 2019

REP-GB-270

281 pages
Earphone and Headphone Market – Key Research Findings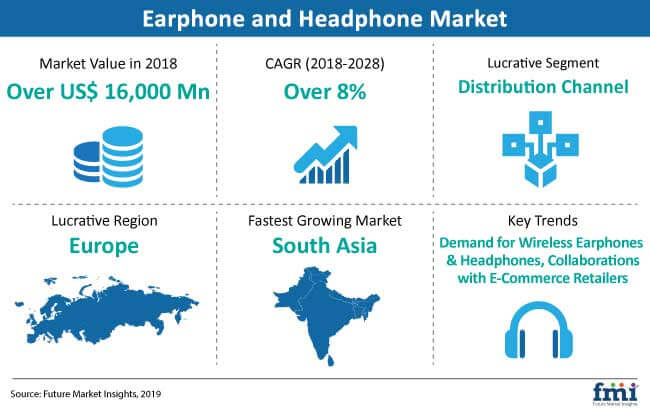 The global earphone and headphone market was valued at approximately US$ 16,388 Mn in 2018
The earphone and headphone market is projected to expand at a CAGR of approximately 8% during the forecast period (2018-2028)
The continuous launches of advanced earphones and headphones, which includes waterproof earphones, are among factors that are expected to support the growth of the global earphone and headphone market during the forecast period
Europe is a prominent regional market for earphones and headphones as of 2018

Growing trend of mobile shopping, e-banking, and Bring Your Own Device (BYOD) is also driving the demand for smartphones and tablets across the globe, which is, in turn, boosting the growth of the earphone and headphone market in North America.

South Asia holds a high growth potential for the earphone and headphone market

South Asian countries, such as India and Thailand, are witnessing an increase in the penetration of the internet and the adoption of smartphones and mobile phones. The increasing GDP and per capita income of the respective countries is expected to boost the music market as a whole, thereby pushing the prospects of earphone and headphone sales.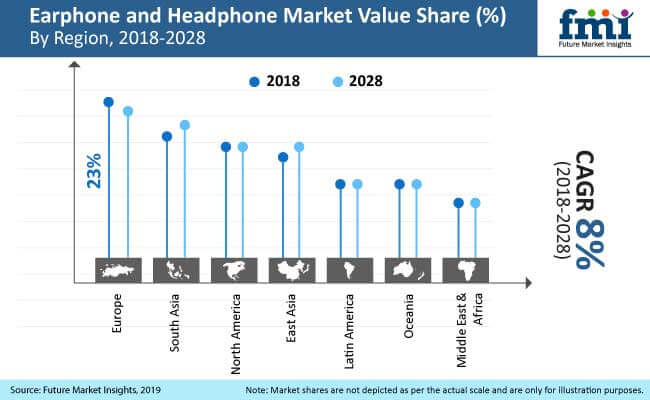 Top Factors Shaping Earphone and Headphone Market
Increasing Mobile Phone and Smartphone Penetration

Since the past few years, there has been significant growth in the sales of smartphones and mobile phones across the world, especially in developing countries. As the usage of mobile device has increased, the demand for earphone and headphone has also increased. The adoption of mobile devices, especially smartphones and tablets, across emerging countries such as India, China, Indonesia, and Brazil is growing at a significant pace. This can be attributed to the rising popularity of online music mobile streaming and growth in internet penetration in these countries.

Stronger Distribution owing to E-Commerce Growth

To gain a competitive advantage in the earphone and headphone market, key providers largely rely on strong distribution channels, such as multi-brand distributors and retailers of headphones & earphones, to improve the availability of their products. Besides partnering with retailers, the providers of earphones and headphones are collaborating with various E-commerce giants, such as Amazon and Alibaba, owing to the expanding E-commerce market, especially in countries such as the U.S., China, Brazil, and India.

Thus, the strengthening of the distribution channel and expansion of marketing platforms for various products is also assisting the growth of the global earphone and headphone market in terms of value.
Earphone and Headphone Market Structure Analysis
Some of the top participants in the global earphone and headphone market include
Plantronics Pty Ltd.
Sennheiser Electronic GmbH & Co. KG
Sony Corporation
JVC Corporation
Harman International Industries
GN Netcom (Jabra)
Philips Electronics Ltd.
Bose Corporation
Audio-Technica Corporation
Beats (Apple Inc.)
among other earphone and headphone provides. While most of the key players are focused on maintaining a strong market presence in the North American, European, and South Asian earphone and headphone markets, the report underscores that technology assessment will be an important developmental strategy for companies.
Leading players in the global earphone and headphone market are also concentrating on entering into partnerships and collaborations with other company providers, and this will remain a strong differentiating strategy.
Earphone and Headphone – Stepping toward Integrated Streaming & Touchscreen Display
Advances in earphone and headphone have been faster than any other tech, with better batteries and voice assistants fast being integrated. Integrated streaming and touchscreen displays are touted to be the next advancement in earphone and headphone technology, syncing well with aim of brands to be distinguishable with style.
Market Set to Grow over 2X between
The pervasive trend from 'wired to wireless' earphone and headphone - integrated with Bluetooth technology - is evident, as the battery technology advances and USB-C becomes the new charging standard. Demand for advanced quality wireless earphone and headphone will only increase, as cities grow larger, commutes become longer, and podcasting networks translate into self-sustaining businesses.
Waves of Growth in Earphone and Headphone Landscape
Earphone and headphone market is buoyed by the tidal wave of growth in the developing markets, with countries such as China and India making strong headways in going wireless. Gains also remain significant from North America and Europe, where penetration of technologies has traditionally been strong – collectively these two regions account for over two-fifth market shares.
The Broader Outlook
Stakeholders in the earphone and headphone are currently inclined toward product diversification, to improve brand value and identity. The market players are directing their focus toward high potential of developing nations, which has further led them increase their presence on online channels, even as making collaborations with established regional suppliers.
How Growth will Unfold
Consumers continue to show a marked preference for distributor & value added resellers for earphone and headphone purchases. Gains from retail stores and ecommerce platforms also remain significant, with sales in latter growing at relatively faster rate.
World's Most Profilic Intelligence Engine
Get Access To The World's Largest Market Research Database.
Sign Up Now
EARPHONES AND HEADPHONES MARKET TAXONOMY
The global earphone and headphone market is segmented in detail to cover every aspect of the market and present a complete market intelligence approach to the reader.
By Product Type
Ear buds
In-ear
On-ear
Over-ear
By Technology
By Headset Type
By Application
Personal Use
Professional

Corporate Offices
Media & Entertainment

Sports
Gaming
Distribution Channel
Distributor & Value Added Resellers
Retail Stores

Multi-brand
Exclusive
E-commerce
By Price Range
Low Price
Medium Price
Premium Price
Region
North America
Latin America
Europe
South Asia
East Asia
Oceania
Middle East &Africa
Need specific information?
Our Clients