Veganism - Accelerating Innovative NPD in the Egg-free Mayo Category
The food and beverages industry has been recently revolving around a thriving trend of 'health and wellness', which remains an impactful factor triggering innovative product developments in several F&B categories. As an expanding consumer pool is embracing a vegan dietary lifestyle either for animal welfare or environmental sustainability, or simply for a health reason, the egg-free mayonnaise market is witnessing an increasing number of innovations for potential application in a variety of popular products.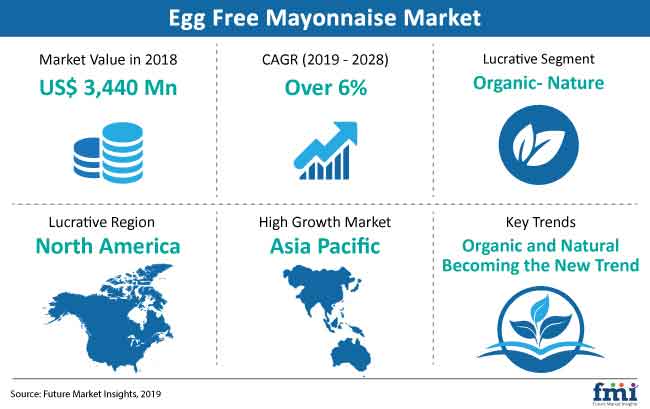 Egg-free Mayonnaise Market - Key Research Findings
The global egg-free mayonnaise market size in 2019 – nearly US$ 3,624.0 Mn.

The egg-free mayonnaise market will observe just-under 6.20% CAGR over 2019-2028.

Veganism is fuelling the global demand for egg-free mayonnaise. Vegan Life Magazine and the Vegan Society of almost a million people across Europe stated that,
In England, 542,000 individuals are becoming vegan and consuming a vegan and egg free diet. The number has increased by 300% from the previous year. 42% of individuals are from the age group of 15 to 35.
4. North America and Europe are expected to gain noteworthy market share in the future.
In North America and Europe, the adoption of veganism is growing rapidly. Multiple new companies are entering the market and offering unique flavours of egg-free mayonnaise.

Intense competition is going on in the egg-free mayonnaise market. Due to veganism, the sale of and demand for vegan and egg-free mayonnaise is growing.
5. Asia Pacific holds high growth potential for the egg-free mayonnaise market.
The increasing awareness about healthy lifestyle and nutritional food is increasing in Asia-Pacific. Individuals are concentrating on exercising and trying to avoid oily food in order to prevent cholesterol problems, diabetes, blood pressure, etc.

Consumers are preferring fat free, gluten free and egg free products. The improvements in financial conditions in developing countries, especially in Asia Pacific help boost the egg-free mayonnaise market.
6. Olive oil is widely used in vegan & egg-free mayonnaise.
Olive oil is a healthier option as it is light, contains very less calories, helps to prevent chances of cancer and heart attack, and also helps maintain cholesterol levels. It is beneficial for weight loss and is available in different sizes like 100 gm and 250 gm, so consumers can buy as per their requirement.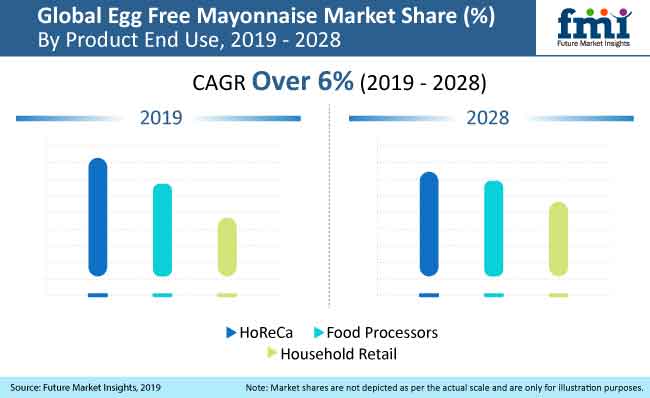 Top 3 Factors Shaping the Egg-free Mayonnaise Market
Change in Taste Preferences of Consumers Accelerating Overall Market Growth
Globalization has interconnected the world and changed the taste patterns of consumers, making them more willing to try something different. The demand for spicy food has increased, along with a shift towards natural and organic food flavors. The mayonnaise market is on an upward trend, as different flavors of mayonnaise are used with nachos and sandwiches. Modern consumers expect mayonnaise, sauces, and condiments that are healthier and tastier as compared to previously available conventional products. The improving economic conditions in developing regions of Asia Pacific, Africa, and Oceania are driving the growth of the egg-free mayonnaise market.
Governments of Numerous Countries Promoting Foreign Investments
The governments of various countries are funding new, emerging players in the industry, and are also allowing foreign companies to invest heavily. This factor is expected to provide lucrative opportunities in the egg-free mayonnaise market and help it expand. As new players are emerging, healthy competition can be witnessed, which is expected to drive significant growth of the egg-free mayonnaise market.
Organic and Natural Becoming the New Cliché
As consumers continue to avoid artificial products and choose organic and natural options, egg-free mayonnaise makers have developed more products that meet organic and gluten-free requirements. Due to artificial ingredients, consumers can get allergies or side effects that can harm their health. As such, they prefer all-natural and organic products without any artificial preservatives and colors.
Egg-free Mayonnaise Market Structure Analysis
The global egg-free mayonnaise market represents a consolidated competition landscape wherein Tier 1 companies hold a significant revenue share.

Consumer-friendly Labelling Attracting Consumers: If labelling is simple and in required words, consumers can read and easily understand the same, and they can choose the required egg-free mayonnaise product immediately.

Post-recession Recovery in the United States May Boost Market Growth: Due to the stiff economic conditions prevailing at the time of the recession, consumers became cost-conscious and started to prefer eating at home in order to cut down on their expenses. As the markets have started to recover over the past few years, the markets for premium products such as egg-free mayonnaise are also growing.

Lack of Important Vitamins and Minerals in Egg-free Mayonnaise: Eggs are the primary source of vitamin B12 in the diet. Vegan and egg-free diets lack vitamin B12, which is an essential nutrient required by the human body. Vegan and egg-free diets may lead to a deficiency in calcium and vitamin D. This can be a restraint to the egg-free mayonnaise market.
Egg-Free Mayonnaise Market Set to Grow Nearly 2X between 2019 and 2028
A large number of players are participating in food industry which is creating intense competition. Moreover, the consumers are more aware about their health and starting consuming organic and natural products. The increasing awareness and improving economic condition helping to grow demand for egg-free mayonnaise.
Egg-Free Mayonnaise Grabs Opportunities in F&B Processing
Increase in number of consumers who prefer organic mayonnaise which is gluten-free, fat-free and sugar-free. But in organic mayonnaise less number of flavors are available as compared to conventional mayonnaise. Companies are concentrating on producing innovative and unique flavors which will be beneficial to increase the demand of organic egg-free mayonnaise.
The Broader Outlook
While conventional mayonnaise has been selling high, a strong boom of 'natural and organic' is being perceived as a booster to mayonnaise of an organic origin. The study estimates climbing sales of egg-free mayonnaise in the near future, driven prominently by growing availability across the retail sector. E-commerce growth will also play a vital role in the sales buildup of egg-free mayonnaise. In terms of end users, an increasing number of vegetarian and vegan restaurants is highly likely to push consumption of egg-free mayonnaise, worldwide.
Conventional mayonnaise sales sustained owing to widespread availability in diverse flavors
Organic mayonnaise sales likely to ramp up with improving availability of egg-free mayonnaise at modern trade stores and online
HoReCa sector continues to account for a healthy-growing leading share in terms of consumption
Food processors also account for a sizeable consumption share
How Growth will Unfold
For both, small- and large-scale manufacturers, the supply of raw material for egg-free mayonnaise is abundant, with processing capacities are limited. Upgrading technology and scaling up production is the key to boost volume growth of the egg-free mayonnaise market. Moreover, logistics services are also poor, and the procurement and egg-free mayonnaise is restricted to the areas with agricultural proximity. The maximum production of egg-free mayonnaise as well as organic, vegan mayonnaise is registered by the North-American and European markets. Stronger transportation and supply chain strategies will enable on-site expansion for some players in the egg-free mayonnaise market.
North America | Oceania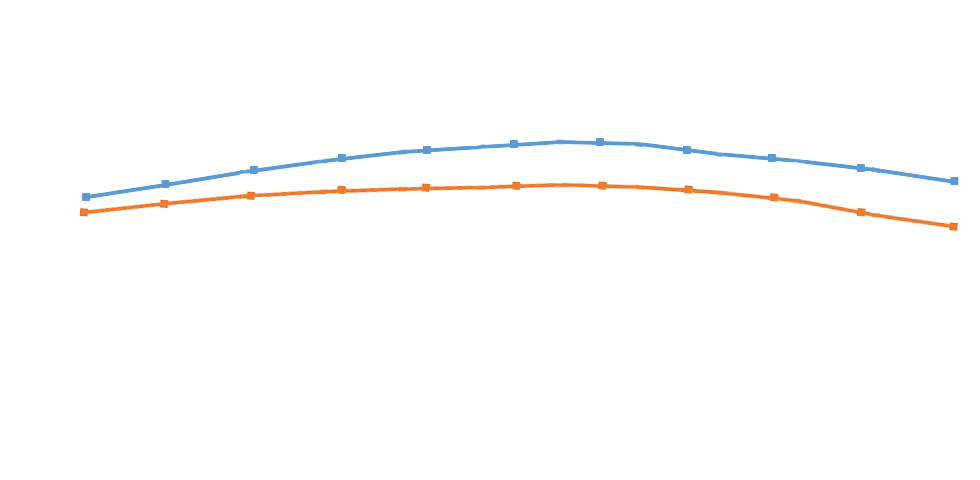 * This data is only a representation. Actual data may vary and will be available in report.
Click Here To Know How The Growth Will Unfold
Custom Market Research Services
FMI offers custom market research services that help clients to get information on their business scenario required where syndicated solutions are not enough.
Overview
Egg-Free Mayonnaise Market: Global Industry Analysis 2013-2018 & Opportunity Assessment 2019-2028
A recent market study published by FMI "Egg-Free Mayonnaise Market: Global Industry Analysis 2013-2018 & Forecast 2019-2028" offers a comprehensive assessment of the most important market dynamics. After conducting thorough research on the historic as well as current growth parameters of the Egg-Free Mayonnaise market, the growth prospects of the market are obtained with maximum precision.
Egg Free Mayonnaise Market Taxonomy
The global Egg-Free Mayonnaise market is segmented in detail to cover every aspect of the market and present a complete market intelligence approach in front of the reader.
By End User
HoReCa
Food Processors
Household (Retail)
By Distribution Channel
Direct
Indirect

Hypermarket/ Supermarket
Food and Drink Specialty Stores
Convenience Store
Discount Store
Online Retail
Region
North America
Latin America
Europe
South Asia
East Asia
Oceania
Middle East & Africa
How the research was conducted?
Primary Research
Primary research interview with Key Opinion Leaders and other participants were conducted for data collection and validation of the below information:
Adoption of Egg-Free Mayonnaise
Average usage Pattern per customer
Average Selling Price (US$) and Market Growth
Key Developments
Key Trends and Opportunities
Regional wise Dynamics
Reimbursement Landscape
Market Share Information
Key Brands
Competition & Key Vendor Strategies
Secondary Research
Food and Agriculture Organization
United States Department of Agriculture
UN Comtrade
FDA (Food & Drug Administration)
Eurostats
European Chemical Agency (ECHA)
United States Environmental Protection Agency (US EPA)
Agriculture and Horticulture Development Board
ITC World Map
Organization for Economic
Co-operation and Development
Common Fund for Commodities
World Bank
Annual Report & Form 10k
Investor Presentations by key players
Primary Interview Splits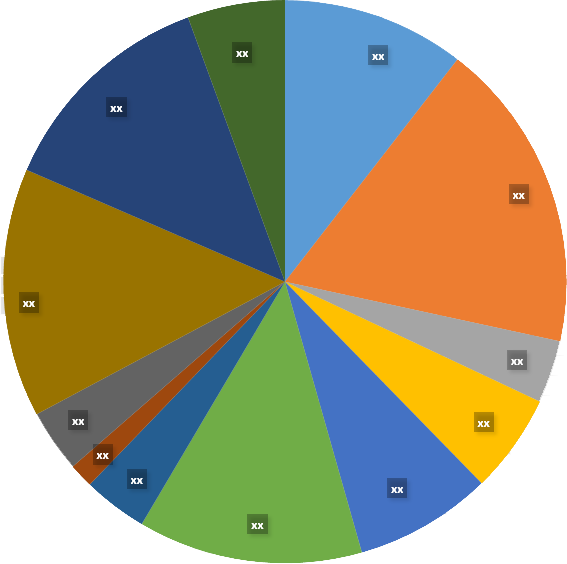 To Learn More About our Comprehensive Perspective on Egg Free Mayonnaise Market,
Get in touch
COVID -19 : Impact Analysis
Request the coronavirus impact analysis across industries and markets
Request Covid -19 Impact
CASE STUDIES
See how our work makes an impact.
At FMI, we design strategies that are adaptive, impactful, and implementable.