Encoder Market Outlook & Key Findings
Global encoder market is expected to register a CAGR of 7.5% between 2020 and 2030
Linear encoders to lead the global market with a higher CAGR as compared to rotary encoders
Optical sensing encoders continue to witness extensive usage
Asia Pacific to lead global market as China offers lucrative opportunities with strong presence of manufacturers
The increasing need for vertical automation and industry 4.0 will foster growth
Increased Demand for Encoders in Automation Industry Applications
Encoders enable motion control in industrial automated systems applications. Demand for maximum accuracy in building automated systems and industrial robots to ensure precision-driven outcome is expected to boost adoption.
With excellent features such as reliability, speed, and endurance for factory automation, encoders have found steady revenue. There is a growing demand for automated controls for industrial applications to improve performance, reduce costs, and improve productivity.
Increasing demand for production capabilities driven by force of consumerism will sustain a steady growth rate during the assessment period.
Resurgence in Automotive Industry Key to Growth
According to Future Market Insights, the automotive segment is expected to account for a significant share in the global market. Although currently, the automotive industry is reeling from a slowdown, the long-term prospects on the industry remain positive.
Sale of feature-rich cars such as ones equipped with Bluetooth and cellular technology has prompted the unprecedented sales of encoders in recent years. Positioning and location-based prompts in a vehicle also use a wide range of encoders, which is expected to keep this segment in the lead in the coming decade.
Encoders Deliver Accuracy in Diagnostic Capabilities
Increasing adoption of various ICT technologies and rising need to improve the quality of healthcare services have given the encoder manufacturers a definitive impetus.
Encoders play a vital role in the medical industry in developing new lab procedures. For instance, rotary encoders are used for CT and MRI machinery to help with precise imaging while ensuring patient safety.
Encoders are also used in portable medical devices as they can offer benefits such as smaller size, lower weight, and lower power consumption while remaining high on precision.
These devices can also offer greater resolution and higher accuracy than devices with magnetic-based encoder, with reduced cost and power dissipation.
Shift towards Absolute Encoders Observed as an Emerging Trend
Many players in the automation sector are switching to absolute encoders. The shift from incremental encoders to absolute encoders is attributable to the latter offering enhanced information to the control system, utilizing less number of wires over a serial bus.
Increased encoder cost is offset by simplified interconnect and reduced cable costs. Analysts at Future Market Insights opine that the absolute encoder segment will register a CAGR of 6.4% between 2020 and 2030.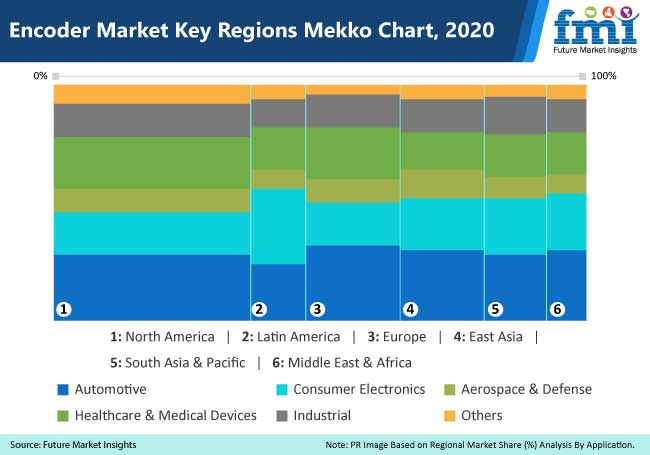 On the basis of applications, the automotive application holds the largest share of the encoder market due to the implementation of IoT, which use encoders for multiple reasons.
The demand from the healthcare & medical devices application segment is expected to grow at the fastest rate, as these devices offer high precision, smaller size, lower weight, and lower power consumption for increased clinician productivity and improving patient outcomes.
The rising consumption of consumer electronics is further expected to boost the market in Latin America. The aerospace and defense sector is also projected to hold a significant share in the global encoders market during the forecast period.
Sale of Consumer Electronics to Boost Demand for Encoders
Encoders are widely used in consumer electronics such as computers, smartphones, printers, and PC-based scanning equipment. Thus, the demand for these is expected to boost the sales of encoders in the coming years.
The use of these machines across wide range of industries such as commercial office spaces to healthcare, pharmaceutical, military, and automotive assembly lines is prompting market players to ramp up production.
The sudden switch to remote working with COVID-19 pandemic has created a high demand for consumer electronics, which is projected to create a lucrative ground for growth.
As schools and offices opt for remote operations amidst tensions of rising infection cases, they will drive up the demand for laptops, tablets, PCs, and smartphones.
Application in Defense Sector Can Open Up New Possibilities
Encoders are used by the military in making their position antennas exceptionally accurate. The growing investments by governments in expanding their military prowess has made a remarkable influence on the global encoder market.
As political uncertainty continues to grow, nations are expected to rely on state-of-art war equipment, which is expected to favor market growth, predict analysts.
Increasing demand for connectedness in military machines is also project to support the growth of this market in the future.
Regional Analysis
North America encoder market is estimated to hold over 30% share globally. China, and Japan are the other lucrative markets. The strong demand for encoders in China and Japan can be attributed to the high increase in demand for encoder form automotive and other manufacturing sectors.
South Asia & Pacific is expected to witness lucrative growth by market value during the forecast period, owing to the intense presence of market participants coupled with increasing industrial revolution 4.0 in the region.
The growth of e-commerce industry in this region, which will propel demand for transportation, which is expected fuel sales of encoders in the coming decade. Growing demand for better tracking and monitoring capabilities is projected to bode well for the global encoders market.
Competitive Landscape
The global encoder market is consolidated owing to the presence of limited players across the globe.
OMRON Corporation, Honeywell International, Inc., TE Connectivity, Rockwell Automation, Inc. has a significant global market share in which the company focuses on the acquisition of the domestic players as well as the expansion of the sales and manufacturing facilities to widen the sales spread across the globe.
Top 10 -12 market participants hold around half of the market share.
Some of the market leaders in encoder market include,
Honeywell International Inc.
Rockwell Automation, Inc.
Heidenhain Corporation
Renishaw PLC
Schneider Electric
TE Connectivity
Baumer Electric AG
OMRON Corporation
Panasonic Corporation
Mitutoyo Corporation
Global Encoder Market: The Way Forward
In the coming ten years, market players are likely to rely on manufacturing momentum to gain a competitive advantage. While the COVID-19 pandemic has impacted the market negatively due to halt on manufacturing activities, analysts anticipate the activities to gain momentum once the pandemic is brought under control.
Growing number of government initiatives to reduce dependency on other nations as they navigate out of the pandemic is expected to boost manufacturing activities, giving encoders a new scope to generate revenue.
Furthermore, as e-commerce gains momentum as staying indoors becomes the new normal, encoders will be used by automotive industry, which is critical to transportation industry.
The market also sees tremendous scope in the health and medical devices industry.
According to Future Market Insights, the healthcare and medical devices segment is expected to register a CAGR of 7.4% during the forecast period of 2020 and 2030.
This will attributable to the increasing number of hospital admissions amidst a pandemic and otherwise, which demand a better infrastructure. Furthermore, overall industrial growth will also fuel the market to achieve higher revenue through the years.
World's Most Profilic Intelligence Engine
Get Access To The World's Largest Market Research Database. Ngage with a revolutionary intelligence engine that scale and pricing that flexes as per your needs
Sign Up Now
Key Segments
Type
Linear Encoder
Rotary Encoder
Position Signals
Sensing Technology
Optical Sensing Encoders
Magnetic Sensing Encoders
Capacitive Encoders
Inductive Encoders
Application
Automotive
Consumer Electronics
Aerospace & Defense
Healthcare & Medical Devices
Industrial
Others
Region
North America
Latin America
Europe
East Asia
South Asia & Pacific
Middle East & Africa
Need specific information?