Optical Encoder Market By Configuration (Shafted, Hollow-Shaft, Absolute, Multi-turn, Incremental), Output Signal Format (Analog, Digital), Application (Healthcare Equipment, Consumer Electronics and Semiconductor Manufacturing Equipment, Robotics Equipment, Test & Measurement Equipment) & Region - Forecast to 2019 - 2029
Optical Encoder Market - Analysis, Outlook, Growth, Trends, Forecasts
December 2019

REP-GB-1721

300 pages
Optical Encoder Market - Shaft Encoders and Incremental Encoders Top Selling
[300 pages Report] Despite higher number of incremental encoders being sold worldwide, the optical shaft encoders (or rotary encoders) will continue to hold a significant revenue share in global optical encoder market. The demand for latter is notably high in commercial as well as industrial landscapes owing to their superior performance and excellent durability over the rest of counterparts.
Sales of absolute encoders would rise at an exponential rate in the following years. This sales hike is attributed to the fact that its high-resolution wheel can calculate the fractional rotation, while the lower-resolution wheels record the number of whole revolutions of the shaft - more accurately than their other counterparts.
APEJ Set to Outgrow North America by 2029
In 2018, North America accounted for more than one-fourth volume share of the global optical encoder market, while the sales remained significantly lower in Asia Pacific excluding Japan (APEJ). However, with the increasing industrial growth in developing economies, coupled with end users' need to reduce manufacturing costs with state-of-the-art equipment, the sales of optical encoders market are increasing in developing regions.
Optical encoder sales in developing regional markets will thus thrive at a higher CAGR than that in developed economies. There are strong indications of APEJ's market superseding that of North America in terms of volume share, by 2029.
Miniaturization Trend to Gain Momentum
Leading market players are focusing on introduction of miniaturised designs of their products to sync with changing trends in end-use industries. As consumer electronics industry and robotics equipment are prominently observing the growth of this miniaturization trend, demand for smaller devices such as miniaturised drive and robots will see a significant boost in the near future. Leading market stakeholders are thus maintaining focus on advanced technologies such as chip-on-board technology, that are crucial in miniaturization.
How Growth will Unfold
In 2018, more than 3 in 10 optical encoders sold were used in consumer electronics and semiconductor manufacturing equipment, which holds a significant revenue share in global market. However, demand will be more prominent in the field of healthcare equipment, over the following years. A large number of market players in the optical encoder landscape are investing in R&D of technologically advanced products that suit the specific requirements of medical industry and laboratory equipment operators.
KEY FACTORS SHAPING OPTICAL ENCODER MARKET
Increasing Use of Advanced Signal Processing Algorithm
Manufacturers are incorporating embedded microprocessors and advanced signal-processing algorithms in encoders to improve reliability in operations. This reduces mechanical complexity and vulnerability of conventional absolute optical encoders when used in harsh conditions. Additionally, microprocessor-based instruments enable engineers to alter measurement characteristics through software such as update resolution, zero-point location and measurement direction, without making any mechanical or physical alterations.
Miniature Optical Reflective Encoders Gaining Traction in Healthcare Applications
Optical reflective encoders are gaining popularity among portable medical devices manufacturers. Optical reflective encoders are used with several assembly methods. One common example is mounting the optical reflective encoder at the rear of the motor. Based on the motion (rotation) of the motor shaft, the sensor provides feedback data. These motion control feedback devices with optical reflective encoders offer greater resolution and higher accuracy than devices with magnetic-based encoder, with reduces cost and low power dissipation.
Manufacturers of portable medical devices strive to offer cost-effective products with high precision, smaller size, lightweight, and lower power consumption in order to sustain their position in the healthcare devices market. Therefore, leading manufacturers of portable medical devices are incorporating optical reflective encoder sensors to enhance their offerings.
Implementation of IoT in Optical Encoders for Condition Monitoring
With the introduction of IoT in all industries, companies expect more information from optical encoders apart from position. Using IoT in optical encoders can provide information about the environment, time in motion analysis, and diagnosis of collected data to end users. This creates new opportunities for manufacturers of optical encoders, especially in the automation industry.
Heidenhain introduced Leine & Linde brand optical encoder devices, which consist of advanced diagnostic system that provides condition monitoring and diagnostic information through Ethernet communication. With this information, users are able to analyse the aspects of optical encoders that affect performance.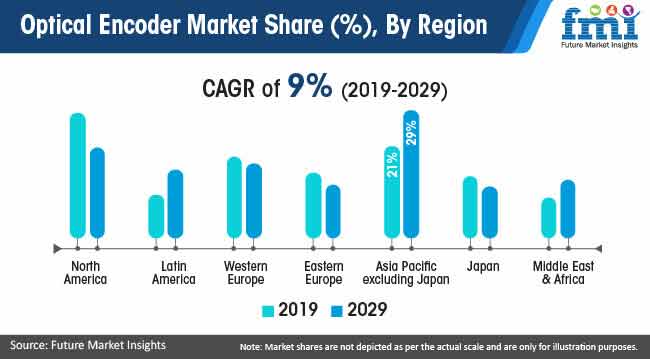 APEJ Presenting Lucrative Opportunity
Optical Encoder solution providers are focusing on increasing their business opportunities across countries in Asia Pacific excluding Japan (APEJ), attributable to the substantial growth of automotive, consumer electronics and industry automation in emerging economies like India, South Korea in APEJ. Thus, manufacturers are adopting new techniques in their manufacturing processes to improve product quality as well as reduce time and cost.
Increasing Adoption of Absolute Optical Encoders in Robotics
Absolute optical encoder is capable of providing unique position value from the moment it is switched on, and ensures efficiency of robots and its movements after the robot faces power failure. Additionally, maintenance and increased interaction with humans during operations require absolute optical encoders that are certified for functional safety and do not increase system costs.
Mechanical Fragility - Still a Challenge
Optical encoders are complex electronic devices with integrated circuits, LEDs and photo detectors, making them susceptible to damage in case of electrical disturbances. The main component of optical encoder is a thin glass disk, which is susceptible to damage due to excessive shock or vibration. This vulnerability makes optical encoders less tolerant to mechanical misuse and also confines their temperature limits. All these drawbacks of optical encoders limit their application.
OPTICAL ENCODER MARKET STRUCTURE ANALYSIS
The global optical encoder market represents a fragmented competition landscape, where prominent key players focus on the development of new high precision optical encoders and absolute open-optical encoders.
Majority of key players in the global optical encoder market are strategically focusing on new product innovation, mergers & acquisitions, strategic partnerships, and collaborations to gain a strong global footprint.
Leading optical encoder solution providers account for more than 30% of the overall market. Key participants such as Honeywell international, Rockwell Automation, Siemens. TE Connectivity, and Sensata Technologies Inc., are among the largest and most experienced companies in the optical encoder market, with a significant regional coverage across the globe.
World's Most Profilic Intelligence Engine
Get Access To The World's Largest Market Research Database.
Sign Up Now
OPTICAL ENCODER MARKET TAXONOMY
The global optical encoder market is segmented in detail to cover every aspect of the market and present a complete market intelligence approach to readers.
Configuration
Shafted
Hollow-Shaft
Absolute
Multi-turn
Incremental
Output Signal Format
Application
Healthcare Equipment
Consumer Electronics and Semiconductor Manufacturing Equipment
Robotics Equipment
Test & Measurement Equipment
Others
Region
North America
Latin America
Western Europe
Eastern Europe
Asia Pacific Excluding Japan
Japan
Middle East & Africa
Need specific information?
Our Clients