Market Overview
Optical Films – Market Outlook
Optical films are multilayer coated films used in various display applications such as anti-glaring (AG), anti-reflection (AR), light control & enhancement, display privacy etc. The major types of optical films are display surface films, brightness enhancement films (BEF), reflective polarizer films (DBEF), backlight reflector films (ESR), light control/privacy films (ACLF). The main end uses of optical films are in manufacturing of flat control displays (FCDs) in smartphones, TVs, laptops, desktop monitors, aerospace display control panels, automotive display control panels, industrial display control panels, transportation signages and display panels, advertising display boards, e-readers etc. As the liquid crystal displays (LCDs) almost completely replaced cathode ray tubes (CRTs) by 2000, the optical films market witnessed an exponential growth. Growing consumer electronics market in Asia Pacific, especially in India and China is driving the global optical films market. Emerging markets such as India, Brazil, Nigeria, Argentina, Mexico are expected to drive the global market for optical films during the forecast period.
Optical films advantages:
Control the amount of light reaching eye
Filter out unwanted colors
Provides privacy by limiting visibility to user only
Protects eye from harmful radiations emitting from the display devices
Enhancing light in LCDs and LEDs
Helps in equal distribution of backlight in displays
Optical films market is directly correlated with the consumer electronics market. The positive correlation between the two markets predicts the future trends and dynamics of the optical films market. Rising trend of digitization in emerging markets is driving the optical films market. Growing investments in large infrastructure projects such as smart cities, intellegent transportation systems are fuelling the growth of optical films market. Rising penetration of Internet of Things (IoT) by industries, government institutes, academic institutes, offices are influencing the demand for display devices, which in turn is driving the demand for optical films. Increasing consumer demand for smart electronic wearables is also driving the optical films market. Smarthomes (connected homes) adoption in developed countries such as U.S., Canada, U.K., France, Germany, Italy, and Japan is increasing year-on-year, which influences the demand for displays such as LCD displays, which inturn is driving the optical films market growth. Manufacturers of optical films are increasingly investing in research and development to launch innovative and cost efficient products. Some manufacturers are collaborating with consumer electronic product manufacturers or OEMs to better reach the market and develop consumer centric products. In 2008, 3M and Sony Corp. entered into an agreement to grant the right to use 3M optical film technology in Sony Corporation's prismatic films used in its LCD TVs.
Global Consumer Electronics Market, 2017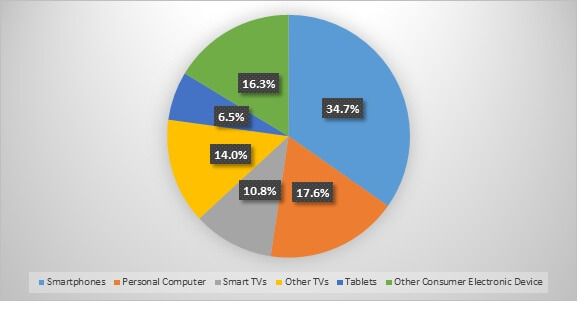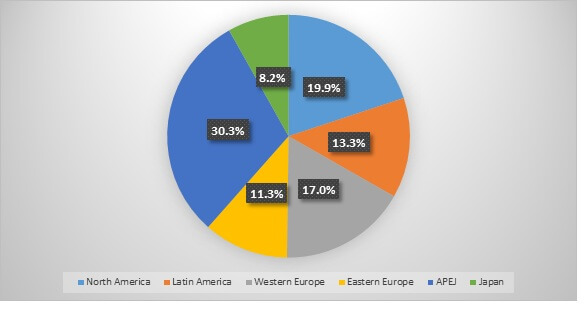 Global Optical Films market: Research Methodology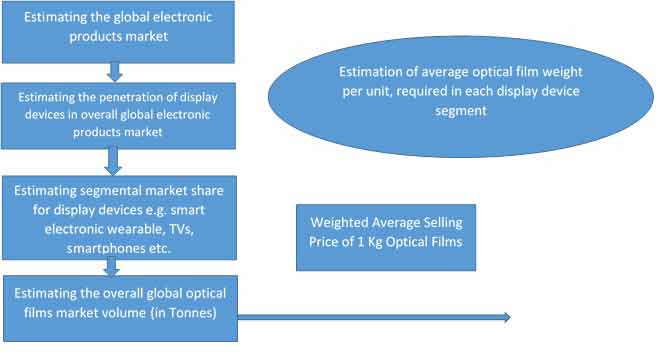 The above figure shows comprehensive research methodology to estimate the market size of global optical films market. The methodology follows a sequential process of the estimation of overall parent market size (global electronic products market), estimating the penetration of overall display devices in global electronic products market, Estimating the segmental market share of display devices e.g. smart electronic wearable, TVs, smartphones etc. Estimation of average optical film weight per unit, required in each display device segment. Estimate overall global volume (in Tonnes) using per device weight of optical films. Estimate overall global value by using average selling price (US$ per Kg) and global volume of optical films.
Global Optical Films market: Key Players
Some of the key players operating in the global Optical Films market are – Nitto Optical Co., Ltd., Sumitomo Chemical Co. Ltd., LG Chemical Ltd., Samsung SDI (Formerly Cheil Industries), BenQ Materials Corp., Sanritz Co.,Ltd., Zeon Corporation, 3M Company, American Polarizers, Inc., Toray Industries, Inc., Toyobo Co. Ltd., China Lucky Film Group Corporation, Teijin Limited, Mitsubishi Polyester Film GmbH, SKC Inc., Kolon Industries, Inc., Dexerials Corporation, Suntechopt Corporation, JXTG Nippon Oil & Energy Corporation, Hyosung Corporation, Fusion Optix Inc., Dejima Optical Films BV, KOLON Industries, Inc., Reynard Corporation (Optical Coatings), Nanpao Resins Chemical Group (Optical Film Adhesives), Touch International, Inc. (touch screen displays and display enhancements), Carestream Contract Manufacturing, Chimei Materials Technology Corp (Electronic Displays Manufacturer) and others.
Key Developments, Mergers and Acquisitions
In March 2018, WeeTect started to provide anti-glare solution to solve screen and window glaring problem. Film is a Nano polyester film with WeeTect's permanent anti-reflective coating
In August, 2017, BenQ Materials took part in "Smart Display and Touch Panel, 2017"
In March 2015, LG Chem. invested USD 100 million in Nanjing, China to expand production of its TFT-LCD polarizer. TFT-LCD polarizer is a multi-layered optical film used for transmitting light in the Thin Film Transistor-Liquid Crystal Display (TFT-LCD) modules, which is mainly used in smartphones, television sets, laptops
Global Optical Films Market Manufacturers, Tier Structure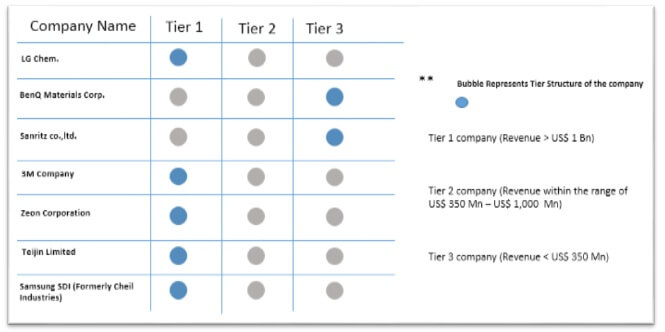 The research report presents a comprehensive assessment of the market and contains thoughtful insights, facts, historical data, and statistically supported and industry-validated market data. It also contains projections using a suitable set of assumptions and methodologies. The research report provides analysis and information according to market segments such as geographies, application, and industry.
The report covers exhaust analysis on:
Market Segments
Market Dynamics
Market Size
Supply & Demand
Current Trends/Issues/Challenges
Competition & Companies involved
Technology
Value Chain
Regional analysis includes:
North America (U.S., Canada)
Latin America (Mexico. Brazil)
Western Europe (Germany, Italy, France, U.K, Spain)
Eastern Europe (Poland, Russia)
Asia Pacific (China, India, ASEAN, Australia & New Zealand)
Japan
Middle East and Africa (GCC Countries, S. Africa, Northern Africa)
The report is a compilation of first-hand information, qualitative and quantitative assessment by industry analysts, inputs from industry experts and industry participants across the value chain. The report provides in-depth analysis of parent market trends, macro-economic indicators and governing factors along with market attractiveness as per segments. The report also maps the qualitative impact of various market factors on market segments and geographies.
Global Optical Films market: Segmentation
The global optical films market has been segmented as follows –
On the basis of product type the global optical films market has been segmented as –
Polarizer and sub films
PVA film
PVA protection film (TAC, acryl, PET, COP)
Compensation film
Surface treatment film (AG, AG/LR, LR, HC)
PET protection film/release film
Backlight optical films
Diffuser film
Reflector film
Light guide plate (LGP)
On the basis of function, the global optical films market has been segmented as –
Display Surface Films
Brightness Enhancement Films (BEF)
Reflective Polarizer Films (DBEF)
Backlight Reflector Films (ESR)
Light Control/Privacy Films (ACLF)
On the basis of application, the global optical films market has been segmented as –
TV
Laptops
Tablets
Smartphones
Billboards
Smart Electronic Wearable
Control Panel Displays
Signage & Advertising Display Boards
On the basis of geography, the global optical films market has been divided into seven key regions –
North America
Asia Pacific excluding Japan
Western Europe
Eastern Europe
Latin America
Middle East & Africa
Japan
Report Highlights:
Detailed overview of parent market
Changing market dynamics in the industry
In-depth market segmentation
Historical, current, and projected market size in terms of volume and value
Recent industry trends and developments
Competitive landscape
Strategies of key players and products offered
Potential and niche segments, geographical regions exhibiting promising growth
A neutral perspective on market performance
Must-have information for market players to sustain and enhance their market footprint
Need specific information?