Consumer Electronics Packaging Market By Product Type (Corrugated Boxes, Paperboard Boxes, Thermoformed Trays, Bags & Pouches, Blister Packs & Clamshells, Protective Packaging), Material (Plastic, Paper & Paperboard), Application (Mobile Phones, Computers, TVs, Set Top Boxes, Music Systems, Printers) & Region – Forecast 2017 – 2027
Consumer Electronics Packaging Market - Analysis, Outlook, Growth, Trends, Forecasts
November 2017

REP-GB-4793

382 pages
Asia Pacific Excluding Japan is the largest regional market for consumer electronics packaging
In 2020, the overall sales for the consumer electronics packaging witnessed a massive decline due to the Covid-19 crisis as lockdown was implemented and all the factorial units were closed which led the manufacturing companies to face immense losses. Now in 2021, the global manufacturers are giving entire focus on improving their sales and profitability through product innovations and upgrades.
Recognized companies such as JJX Packaging, Plastic Ingenuity, Neenah Paper and Packaging, Parksons Packaging Ltd., Universal Protective Packaging, Inc., Hangzhou Schindler packaging company limited, Dordan Manufacturing Company., Pregis LLC., Stora Enso, UFP Technologies, Inc., and others are focusing on the incorporation of tactics including partnership agreements, sales contracts, strategic alliances, diversifications, innovative launches, mergers & acquisitions, research and developments, technological upliftments, product line extensions, hiring technical expertise, joint ventures, collaborations, product approvals etc for gaining a competitive edge over others in the market.
For instance, Universal Protective Packaging Inc, launched a wide array of packaging solutions to fulfill the needs of the companies manufacturing computer related products. The company's packaging solutions are considered perfect for the companies which want to assemble, package and distribute products to markets across the world. In addition to this, universal protective packaging solutions serve the low assembly costs needs of companies working in the telecom circuit board industry.
North America is predicted to pick up pace in the global market in terms of consumer electronics packaging through 2030 owing to the changing needs of the consumers and emergence of new players. Asia Pacific region is turning out to be a very lucrative market for the manufacturers owing to the developing countries in the region. Other regions expected to take over the market during the forecast period are Western Europe, Eastern Europe, Latin America, Middle East & Africa (MEA) and Japan.
Among the seven regions assessed in the global consumer electronics packaging market report, Asia Pacific Excluding Japan is likely to lead in terms of market revenue throughout the forecast period, with an estimated value share in excess of 40% by the end of 2027.
North America is the second largest market, with a projected value share of just under 16% by the end of 2027. Western Europe is the third largest market with a revenue share of almost 15% by 2027 end. The Asia Pacific Excluding Japan consumer electronics packaging market is expected to register a CAGR of 10.9% in terms of value during the forecast period.
Global Consumer Electronics Packaging Market: BPS Analysis by Region
The APEJ consumer electronics packaging market is anticipated to gain 310 basis points in market share in 2027 over 2017. The penetration of consumer electronics packaging is continuously rising across the region and this is expected to bolster regional market revenue growth.
The Eastern Europe consumer electronics packaging market is expected to gain 70 basis points in market share in 2027 over 2017, primarily owing to the strategic location and a strong consumer electronics packaging manufacturer base in Eastern Europe. The Middle East & Africa and Latin America consumer electronics packaging markets are expected to gain 80 basis points in market share in 2027 over 2017.
Factors driving revenue growth of the regional consumer electronics packaging markets
Asia Pacific Excluding Japan: An increase in discretionary spending by the middle class across the APEJ region on consumer electronics products such as smartphones, tablets, wearable electronics, televisions etc. is driving the APEJ consumer electronics packaging market growth. The APEJ regional market is also witnessing a steadily increasing demand for low cost, less material and light weight packaging.
North America: Changing consumer buying patterns such as purchase of consumer electronic products in supermarkets is driving the growth of innovative packaging products across North America. This shifting buying trend has helped reduce operational overhead costs at the consumers' side and is boosting the demand for the packaging of consumer electronics products. The North America region is also witnessing demand for single material, environmental friendly and easy-to-use consumer electronics packaging.
Western Europe: Consumers across the region are willing to pay extra bucks for environmental friendly and convenient packaging products and this is boosting revenue growth of the Western Europe consumer electronics packaging market. Also, manufacturers of consumer electronics products in Western Europe are shifting towards packaging that suits cross channel distribution.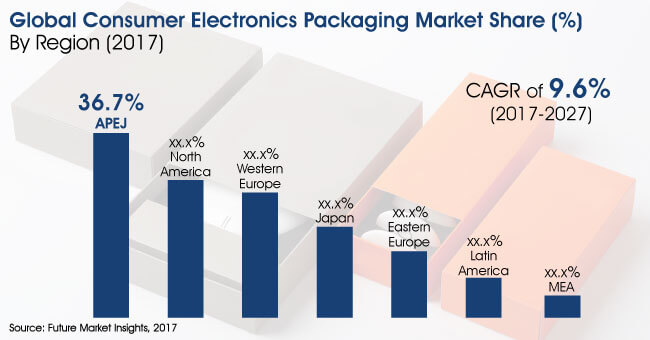 Global Consumer Electronics Packaging Market: Opportunities for Manufacturers
A growing digitisation is influencing the growth of the global Internet of Things (IoT) market, which in turn is boosting global market demand for efficient all-weather packaging for consumer electronics products. There is a growth in demand for fragile electronic products such as network servers, routers, and sensors that are used in IoT networks. These products require efficient all-weather protective packaging.
Manufacturers of consumer electronics packaging products need to focus on protective packaging products such as air bubble wraps, air pillows and other inflatable packaging products that can protect consumer electronics products from electrostatic discharge, water, harsh weather conditions, corrosion, and dust.
An increasing penetration of mobile phones and smart computing devices such as e-readers, smartphones, tablets and laptops in different developing and underdeveloped economies such as India, Bangladesh, Brazil, Argentina, Nigeria, and South Africa is bolstering global market demand for folding cartons and corrugated boxes.
Cell phones and tablets are largely sold in folding cartons while laptops and desktops are sold in corrugated boxes. Manufacturers of consumer electronics packaging products should focus on product innovation in folding cartons and corrugated boxes.
World's Most Profilic Intelligence Engine
Get Access To The World's Largest Market Research Database.
Sign Up Now
An in-depth segmentation to offer a complete picture of the global consumer electronics packaging market
By Product Type
Corrugated Boxes
Paperboard Boxes
Thermoformed Trays
Bags & Pouches
Blister Packs & Clamshells
Protective Packaging
Others
By Material
Plastic

PE
PP
PVC
PA
PET
PS
Others

Paper & Paperboard
Others
By Application
Mobile Phones
Computers

Laptops & Tablets
Desktops & Servers

TVs, DTH & Set-Top Boxes
Music Systems
Printers, Scanners & Photocopy Machines
Game Consoles & Toys
Camcorders & Cameras
Electronic Wearable
Digital Media Adapters (DMRs)
Others
By Region
Western Europe
North America
Eastern Europe
Latin America
Asia Pacific Excluding Japan (APEJ)
Middle East & Africa (MEA)
Japan
Need specific information?
Our Clients