Introduction
Consumer electronics have witnessed increased adoption in the past decade. From traditional consumer electronic products such as smartphones, laptops, computers, tablets, and digital cameras, to the more advanced products such as band, chest strap, activity tracker, fitness monitor, pedometer, and wearable electronic devices, the global market for consumer electronics encompasses a wide product catalog. Future Market Insights predicts a stellar growth in the next few years registering a CAGR of over 15% with a market valuation of reach US$ 2,976.1 Bn in 2020.
Internet Users looking for IoT-Driven 'Smart' Devices to Bolster the Consumer Electronic Market
The consumer electronics market is experiencing such elevated adoption owing to factors such as expanding urban population especially the middle class, altered lifestyle preferences, and increasing number of 'smart' internet users. Additionally, burgeoning R&D activities by key players to develop and design advanced and cost-effective products is also anticipated to enhance competitiveness in the consumer electronics market. Governments across the globe are increasingly supporting digitalization efforts made by key players, eventually bolstering the consumer electronics market on a global level.
However, consumers are not just using mobile phones and laptops now. Emergence of Internet of Things (IoT) and subsequent growing popularity of wearable electronic devices has been a breakthrough innovation in the consumer electronics market. Expansion of urban population across the globe with high net worth of individuals, has led to strong demand for advanced consumer electronics such as connected TVs, wearable fitness device, and smart security systems.
Consumer preferences are shifting towards connected consumer electronic devices and accessories such as smart kitchen appliances which can be monitored remotely and smart wearable devices that can be connected to smartphone wirelessly. These smart consumer electronic devices offer enhanced end-user experience with reduced complexities and increased functionality- growing increasingly popular among the growing tech savvy population, especially in emerging countries.
Additionally, the global consumer electronics market is segmented on the basis of device type including consumer electronic device, smart home device, and wearable device. The consumer electronic device segment will continue dominance, accounting for more than 97% market share by 2020-end, with smartphones witnessing maximum traction.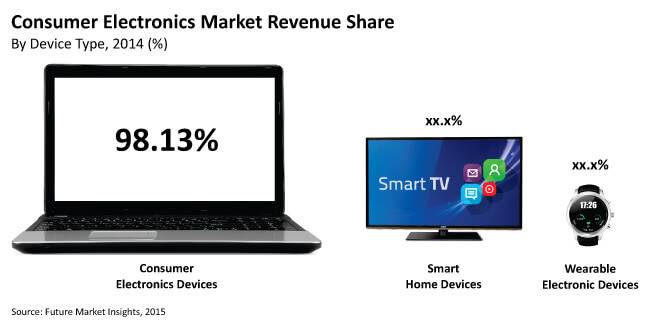 Increased R&D to Enhance Product Portfolio to be Key Competition Strategy
The global consumer electronics market is highly volatile and competitive owing to a number of factors. The competitive landscape is dominated by some key international players along with new entrants. Increased market expansion through strategic mergers, acquisitions, partnerships and joint ventures, in addition to innovative and cost-effective product development through R&D are anticipated to remain key strategies adopted players including HP Inc., Apple Inc., Samsung Electronics Co. Ltd., and Sony Corporation to name a few.
Regional Analysis: APEJ to be the Largest Market of Consumer Electronics
To study the overall reach of the global market for consumer electronics, the comprehensive market research covers North America, Latin America, Western Europe, Asia-Pacific excluding Japan (APEJ), Eastern Europe, Middle East and Africa (MEA), and Japan. APEJ is anticipated to be the hotbed of future demand and continue to be the largest market for consumer electronics throughout the forecast period, followed by North America and Western Europe.
Key Segment
By Device
Top Three Players
Blu-Ray
Integra
Samsung
Sony
Connected TVs
LG
Samsung
Sony
Consumer PCs
Lenovo
HP
Dell
Digital Camcorders
GoPro
Sony
Panasonic
Digital Camera
Canon
Nikon
Sony
Digital Media Adapters
Google
Apple
Roku
eReaders
Amazon
Kobo
Barnes & Noble
Feature Phone
Microsoft
Samsung
LG
Game Console
Microsoft
Nintendo
Sony
HDTV
Samsung
LG
Sony
Smartphone
Samsung
Apple
Huawei
Tablet
Apple
Samsung
Lenovo
Printer
HP
Canon
Epson
Set-top Boxes
ARIS
Technicolor
Pace
By Region
North America
Latin America
Europe
Asia Pacific
Middle East & Africa
Need specific information?