Consumer Appliances Market - Key Research Findings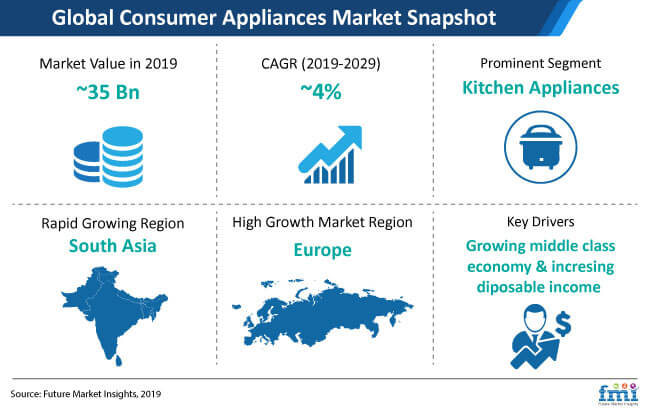 The global consumer appliances market size in 2018 was approximately US$ 339 Bn.
The consumer appliances market is expected to grow at a CAGR of approx. 4% during the forecast period of 2019-2029.
Basic consumer appliances continue to grow in emerging markets, while premium ones are expected to grow in developed markets.
Collectively, Europe, North America, and East Asia are likely to account for half of the revenue shares in the consumer appliances industry by the end of 2029.

Europe, attributing to the strong presence in kitchen appliances, is expected to be a prominent product type for consumer appliances manufacturers

The kitchen appliances segment is expected to remain a prominent product type to invest in for consumer appliances market players.

Microwave and refrigerator segments have witnessed significant growth over the recent past.
Noteworthy product type potential of consumer appliances has been identified in the ranges and ovens segment.
Key Factors Shaping the Consumer Appliances Market
Promotion of Green Manufacturing Appliances Boosting Market Growth
Energy-efficient and IoT enabled home appliances for example smart kitchen appliances are expected to gain traction among several end-use sectors, ranging from full domestic to quick service restaurants, owing to its operational advantage.
According to the findings of an independent report, food preparation equipment accounts for around 30% of the restaurant's energy bill. Rising energy costs resulted in the growing consumer demand for energy star-labelled equipment. Governments of several countries are promoting green technologies, by offering schemes such as tax credit programs.
The growing awareness regarding green technologies among consumers is anticipated to lead to the rapid replacement of conventional foodservice equipment over the next few years. The trend is expected to be prominent among developing regions of Asia Pacific and Latin America.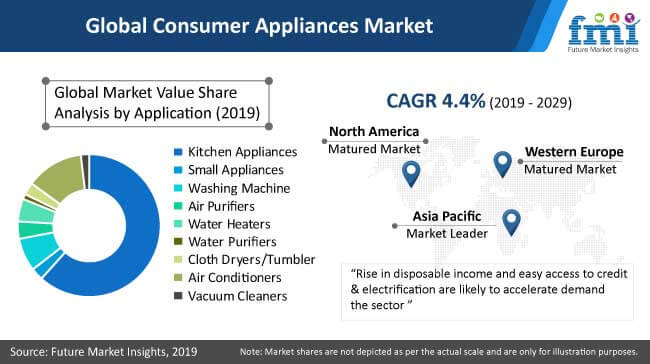 Growing Demand for Smart Appliances Owing to its Several Advantages
The AHAM (Association of Home Appliance Manufacturers) defines smart appliances as appliances that monitor, control, and protect their electrical energy usage in response to customer needs. The appliance control and interface software might enable appliances to participate in demand response and time-based rate programs with the local utility.
Energy-saving is a significant feature in smart home appliances. For example, a refrigerator could be easily (or automatically) switched into "vacation mode," suspending the ice maker and auto-defrost feature until the user returns.
Smart appliances have several advantages, such as low energy consumption, improved efficiency and productivity, reduction in time consumption, and others, which drives the demand for home appliances in several regions.
Rising Living Standards to Drive the Demand for Appliances
Mega trends of the increasing middleclass population in emerging economies are observed around the world, which drives the standard of living. Thus, with the growing preference to buying electronic household appliances and changing living standards of consumers, the demand for washing appliances and domestic food preparation applicances is highly likely to witness an upsurge in the near future.
With the increasing disposable income, manufacturers are expected to foresee upheaving sales in the consumer appliances market during the forecast period. Thus, for consistent growth in the sales volume, appliance manufacturers are focusing on developing products at commercial level and manipulate average selling prices to reach middle class consumers around the world.
Wide Usability of Online Sales to Boost the Market Growth
In today's world, the online sales is growing exponentially in several segments, especially in the appliances segment, creating more opportunities for the market across the globe.
The online sales channel holds a significant amount of share in the global consumer appliances market owing to the improved connectivity, technological advancement, infrastructure development, government initiatives towards digitization, and other factors.
A significant number of people are living in rural areas across the globe. Governments of several regions are taking initiatives to provide electricity in rural areas, which creates the requirement of appliances in rural areas and drives the growth of the consumer appliances market.
Consumer Appliances Market Structure Analysis
The global consumer appliances market represents a fairly consolidated competition landscape, where a majority of key players maintain their strategic focus on the development of solid distribution partnerships and joint ventures, targeting a firmer global footprint.
The consumer appliances market has been relatively moderate in size, which remains a key factor for its dynamic competitive nature.
Prominent manufacturers of consumer appliances are currently prioritizing R&D and new product launches to resonate with the growing consumption of eco-friendly consumer appliances in North America, Europe, and China.
Portfolio extension is also identified to remain as one of the key developmental strategies adopted by manufacturers of consumer appliances.
For a strong foothold in target markets, consumer appliances manufacturers are expected to rely on inorganic strategies, such as mergers and acquisitions.
Deeper understanding of the market trends and preferential shifts of end-use segments across several regions are likely to create a bottleneck for prominent players, considering forward to untapped opportunities in the consumer appliances market.
Consumer Appliances - More Connected and Intelligent than Ever
Smart technologies are gradually taking control of homes and lifestyles, and their adoption is on the rise, backed by high functionality and convenience. As the quest for smarter lives escalates and the world moves towards artificial intelligence (AI) and 5th generation of wireless technology, consumer appliance manufacturers are embracing changes and becoming agile innovators.
Keeping the core functionalities intact, manufacturers are moving away from 'one-size-fits-all' approach to futuristic technologies to develop appliances that can be controlled remotely or products that can self-diagnose any issues.
Fridges with cooking management system, washing machines equipped with voice control systems, and small appliances with connected and intelligent features are steadily gaining traction. In addition, manufacturers are putting significant emphasis on 'sustainability' as an important add-on to their marketing strategies. Future Market Insights (FMI), in its new offering, brings to fore credible insights on the 'Consumer Appliances Market' that can arm stakeholders with necessary information to take critical decisions with clarity.
Sales Bolstered by Increasing Urban Households and Improved Living Standards
The consumer appliances market remains primarily driven by mass urbanization along with rising standard of living among consumers. Additionally, keeping up with current trends and reinventing traditional technologies to suit the needs of today's consumers have been essential for manufacturers. With rapid advancements in automation and IoT, consumers are inviting smart technologies into their homes at an unprecedented rate.
Manufacturers are thus hard pressed to offer highly advanced products that not make lives easier and more convenient but also enable efficient use of energy. Moreover, with increasing concerns over carbon emissions from consumer appliances, manufacturers are adopting 'green' technologies and redesigning their product offerings to reduce running costs and help consumers achieve greater energy conservation.
An increase in stringent government regulations to reduce power consumption by consumer appliances has also been parallel to the development of high quality products with energy-saving features. However, rapid upgrades in regulations set by EU (European Union) and EPA (Environmental Protection Act) remain a key challenge for market players to meet quality and energy efficiency standards.
In addition, intelligent appliances tend to collect massive information related to habits and preferences of a households, thereby raising concerns regarding privacy violations and confidentiality breaches.
Sales in Asia Pacific Market Set to Overtake North America
Many fast-growing economies in Asia Pacific have made significant policy changes that have made regulatory and business environment more conducive. The low penetration of consumer appliances in the region promises substantial opportunities for foreign players to tap into.
Although North America currently leads in terms of global revenues, the world order is likely to be changed during the next decade, with massive sales in China and India pushing Asia Pacific to numero uno. Gains are also likely to be handsome in ASEAN, where the rise of a middle class demographic will create the platform for increased sales.
Tracking Future Trends and Evolving Consumer Preferences
Consumer appliances of the future are envisaged to be multi-functional that will not only be inter-connected but also interact with each other, owing to novel technologies such as IoT. Promising growth in consumer appliances market goes in hand with constant development in residential sector with a mission to advance consumers' lifestyles.
As the idea of living in a smart home is appealing to a large number of consumers, most new appliances are connected to the internet, and consequently the regulatory framework for these products is rapidly evolving. Therefore, manufacturers will need to gain a deeper understanding of data ownership and ensure a high degree of product safety and security.
International market players are attracted to developing countries where fast-growing urbanization and rising consumer spending have significantly influenced the penetration of home appliances, ranging from refrigerators to hair dryers.
However, strong presence of regional players, especially those from China, India and South Korea will continue to represent a challenge to the expansion of former players. Regional as well as local players are further localizing the appliances or rallying around products that are fit for specific consumers' lifestyles.
Consumer Appliances Market - The Road Ahead
Managing personal well-being and lifestyle, home automation, and saving time and energy now spread across products such as kitchen appliances, air and water purifiers, vacuum cleaners and others. Therefore, consumer purchases of traditional as well as smart technologies have been showcasing its rise in recent years.
As the consciousness of the need to protect the environment and ensure a sustainable future has been escalating across the globe, consumer appliances manufacturers are continuously working on reducing the impact of production processes and the consumption of energy.
Stakeholders are further placing their focus on emerging technologies to add new value to their products and gain higher consumer satisfaction. With increasing homes which use digitally controlled appliances in developed regions and government initiatives to electrify rural areas, market stakeholders should be looking at a period of sustained demand.
Key Segment
By Product Type
Kitchen Appliances

Refrigerators
Ranges and Ovens
Microwave
Conventional Grill
Dishwashers
Chimneys
Electric Stove
Induction Cooktops

Small Appliances

Hair Dryers
Irons
Toasters
Bread Makers
Coffee Machines
Grinders & Mixers
Food Processors

Washing Machine
Air Purifiers
Water Heaters
Water Purifiers
Cloth Dryers/Tumbler
Air Conditioners
Vacuum Cleaners
By End Use
Domestic
Professional

Hotels
Salon & Grooming Parlors
Cafeteria & Restaurants
Offices & Institute
Others
By Sales Channel
Offline

Organized Retailer
Unorganized

Offline

Company Direct Sales
Independent Vendor/E Commerce
By Region
North America
Latin America
Europe
South Asia
East Asia
Oceania
Middle East and Africa
Need specific information?