About the Report
The smart home devices market is currently exhibiting growth at an impressive pace. Due to the increasing popularity of technological advancements, device and appliance manufacturers now have the focus on fostering smarter homes. Advanced automated systems such as monitor lighting, temperature, multi-media, security shields, entertainment systems, window and door operations, and others, which can be operated by users through smartphones and computers are being launched. Focus on smart home technologies is expected to rise, paving way for the expansion of smart home devices market.
One of the most important aspects of smart home technology is that it helps to save the world's limited resources. As they use controllers that are integrated with home sub-systems to make their homes smart and green, people are becoming more aware of the capabilities of smart home devices.
Future Market Insight's latest edition of the study offers comprehensive insights into the market trends, value (US$ Bn) projections, recent developments, and dynamics. The report tracks the global value of smart home devices market in various high-growth countries across regions such as South Asia & Pacific, Middles East, and Latin America offering the most profitable opportunities to stakeholders. The report also analyzes the impact COVID-19 has had on the economy in general, and thermal printing in particular.
How Future Outlook of Smart Home Devices Market Compare with Historic Sales?
The early 1900s saw the introduction of the first home appliances due to the industrial revolution. Clothes dryers, washing machines, refrigerators, and electric dishwashers were introduced after vacuum cleaners. Although these were not "smart" appliances, but their arrival in the twentieth century changed the world for consumers.
Apart from this, other aspects such as consumer interest for smart devices such as Amazon Alexa, Smart Thermostats, and Digital Electric Smoker and others have been fuelling the demand for connected devices. Driven by this, the smart home devices market is forecast to exhibit 18.7% CAGR between 2021 and 2031.
How is Increasing number of Internet Users Driving Smart Home Devices Sales?
Advantages obtained by connecting household items to the internet or the Internet of Things (IoT) are many. Connected devices have become increasingly popular among residential consumers. The IoT connects goods, software algorithms, services, and end-users, allowing data to flow freely and real-time decisions to be made.
The Internet of Things has proven its value by improving the performance and functionality of automation systems. Several huge, mid-sized, and small businesses around the world are heavily investing in the IoT and IoT-enabled devices. It is expected to impact a broad variety of application areas, including lighting, HVAC, defence, healthcare, and entertainment, as most companies moving towards IoT.
The increasing customer preference for video doorbells, voice-assisted technologies (such as Alexa and Google Home), and security systems are anticipated to accelerate the smart home devices market. Because of the adoption of internet-enabled smart devices such as radio frequency identification (RFID), barcode scanners, and mobile computers, the overall IoT market is expected to develop.
How is Change in Consumer Behavior Pattern Affecting Smart Devices Sales?
Consumers nowadays prefer smart appliances which are highly integrated with latest technologies. The use of smart home technology helps to reduce energy consumption. Thermostats are one of the most attractive features of smart devices, since they maintain optimal temperatures while conserving energy while homeowners are away. Smart indoor and outdoor lighting, in addition to temperature control, are another group of devices that are making homes more energy efficient - and making homeowners increasingly happy.
This changing consumer preference is influencing the manufactures to provide the highly innovative smart devices and increase their production. For instance, manufactures are providing smart lightings which allows the customers to monitor smart bulbs and lightings with their smart phones, smart watches and tablets as well as trigger them with voice commands. Consumers are becoming more involved in such technologies, which is motivating players to increase demand.
Technological Advancements in Smart Home Devices Driving Sales
Consumer preferences are evolving as a result of rapid technological advancements. As their standard of living rises, they expect more revolutionary smart devices. As a result, manufacturers are encouraged to invest in state-of-the-art and innovative technologies to expand their product portfolio and tailor them to meet the needs of customers.
Millennial as a consumer demography showcases great influence on prevailing market trends. This era has also given millennials a distinct set of expectations and priorities. They are more interested to know and adopt new things, which is why they are better connected to digital world.
For instance, the smart home appliances such as temperature control mugs have certain advantages which help in driving their demand. Against this backdrop, manufacturers are thinking of implementing advanced technology in their products, creating prospects for increasing penetration of smart home devices market in the coming years.
How are Eco-friendly Smart Devices Driving an Opportunities in the Market?
The potential for environmental effect is one of the biggest opportunities for the rising smart home industry. Smart devices and automated homes can help with home energy efficiency and cost savings, which can be a great value proposition for homeowners looking to maximize their technology. A simple sensor will ensure that lights and temperature control, for example, are only turned on when they are needed, reducing energy waste and saving money.
In light of growing demand players are providing eco- friendly devices like Nest Thermostat which includes security cameras and motion sensor alarms, to help you build an eco-friendly smart home.
How is Risk of Device Malfunctioning Posing Challenge to the Consumers?
Device interconnectivity specifications, communication protocols, and network technologies are all essential components of smart home systems. The integration of all devices is essential to the operation of smart home products.
The hardware, software, and service segments make up the smart home ecosystem. The smooth and cooperative operation of all three segments is critical for the effective and consistent operation of any single product. Any of these three failing or being disconnected can cause a slew of problems for consumers in terms of cost and technological difficulties. For a long time, a number of people have used smart thermostats, smart meters, HVAC controls, and lighting controls. Since these devices have a high switching cost, dis functioning of the devices is posing a challenge to customers and it is even hindering the product growth. Since customers have reported several problems with the product, this will generate a negative perception of the product, and customers may be hesitant to purchase it in the future.
As a result, manufacturers of smart home devices, on the other hand, are entering into collaboration or partnership agreements with software and communication technology providers to develop market-specific creative products, which could help them resolve the challenge.
Country-wise Insights
How is Digitization Fuelling Demand for Smart Home Devices in Germany?
Germany is expected to become a leading market for smart technology in the coming years. The digitization of private household applications, such as in the areas of comfort and protection, energy management, and self-determination in old age, is rapidly advancing. The growth of the internet, as well as the spread of networkable household components and mobile communication devices, has resulted in new home applications and business models. As a result, the smart living industry has grown its importance. German companies, in particular, are projected to account for a significant share of the global market volume in an increasingly growing market.
In light of the current situation it is been noticed that people are much home bound and the Corona pandemic contributed to a substantial increase in demand for tech products for use at home, such as warning alarms, robot vacuum cleaners, or voice-controlled speakers etc. As a result, this demand has aided in the rapid digitization of private households. Hence, it is expected in future years there will be high demand for smart home devices in Germany.
Will Millennials Continue to Drive Demand for Smart Devices in the U.S.?
The younger generations are believed to be the most technologically advanced. Since these generations have seen several technological advances, millennials foresee more variety in the goods provided by businesses. Smart products have a strong grip on the younger generation. The generation most interested in having smart technology in their homes is the millennials.
The demography of consumers are also environmentally aware and support the use of sustainable materials. Millennials as a group that is passionate about reducing their carbon footprint and encouraging long-term sustainability. They are more likely to change their actions to reduce their carbon footprint or to patronise environmental friendly companies. Given that smart home technology can be used to conserve energy and lead a more environment friendly lifestyle, it's understandable that this is a consideration of the younger generations and the need to buy the smart devices and to live a luxurious life is increasing demand for smart devices in US.
Is Affordability Increasing the Adoption of Smart Devices in Brazil?
In the past years, connected devices were distant reality due to lack of internet access to the Brazilian population. Rise in income and the rise in production of eco-friendly devices within Brazil has increased the popularity of the smart home devices among people, while on the hindsight the players are becoming more aware about the product development strategies and concentrating on developing more affordable products for their consumers.
How are Government Initiatives towards Digital India Driving the Adoption of Smart Home Devices in India?
Digitization campaigns have been gathering steam in India, thanks to recent government initiatives. For instance, the government's Digital India campaign aims to make India digitally empowered by improving Internet connectivity and speed.
The fear of losing power or other safety concerns is alleviated by high-speed Internet, which has been aiding the expansion of the market for connected goods. Similarly, home automation systems are becoming more prevalent. Thus, the increase in adoption of smart services will provide growth opportunities for the smart home device manufactures.
How will Robust Urban Society promote Smart Homes Devices demand in Japan?
The Smart Home industry has attractive business opportunity in Japan. The Japan market is seeing an increase in demand for a safe and secure living environment, especially in terms of safety features and distinct monitoring for the elderly. Unprecedented natural calamities witnessed in the last few years such as the Great East Japan Earthquake of 2011 have fuelled the demand for connected devices that can send alert to consumers or let them control and monitor devices remotely using a smartphone app.
Japan also is concentrating on building energy-efficient smart homes and supporting devices. Since mountains cover two-thirds of Japan's land, the country essentially has just one-third of its land usable for living purposes. In Japan rather than living in rural areas there is huge population which are been living in cities, smart home companies such as consumer electronics manufacturers, home builders, housing equipment manufacturers, and communication manufacturers have an opportunity to showcase their smart home products.
Category-Wise Insights
How is Entertainment Category Faring within the Smart Home Devices Market?
In terms of revenue share by product type, entertainment & other controls holds a notable share in the market. The demand for entertainment & other controls is driven by growing preferences for smart devices like Google home voice controller, smart coffee maker among millennials. Millennial consumers are highly fascinated by IT enabled tech products. The growing spending power among millennials has further encouraged millennials buyers to switch to xx. Thus, facilitating high demand growth for laptops, iPads, Headphones etc. are other prominent smart home devices.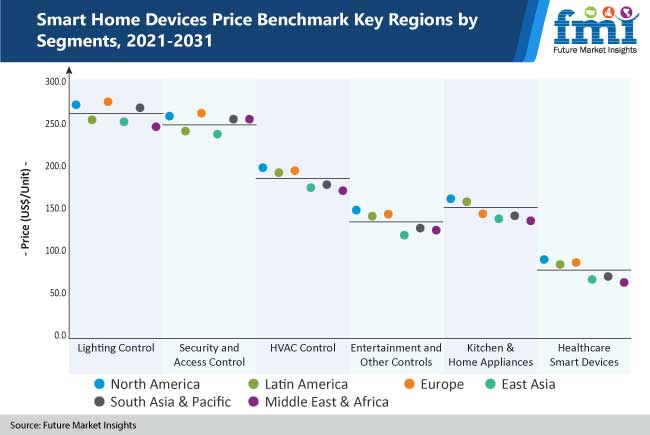 Will Online Retailing become the Most Prominent Sales channel of Smart Home Devices?
As per the analysis, online retailing is likely to dominate over the forecast period. Due to changing consumer preferences, rather buying offline the consumers are shifting towards online retailing this is encouraging the manufactures to increase their online presence in the market. The availability of a variety of devices online is one of the prominent factors that have stimulated an increase in the online sales channel. Many smart home device players on the retail front today are actively guiding customers regarding the assortment of benefits available in different smart devices.
Will Kitchen Appliances Drive the Market Sales for Smart Devices?
There is an increase in the demand for home devices such as air fryers, toast makers, ovens, and others. The market is seeing an increase in the availability of electronic/ digital cooking products for domestic consumers. Due to traditional heating kitchen appliances, the homeowners look ahead for technologically advanced and aesthetic, smart kitchen appliances, in order to enhance the quality of their living.
In addition, the introduction of wind-driven technology encourages consumers to transform their basic kitchen into a smart kitchen. Companies operating in the smart home appliances market offer a number of home appliances to address the growing demand for such equipment for residential user applications.
Competitive Landscape
Some of the prominent players in global smart home devices market include Samsung electronics Co. Ltd, LG Electronics, Siemens AG, Samsung electronics Co. Ltd, Honeywell International Inc., Schneider Electric, Koninklijke Philips N. V, Amazon.com Inc., Robert Bosch GmbH, Apple Inc., Nest Labs, UNITED TECHNOLOGIES, Panasonic Corporation, Sony Corporation, and Midea Group.
The players have opportunities to generate sales and improve their position in the smart devices market by implementing latest ideas into their products. They also can widen their distribution methods by collaborating with the industries. There is incredible focus on staying up-to-date with the latest technologies. Therefore, product launches are a common strategy as market players seek to offer state-of-the art technologies to their consumers.
For instance,
Apple, one of the pioneers of smart home devices, has been working on combining TV Box and HomePod speakers to revive their smart home efforts.
In 2019, Google launched Google Assistant Connect with the intent of wooing smart home device manufacturers. This launch was intended to make it easier for companies to integrate Google Assistant technology into their products.
In 2020, Panasonic launched its IoT and artificial intelligence-enabled platform called Miraie in India, through which it plans to introduce a wide range of connected air conditioners, switches, and smart door bells in India.
Some of the leading companies operating in the market are:
LG Electronics
Honeywell International Inc.
Schneider Electric
Koninklijke Philips N. V
Amazon.com Inc.
Robert Bosch GmbH
Apple Inc.
Nest Labs
UNITED TECHNOLOGIES
Panasonic Corporation
Sony Corporation
Midea Group
ORVIBO, Inc.
*The list is not exhaustive, and only for representational purposes. Full competitive intelligence with SWOT analysis available in the report.
Scope of the Report
Attribute

Details

Forecast Period

2021-2031

Historical Data Available for

2016-2020

Market Analysis

USD Billion for value

Key Regions Covered

North America, Latin America, Europe, East Asia, South Asia, Oceania Middle East & Africa

Key Countries Covered

US, Canada, Germany, U.K., France, Italy, Spain, China, Japan, South Korea, India, Thailand, Malaysia, Indonesia, Australia, New Zealand, South Africa, Brazil, Mexico

Key Segments Covered

Product Type, Price Range, Sales Channel and Region.

Key Companies Profiled

Samsung electronics Co. Ltd
LG Electronics
Siemens AG
Honeywell International Inc.
Schneider Electric
Koninklijke Philips N. V
Amazon.com Inc.
Robert Bosch GmbH
Apple Inc.
Nest Labs
UNITED TECHNOLOGIES
Panasonic Corporation
Sony Corporation
Midea Group
ORVIBO, Inc.

Report Coverage

Market Forecast, brand share analysis, competition intelligence, DROT analysis, Market Dynamics and Challenges, Strategic Growth Initiatives

Customization & Pricing
Key Questions Answered in the Report
What is the Smart Home Devices market size?

The global smart home devices market is expected to register a CAGR of 18.7% during the forecast period 2021-2031. As per Future Market Insights, the global smart home devices market valuation is around US$ 42 billion in 2021.

Which is the most lucrative market for smart home devices?

The U.S. is exhibiting considerably high demand within the global market for smart home devices. Sales in the U.S. is expected to account for a notable share of 72.5% of sales within North America.

Which are some of the leading companies in the Smart Home Devices market?

Some of the leading companies in Smart Home Devices market are Samsung electronics Co. Ltd, LG Electronics, Siemens AG, Samsung electronics Co. Ltd, Honeywell International Inc., Schneider Electric, Koninklijke Philips N. V, Amazon.com Inc., Robert Bosch GmbH, Apple Inc., Nest Labs, UNITED TECHNOLOGIES, Panasonic Corporation, Sony Corporation, Midea Group and among others.

Which is the top-selling smart home device?

As per FMI, the demand for entertainment and other control smart home devices is considerably high, accounting for maximum sales in the smart home devices market.
Smart Home Devices Market by Category
Product Type
Security Lighting Control Smart Home Device
Access Control Smart Home Device

Video Surveillance
Access Control
Fire and Smoke Detectors

HVAC Control Smart Home Device

Smart Thermostats
Heating and Cooling Coils

Entertainment and Other Control Smart Home Device

Audio, Volume, & Multimedia Controls
Home Theater System Controls
Others

Kitchen & Home Appliances

Smart Refrigerators
Smart Vacuum Cleaners
Smart Coffee Makers
Others

Healthcare Smart Devices

Fitness Tracker
Blood Pressure Monitor System
Price Range
Below US$ 25 Smart Home Device
US$ 25-35 Smart Home Device
Above US$ 35 Smart Home Device
Sales Channel
Direct Sales
Mono Brands
Supermarkets/Hypermarkets
Department Stores
Specialty Stores
Online Retailers
Other Sales Channel
Region
North America
Latin America
Europe
East Asia
South Asia
Oceania
Middle East and Africa (MEA)
Need specific information?
Talk Show:
The Rise of Intelligent Packaging
Personalized, Connected and Sustainable
November 18, 2021
11:00-11:45 AM PST (USA & Canada)
This is a LIVE session