Smart Railways Market Outlook & Key Findings
Global smart railways market likely to grow at over 20% during the forecast period of 2020 to 2030, subjected to engaged stakeholders increased spending on IoT in transportation industry
Companies are deploying network connected devices, software and services to facilitate digital identification at railway stations
By the end of 2025, spending on professional services for smart railways is estimated to increase by 9x its value in 2015 by 2030
Among all the systems, Advanced Security Management Systems (ASMS) are projected to offer the most attractive opportunity worth approximately US$ 15 Bn over the forecast period
Well-established smart railways solution providers are focusing on government as well as private sector integration in order to increase the attractiveness of the sector
Smart Railway Adoption is on Fast Track
Role of data and IoT in transportation sectors including railways has not confined to accounting, logistic and shipping management, managing resources, but has integrated in day to railway operation. Such functions include scheduling, run trains safely, measuring economic benefit etc., to mention a few.
At pace with technology adoption by rail operators, IT solution providers have also enhanced their offering for engaged stakeholders. Integration of virtualisation, bespoke asset management software, analytical and predictive modelling has surfaced as regular business function that necessitates effective IT solution.
Need for these smart railway solution will receive increased traction, as railways transition to semi-autonomous transportation over the next ten year. Meanwhile, railway operators are experimenting with smart railways solutions to offer a seamless and safe transportation experience. Rail operators use analytical software to forecast the likely breakdown, and accordingly fix the problem in advance for a better and safer passenger experience, as well as enhancing the overall efficiency for the operator.
Asset management is another critical sector where these smart railway solutions are being used and implemented. Integrated modules of predictive and analytical tools are in use by railways to map likely spike in demand volumes and accordingly optimize capacity and mobilize resources.
Collectively these developments are well synced and aligned to fast track the adoption of smart railways across the industry, resultantly northward trend in market revenue anticipated over the forecast period 2020 – 2030 for global smart railways market.
Ecological and Energy Saving Attributes Boosting Market Growth
National governments and private railway authorities are actively promoting and adopting new green technologies like solar power driven headlight for trains. As conversations around energy savings intensifies, establishing railway environment protection standards and evaluation systems have become imperative.
Smart railways are expected to play a critical role in improving coal and electricity consumption in operating this giant machinery. Reducing the financial costs by achieving energy efficiencies has also been identified as a primary cause in adoption of railways.
In light of this, railway industry stakeholders are undertaking comprehensive measures to prevent noise pollution wherever possible. For instance, solution providers are offering vibration generative alarms that can be integrated into a train's existing infrastructure to notify the commuters about its arrival. Consolidation of such ecological solutions into a single system helps tackle environmental issues are thus driving the adoption of smart railways.
Case of Smart Railways Gets Stronger as Safety Concerns for Aged and Differently Abled Rise
Development of smart railways to make them safer for aged and the differently abled has been the top priority of governments across the globe. Committing and delivering the promise of safe and affordable means of transported has prompted the investments in upgrading the existing railway infrastructure with smart railways. Features such as infrared sensors for accurate human detection on bridges to minimize the accidents are expected to favor market growth.
Furthermore, use of technology to help differently abled individual use platforms and bridges with utmost safety will also make the case of smart railways stronger in the coming ten years. Future Market Insights predicts that research and innovation in smart railways technology can help ensure trade-off between actions needed in favor of ensuring greater safety and easy access to trains given the complex network of railways.
Smart Passenger Services to Enhance Attractiveness for the Commuter
Smart passenger services support a wide range of commuter services, such as provision of convenient ticketing methods, digitization of passenger identity data, intelligent navigation, and personalization of information services, among others. As all of these collectively aim towards saving time and better record-keeping, consumers are expected to opt for smarter ways of using railways by the end of 2030.
Smart railways with intelligent services that will consider commuter demands for optimized goals will bode well for the market. Intelligent navigation services that will offer commuters accurate updates about train schedules, weather, and consignment support, and decision assistance are expected to drive the growth of this market as governments are looking at infrastructure expansion.
Impact of COVID-19 on Smart Railways Market
COVID-19 has adversely affected many countries worldwide, resulting into negative impact on the global economy. The pandemic has driven most of the affected nations into shutdowns, restricting their commercial and industrial activities. Resultantly, new investments in smart railways has been impeded.
The mandatory lockdowns legislated across nations had put a halt of public transportation, as governments strive to tackle the ever-rising rate of COVID-19 infections. In order to combat COVID-19, governments in countries like India and China have frozen R&D and procurement funding across multiple sectors, including railways.
As the global economy heals, the investments in R&D and procurement of smart railways technologies is likely to resume.
Europe and North America Lead Smart Railways Adoption
The market in Europe currently leads the global smart railways market, followed by the smart railways market in North America. Heavy procurement of IoT solutions, along with high focus on technological innovations in the transportation sector, drive the markets in Europe and North America.
Smart railways solutions and service providers are focused on deploying their products in Europe as the European Union, along with Russia, constitute the world's longest railway network. Also, Europe hosts some of the leading players operating in the global smart railways market, which has given this regional market an edge over others.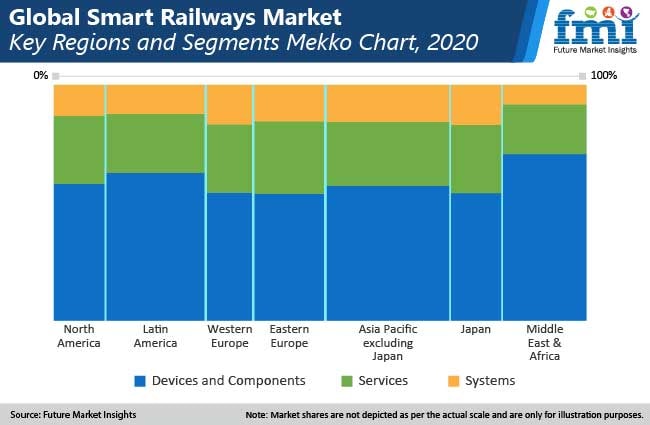 High demand for smart devices and components, such as rail sensors, video surveillance cameras, smart cards, and other networking and connectivity devices that complement smart railways, is being observed across Latin America and the Middle East and Africa. Further, the cost of professional cloud integration services in these countries is likely to decrease during the forecast period.
The market value of smart railways in Asia Pacific excluding Japan is likely to increase at the fastest rate, among all the regional markets. The swift growth may be attributed to the increasing demand for assembled smart railway systems like Railway Traffic Management System (RTMS), Passenger Information System (PIS), and ASMS. High population and the consequent demand for safe and efficient transportation modes is one of the key factors propelling the adoption of smart railways in the region.
Competitive Innovation Strategies in the Smart Railways Market
Key players operating in the global smart railways market are deploying products that accelerate digitization in the railway sector. Companies like ABB are focused on developing relationships with foreign governments in order to enhance the attractiveness of their solutions on a global level. For instance, ABB and Indian Railways announced a partnership in February 2019. As per the agreement, Indian Railways has awarded a contract to ABB for manufacturing and supplying smart converters for electric locomotives. Other key players are undertaking mergers and acquisition strategies in order to expand their product portfolio and extend its reach towards emerging economies.
Following are the key players operating in the global smart railways market –
Huawei Technologies Co., Ltd.
ABB
Alstom S.A.
Indra Sistemas, S.A.
Hitachi, Ltd.
Bombardier Inc.
Siemens
Cisco Systems, Inc.
IBM
GENERAL ELECTRIC
Alcatel-Lucent
Ansaldo STS
Following are some promising players that are estimated to lead the technical innovation to complement smart railways over the coming years:
Alstom S.A.
CSR Corporation Limited
Bombardier Inc.
Siemens
ABB
*The list is not exhaustive, and only for representational purposes. Full competitive intelligence with competition deep dive available in the report
Global Smart Railways Market: Trends to Watch Out For
Methods of payment have evolved in the railway industry. Today, commuters can readily pay using smart cards, thus replacing the traditional method of having change or the right amount of cash for the transaction
Optical sensors in railways can detect major problems such as vibrations, technical faults or differences in rail speed and temperature. These systems are wired to warn smart railway operators immediately of problems, so that they can avoid derailment and other railway accidents
Smart railway operators globally are predicting the supply-demand scenario and, thus, making optimum utilization of railway assets
Global System for Mobile Communications in Railway (GSM-R) solution is in high demand and is considered extremely reliable for high speed railways. GSM-R enhances rail network safety and provides greater coverage than analogue radio networks.
Since 2014, smart railway providers have been utilizing cloud computing services and big data analytics in their operations in order to gain better understanding of their customers' needs. Adoption of a new cloud integrated system would bestow the railway providers with a wider view across logistics and passenger operations, so that they can manage railway traffic across their network more effectively.
Smart Railways Market: Segmentation
The global Smart Railways market is segmented in detail to cover every aspect of the market and present a complete market intelligence approach to readers.
Device and Component
Rail Sensors
Video Surveillance Cameras
Smart Cards
Networking & Connectivity Devices (Router, Wi-Fi, Switches, etc.)
Others (Multimedia Displays)
Service
Professional Services
Cloud Services
Integration Services
System
Passenger Information System (PIS)
Railway Traffic Management System (RTMS)
Advanced Security Management System (ASMS)
Smart Ticketing System (STS)
Rail Operations Management System
Rail Communication & Networking Systems
Others (Rail Analytics System and Freight Information System)
Region
North America
Latin America
Western Europe
Eastern Europe
Asia Pacific excluding Japan
Japan
Middle East and Africa
Need specific information?