An Incisive, In-depth Analysis on the Railways Management System Market
This study offers a comprehensive, 360 degree analysis on the Railways Management System market, bringing to fore insights that can help stakeholders identify the opportunities as well as challenges. It tracks the global Railways Management System market across key regions, and offers in-depth commentary and accurate quantitative insights. The study also includes incisive competitive landscape analysis, and provides key recommendations to market players on winning imperatives and successful strategies.
The trend of optimisation has spanned beyond the fields of electronics, technology and media, reaching key verticals in the transportation sector such as the railways. With the evolution of sensors and wireless connectivity, remote management of railways is becoming more accurate. Railways management systems are being developed on a range of new technologies that can potentially augment the operational performance of railways administration.
Considering how railways will remain to be the backbone of logistics, infrastructure, and the overall economy of a country, administrative authorities are expected to adopt railways management systems for bolstering this commodity. According to Future Market Insights, the global market railways management systems in anticipated to gain traction in terms of revenues over the period of next five years. During this forecast period (2017-2022), advent of new and improved technologies and subsystems will continue to transform the efficiency of railways management systems. The report projects that by the end of 2022, the global market for railways management system will be worth nearly US$ 5 billion.
According to the report, North America is anticipated to represent the largest market for railways management systems. Robust railway infrastructure in the US, increasing interests of North American railway administration towards adoption of advanced technologies, and extended railway budgets will continue to factor the soaring adoption of railways management systems in this region through 2022.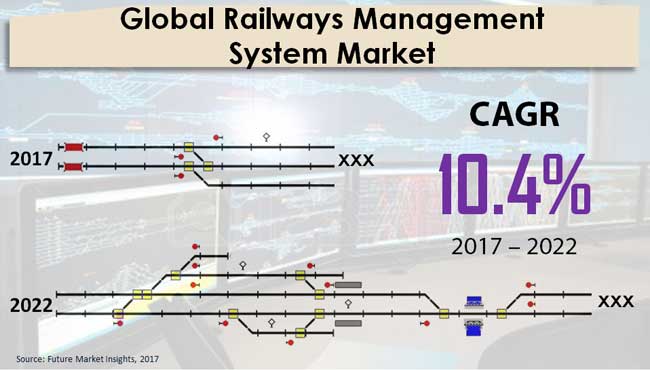 Traffic planning solutions to make headway through 2022
On the basis of solutions facilitated through railways management systems & subsystems, the global market is anticipated to witness higher demand for traffic planning solutions. In 2017, close to one-third of revenues procured in the global railways management system market are anticipated to be accrued from the adoption of traffic planning solutions. Advanced traffic management systems for railways are expected to enable local administration adapt to the changing traffic patterns of regional railways. Management and planning of narrow track traffic will continue to be a key concern for railways administration, especially in metropolitan environments.
Primarily, railway administrations are adopting fully-integrated railways management systems built around the operational plan of local, interstate and regional railways. The report further projects that adoption of track management systems will witness robust traction over the foreseeable future. These solutions are expected to provide better efficiency in management of high speed and conventional speed trains, as well as their long-hauling rolling stocks. The demand for operation management systems is also expected to soar in the view of increasing incidence of train collisions due to operational flaws. By 2022-end, operation management systems sold across the globe are likely to bring in over US$ 1.1 billion in revenues.
Cloud deployment of railways management system to register highest CAGR
On-premise deployment of railways management system is anticipated to bring in nearly US$ 2 billion in global revenues by the end of 2017. In the approaching years, however, several railway administrations across the globe are likely to deploy railways management system through cloud-based networking models. For improving compliance of railways management systems across integrated platforms, cloud deployment will be viewed as the best option. Moreover, real-time management and active notification systems will be working more effectively through cloud deployment of railways management systems. Through 2022, global revenues procured from cloud deployment of railways management systems are anticipated to register highest CAGR of 13.2%.
Tracking the competitors in global railways management system market
The report observes that companies namely, Hitachi, Ltd., Cisco Systems, Inc., IBM Corporation, ABB Limited, Thales S.A., General Electric Co., Toshiba Corporation, Huawei Technologies Co., Ltd., GAO RFID, and Amadeus IT Group, S.A will remain active in expansion of global railways management systems market through 2022. Key developers of railways management systems are expected to focus on full integration and adoption of advanced sensors & monitoring tools. These companies will be compelled to offer comprehensive railways management systems, ones that adapt to every kind of railway traffic density, and across underground lines and conventional railways.
Future Market Insights offers an exclusive market study on railways management systems, titled "Railways Management System Market: Global Industry Analysis (2012-2016) and Opportunity Assessment (2017-2022)." This report serves as a reliable business document for companies partaking in the growth of global railways management system market. The report is directed to serve key research objectives namely – assessment of market size forecasts for the next five years, analysis of key segments in the market, providing a detailed account on the competition landscape, and revealing key trends influencing the market's dynamics. The study has aggregated revenues from key market participants for the period of last five years, and this historical data has been employed as baseline for deriving market size estimations during the forecast period.
Report Synopsis
Key features of the report include the executive summary, regional analysis, segmented analysis, impact assessment of causative factors, and assessment of the overall railways management system market forecast through key presumptive scenarios. The executive summary of the report offers highlights on expansion of global railways management system market across multiple regions. The overview section contains analysis of key trends and opportunities encompassing the railways management system market. Analysis on regional trends, presence of market participants, software providers, key contracts, and value chain is also provided in this section.
The report further offers distinguished sections on segmented analysis of the global railways management system market. Market size estimations and forecasts provided in these sections, and throughout the report are interpreted through metrics such as compound annual growth rate (CAGR), absolute dollar opportunity, Year-on-Year (Y-o-Y) growth rate, and Basis Points Share index. For the purpose of providing extensive analysis & forecast, the global railways management system market has segmented on the basis of deployment model, solution, and region.
Key players in the global railways management system market have been profiled in detail. This section provides the overall competition in the market, revealing key undertakings of leading players and their current market standings. Notable strategies and innovative product developments from these companies have also been traced in the report.
Market Segmentation
The taxonomy of the global railways management system market has been illustrated in the table below:
| Region | Solutions | Deployment Type |
| --- | --- | --- |
| | | |
| | | |
| | Operation Management System | |
| | Railway Reservation System | |
| | Others (asset management system) | |
| | | |
The report also provides additional information on cross-segmented analysis and country-specific market forecast.
Scope of the Report
Future Market Insights' reports are designed to cover the 360o perspectives, and provide a holistic outlook on the market's foreseeable future. Analysts have employed robust research methodologies to develop the findings and market size forecasts on global railways management system market. Detailed understanding of regional markets for railways management system has been offered in this report to enable market participants towards expanding their presence in lucrative geographies. Companies developing railways management systems can avail key technology trends and analysis availed in the report. Findings in the report have been universalised by offering the market size estimations across US dollars (US$). Qualitative information and quantitative evaluations have been infused to boost accuracy of market forecast & analysis being offered.
COVID -19 : Impact Analysis
Request the coronavirus impact analysis across industries and markets
Request Covid -19 Impact
CASE STUDIES
See how our work makes an impact.
At FMI, we design strategies that are adaptive, impactful, and implementable.