Introduction
The market for smart labels witnessed a massive slowdown in its progress as a result of the spread of Covid-19 pandemic across the globe. But in the post covid world, the boost in the healthcare industry is making use of smart labels to assist in inventory tracking and pharmaceutical waste disposal. As recovery commences in 2021, major players are recuperating their positions through production expansion, capacity utilizations and online selling in 2021 keeping in view the covid-19 norms.
Leading companies such as CCL Industries, Inc., Checkpoint Systems, Inc., Avery Dennison Corporation, Sato Holdings Corporation, Smartrac N.V., and Zebra Technologies are actively indulged in the adoption of several market strategies like joint ventures, collaborations, partnership agreements, technological advancements, sales agreements, capacity utilizations, innovations, diversifications, geographical expansions etc to ensure improvements in their operations globally.
For instance, in November 2020, CCL Industries Inc, a leading player in the smart labels market, announced the acquisition of Super Enterprises Printing (Malaysia) Sdn, a leading supplier of decorative panels, liquid crystal & touch screen display covers and in-mould decorated components for the consumer electronics and automotive sectors across Asia. CCL Industries Inc., with expansion in its operations, introduced in-mould decorating and technical screen-printing technologies, as well as strong sales and project engineering resources throughout the region.
In terms of growth, the market in North America is anticipated to stay ahead at a promising revenue rate during the forecast period due to rising penetration of smart labels in merchandise and asset tracking applications. The Asia Pacific and European regions are augmenting growth owing to the organized retail industry in India that has been experiencing healthy growth since the previous decade and the changes in the EU regulations which led to the provision of clear labelling.
Smart labels are item identification solutions encompassing more advanced technologies compared to conventional barcodes. Smart labels incorporate technologies which extend the functionality and contents of labels or packaging, and come in a variety of forms, from RFID tags & QR codes to near field communication (NFC).
These labels rely on an interaction with a consumer device, such as smartphones, to facilitate interaction. Smart labels are predominantly used in retail, FMCG manufacturing, logistics, automotive, healthcare, aerospace and other industries. Deepening internet-of-things penetration is slated to create a massive buzz in the smart labels market.
According to FMI's projections, the global smart labels market is expected to register a dexterous CAGR of ~13%, expanding more than threefold across the 2020-2030 forecast period.
Flourishing Organized Retail Sector
The organized retail sector is gaining ground, particularly in developing and emerging economies. Transforming lifestyles in the wake of rising per capita disposable incomes is stimulating demand for products such as meat, poultry and seafood. This has provided traction to allied industries such as branding and labelling.
As a consequence, manufacturers are exploring more sophisticated forms of labelling solutions, leading to the emergence of smart labelling. Additionally, smart labels are useful in tracking product longevity and inventory. Based on these trends, the global smart labels market is poised to reach new heights.
Growing Popularity of IoT
Increasing internet of things (IoT) penetration has paved the way for the adoption of cloud platforms and high speed networking technologies. As a result, the scope for smart labels is widening with each passing day. Access to devices such as smartphones and laptops have led to development of advanced labelling solutions.
The applications of smart labels are limitless. In healthcare, for instance, smart labels assist in inventory tracking and pharmaceutical waste disposal. Additionally, several textile companies are attaching smart labels to clothes which can monitor body temperature. Likewise, RFID tags help transport perishable commodities.
Also, rapid penetration of communication devices across emerging economies is expected to generate substantial opportunities for smart labels manufacturers in the long-term forecast, leading to the market's acceleration.
Immense Opportunity in the Alcoholic Beverage Industry
Rising per capital incomes have led to heightened consumption of premium priced alcoholic beverages, particularly across developing countries. The alcoholic beverages industry is among the key end-users of smart labels.
Rising sales of spurious liquor have necessitated the incorporation of advanced tracking solutions. Smart labels help in this regard by identifying the date of manufacturing, ingredients used and date of expiry. This has greatly helped in reducing fatalities arising from consuming adulterated spirits.
In 2015, Thinfilm Electronics, a developer of printed electronics, introduced a fully printed NFC sensor tag called OpenSense in collaboration with Diageo, a global beverage company. It is designed for use on bottles to authenticate the contents or indicate if its seal has been broken.
Key Challenges
Investments in smart labelling technologies is an expensive task, consuming a significant portion of an industry's funds. Therefore, its application is largely restricted to premium products and high revenue generating domains, thereby limiting market penetration.
Due to its expensive nature, small & medium organizations cannot afford smart solutions, preferring to rely on conventional barcodes. This factor is proving to be a major hindrance in the predicted growth trajectory of the smart labels market for the upcoming decade.
Additionally, lack of awareness about smart labelling solutions in certain regions due to limited internet penetration is acting as a barrier to market growth. High incidence of poverty and inadequate infrastructure are cited as primary reasons for limited uptake.
Smart Labels Market- Regional Outlook
North America Smart Labels Market
North America is slated to emerge as the kingpin of the global smart labels market, accounting for more than 40% of the revenue share across the 2020-2030 forecast decade. A value CAGR amounting to ~13.0% has been predicted for the said period.
Growth across the region is primarily underpinned by rising penetration of smart labels in merchandise and asset tracking applications. Also, rising labor costs associated with manufacturing is prompting companies to switch to automated and smart solutions across the continent.
Various initiatives undertaken by several organizations are also scaling up prospects for smart label manufacturers. For instance, the Grocery Manufacturers Association and Food Marketing Institute have started the smart labels for product labelling initiative to facilitate quick transition towards smart labelling solutions.
The retail industry is expected to account for the lion's share of the smart labels market, capturing more than 33% of the revenue share. This is due to the surging popularity of retail stores and supermarkets for various consumer products.
Request a sample specific to the North American Market
Western Europe Smart Labels Market
The Western Europe smart labels market size is touted to emerge as an approximately US$ 4.0 Bn industry by 2030-end. A stupendous 13.3% value CAGR has been predicted for the region throughout the forecast period. Strict legislations pertaining to product information transparency is expected to drive the European market growth.
For instance, according to the EU regulation no. 1169/2011, consumers have a right to adequate information regarding the ingredients used, manufacturing and expiry date of perishable foodstuffs. Thus, clear labelling must be done on all packaged products for which smart labelling solutions are essential.
Likewise, directive 2009/125/EC of the European Parliament and Council establishes a framework for minimum eco-design requirements which energy consuming goods must meet before they can be sold or used across the EU.
Other similar legislations for multiple end-use industries have prompted manufacturers to employ smart labelling solutions, particularly RFID ones, in order to provide lucid information about the product's composition, durability and usage.
Request a sample specific to the Western European Market
APEJ Smart Labels Market
APEJ is slated to emerge as the most rapidly expanding regional market, growing prolifically at ~14% CAGR across the 2020-2030 forecast decade. Amongst all countries, India and China are emerging as the most lucrative markets, attributed to a flourishing e-commerce and organized retail sector.
The organized retail industry in India has been experiencing healthy growth since the previous decade. This has created massive opportunities for smart label manufacturers to penetrate into this untapped market. Moreover, labor costs in China and India are comparatively lesser than other regions.
Increasing demand for perishable goods is also creating significant opportunities for manufacturers. Moreover, increasing emphasis on reducing food wastage and evolution of the pharmaceutical industry are prompting vendors to penetrate deep into these markets.
Request a sample specific to the APEJ Market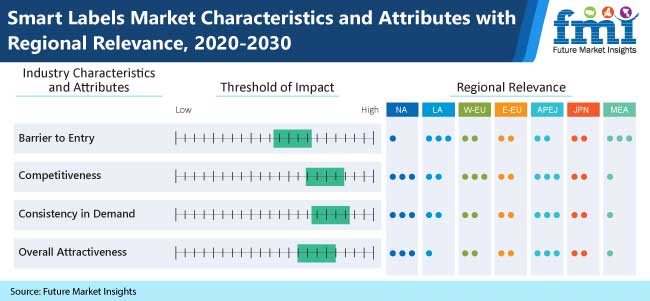 Category-wise Insights
RFID Labelling Holds Maximum Sway
RFID smart label market is expected to hold maximum sway, expanding at an impressive 13.7% CAGR and accounting for nearly 3/5th of the revenue share by 2029. Reduction of employment costs, elimination of human errors and ability to process lengthy are ascribed as key growth stimulators.
Moreover, RFID labels are less sensitive to adverse conditions and are helpful in synchronizing repairing process and inventory control for enterprises. This helps maintain the authenticity of the finished product.
The electronic article surveillance label (EAS) technology is likely to emerge as the 2nd most prominent smart labelling solution throughout the forecast period. A revenue share worth US$ 3.5 Bn is anticipated for the segment in 2030. The ability to detect theft and guarantee employee safety are the main growth drivers.
Flexographic Printing to Remain Dominant
Flexographic printing is poised to remain the principal smart label printing technology in the upcoming decade, due to faster production speed, cost-effectiveness and ability to use substrate rolls which helps in bulk printing. The segment shall capture over 30% of the revenue by 2030.
Digital printing is anticipated to emerge as the fastest growing printing technology segment, registering an astounding 15% value CAGR during the said forecast period. Rapid technological advancements and penetration of sophisticated printing technologies is steering the digital printing segment to lucrative growth avenues.
Retail Industry to be at Fore
The retail industry is expected to tower above all other end-use industries, gaining 70 BPS and reaching US$ 8.2 Bn by 2030. The segment is likely to capture over 1/3rd market share. A flourishing organized retail industry in emerging economies is the principal growth catalyst.
Rising demand for perishable commodities is accelerating the logistics and transportation segment, an important end-user of smart labels. Heightened consumption of ready-to-eat foods and healthcare supplements during the pandemic has boosted growth prospects.
Winning Imperatives generated during COVID-19
The outbreak of COVID-19 has ushered in a massive economic deceleration, which is attributable to the imposition of strict lockdowns to curb the spread of the virus. This has resulted in major slumps across several industries, with companies forced to revise growth projections for the near term forecast.
With respect to the packaging industry, certain pockets such as healthcare consumables, fresh & processed foods and FMCG e-commerce have been witnessing a spike in demand since the pandemic's onset. Therefore, prospects for smart labels across these domains appear promising in the ensuing period.
Surging demand for masks, gloves, prefilled syringes and vials have heightened demand for healthcare packaging solutions, leading to an uptake in RFID smart labels market, NFC and EAS labelling systems for these products. Prospects have also broadened due to accelerated COVID-19 testing kits production.
Additionally, surging e-commerce sales due to restrictions on movement have heightened application prospects of smart labels. Rising demand for foodstuffs, FMCGs and healthcare products have bolstered demand for packaging solutions such as corrugated boxes and films which require adequate labelling.
Competitive Landscape
The global smart labels market is fragmented in nature. Tier-1 players comprise 15-20% of the overall revenue share, each being valued above US$ 200 Mn. These include Avery Dennison Corporation, Honeywell International Inc., Zebra Technologies Corporation and CCL Industries Inc.
The aforementioned players are focusing on expanding their global outreach through diversification of product portfolios, collaborations, product launches and doling out customized labelling solutions for various industries.
In September 2020, Avery Dennison Corporation introduced a completely biodegradable tag fastener for the apparel industry. The tag is highly eco-friendly, being able to decompose upon exposure to soil microbes and leaving behind no micro plastics or other harmful substances.
Additionally, it has also launched its dual-technology AD-362r6-P inlay combining item-level tracking and digital ID capabilities of a high-performance RAIN RFID (UHF) tag for a wide range of retail apparel products.
Zebra Technologies Corporation is another prominent player having a robust presence in the RFID segment. The company offers handheld RFID scanners, fixed readers, antennae, labels & tags and printers. In 2016, it introduced RFID-based labels for fresh meat products.
Other prominent players within the landscape are as follows*:
SATO Holdings Corporation
Checkpoint Systems Inc.
Thin Film Electronics ASA
Muehlbauer Holding AG
Invengo Technology Pte. Ltd.
Smartrac N.V
OPRFID Technologies
MPI Label Systems
Intermec Inc.
*This list is indicative- full details about smart labels manufacturers is available upon request.
Smart Labels Market- Report Scope
Attribute

Details

Forecast Period

2020-2030

Historical Data Available for

2015-2019

Market Analysis

US$ Mn for Value

Key Regions Covered

North America, Latin America, Western Europe, Eastern Europe, APEJ and Middle East & Africa (MEA)

Key Countries Covered

Japan, U.S, Canada, Germany, U.K, France, Italy, Spain, Russia, Mexico, Brazil, China, India, ASEAN, GCC and South Africa

Key Segments Covered

Labelling Technology, Printing Technology and End-Use

Key Companies Profiled

Honeywell International Inc.
Avery Denison Corporation
CCL Industries Inc.
Zebra Technologies Corporation
SATO Holdings Corporation
Checkpoint Systems Inc.
Thin Film Electronics ASA
Muehlbauer Holding AG
Invengo Technology Pte. Ltd.
Smartrac N.V
OPRFID Technologies
MPI Label Systems
Intermec Inc.

Report Coverage

Market Overview, Demand Analysis, Market Trends, Market Background, COVID-19 Impact Analysis, DROT Analysis, Value Analysis, Volume Projections, Segmental Analysis, Regional Profiling, Competitive Landscape

Customization & Pricing
Key Questions Answered in the Report
What is the scope for smart labels market in the upcoming decade?

The global smart labels market is slated to witness staggering growth, expanding at a value CAGR of 12.9% until 2030. The market shall expand 3.36x in value terms during the upcoming decade, representing a US$ 18 Bn incremental opportunity

What factors are driving smart labels sales?

Development of the organized retail sector; usage of smart labels in cloud platforms and high-speed networking technologies; and development of e-commerce industry are all anticipated to provide traction to the market

Which end-use industry promises to emerge as a fertile arena for smart labels?

By end-user, the logistics industry is slated to expand the fastest, registering nearly four-fold growth in the upcoming smart labels market forecast period. Growth of global smart lables market is primarily underpinned by a surging e-commerce sector due to deepening internet and smart devices penetration

Identify the possible impediment(s) to smart labels market expansion.

Smart labels are generally used for perishable products, owing to its high prices. Due to this, applications are limited to premium products only. Consequently, small & medium sized enterprises are unable to afford this investment, thus impeding market growth

How is the COVID-19 pandemic likely to impact the smart labels market?

Onset of the COVID-19 pandemic has ushered in a slowdown across the packaging industry. Production crunches have disrupted the supply chain of several industries, leading to a decline in demand for packaging solutions. This has impeded growth of the smart labels market.

However, spike in demand for healthcare consumables, hygiene products and immunity boosting foods have augmented the need for smart labelling solutions. This is because consumers are relying on e-commerce platforms to avail the aforementioned products

Assess the degree of competition in the global landscape of smart labels.

The global smart labels landscape is dominated by the following prominent manufacturers: Honeywell International Inc., Avery Dennison Corporation, CCL Industries Inc., Zebra Technologies Corporation, SATO Holdings Corporation and Checkpoint Systems Inc.

The aforementioned players control more than one-fifth of the total market. Product launches, strategic collaborations, acquisitions, mergers and advanced R&D are some of the primary strategies adopted by them in order to remain afloat within the market
Enquiry before Buying
Is this research conducted by Future Market Insights?

Yes, the smart labels market research report has been conducted by expert analysts of Future Market Insights through a combination of primary and secondary research. To know more about how the research was conducted, you can speak to the research analyst

What research methodology is followed by FMI?

FMI follows a methodology that encompasses the demand side assessment of the market, and triangulates the same through a supply side analysis. This methodology is based on use of standard market structure, methods and definitions.

Who are the respondents for primary research?

FMI speaks to stakeholders across the spectrum, including C-level executives, distributors, product manufacturers, industry experts. For a full list of primary respondents, please reach out to us.

What are the sources of secondary research?

FMI conducts extensive secondary research through proprietary databases, paid databases, and information available in the public domain. We refer to industry associations, company press releases, annual reports, investor presentations, and research papers. More information about desk research is available upon request.

Is a sample of this report available for evaluation?

Yes, you can request a sample and it will be sent to you through an email.

How can I buy this report?

FMI provides a secure online payment system to buy report seamlessly. You can buy the report securely and safely.
World's Most Profilic Intelligence Engine
Get Access To The World's Largest Market Research Database. Ngage with a revolutionary intelligence engine that scale and pricing that flexes as per your needs
Sign Up Now
Smart Labels Market: Segmentation
Labelling Technology
RFID
NFC Tags
EAS
Sensing Labels
Electronics Shelf Labels
Printing Technology
Flexographic
Digital
Gravure
Screen
End-Use
Healthcare
Automotive
FMCG
Logistics
Retail
Others
Region
North America (U.S & Canada)
Latin America (Argentina, Mexico, Brazil & Rest of Latin America)
Western Europe (Germany, Italy, France, U.K, Spain, BENELUX, Nordics & Rest of Western Europe)
Eastern Europe (Poland, Russia & Rest of Eastern Europe)
APEJ (China, India, Korea, ASEAN, Australia & New Zealand and Rest of APEJ)
Japan
MEA (GCC, South Africa, North Africa & Rest of MEA)
Need specific information?