Smart Labels Market - Key Research Findings
The global smart labels market was valued at ~US$ 6.5 Bn in 2018.
The smart labels market is projected to register a CAGR of ~13% during the forecast period of 2019-2029.
Rising demand for perishable food products and deployment of advanced technologies in the retail sector will continue to drive the growth of smart labels market across the globe.
Asia Pacific excluding Japan and North America are expected to collectively account for ~60% share of the global smart labels market by 2029.

Rapid expansion of the healthcare industry in these regions along with increasing need for smart tags to label a wide range of pharmaceutical products is expected to boost the market growth.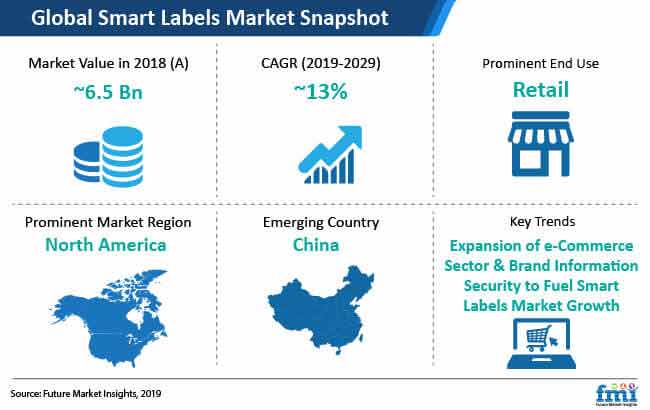 Key Factors Influencing Smart Labels Market Growth
Smart Labels in Perishable Food Products to Enhance Product Quality

There has been a considerable rise in demand for packaged and perishable food products in developed as well as developing countries. Leading food processing and manufacturing companies are focusing on enhancing their supply chain efficiency and providing high quality food products to consumers. Smart labels used in perishable food product packaging provide relevant information such as expiry date, ingredient information, and quality of the food. Growing use of smart labels in beverages industry to enhance the disposition of bottles is expected to significantly drive the market growth in near future.

According to the U.S. Grocery Manufacturing Association (GMA), around 80% of products related to food & beverages and personal care will feature smart labels or tags within the next five years. Additionally, leading food distributors are now partnering with packaging professionals to produce specific smart label solutions for food products.

For instance, PakSense, a U.S.-based food logistics company joined forces with Thin Film Electronics ASA to offer smart labels to food companies for temperature monitoring.
Growing Focus on Smart Packaging of Pharmaceutical Products

In the past few years, demand for smart packaging has been increasing in the pharmaceutical industry, where smart labelling plays a pivotal role. Pharmaceutical manufacturers are adopting various smart labels such as near field communication (NFC) tags and radio frequency identification (RFID) tags to track medicines and improve patient experience. In addition, these smart labels can identify pallets of drugs and medicines simultaneously.

Smart labels eliminate line of sight identification, facilitating the process of identification which sets them above barcodes. Further, factors such as product integrity assurance, hospital inventory management, and channel traceability are expected to remain instrumental to the growth of smart labels market.
Application Restricted to Premium Products

Smart labels are mainly used in high-value products due to their relatively high cost as compared to standard barcode labels. Smart labels are gaining popularity for products that fall in the premium category, either in price or quality. These factors have further restricted the application of smart labels in various small- and medium-sized industries, which pose as a potential challenge for manufacturers.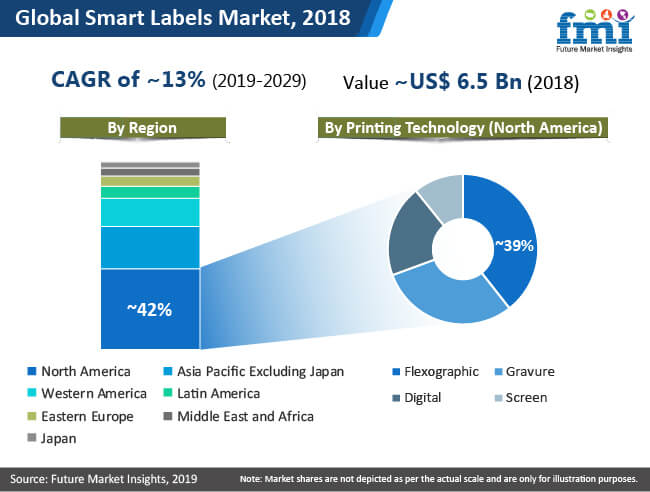 Smart Labels Market: Structure Analysis
Avery Dennison Corporation, Honeywell International Inc, CCL Industries Inc., and Zebra Technologies Corporation are leading players in the smart labels market.
Extensive range of applications and ability to provide precise information of products are some of the crucial factors that propel the demand for smart labels.
Leading manufacturers are targeting end-use industries such as healthcare, FMCG, and retail to maximize their revenue.
Adoption of smart label technologies such as RFID and NFC is one of the prominent trends followed by end users.
The smart labels market is relatively moderate in size, which remains a key factor for its dynamic and competitive nature. In the smart labels market, tier 1 companies hold a revenue share of ~20%.
Some of the prominent market players are Avery Dennison Corporation, Honeywell International Inc, CCL Industries Inc., Zebra Technologies Corporation, Sato Holdings Corporation, Checkpoints Systems, Inc, Muehlbauer Holding AG, and Smartrac N.V. Individual strategies followed by these companies in terms of improving their product portfolio, creating new marketing strategies, and acquisitions and mergers, have been detailed in the FMI report.
Smart Labels Market: Segmentation
The global smart labels market is segmented in detail to cover every aspects of the market and present a complete market intelligence approach to readers.
Labelling Technology
RFID
NFC Tags
EAS
Sensing Labels
Electronics Shelf Labels
Printing Technology
Flexographic
Digital
Gravure
Screen
End Use
Healthcare
Automotive
FMCG
Logistics
Retail
Others
Regions
North America
Latin America
Western Europe
Eastern Europe
Asia Pacific Excluding Japan
Japan
Middle East and Africa
Need specific information?