Consumer Convenience at the Epicenter – Increase in Preference for Flexible Packaging Solutions Fueling the Demand for FFS Films
Manufacturers of FFS films are engaged in developing products with reduced thickness and higher strength. Reducing the thickness of FFS films aids in reduction of packaging weight, which translates into higher number of packaged units per tonnes of film. Furthermore, reduction in thickness of FFS films also enables low space consumption and cost-effective packaging. Future Market Insights' analysis is aimed to provide a holistic view of the evolution of the FFS films landscape.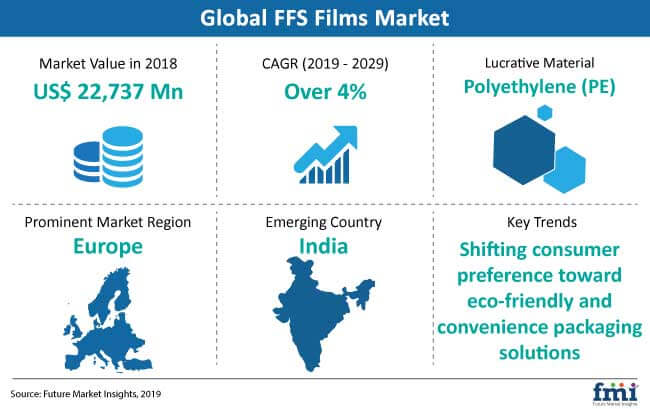 FFS Films Market – Key Research Findings
The global FFS films market size in 2018 – Nearly US$ 23 Bn
The FFS films market is projected to grow at over 4.0% CAGR, during the next ten years.
Europe and East Asia are expected to remain the leading regions in terms of market value share, accounting for more than half of the global FFS films share.
Europe is one of the leading regions when it comes to product-level innovation in flexible packaging formats, which will translate into growth opportunities for the FFS films market.

In addition, the East Asia FFS films market is expected to register growth in market value share, mainly driven by growth in the flexible packaging industry in China.
Manufacturers of FFS films are changing their business offerings and relying on strategic M&A to focus on enhancing their core competencies.
Several companies are rethinking their business strategies to optimize their product offerings. For instance, Coveris deciding to sell its entire North America business is an indication of the company focusing on strengthening its Europe operations.

In addition, there are other big events lined up in the flexible packaging industry such as the merger of Amcor Ltd. with Bemis Company. The ripples of such changes are expected to remain influential across the FFS films supply chain.
Key Factors Shaping the Global FFS Films Market
Increasing Consumption of Packaged Food to Create More Demand for FFS Films
FFS films are highly preferred for packaging food as they possess good machinability and can be easily heat-sealed. FFS films enable contamination-free food packaging, which is one of the prime factors for increasing preference for them.
Market Inclination Toward Flexible Packaging Formats
Flexible packaging has a very promising outlook for growth in the coming years, as the general consumer and industry preference continues to increase towards more friendly and cost-effective packaging solutions. The demand for FFS films is thus expected to grow, mainly driven by the increasing preference for flexibility.
FFS Films Market Structure Analysis
The global FFS films market is highly fragmented, with only a handful of Tier 1 and Tier 2 players.

The two key Tier 1 players in the FFS films market include Coveris Inc. and Mondi Group.

More than 90% of the FFS films industry is held by the players with an individual revenue share of below 1%.

The Asia Pacific region, especially East Asia, is home to most of the Tier 1 players in the FFS films market. China accounts for a significant volume of manufacturers of FFS films offering their products at competitive prices. Buyer power in the FFS films market is expected to remain high owing to multiple manufacturers to choose from.
Market Pegged to Grow 1.5X between 2019 and 2029
The FFS films market is expected to register steady growth during the next ten years, driven by an increasing preference for flexible packaging solutions over their rigid packaging counterparts. As demand for consumer convenient packaging solutions increases over time, it will translate into growth opportunities for the global FFS films market.
Lucrative Growth Opportunities for the FFS Films Market in Emerging Countries
The Europe FFS films market will account for a significant share of the global market. However, the developing countries in Asia will be at the forefront of market growth during the next ten years. Countries such as India and China are expected to register healthy growth propelled by an increased demand for packaged items. As manufacturers of FFS films focus on expanding market presence, they are expected to eye developing countries to capitalize on the lucrative growth opportunities. Strong growth in the number of manufacturers of FFS films in China will boost market growth for East Asia.
The FMI Perspective
Value chain participants in the FFS films market are focused on adapting their business models and growth strategies in line with increasing consumer inclination for flexible packaging formats. It is anticipated that the market will continue to witness several mergers & acquisitions as companies rush to enhance their capabilities. Product and design-level innovation will focus on features such as excellent printability and transparency, enabling better product presentation.
Pouches will remain the top selling application segment
Stick packs are likely to witness growth in demand at a prominent rate
Sachets will also closely follow stick packs in terms of growth rate
The food segment to generate more than half of the global FFS films revenue
The dairy products segment to register increasing demand for FFS films
The healthcare & pharmaceuticals segment to create an incremental revenue opportunity of over US$ 2 Bn
How Growth will Unfold
Stick packs will continue their momentum of growth in demand, whereas, sachets and pouches will witness an early decline in growth rates, owing to market saturation.
Pouches | Bags & Sacks | Sachets | Stick Packs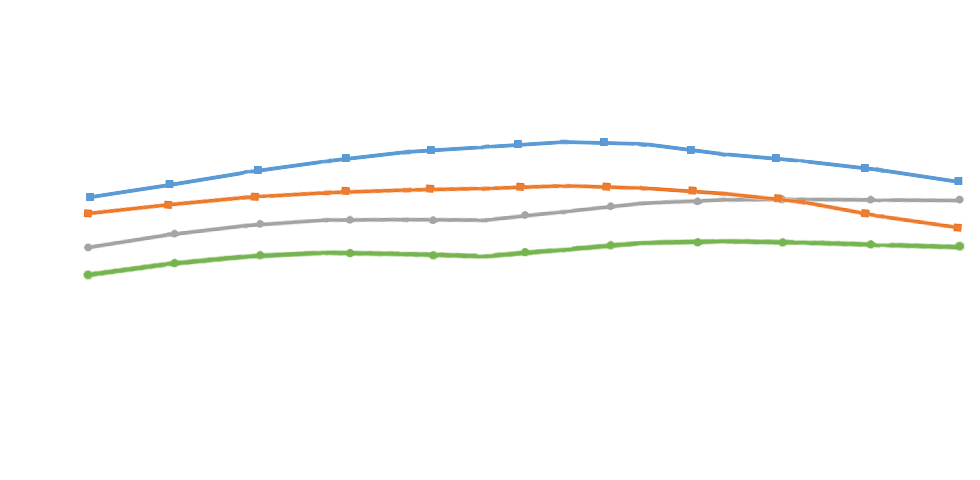 * This data is only a representation. Actual data may vary and will be available in report.
Click Here To Know How The Growth Will Unfold
Custom Market Research Services
FMI offers custom market research services that help clients to get information on their business scenario required where syndicated solutions are not enough.
Overview
Form-Fill-Seal Films Market: Global Industry Analysis 2014-2018 & Opportunity Assessment 2019-2029
A recent market study published by FMI, "Form-Fill-Seal Films Market: Global Industry Analysis 2014-2018 & Forecast 2019-2029" offers a comprehensive assessment of the most important market dynamics. After conducting thorough research on the historical, as well as current growth parameters of the form-fill-seal films market, the growth prospects of the market are obtained with maximum precision.
Form-Fill-Seal (FFS) Films Market Taxonomy
The global form-fill-seal films market is segmented in detail to cover every aspect of the market and present complete market intelligence to the reader.
By Material Type
Polystyrene (PS)
Polyethylene (PE)
Polypropylene (PP)
Polyethylene Terephthalate (PET)
Polyvinyl Chloride (PVC)
EVOH
Polyamide (PA)
Polylactic Acid (PLA)
Aluminium Foil
By Thickness
25 to 75 micron
76 to 150 micron
151 to 225 micron
Above 225 micron
By Application
Pouches
Bags & Sacks
Sachets
Stick Packs
By Application
Food

Meat, Poultry & Seafood
Dairy Products
Fruits & Vegetables
Bakery & Confectionery
Pet Food
Grains & Cereals

Healthcare & Pharmaceuticals
Agriculture
Building & Construction
Tobacco
Others
Region
North America
Latin America
Europe
East Asia
South Asia
Oceania
Middle East & Africa
How the research was conducted?
Primary Research
Primary research interviews with key opinion leaders and other participants were conducted for data collection and validation of the below information:
Key Segments in the Form-Fill-Seal Films Market
Market Share Analysis
Average Selling Price (US$) and Market Growth
Comparative Analysis of Several Form-Fill-Seal Films Present in the Market
Market Size
Key Trends & Developments
Competition & Key Vendor Strategies
Secondary Research
Flexible Packaging Association
Industry Journals
Plastics Europe
Food Service Packaging Industry Growth
Annual Reports/SEC filings/Investor Presentations
Primary Interview Splits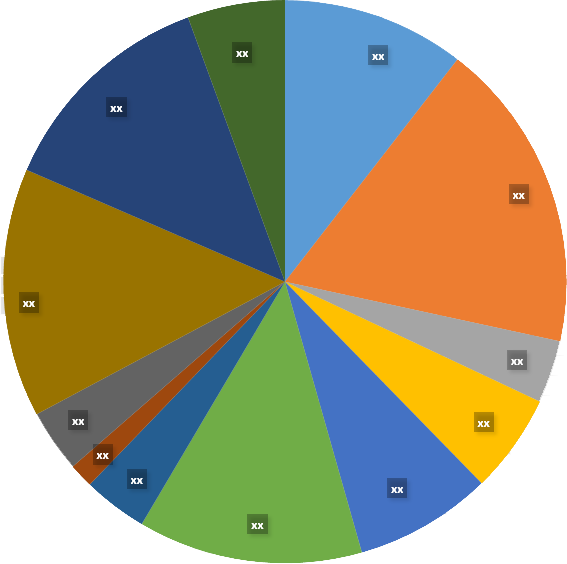 To Learn More About our Comprehensive Perspective on Form-Fill-Seal (FFS) Films Market,
Get in touch
COVID -19 : Impact Analysis
Request the coronavirus impact analysis across industries and markets
Request Covid -19 Impact
CASE STUDIES
See how our work makes an impact.
At FMI, we design strategies that are adaptive, impactful, and implementable.