Intelligent Packaging Market By Technology (Interactive Packaging/Data Carriers, Active Packaging, Indicators), Level of Packaging (Primary Packaging, Secondary Packaging, Tertiary Packaging) & Region – Forecast 2021 – 2031
Intelligent Packaging Market - Analysis, Outlook, Growth, Trends, Forecasts
November 2021

REP-GB-13604

300 pages
Intelligent Packaging Market Snapshot
[300 Pages Report] The intelligent packaging market revenue totaled US$ 17.8 Bn in 2020, according to Future Market Insights. The overall market is expected to reach US$ 46.7 Bn by 2031, expanding at a CAGR of 9.0% for 2021-31.
Worldwide sales of intelligent packaging is expected to grow by 10.5% in 2021. Surging demand for interactive packaging/ data carriers will remain a chief growth driver through the assessment period.
The global intelligent packaging market constituted around 2.0% of the US$ 900 billion worth of global packaging market in 2020 and it is estimated to be above 5% by the end of 2030.
| | |
| --- | --- |
| Attribute | Details |
| Market Size Value in 2020 | US$ 17.8 Bn |
| Market Forecast Value in 2031 | US$ 46.7 Bn |
| Global Growth Rate | 9% |
2015-2020 Intelligent Packaging Market Outlook Compared to 2021-2031 Forecast
Majorly driven by the rising demand for interactive, smart, and connected packaging solutions to ensure safety, and prevent the risk of counterfeiting, the global market for smart and intelligent packaging is anticipated to rise at 9.0% CAGR from 2021 to 2031 in comparison to the 6.3% CAGR registered during 2015 to 2020.
Packaging solutions that are smart, connected, interactive are considered under the umbrella of intelligent packaging. These solutions are designed to perform intelligent functions such as tracing, tracking, recording, detecting, and help in improving the quality of product, providing information, ensuring safety, and increasing product shelf life.
Intelligent packaging is been adopted by various brands among food, beverages, healthcare, cosmetic, logistics & transport, consumer electronics, consumer goods, personal care & home care industries.
The rising demand for interactive packaging in various end use industries is intended to drive customer engagement. Also, the increasing need for monitoring customer satisfaction and loyalty to gain business opportunity will fuel the demand in the market.
Intelligent packaging solutions allow brands to analyze and monitor the number of customers who scanned QR codes attached to their product. This will help them to gauge prevalent purchase pattern, creating scope for companies to offer a higher degree of customer satisfaction and capitalize on their loyalty.
Temperature control is a highly sought-after attribute that food, healthcare, and other industries seek in their packaging. They are exploring options that will allow them to protect & preserve products and extend their shelf life.
On the backdrop of this, the demand for time-temperature indicators, sensors, and active packaging solutions is on the rise. Technology-based packaging helps in reducing the sales of counterfeit products as it provides the product with a unique identity that protects the product from counterfeiting.
These factors are expected to steer growth in the intelligent packaging market over the coming years.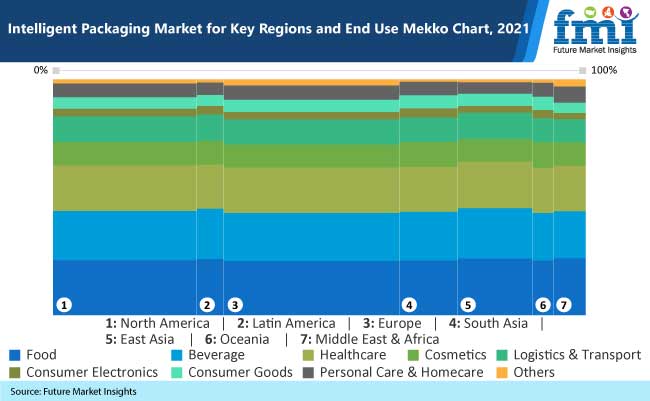 Intelligent Packaging Sales to Grow as Brands Focus on Smart, yet Eco-friendly Packaging Solutions
Several brands are adopting intelligent packaging solutions to cater the need for smart, connected, interactive, user-friendly, and eco-friendly packaging solutions among the customers. Some of the examples are as followed:
Leading food and beverage company Nestlé is using SIG's QR code closure solution called "One Cap, One Code" in Vietnam which helps in appealing the Gen Z customers along with strengthening brand loyalty.
In 2020, a global healthcare company named Fresenius Kabi introduced RFID smart labels for a range of its essential medications.
A British multinational confectionery company named Cadbury used smart packaging to help its customer make connections. The company used a MaXQ QR code on its milk tray packaging.
Will Track & Trace Packaging Emerge as Game Changer?
Globally, manufacturers, logistical partners, and various stakeholders are ensuring smooth flow of packaged food & beverages by producing, supplying, and delivering product to final consumers.
Major global brands face huge losses due to the presence of duplicate products in the market. To overcome such drawbacks of traditional packaging, heavy expenditure is incurred by key packaging industry players in the development of innovative and next-generation packaging solutions.
Latest intelligent packaging solutions are witnessing increased market acceptance by both domestic and international players within the food & beverage industry. For instance, a leading beverage brand, Coca-Cola, has shifted to intelligent packaging by offering electronically printed NFC (Near Field Communication) labels on its bottles.
The global demand for different technology-based packaging solutions is rising as more brands, especially fresh food and the FMCG sectors adopt intelligent packaging.
Future of Intelligent Packaging in Healthcare Industry
Stringent packaging and transport norms of healthcare drugs and supplies are augmenting the demand for intelligent packaging. As a result of the growing geriatric population and the increasing prevalence of various chronic diseases, the demand for OTC (over the counter) drugs has increased. Developments in medical science and the result of numerous research & development efforts by pharmaceutical giants have increased the availability of drugs in the market.
Logistical problems that accompany advanced medicinal drugs and equipment are proving to be challenging for manufacturers and supply chain partners. All modern life-saving drugs and vaccines require specific packaging and temperature-controlled transportation.
Upgraded transportation laws by the World Health Organization for various medicinal drugs and supplies make it mandatory for manufacturers and logistical partners to adopt intelligent packaging. The usage of advanced intelligent packaging makes the risk-free movement of complex medicinal supplies across the globe easier.
Integration of Advanced Technologies on Card
Intelligent packaging solutions are gradually becoming mainstream. In turn, competition prevalent in the market is expected to get fiercer. To gain a competitive edge, more companies are integration advanced technologies to make packaging smarter. For instance, some are investing in the integration of augmented reality.
Consumers can see beyond the box with Augmented Reality, which gives them a greater understanding of the product and brand identity. Tetra Pak along with digital experiences studio has revealed a milk carton, which uses augmented reality (AR) via smart packaging, encouraging customers to lead a healthier lifestyle.
The increasing trend towards knowing the product feature and information just through scanning the QR code, using a mobile phone is fuelling the demand for intelligent packaging. Tyson Foods has added a QR code on its meat products which will help the customers know the place of the meat's origin or when it entered the store.
How Big is the Opportunity for Intelligent Packaging in e-Commerce?
The global e-commerce industry is expanding with the emergence of intelligent packaging. It is used in all the stages of e-commerce for shipment purposes. Intelligent packaging offers various advanced features, which include easy tracking of the product from the manufacturer's facility, warehouse, shipper's warehouse, delivery partner and till the final consumer.
These attributes are unlike traditional packaging where the producer, seller, and shipper were required to maintain complete records of the packaging from the very beginning of the supply chain.
The evolution of intelligent packaging has simplified the process of tracking packaged products, especially in the e-commerce industry. The online shopping is exponentially growing in the fast-paced developing and underdeveloped regions. Along with this, the growing population of educated consumers is anticipated to contribute to the demand for user-friendly packaging and solutions. The adoption of intelligent packaging transforms the whole supply chain. Driven by this, the demand in the market is expected to increase in the coming years.
Will Nanotechnology Boost Adoption of Intelligent Packaging?
Recent developments in the foodservice industry have resulted in the introduction of a number of ready-to-eat meals and packaged foods. Food and beverages are being packaged in a way that consumers can consume them at their convenience.
The adoption of various packaging techniques in the food industry has resulted in higher popularity of intelligent packaging solutions such as anti-microbial packaging. Anti-microbial packaging is made of packaging materials, which possess biological properties that restrict the growth of harmful bacteria inside the package. Anti-microbial packaging prevents the consumables from spoiling.
Furthermore, the introduction of nanotechnology in food packaging has enabled major players in the food & beverage industry to pack their offerings in high-barrier packaging materials. Nanotechnology also enables better detection of contaminants in packages. The export of eatables by major market players across the globe (to cater to the rising demand for pre-cooked foods) acts as a much-needed boost for the expansion of intelligent packaging.
How are Food Delivery Companies Benefiting from Smart & Connected Packaging?
Food delivery companies such as Swiggy and Zomato are investing heavily in intelligent packaging. They also are using artificial intelligence which helps them to improve the customer experience. Using AI, Swiggy differentiates and classifies food dishes and provides customized interface to cater the specific need of the customer.
In 2019, Swiggy announced the acquisition of Kint.io, the Bengaluru-based AI startup. Swiggy also has its marketplace program called Swiggy Packaging Assist which helps in enabling the packaging solution to various restaurants. Besides this, Zomato has acquired a Lucknow-based startup named TechEagle Innovations in 2019 which will help to establish a drone-based delivery network.
What is the Impact of COVID-19 Pandemic on the Global Market for Intelligent Packaging Market?
Overall, the packaging market had experienced a negative slope in demand due to various factors such as a slowdown in production activity among the various end use industries, improper supply chain & logistics, stringent restriction on trade, imbalance in the supply of raw material, and other factors.
The intelligent packaging market as well faced the adverse impact of COVID-19 which resulted in a decrease in sales. However, the market is expected to recover as leading end-use industries resume operations. Industries already have begun operations following roll out of vaccination in 2021.
Coupled with this higher focus on decontaminating packages and products inside will make intelligent packaging imperative across certain industries such as food and beverages, cosmetics and personal care, and pharmaceutical.
Country-wise Insights
Why is the United States Considered the Most Lucrative Market for Intelligent Packaging?
North America remains the second-leading region in the global market, exhibiting high demand for intelligent packaging. The North America market for intelligent packaging is estimated to hold around 26.0% value share, by the end of 2031.
According to the FMI analysis, the United States is projected to hold nearly 85% of the total North America market for intelligent packaging during the forecast years.
Focus on reducing food wastage will remain a chief growth driver in the U.S. According to the Food and Drug Administration (FDA), around 30-40% of the food supply is estimated to be food wasted every year in the United States due to the reasons such as spoilage, damage, and others.
The time-temperature indicators or sensors integrated in intelligent packaging can help to avoid food wastage. Therefore, focus on advanced solutions to prevent food wastage will drive the sales of intelligent packaging solutions in the U.S.
Why is the Demand for Intelligent Packaging increasing in Germany?
Germany is anticipated to remain the leading country for intelligent packaging sales in Europe. Germany is anticipated to hold around 1/5th of demand for intelligent packaging in the regional market.
The demand for intelligent packaging is rising in the healthcare industry to preserve temperature-sensitive drugs. The essential step in the healthcare industry is monitoring the drug temperature and managing the cold chain to ensure safe distribution.
According to the European Federation of Pharmaceutical Industries and Associations (EFPIA), Germany is one of the leading manufacturers of pharmaceutical products. The increasing pharmaceutical production results in high demand for proper time-temperature indicators & sensors to preserve the drug during its storage and transit. Therefore, the rising production of pharmaceutical products in Germany is anticipated to drive the demand for intelligent packaging.
What is Driving Intelligent Packaging Sales in India?
In South Asia, India will hold a market share of around 45% by the end of 2031. The increasing demand for smart and connected packaging along with the adoption of a QR code among the food & beverage industry in India will create growth opportunities for intelligent packaging market in India.
The trend of connected packaging is increasing in India especially in the food & beverage industry. According to India Brand Equity Foundation (IBEF), the Indian food industry is expanding at a CAGR of 11%. The food sector has been registering increasing adoption of connected packaging to ensure customer engagement along with providing product information just by scanning the QR code.
For instance, in 2019, Karnataka Milk Federation (KMF) and CavinKare were among the first few brands to pilot the connected packaging in India. Overall, the rising adoption of connected packaging among the Indian food & beverage industry is estimated to create market growth opportunities for intelligent packaging in India.
Category-wise Insights
Why is Demand in Interactive Packaging/Data Carriers Segment Rising?
Based on the technology, the interactive packaging/data carriers segment is anticipated to remain the most lucrative one among the other technology-based segments. The interactive packaging/data carriers segment is projected to hold around 44% of the market share by 2031.
The reason behind the same is the increasing preference towards technology-based packaging among various end use industries to ensure traceability, safety, and interactive packaging solution.
Who are the Leading End Users of Intelligent Packaging?
In terms of end use, the food segment followed by the healthcare segment and beverage segment is estimated to hold the leading share in the market. These segments are forecast to hold around 69% of the market by the end of 2031. Strict norms for storing and transporting various food and healthcare products will propel the demand for next generation packaging.
The food segment generates a major portion of the demand for intelligent packaging followed by the healthcare segment and beverage segment. These industries are expected to register high demand for smart, connected, interactive, user-friendly and eco-friendly packaging solutions.
Which Level of Packaging is More Preferred?
Based on the level of packaging, the primary packaging segment is anticipated to remain the dominant. Leading companies are focusing on making primary packaging more interactive as it gives the first impression about product, which helps customers in reaching their final purchase decision. The primary packaging segment is projected to register a CAGR of 9.6% during the forecast period.
Competitive Landscape
Key players manufacturing next-generation packaging are trying to focus on innovation by launching new products along with adopting advanced technologies. Through this, they intend to cater the demand registered across various industries. Also, the players are expanding their production capacity to meet the demand for smart, connected, and intelligent packaging across the globe.
In September 2021, Timestrip UK Ltd. introduced a new temperature indicator for vaccines. The indicators will help in avoiding the wastage of vaccine supplies.
In 2021, JRI Company announced the expansion of its capacity by introducing full integration of the Labguard 3D equipment into the JRI-MySirius solution.
In December 2020, DeltaTrak Inc. announced the launch of customized vaccine temperature monitoring solutions that are compatible with the three temperature profiles required for the transport, storage, and handling of COVID-19 vaccines.
Some of the leading packaging manufacturers have integrated advanced technologies into their traditional packaging solutions. Besides this, there is high focus on strategic collaborations and product launches:
In March 2021, Amcor announced a collaboration with JD Farm to jointly launch NFC (near field communication)-enabled packaging that will ensure more effective and interactive consumer engagement.
In September 2021, Avery Dennison Corporation launched its AD Maxdura® Tire Tag for the tire industry. The new product enables track and trace through the logistic chain and also makes it easier to identify tires at warehouses and dealerships.
In April 2021, Stora Enso introduced the world's first sustainable RFID for microwave-safe use. It helps in item-level tagging and ready-made meals.
In October 2018, Huhtamäki Global announced the launch of its specialty cup range of single wall hot cups and paper vending cups available in a brand new, modern design with a QR code and a message to 'please recycle this cup'; this is to increase cup recycling in the UK.
Scope of Report
Attribute

Details

Forecast Period

2021-2031

Historical Data Available for

2015-2020

Market Analysis

US$ Million for Value and Units for Volume

Key Regions Covered

North America, Latin America, Europe, South Asia, East Asia, Oceania, and the Middle East & Africa

Key Countries Covered

US, Canada, Brazil, Mexico, Germany, Italy, France, U.K., Spain, Russia, GCC Countries, Japan, India, China, and Australia

Key Segments Covered

Technology, Level of Packaging, Application, End Use, and Region

Key Companies Profiled

Material Providers

LyondellBasell Industries N.V.
Exxon Mobil Corporation
Saudi Basic Industries Corporation
Ineos Group Limited
Eni S.p.A.
LG Chemical
Lanxess AG
Chevron Phillips Chemical Company, LLC

Packaging Manufacturers

Amcor plc.
Crown Holding Inc.
3M Company
CCL Industries Inc.
Huhtamaki Global
DS Smith
Avery Dennison Corporation
Honeywell International Inc.
Tetra Pak International S.A.
Sealed Air Corporation
Stora Enso
WestRock Company
Ball Corporation
Mondi Plc.
International Paper Company
Georgia-Pacific LLC
UPM-Kymmene Oyj
Coveris Holdings S.A.
DuPont Teijin Films US
Sigma Plastics Group

Technology Providers

Timestrip UK Ltd
Varcode, Ltd.
Temptime Corporation
DeltaTrak, Inc.
EVIGENCE SENSORS
JRI Company
Vitsab International AB
LAXCEN TECHNOLOGY INC.
APK-ID
STARNFC Technologies Ltd.

Brand Owners

Nestlé S.A.
Coca-Cola Company
Johnson & Johnson
Pfizer Inc.
Unilever PLC
Procter & Gamble Company
XPO Logistics
DHL Supply Chain
Amazon.com, Inc.
Shopify Inc.

Report Coverage

Market Forecast, Company Share Analysis, Competition Intelligence, DROT Analysis, Market Dynamics and Challenges, and Strategic Growth Initiatives

Customization & Pricing

Available upon Request
World's Most Profilic Intelligence Engine
Get Access To The World's Largest Market Research Database.
Sign Up Now
Intelligent Packaging Market by Category
By Technology:
Indicators

Time-Temperature Indicators
Gas & Integrity Indicators
Freshness Indicators

Sensors
Interactive Packaging/Data Carriers

Quick-response (QR Codes)
Barcodes
Radio Frequency Identification (RFIDs)
Near Field Communications (NFCs)
Bluetooth Low Energy (BLE)

Active Packaging

Oxygen Scavengers
Ethylene Absorbers
Moisture Scavengers
Anti-microbial Packaging
By Level of Packaging:
Primary Packaging
Secondary Packaging
Tertiary Packaging
By Application:
Bottles and Jars
Blisters
Trays & Clamshells
Cans
Boxes & Cartons
Vials, Ampoules, & Prefilled Syringes
Bags & Pouches
Films & Wraps
Mailers
Labels, Tapes, & Tags
Others
By End Use:
Food

Meat, Poultry, & Seafood
Fruits & Vegetables
Dairy Products
Bakery & Confectionary
Processed Food
Ready to Eat Food
Others

Beverage
Healthcare

Medical Devices
Medical Supplies
Pharmaceuticals

Cosmetics
Logistics & Transport
Consumer Electronics
Consumer Goods
Personal Care & Homecare
Others
By Region:
North America
Latin America
Europe
South Asia
East Asia
Oceania
Middle East and Africa (MEA)
Key Questions Answered in the Report
What is the current market valuation of intelligent packaging?
The market valuation of intelligent packaging is expected to be US$ 19.7 Bn by 2021.
At what rate did the global market for intelligent packaging expand in the last five years?
The global market for intelligent packaging exhibited steady growth at 6.3% CAGR in the last five years from 2015 to 2020.
What is the demand outlook for intelligent packaging?
The global market for intelligent packaging will experience a rise in demand after the decrease in sales due to the COVID-19 in 2020. As per FMI, the market will expand at a CAGR of 9.0% during 2021 and 2031.
What are the key trends driving the global market for intelligent packaging?
The rising adoption of interactive and connected packaging among Gen Z consumers drives the demand for intelligent packaging. Also, trend of contactless purchase and contactless delivery will augment the sales of intelligent packaging. Overall, the rising need for smart, connected, interactive, eco-friendly, and user-friendly packaging solutions among the various end-use industries will boost the demand for intelligent packaging.
What are the key factors driving the sales of intelligent packaging?
Rising demand for track and trace solutions along with safe packaging will drive the sales of intelligent packaging across the globe. Moreover, higher inclination among consumers to know about various product information will aid the expansion of the market.
What is the market outlook for intelligent packaging in Europe and North America?
Europe and North America hold the leading share in the global market for intelligent packaging. The Europe and North America market will collectively hold around 55% of the market share in 2031.
At what rate will the South Asia market for intelligent packaging grow?
As per the FMI analysis, the market for intelligent packaging in South Asia is projected to exhibit a CAGR of 11.0 % between 2021 and 2031.
Which are the top 7 countries exhibiting high demand for intelligent packaging?
The U.S., Japan, South Korea, Germany, U.K., Italy, Canada, and China are among the leading markets for intelligent packaging, exhibiting consistently high demand.
At what rate will the Japan intelligent packaging market grow?
As per FMI, the Japan intelligent packaging market is expected to rise at 11.2% CAGR between 2021 and 2031.
Need specific information?
Our Clients