An Incisive, In-depth Analysis on the Intelligent Transportation System Its Market
This study offers a comprehensive, 360 degree analysis on the Intelligent Transportation System Its market, bringing to fore insights that can help stakeholders identify the opportunities as well as challenges. It tracks the global Intelligent Transportation System Its market across key regions, and offers in-depth commentary and accurate quantitative insights. The study also includes incisive competitive landscape analysis, and provides key recommendations to market players on winning imperatives and successful strategies.
Overview of the global intelligent transport systems market
Global intelligent transport systems market is developing rapidly with a healthy CAGR during the assessed period. North America is expected to be the dominant market in 2017 in terms of revenue for intelligent transportation systems. In the coming years, APEJ is expected to be a key market for sustainable revenue generation. Developing countries such as China are expected to account for high market shares in the APEJ region for the ITS market. Establishing strong supply chains and distribution channels are major practices followed by ITS vendors in China to expand their business opportunities. Smart technology such as smart parking and collision avoidance systems are the two applications which are showcasing high CAGRs.
Global intelligent transport systems market size is expected to be valued at US$ 21,481.4 Mn in 2017, and is projected to reach US$ 70,798.4 Mn by 2027 end, expanding at CAGR of 12.7% throughout the assessed period.
Increased inclination towards better transport infrastructure is a new trend in the global intelligent transportation systems market
Development of smart vehicles is one of the major trends shaping the global intelligent transportation system market. These smart vehicles operate on intelligently controlled roads by deploying state of art infrastructure and latest technologies. However to operate with this technology, it is necessary for smart vehicles to have intelligent transportation systems. This trend is expected to push the growth of the global ITS market.
This system not only provides new infrastructure opportunities but also offers openings for reworking on old infrastructure. For instance, on April 2016 it was announced by the Ministry for Transportin Germany that around 70% of investment of the transportwill be for renovation and improvement projects, comparedto 56% in the previous transport strategy.
Another recent trend in this market is associated with key players operating in the global market for intelligentation transport systems that are joining 5G automotive association to scale up product innovation. For example, Savari Inc., joined the 5G automotive association to bring cellular communications to connected cars.
Demand for better transport infrastructure is likely to increase due to technological advancement. This allows the adoption of traveler information systems, ramp meters, electronic toll collection, traffic signal coordination and red light cameras. The governments across the globe are also taking initiatives to focus on research of cutting-edge technology related to advanced products such as vehicle ad hoc networks. These major trends are poised to fuel the growth of the global market for intelligent transport systems.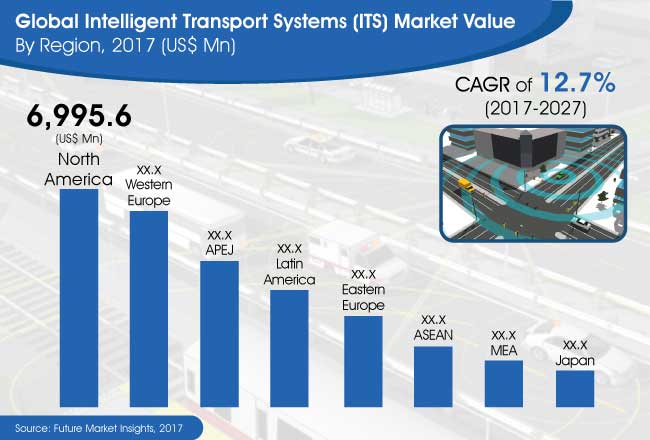 The market in the APEJ is expected to exhibit a high market attractiveness index over the forecast period
In terms of value, the APEJis projected to be the most attractive market in the global intelligent transport systems (ITS) market during the forecast period. APEJis expected to register high Y-o-Y growth rates throughout the forecast period. In terms of value, this market is expected to rise at a CAGR of 19.9% during the forecast period. In 2017, the market in the North Americais estimated to reach a value of US$ 6,995.6Mn in the year 2017, and is expected to witness steady growth in terms of revenue throughout the forecast period. North America also has a relatively large market share as compared to other countries and is the second largest region for intelligent transport systems.
Through extensive research, our analysts have studied the impact of different dynamics on the current and future scenario of the global intelligent transport systems market, thus providing useful insights to market players to plan their differentiating strategies, capable of evolving with the changing market landscape. We have analysed the key trends, drivers, restraints and opportunities while studying this report. Impact analysis of key growth drivers and restraints based on the weighted average model are included in the report to better equip and arm clients with crystal-clear and decision-making insights. This report provides historical data of 2012-2016 along with forecast from 2017 to 2027 in terms of revenue (US dollar) and volume. The report comprises the study on current issues with end users and opportunities for intelligent transportation system developers. It also includes detailed pricing and value chain analysis.
Following assumptions have been made while examining the global intelligent transport systems market for the projected period of 2017-2027.
Average Selling Price (ASP) has been considered to determine market values; the ASP has been arrived at through data collected from various primary and secondary resources including trade websites, company quotations, and primary interviews with manufacturers and end-customers

Since significant variations have been found in the pricing data collected from various participants, based on the product type, size, quality, and system integration, statistical mode range of the responses has been considered for pricing calculation, and an attempt has been made to represent an appropriate average regional price

Top-down approach has been used to obtain market numbers. Bottom-up approach has been used to counter-validate the market estimations

All values for market size are presented in US$ (US Dollar) and sources such as World Bank, IMF, IMO, UNCTDA, OECD, companies' annual & financial reports, primary respondents, and others are used to enhance the comprehensiveness of this report

Market projections are based on expert interviews, and qualitative assessment of market dynamics

Ranking beside each market table is based on descending order of CAGR for the respective segment from 2017-2027
Our unique style of describing this report
In order to provide a comprehensive view of the market, we have included detailed competitive analysis and covered company players with unique selling propositions. The dashboard provides a detailed comparison of intelligent transport systems developers on parameters such as operating margin, unique selling propositions, collective market share, and geographic concentration. The study encompasses market attractiveness analysis of various segments of the global ITS market.
The report has included the global consumption of intelligent transport systems as well as the revenue generated from sales across all regions. Apart from value chain analysis, profitability margins, cost influencing factors, pricing trends and factors influencing the sales of intelligent transport systems have also included in the report.
We have segmented the global intelligent transport systems market into three sections
By Region

By Application

By Component

ASEAN

Asia Pacific

Middle East & Africa

North America

Western Europe

Eastern Europe

Latin America

Japan

Intelligent Urban Traffic Management Systems

Traffic Monitoring

Traffic Signal Controls

Enforcement Camera Management

Highway Traffic Management

Intelligent Car Parking Management Systems (Smart Parking)

Fleet Management and Asset Monitoring

Collision Avoidance Systems

Advanced Traveller Information Systems

Congestion/Road Charging Solutions

Hardware

Software

Services
Our Research Methodology
A number of primary and secondary sources were consulted during the course of the study. Secondary sources include IMF, World Bank, and Hoover's, companies' annual reports and publications were also examined while researching this market. The market numbers have been estimated based on average consumption and weighted average pricing of intelligent transport systems by product type and the revenue is derived through regional pricing trends. Market size and forecast for each segment have been provided in the context of global and regional markets. The global intelligent transport systems market has been analysed based on expected demand. Prices considered for the calculation of revenue are average regional prices obtained through primary quotes from numerous regional intelligent transport systems producers, suppliers, and distributors.
COVID -19 : Impact Analysis
Request the coronavirus impact analysis across industries and markets
Request Covid -19 Impact
CASE STUDIES
See how our work makes an impact.
At FMI, we design strategies that are adaptive, impactful, and implementable.