Transport Cases & Boxes Market By Material Type (Plastic, Metal, Leather, Others), End-Use (Military Equipment, Photography & Music Equipment, Medical and Fire Safety Equipment, Automotive & Mechanical Parts, Chemicals, Biotechnology) & Region – Forecast 2020 - 2030
Transport Cases & Boxes Market - Analysis, Outlook, Growth, Trends, Forecasts
January 2021

REP-GB-4426

237 pages
Transport Cases & Boxes Market Overview
[237 pages Report] Transport cases and boxes market to expand at a value CAGR of 3% through 2030. Future Market Insights projects the automotive transport cases demand to aggrandize at nearly 4% until 2021, being valued at nearly US$ 150 Mn
The transport cases & boxes landscape is undergoing significant transformation. Growing emphasis on meticulous storage, an end product of growing pace of multi-layered operations across key end-use industries is poised to fundamentally alter logistical requirements, providing a wider berth for the expansion of the global transportation sector.
Furthermore, as logistical companies look to leverage sustainable alternatives, manufacturers are compelled to introduce trailblazing packaging innovations, incorporating eco-friendly and biodegradable raw materials. Preference for plastic packaging material continue acquiring center-stage, prompting manufacturers to adopt a slew of strategies to keep pace with evolving market scenarios.
In its extensive coverage, Future Market Insights provide a holistic view of the transport boxes & cases market, including key growth projections across seven regions, along with detailed analysis of the potential impact of the COVID-19 pandemic across key segments.
Transport Cases & Boxes Market - Historical & Future Growth Projections
The transport cases and boxes market has experienced modest gains, expanding at a value CAGR of approximately 3% from 2015-2019. Widening trade margins have catalyzed the development of highly robust packaging and logistical industries across key regions, thereby providing room for introducing innovative transport cases and boxes.
With safe and secure packaging gaining precedence, governments worldwide are seeking to enforce regulatory provisions to ensure the same. Key industries such as food & beverages and pharmaceuticals have been at the forefront of such legislations.
Frameworks such as the EU Framework Legislation and the Plastic Regulation as well the amendment to the 1998 Federal Food, Drug and Cosmetics Act have achieved significant milestones, leading to an expansion of the transport cases and boxes market. Future Market Insights predicts the market trajectory to remain positive across the upcoming decade, registering an increase of over 3%.
How is Product Standardization Impacting Transport Cases and Boxes Market Growth?
Effective packaging designs are important for enhancing logistics performance, both in cost-reduction and sustainability terms. The introduction of pallet-based logistics systems since the latter of the 20th century has proven to be a major breakthrough in this respect.
Standardizing box dimensions to facilitate efficient pallet usage has prevailed, providing a blueprint for numerous manufacturers to achieve precision in their packaging endeavors. For instance, use of 600 x 400 mm modules and associated submultiples for external dimensions have been promoted in compliance with the ISO 3394: 2012 standard.
Likewise, deployment of multimodal containers belonging to the 20 and 40 foot dimension range have been pivotal in ensuring efficient logistics in the past few years. More recently, the 45-foot long and nearly 10 feet "High Cube", is becoming popular amongst shipping companies to transport greater volume of goods.
Such standardized specifications have provided a significant ground for the proliferation of transport cases and boxes manufacturers across key regions.
Opportunities Abound across Shipping Industry
The global shipping industry is witnessing a meteoric rise, attributed to exploding global trade volumes. The International Chamber of Shipping, nearly 11 billion tons of goods are transported by ships annually. As of 2019, global annual shipping trade accounted for over US$ 14 trillion, with crude oil, iron ore and grain being key commodities.
However, the global health and economic crisis triggered by the coronavirus pandemic has upended the maritime transport landscape, resulting in a 4.1% contraction across 2020, according to the UNCTAD. This has temporarily disrupted expansion prospects for transport cases and boxes.
However, long-term prospects appear significantly promising, as countries reopen maritime borders in the wake of resuming trading activities in the post-lockdown period. Shipping giant Maersk, for instance, has reported that countries such as India registered a 31% increase in volume in Q3 2020. Thus transport cases providers are finding renewed investment opportunities in the region.
How are Environmental Sustainability Concerns Influencing Expansion?
Like other packaging domains, the transport cases and boxes market is also heavily influenced by burgeoning environmental sustainability concerns. The global packaging industry accounts for nearly 33% of total plastics consumption, with only 14% of it being recycled, concludes a report published jointly by the World Economic Forum and Ellen MacArthur Foundation.
The report further states that the problem is being compounded by surging e-commerce volumes, which is aggrandizing at nearly a fifth of the total expansion rate. It is expected that by 2050, there will be 12 billion tons of plastic waste covering the entire world, thereby prompting packaging manufacturers to opt for sustainable alternatives.
A case in point is that of computer hardware giant Dell, which is incorporating bamboo-derived packaging solutions to transport its components to key end-users. As a part of its 2008 Global Green Packaging Strategy, the company aims to incur significant cost and environmental savings, achieving 100% sustainability by 2030.
Waste Disposal Remains a Concern for Transport Cases and Box Manufacturers
In spite of making impressive forays into the sustainable packaging domain, the transport cases and boxes landscape is still plagued with concerns regarding proper disposal, as majority of manufacturers still rely on plastic materials as they are easy to source due to reduced costs.
The adverse impacts of discarded plastics have been well-documented. In 2018, over 500 million tons of plastics wound up in oceans, with the bulk of it being generated across emerging economies such as China, the Philippines, India and Sri Lanka. Consequently, manufacturers are experiencing bottlenecks with respect to maintaining supply.
Most plastic transport cases are manufactured using chlorinated derivatives, which release harmful chemicals in surrounding soils. These eventually seep into groundwater and other water sources in the ecosystem, causing toxicity to reach dangerously high concentrations. Such concerns are expected to impede growth of the market in upcoming years.
Transport Cases and Boxes Market Country-wise Insights
How Lucrative is the U.S. Transport Cases and Boxes Market?
The United States exhibits tremendous growth potential with respect to transport cases and boxes adoption, expected to yield nearly 90% of the North American revenue share. Bulk of this demand is generated from the military segment, accounting for 20% of the sales.
Over the years, the United States government has made defense spending a top priority. For FY 2020, the Federal Government's Department of Defense set aside nearly US$ 721.5 billion for this purpose. The allocation has been compartmentalized into different categories, such as personnel payment & benefits, overseas contingency operations and healthcare funding.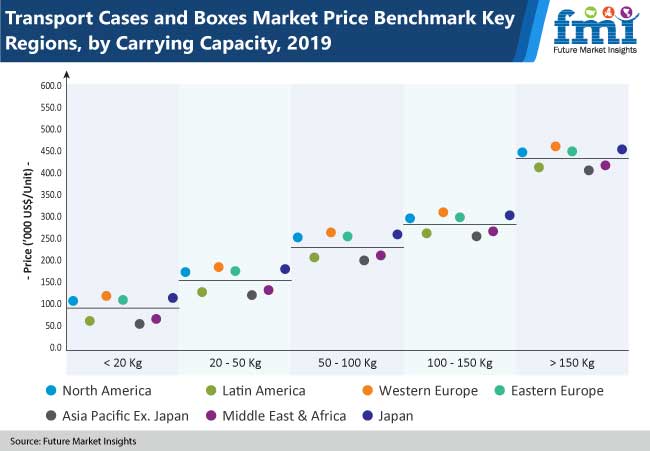 This represents a phenomenal increase since FY 2015, wherein the amount set aside was US$ 560 billion, representing a compounded growth rate exceeding 5%. This is providing a wide berth for prominent transport case and boxes manufacturers. Prominent players include CP Cases, PHILLYCASE, ArmyTechnology and Pelican Technologies US among others.
Why is U.K. a Key Market for Transport Cases and Boxes?
The U.K landscape is likely to witness over 400 thousand unit sales of transport cases and boxes across 2021, with extensive applications expected in the chemicals domain. This is primarily due to a flourishing textile industry.
According to the European Chemical Industry Council (CEFIC), the U.K chemicals & pharmaceuticals sector contributed £55.5 billion in revenue and £19.2 billion in value addition as of 2018. Key categories include petrochemicals, basic inorganics, agrochemicals, detergents, paints and personal care products respectively.
Also, the textile industry contributes 6% of the total economic growth of the U.K., especially in the fashion segment. A prominent player operating in the U.K landscape is ReAgent Chemical Services, which specializes in the design and manufacture of high-quality chemical coatings for chemical textiles.
How is Germany Occupying the Center-Stage?
Throughout Western Europe, Germany is expected to remain the core region for future transport cases sales, expected to capture around 35% market share. Significant gains are expected across the automotive industry.
Being the largest automotive market in the world, it is no surprise that manufacturers are vying to gain strong footholds across the region. Accounting for over 30% of the European Union output in 2017, the German automotive market is the most competitive and innovative across the globe.
Developments are especially evident across the electric vehicles (EVs) segment. Recently, Polish bus builder Solaris has delivered 90 new Urbino 12 electric buses to Berlin's BVG transit agency, increasing the total fleet to 123. Likewise, in November 2020, Munich deployed 8 new electric buses manufactured by Ebusco.
Owing to such significant developments, the German government has increased production of the electric vehicles aftermarket accessories and equipment, leading to a rising demand for specialized transport cases and boxes, contributing to a positively sloping growth curve across the forecast period.
India to Witness Credible Expansion amid Growing Medical Industry
India represents immense growth potential for transport cases and boxes, attributed to a flourishing healthcare industry. The India Brand Equity Foundation, the healthcare market in India is expected to be valued at US$ 372 billion by 2022, with healthcare tourism rising at 18% annually.
In recent years, the country has become a convergence point for increased capital investment for advanced diagnostic facilities, prompting enhanced technological advancements. Furthermore, it is the world's leading market for generic drugs. All these factors combined are generating high prospects for pharmaceutical packaging.
West Pharma is a prominent pharmaceutical packaging manufacturer, offering a broad product portfolio range, including vial containment solutions, pre-fillable systems, self-injection platforms and cartridge systems and components among others. FMI projects the Indian market to expand at approximately 5% CAGR through 2030.
Why Consolidation in China is Key for Transport Cases and Box Manufacturers?
Over the years, Chinese trade has expanded at breakneck speed, with total trade amounting to US$ 4.6 trillion (12.4%) of global trade in 2018. According to ChinaPower, in 2018, China exported nearly US$ 2.5 trillion in goods, with imports accounting for US$ 2.13 trillion. Therefore, the company's shipping industry has surged significantly.
Presently, majority of shipping container manufacturers originate from China, accounting for 85% of the global shipping container production. Prominent ones include CIMC, Singamas Container Holdings Ltd., COSCO Shipping, CXIC Group and China Eastern Containers among others.
To facilitate further development, the government has provided massive stimulus in the form of direct subsidies and state financing. Data suggests that between 2010 and 2018, US$ 5 billion worth of direct subsidies and US$ 127 billion of state financing was provided to the shipping industry.
This ever-widening scope of the shipping industry is permitting the entry of prominent transport container manufacturers, prompting the East Asian giant to expand at a value CAGR worth over 4% across the upcoming decade.
Transport Cases and Boxes Market Category-wise Analysis
Cases Carrying below 20 Kg Weight to Remain Dominant
Transport cases weighing less than 20 kilograms are likely to remain highly preferred by key end-use industries, maintaining a consistent revenue share of nearly 36% across the forecast period. High demand for consumer goods, especially across the food & beverages, cosmetics and pharmaceutical domains are fueling sales in this category.
At the same time, the 20-50 kilograms segment is expected to garner significant traction, registering a value CAGR of nearly 4%. Rising expenditure on non-perishable consumer products such as electronics, apparel, kitchenware and other items are catapulting sales.
Why are Plastic Cases Highly Preferred?
Plastic-derived transport cases and boxes are poised to remain popular, attributed to their ease of sourcing and cost-benefits. Amongst all plastics, polypropylene cases and boxes are slated to remain most extensively used, generating half of the revenue share.
However, polyamide cases are also acquiring high ground, registering annual increments of nearly 4% throughout the forecast period. Polyamide cases exhibit high temperature resistance, enhanced impact strength and excellent resistance to wear and tear.
3-5 kg Transport Cases and Boxes Exhibit High Growth
By case weight, transport boxes weighing between 3 to 5 kilograms are poised to account for nearly two out five sales by 2021-end. However, cases weighing below 3 kilograms are expected to emerge as equally lucrative categories, expanding at a CAGR of 3.8%.
With industries scrambling towards incorporating sustainable packaging solutions, container size perceptions are evolving, with emphasis on minimal packaging requirements increasing focus on less-weighing boxes and cases. This is anticipated to steer the aforementioned categories' growth forward.
Why Consolidation in Military Transportation is Key?
Amongst all end-use industries, the military domain promises to generate substantial expansion opportunities. A market share worth 19% is predicted for the segment by the end of the current year. Growing emphasis on military infrastructure development due to national security concerns has increased demand for defense equipment.
Significant expansion opportunities lie across emerging market, especially across countries such as China and India, which are amongst the key spenders on advanced military and defense equipment to safeguard their borders from external aggression. Hence, manufacturers are presented with humongous expansion prospects across this domain.
Aggrandizing Demand for Waterproof Cases
With increasing volumes of maritime trade, instances of sea mishaps and accidents have recorded simultaneous upsurge. Growing incidences of capsizing ships is leading to loss of immense quantities of goods, which are often not salvageable due to the conventional nature of packaging boxes.
Hence, adoption of waterproof boxes is increasing. Furthermore, increased consumption of perishable commodities such as instant foods has augmented the need for adopting hydrophobic packages, thus broadening growth prospects for waterproof containers in the future. The segment is expected to yield nearly three-quarters of global revenue.
Competitive Landscape
The global transport cases & boxes market is characterized by the presence of several manufacturers, rendering the market highly competitive. FMI's report has profiled the below mentioned players within its report*:
Pelican Products Inc.
PARAT Beteiligungs GmbH
SKB Corporation, Inc.
GT Line Srl
bwh Spezialkoffer GmbH
Plastica Panaro S.r.l.
Thermodyne International Ltd.
C.H. Ellis Company, Inc.
Plasticase Inc.
Gator Cases Inc.
GMOHLING Transportgeräte GmbH
Cases by Source Inc.
Procases Inc.
Others
*This list is indicative- full details about transport cases and boxes market players is available upon request.
With sustainability at the core of packaging manufacturers, the aforementioned players are concentrating on incorporating eco-friendly and safe material within their product portfolios. Furthermore, these players rely on capacity expansion, acquisitions and new product launches to remain afloat in the market.
For instance, in February 2020, SKB Corporation unveiled three new iSeries size cases which include the 3i-1208-3, 3i-2011-10 and 3i-2424-10. These were created to accommodate some of the industry's most required sizes, manufactured from ultra-high strength polypropylene copolymer resin which corrosion and impact damage resistance.
Likewise, in November 2020, Pelican BioThermal, part of Pelican Products, launched a range of deep frozen temperature controlled packaging options from -80o C to -20o C for the pharmaceutical market. The product launch has been undertaken with the objective of making COVID-19 vaccines available to practitioners and patients alike.
In August 2020, bwh Spezialkoffer introduced the ALUshape presentation cases for prominent aluminum roofing manufacturers. Likewise, in September 2020, the company unveiled its SAFEDI event box, which is individually manufactured case suitable for transporting mobile charging and power supply equipment.
Transport Cases & Boxes Market- Report Scope
| | |
| --- | --- |
| Attribute | Details |
| Forecast Period | 2020-2030 |
| Historical Data Available for | 2015-2019 |
| Market Analysis | US$ Mn for Value & '000 Units for Volume |
| Key Regions Covered | North America, Latin America, Western Europe, Eastern Europe, APEJ, Middle East & Africa and Japan |
| Key Countries Covered | U.S., Canada, Germany, U.K., France, Italy, Spain, Russia, Mexico, Brazil, China, India, Australia, GCC & Japan |
| Key Segments Covered | Material Type, Carrying Capacity, End-Use, Case Weight & Waterproof Feature |
| Key Companies Profiled | Pelican Products, Inc., PARAT Beteiligungs GmbH, SKB Corporation, Inc., GT Line Srl, bwh Spezialkoffer GmbH, Plastica Panaro S.r.l., Thermodyne International Ltd., C.H. Ellis Company, Inc., Plasticase Inc., Gator Cases Inc., GMOHLING Transportgeräte GmbH, Cases By Source, Inc., Procases Inc., Shell-Case Design Ltd., Willard Packaging Co., Portabrace Inc., Ameripack Inc., ZARGES GmbH, KKC Cases GmbH, Trifibre Ltd., Philly Case Co., Gemstar Manufacturing Inc., Wilson Case, Inc., GWP Group Limited, Embalex S.L., ProCase GmbH, Boxfort Inc., Fawic Packaging Systems, Case Technology Inc., Nefab Group, Thermodyne International Ltd., Plaber Srl and Suprobox (Makel). |
| Report Coverage | Market Overview, Key Market Trends, Key Success Factors, Demand Analysis, Market Background, Segmental Analysis, Regional Profiling, Market Structure Analysis & Competition Analysis |
| Customization & Pricing | |
Enquiry before Buying
Is the transport cases and boxes research conducted by Future Market Insights?

Yes, the transport cases and boxes report has been compiled by expert analysts of Future Market Insights through a combination of primary and secondary research. To know more about how the research was conducted, you can speak to the research analyst.

What research methodology is followed by FMI?

FMI follows a methodology that encompasses the demand side assessment of the market, and triangulates the same through a supply side analysis. This methodology is based on use of standard market structure, methods and definitions.

Who are the respondents for primary research?

FMI speaks to stakeholders across the spectrum, including C-level executives, distributors, product manufacturers, industry experts. For a full list of primary respondents, please reach out to us.

What are the sources of secondary research?

FMI conducts extensive secondary research through proprietary databases, paid databases, and information available in the public domain. We refer to industry associations, company press releases, annual reports, investor presentations, and research papers. More information about desk research is available upon request.

Is a sample of this report available for evaluation?

Yes, you can request a sample and it will be sent to you through an email.

How can I buy this report?

FMI provides a secure online payment system to buy report seamlessly. You can buy the report securely and safely.
World's Most Profilic Intelligence Engine
Get Access To The World's Largest Market Research Database.
Sign Up Now
Transport Cases and Boxes Market Key Segments
Material Type
Plastic

Polyethylene
Polystyrene
PET
Polyamide
Polypropylene

Metal
Leather
Others
Carrying Capacity
Less than 20 kg
20-50 kg
50-100 kg
100-150 kg
150 kg & above
End-Use
Military Equipment
Photography & Music Equipment
Medical and Fire Safety Equipment
Measuring & Communication Equipment
Electronics & Semiconductor Components
Automotive & Mechanical Parts
Chemicals
Biotechnology
Others
Case Weight
< 3kg
3-5 kg
5-10 kg
10-15 kg
> 15 kg
Waterproof Feature
Waterproof
Non-waterproof
Region
North America (U.S & Canada)
Latin America (Brazil, Mexico, Argentina & Rest of Latin America)
Western Europe (Germany, Italy, France, U.K, Spain, BENELUX, Nordics & Rest of Western Europe)
Eastern Europe (Russia, Poland & Rest of Eastern Europe)
APEJ (China, India, ASEAN, Australia & New Zealand and Rest of APEJ)
Middle East & Africa (GCC, South Africa, North Africa, Turkey & Rest of MEA)
Japan
Key Questions Answered in the Report
What is the outlook on transport cases and boxes demand?
The global transport cases and boxes market is poised to expand at a CAGR amounting to 3.2% from 2020 to 2030. Growth is primarily underpinned by extensive uptake across key domains such as military and defense and the shipping industry
Which are the prominent transport cases and boxes manufacturers?
Prominent transport cases and boxes manufacturers profiled in FMI's report are Pelican Products, Inc., PARAT Beteiligungs GmbH, SKB Corporation, Inc., GT Line Srl, bwh Spezialkoffer GmbH, Plastica Panaro S.r.l., Thermodyne International Ltd., C.H. Ellis Company, Inc., Plasticase Inc., Gator Cases Inc., GMOHLING Transportgeräte GmbH and Cases By Source, Inc. to name a few
Which is the most promising transport cases and boxes market?
The United States is slated to account for the majority of the transport cases and boxes demand, owing to extensive uptake in the military sector. Over the years, US military expenditure has registered an upswing, given its heightened political and economic interests across key regions
Why are growth prospects highly significant across emerging economies?
Prominent transport cases and boxes players are deepening penetration across emerging market in the Asia-Pacific, particularly in India and China, owing to their lucrative potential across the pharmaceutical and shipping industries respectively
Which is the dominant transport cases and boxes material type?
Plastic based transport cases and boxes, particularly polyamide and polypropylene, are garnering significant attention owing to their enhanced resistance to hostile environments and durability
Need specific information?
Our Clients