An Incisive, In-depth Analysis on the Transportation Coating Market
This study offers a comprehensive, 360 degree analysis on the Transportation Coating market, bringing to fore insights that can help stakeholders identify the opportunities as well as challenges. It tracks the global Transportation Coating market across key regions, and offers in-depth commentary and accurate quantitative insights. The study also includes incisive competitive landscape analysis, and provides key recommendations to market players on winning imperatives and successful strategies.
High performance coatings, specifically engineered for withstanding thermal and mechanical stress, have witnessed a widespread adoption in the transportation sector over the past decades. These transportation coatings have been integrated in the production of vehicles and their components. Metal surfaces of long haul trucks and trailers being coated with high-velocity oxygen fuel (HVOF) coatings is a practice actively exercised in the manufacturing of vehicles and components used for transportation purposes. According to Future Market Insights, the global sales of transportation coatings will translate over US$ 12 billion revenues by the end of 2022. The report has assessed the future of transportation coatings as key industrial materials utilized in the transportation industry for a five-year forecast period, 2017-2022. A regional analysis compiled in the report reveals that the Asia-Pacific excluding Japan (APEJ) region will represent the largest market for transportation coatings throughout the forecast period.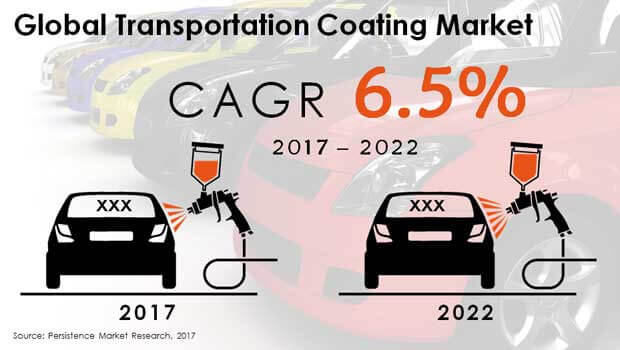 Demand for solvent-based coatings to surge vigorously
The report has analysed the global transportation coating market on the basis of types of coatings. In 2017, the report anticipates that solvent-based transportation coating sold in the global market will net around US$ 3.5 billion revenues. These coatings will register the fastest revenue growth through 2022, and will also hold approximately two-fifth share on global revenues anticipated to be procured throughout the forecast period. Demand for solvent-based transportation coatings is poised to escalate as these coatings are less susceptible to temperature and humidity changes. However, production of solvent-based transportation coatings entails high VOC emissions, an environmental adversity that is viewed as a key deterrent for their adoption. The demand for powder coatings will be steady in the global transportation coating market, while pre-treatment coatings will incur revenue growth at a robust CAGR over the forecast period.
Automotive OEMs to be viewed as largest end-user
In 2017, nearly half of the revenues procured in global transportation coating market will be accounted by automotive OEMs. Epoxies and polymer coatings are being actively integrated in the manufacturing of engine parts, vehicle chassis, and other key components. The use of transportation coatings at initial stages through OEMs will remain to be a healthy practice for companies operating in transportation businesses. In terms of revenue, the fastest growth is anticipated to be accounted by end-use of transportation coatings in heavy duty truck industry.
Plastic coating applications will register 7.2% CAGR through 2022
Among the key applications, the report anticipates that plastic coating applications will register fastest revenue growth during the forecast period. By the end of 2022, over US$ 3.8 billion transportation coatings will be sold for these applications. Although, the report also anticipates that in 2017, metal coating applications will procure the largest global revenues share. Manufacturers of transportation coating are expected to focus on boosting the applicability of coatings for plastic surfaces. Several companies will also be adopting new fastening techniques such as elastic bonding and offer aging resistant adhesives to support the performance of transportation coatings.
Key manufacturers of transportation coatings
The global market for transportation coatings is expected to be highly competitive. With emergence of new coating polymers and advanced production techniques, the manufacturing of transportation coating will undergo considerable transformation. Over the next five years, The Sherwin-Williams Company, The Dow Chemical Company, PPG Industries, Inc., Nippon Paint Holdings Co. Ltd., Henkel AG & Co. KGaA, Evonik Industries AG, E.I Dupont De Numours and Company, BASF SE, Axalta Coating Systems Ltd., and Akzo Nobel NV will are pegged to remain active in the expansion of global transportation coating market. Several market players will also focus on new strategies to procure high-quality grades of raw materials used in production of transportation coatings.
Future Market Insights (FMI) has developed an exclusive report titled "Transportation Coating Market: Global Industry Analysis (2012-2016) and Opportunity Assessment (2017-2022)". The report offers comprehensive analysis and forecast on transportation coating market for the assessment period 2017-2022. Through exhaustive primary and secondary research, the analysts at FMI have analysed the key factors that can influence the direction of this market during the period 2017-2022.
Transportation coatings plays an important role in protecting the different means of transport – cars, ships, trains, etc. – from corrosion. Although transportation coatings have been around for a long time, in the last decade or so, an increasing emphasis on sustainability has been observed. As regulations have becomes stringent, coating manufacturers have had to adapt. Emphasis on sustainability is likely to gain more ground in the foreseeable future, creating opportunities and challenges for stakeholders in the global transportation coatings market.
The report beings with an executive summary which introduces the readers to this market. This section of the report offers valuable information on the key market dynamics that are shaping the future direction of this market. Important information pertaining to supply chain, cost structure, product life cycle, pricing analysis, and list of distributors is offered to readers in this section.
In a bid to give readers exhaustive information, the report has segmented the global market on the basis of coating type, end-user, and application. On the basis of coating type, the key segments include water-based, pre-treatment, powder, solvent-based, and 'others'. By end-user, the market offers forecast and analysis on the key segments including automotive OEMs, rail industry, heavy duty truck industry, bus manufacturers, and other end-users. Key application segments include metal coating, carbon fiber, plastic coating, and other substrates. This detailed segmentation helps readers in getting a complete overview on the growth of this market.
Market Taxonomy
| Coating Type | End-user | Application |
| --- | --- | --- |
| | | |
| | Heavy Duty Truck Industry | |
| | | |
| | | |
| | | |
Competition Landscape
The report's concluding chapters offer holistic information and profiles of the key players in this market. The competition landscape analyzes each company in detail, with analysis and information on the key developments, strengths, weaknesses, opportunities, and challenges for the players.
Research Methodology
Future Market Insights (FMI) banks on its exhaustive research methodology to offer accurate and unbiased market forecast to its clients. In a bid to offer the most comprehensive information to readers, experts and influencers in the global transportation coating market have been consulted. A wealth of information gathered through interviews and focus group participation is carefully examined for relevancy and coherency. Offering accurate market research to clients also entails thorough secondary research through latest tools. All projections and forecasts are peer-reviewed to ensure the most accurate information is offered to the readers. The comprehensive competition dashboard offered in the report is compiled after referring to a multitude of investor releases, databases, and news sources. Detailed competition landscape is a valuable source of information for companies of all sizes, as it offers lucid information on the key strategies of players in this market.
COVID -19 : Impact Analysis
Request the coronavirus impact analysis across industries and markets
Request Covid -19 Impact
CASE STUDIES
See how our work makes an impact.
At FMI, we design strategies that are adaptive, impactful, and implementable.