An Incisive, In-depth Analysis on the Active Smart And Intelligent Packaging Market
This study offers a comprehensive, 360 degree analysis on the Active Smart And Intelligent Packaging market, bringing to fore insights that can help stakeholders identify the opportunities as well as challenges. It tracks the global Active Smart And Intelligent Packaging market across key regions, and offers in-depth commentary and accurate quantitative insights. The study also includes incisive competitive landscape analysis, and provides key recommendations to market players on winning imperatives and successful strategies.
Emerging economies like India and China to power up global active, smart, and intelligent packaging market growth with double-digit CAGRs
The global active, smart, and intelligent packaging market – currently dominated by North America and Western Europe – is anticipated to show promising growth in the emerging countries of the APEJ region such as China and India. Western Europe – currently neck-to-neck with the North America market (both regions individually hold about 1/4th of the global market) – will witness a slight drop in market share by the end of the forecast period in 2027. The market in APEJ is expected to show a remarkable increase in revenue share – from about 15% by the end of 2017 to almost 21% by the end of 2027, registering an increase of a whopping 550 basis points in value share between these two years. APEJ is estimated to represent an incremental opportunity of US$ 6503.7 Mn and witness an impressive CAGR of 12.6% in terms of value during the forecast period – higher than both North America and Western Europe.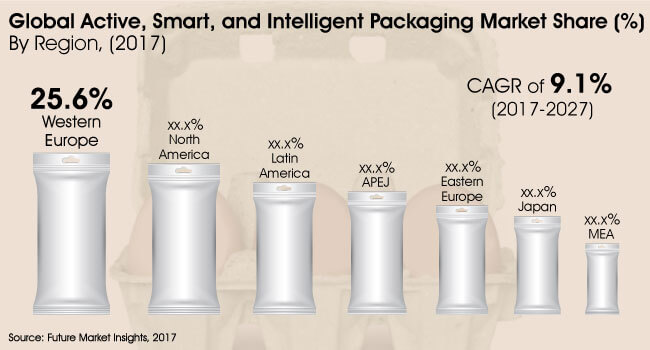 Key developments trending the regional active, smart, and intelligent packaging markets
North America: A spate of mergers and acquisitions are being witnessed in the North America market for active, smart, and intelligent packaging and this has led to a consolidation of the packaging industry across the region.
Asia Pacific Excluding Japan: The APEJ active, smart, and intelligent packaging market has witnessed the advent of special inks that respond to changes in temperature. These inks – called thermo chromic inks – are utilised in intelligent packaging applications and can change from coloured to colourless; from dismal to vivid; and even from one shade to another. Thermo chromic inks have the capability to change colour over a fixed temperature range. These inks find application in the packaging and labelling of refrigerated items such as beverages. Newer applications include novel packaging effects such as in heat sensitive areas and colour changing ink on ice cream cartons, beer labels, cups and mugs, lottery tickets, and CD/DVD packaging.
Western Europe: Active, smart, and intelligent packaging is used to tackle the issues of counterfeits across the Western Europe region. The Western Europe food packaging industry has been suffering from a large number of counterfeits in the last few years, given the extensive global supply chains and easy accessibility to imaging and manufacturing technology. Manufacturers of active and intelligent packaging products are replacing existing labels with active and intelligent packaging condition monitoring devices to reduce the increasing cases of counterfeits.
Eastern Europe: A new trend witnessed in the Eastern Europe active, smart, and intelligent packaging market is the use of composite films for packaging. Manufacturers of packaging products are experimenting with materials such as acetylated paper, spice extracts, enzymes, and calcium oxides for different features such as odor removal, scavenging, and temperature control.
Latin America: Intelligent packaging capable of changing its colour when the contents become unfit for consumption is trending the Latin America active, smart, and intelligent packaging market. This technology uses special indicators to check the state of conversion of the product inside the packaging and communicates this to the user by means of an alert. When the product's quality is not up to the mark, the package changes colour, thereby alerting the consumer. This technology is largely used in the packaging of perishable products such as food items.
Middle East & Africa: Increasing collaboration among key stakeholders such as farmers and producers, food processors, distributors, retailers, and consumers can be observed across the MEA active, smart, and intelligent packaging market. Extensive knowledge sharing and collaboration on industry best practices has resulted in higher efficiency across the active, smart, and intelligent packaging value chain. Market participants are investing in intelligent packaging solutions to offer better business value to customers.
Japan: Rapid innovations are becoming characteristic of the Japan active, smart, and intelligent packaging market as a result of rising consumer preferences for innovative packaging solutions that offer better handling convenience and also increased protection of the contents, especially food products. A commonly deployed active technology in food packaging is the use of antimicrobials in packaging, which prevents harmful bacterial growth by releasing antibacterial chemicals that aid in increasing the shelf life of the food products.
A methodical approach to research helps in systematic data gathering and analysis
Primary and secondary research are the founding pillars that make or break organised research practices. A strong secondary research to acquire necessary data pertaining to the concerned market and a validation of this data through extensive primary research helps freeze the final data points based on which research analysts are able to derive pertinent qualitative and quantitative insights into the market. This proven and tested methodology underpins our research on the global active, smart, and intelligent packaging market conducted for a 10 year forecast period from 2017 to 2027. The findings – published in a new report titled 'Active, Smart, and Intelligent Packaging Market: Global Industry Analysis (2012 – 2016) & Opportunity Assessment (2017 – 2027)' – are symbolic of the current nature of the global active, smart, and intelligent packaging market and use historical market data (for the period 2012 to 2016) to arrive at a comprehensive forecast for the coming decade. To get the right metrics for the 10 year period ending 2027, we have used 2016 as the base year and estimated our forecasts starting 2017.
Our research methodology follows a simplified process flowchart -
Data Collection → Data Filter & Analysis → Research & Intelligence → Actionable Insights → Business Solution
Data collected through secondary research and validated through primary interviews is filtered for market relevance and accuracy. This data is then integrated with our independent analysis of the market and streamlined value and volume projections for the duration of the assessment period are arrived at, based on which pertinent market insights are presented to clients for informed decision making.
Components of our exhaustive research process
The process of our primary research begins with identifying market respondents, creating questionnaires to cater to each segment within the global active, smart, and intelligent packaging market value chain, and conducting extensive interviews with all key market stakeholders based in different countries across the world. A detailed analysis of some of the top companies operating in the global active, smart, and intelligent packaging market helps us understand the vendor ecosystem and enables more accurate gathering of market information and statistics, as our primary interviews comprise extensive interactions with representatives from these companies. For secondary research, we rely on company websites, annual reports, white papers, financial reports, and press releases; as well as paid publications such as Factiva, GBI, Genios, and Meltwater. Data analysis comprises active, smart, and intelligent packaging sales correlation, macroeconomic factor analysis, historical trend analysis, and statistical analysis. Market sizing is done by identifying market volume (tonnes) and value (US$ Mn) for active, smart, and intelligent packaging products, regional average prices consolidated to arrive at revenue estimates, factor analysis for market projections, and CAGR and Y-o-Y growth to deduce final market estimations.
A coherent report structure that facilitates seamless navigation through the different chapters
Our report on the global active, smart, and intelligent packaging market begins with the mandatory executive summary, which is a brief snapshot of the global active, smart, and intelligent packaging market and comprises market overview, market analysis, and our recommendations. This is followed by an introduction to the market that defines the global active, smart, and intelligent packaging market and presents the market taxonomy. An analysis of the global active, smart, and intelligent packaging market follows next, with key metrics such as market volume projections, market size and Y-o-Y growth, absolute $ opportunity, value chain analysis, and market opportunity analysis. The next few sections present a detailed forecast of the global active, smart, and intelligent packaging market on the basis of the various market segments across the assessed regions. These sections present both the historical market size for 2012 – 2016 as well as a detailed forecast for 2017 – 2027 and highlight the segmental market attractiveness and key segmental trends. Region specific market dynamics (drivers, restraints, trends) and an impact analysis of drivers and restraints are highlighted in the sections dedicated to the regional markets.
Competition profiling is an integral part of all our research publications and we include a separate section in our reports for tracking the competition in the global market. In this section, we focus on the market share analysis of key players and a competition dashboard to present a singular view of the vendor ecosystem of the global active, smart, and intelligent packaging market. We have also profiled some of the leading companies operating in the global market and provided useful information such as company overview, key financials, business expansion strategies, and recent market developments.
A clear segmentation of the market to compute key metrics for near accurate market estimations
Packaging Type

Application

Region

Active Packaging

O2 Scavenging Sachets

MAP

Smart & Intelligent Packaging

TTI Labels

Freshness Indicators

RFID Tags

Food & Beverage

Meat, Poultry & Seafood

Fruits & Vegetables

Dairy Products

Bakery & Confectionary

Processed Food

Others

Pharmaceuticals

Cosmetics

Others

North America

Western Europe

Eastern Europe

Latin America

Asia Pacific Excluding Japan

Japan

Middle East and Africa
COVID -19 : Impact Analysis
Request the coronavirus impact analysis across industries and markets
Request Covid -19 Impact
CASE STUDIES
See how our work makes an impact.
At FMI, we design strategies that are adaptive, impactful, and implementable.