Optical Spectrum Analyzer Market - Key Research Findings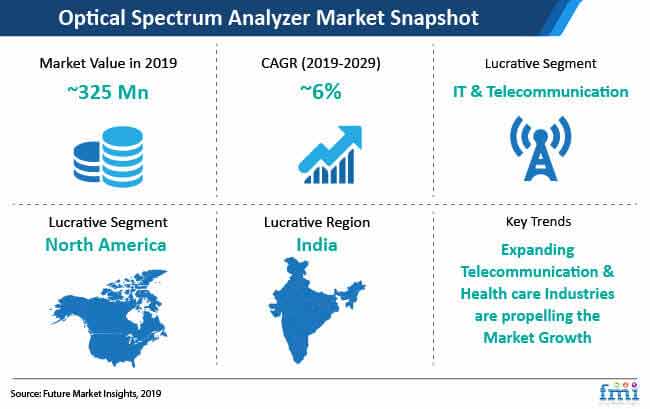 The global optical spectrum analyzer market size is expected at ~US$ 325 Mn in 2019.
The optical spectrum analyzer market is estimated to grow at a CAGR of ~6% during the forecast period 2019-2029.
Expanding IT & telecommunication industry is majorly driving the sales of optical spectrum analyzers.
Collectively, North America and East Asia are expected to account for about 45% of the revenue shares in the optical spectrum analyzer industry by the end of 2029.

East Asia, owing to the strong presence of optical spectrum analyzer manufacturers, is expected to continue to be a prominent regional market for optical spectrum analyzers.
Moreover, expanding health and telecommunication industry in North America is driving the growth of the optical spectrum analyzer market.

IT & telecommunication and medical & health care industries are expected to remain prominent end-use industries for optical spectrum analyzer market players.

Manufacturers of optical spectrum analyzers are focusing on strengthening their product portfolios by improving their research facilities.
Moreover, leading players are focusing on merger and acquisition strategies to expand their footprint in untapped regions.
Key Factors Shaping the Optical Spectrum Analyzer Market
Flourishing IT & Telecommunication Industry
The IT & telecommunication industry is expanding rapidly across the globe. Therefore, the manufacturing of telecommunication products is increasing. Optical spectrum analyzers are widely used in manufacturing as well as on-field to ensure the quality of network and optical instruments. Hence, the growing telecommunication industry is fuelling the growth of the optical spectrum analyzer market.
Leading Players Expanding in Untapped Regions
Leading optical spectrum analyzer players such as EXFO, Inc., Yokogawa Corporation and Anritsu have well-established markets in North America and East Asia because of developed telecommunication and healthcare sectors.
Therefore, these leading players are expanding their footprint in regions such as South Asia, MEA, Europe, and Oceania as end-use industries have lot of growth potential in these regions. The expansion of prominent players across the globe is estimated to increase the demand for optical spectrum analyzers.
Introduction of 5G Network
Telecom enterprises across the globe have started migrating their current network infrastructure to fiber optic infrastructure for upgrading to 5G networks and services with high-speed connectivity. Thus, optical spectrum analyzers are widely used to certify the quality of network and optical equipments. This factor is driving the market growth of the optical spectrum analyzer market.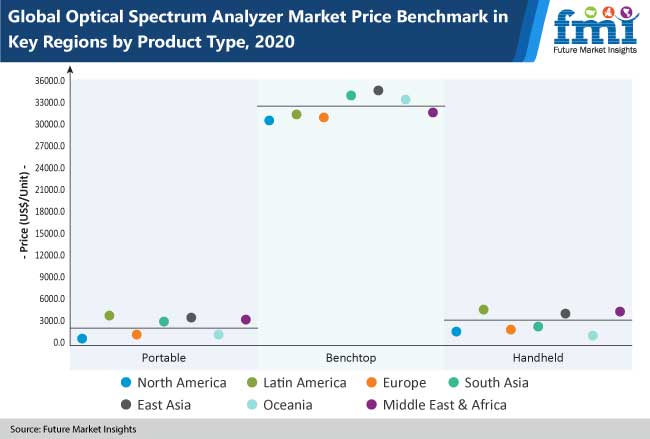 Optical Spectrum Analyzer Market Structure Analysis
The global optical spectrum analyzer market is moderately consolidated, where leading players are focusing on increasing their product portfolio.
The optical spectrum analyzer market has been relatively moderate in size, which remains a key factor for its dynamic and competitive nature.
Leading players in the optical spectrum analyzer market are currently acquiring network testing equipment manufacturing companies to expand their testing services portfolio. Moreover, leading players are investing significant amount of money in strengthening their research facilities.
Introduction of optical spectrum analyzers, which can measure the performance of 5G network has been identified as one of the key developments in the optical spectrum analyzer market.
For a stronger foothold in targeted regions, manufacturers of optical spectrum analyzers will continue increasing their product portfolio by introducing advanced spectrum analyzers according to the need of end-use industries.
Measuring Wavelength and Gas Concentration with High Accuracy
Optical spectrum analyzers, obtain wavelength emissions from lasers, laser diodes and LED sources via fast-Fourier transform (FFT) using a scanning Michelson interferometer in a push/pull arrangement. OSAs perform per-channel analysis of the acquired spectrum and its spectral interaction with other wavelengths with an accuracy of up to ±0.0001 nm in dense or coarse wavelength division multiplexing (CWDM/DWDM) networks, making them suitable for testing optical communication devices.
Optical spectrum analyzers, coupled with laser diodes and gas detectors, is mounted on a gas stack to quantify gas concentration across a single absorption line. The current status of the pipeline is provided, including gas concentration of CO2, O2, and others, within the near infrared (NIR) and the mid-infrared (MIR) spectral ranges with high precision.
Testing Next-Gen Networks despite Infrastructural Complexities
Optical Spectrum Analyzers (OSA) aid in overcoming the hurdles in deploying 3G and 4G LTE (Long Term Evaluation) by gathering data, such as communication bandwidth, encoding method, and others, by signaling between actual mobile phone and base stations which is specified by respective criteria for hitherto 3G and 4G LTE systems.
OSAs offer shorter 5G testing time realizing voluminous leaps in network traffic even though the nascent 5G network offers greater speed, larger capacity, multiple connections, and lower latency. In addition, 5G requires more intricate signaling to aid conjunction with 4G and earlier setups. As such, vendors coming up with 5G chipsets, wireless communication modules, for instance, smartphones, have to analyze messages sent and received in data communication, and RF (Radio Frequency) signals for complex signaling.
Furthermore, optical spectrum analyzers are enabling testers to validate the development of modems by beam characterization and beam verification using all connections specified by 3GPP (3rd Generation Partnership Project). However, installation and working of OSAs require new infrastructure, making them capital-intensive.
Lack of skilled workforce for setting up and implementing fiber optic infrastructure is confining the use of optical spectrum analyzers to companies practicing advanced automated systems and next-gen fiber optic technologies.
Stakeholders Tapping White Spaces in North America and South Asia
North America is likely to remain at the driver's seat, despite steady growth, over the foreseeable period, with South Asia gathering significant pace. Majority of populace in the US own different kinds of cell phones with 81% of them relying on smartphones as primary means of internet access. About 1 in every 5 matured individual depend only on smartphones for internet browsing. In addition, a few cities in the US have begun enjoying 5G network coverage.
India has highest data per usage per smartphone - ~9.8 GB/Month - in the world, which is estimated to double in the upcoming years. Expanded product line, and cheap data tariffs are among the tailwinds of the growth. Further, smartphone users in India are positive on paying more than 60% premium for future 5G services, according to Ericsson, boosting the progress of telecommunication bracket, and eventually complementing the demand for optical spectrum analyzers.
Cutting-edge Developments to define Stakeholders' Tactics
Leading market participants and followers, including Yokogawa Corporation, EXFO Inc., and AMS Technologies, account for more than 70% of the optical spectrum analyzer market revenue.
Manufacturers are launching compact optical channel checker module for maintenance and troubleshooting of DWDM (Dense Wavelength Division Multiplexing) fiber networks. Key market actors are releasing lightweight and midget optical spectrum analyzer that employs dispersive spectroscopy technique and covers optical communication wavelengths in the range of 1200-1700 nm for testing and monitoring optical communication devices.
Market followers are adding cellular IoT (CIoT) features to the existing equipment, enabling operators, and service providers to audit networks for the development and commercialization of IoT (Internet of Things). Emerging players are including two polarization channels in optical spectrum analyzer to enable analysis of optical signal in different polarization axes.
Furthermore, stakeholders are entering into agreement with their counterparts, for instance, in May 2019, KT Corporation partnered with Antrisu to leverage latter's field spectrum analyzer for verifying the efficiency of world's first 5G network.
How Growth Will Unfold
The optical spectrum analyzer market is anticipated to witness a healthy growth over the forecast timeframe witnessing high demands for fast-speed network. Industries across the globe are shifting to fiber optic framework from copper technology to ascend to 5G network and facilities with fast-paced connectivity. The data-intensive nature of consumers in advanced economies will motivate them to be the early birds in the adoption of 5G-enabled devices, for instance, autonomous driving, virtual reality, and artificial intelligence.
Further, high regulatory approval for advanced technologies, including Internet of Things (IoT), augmented reality, among others, is set to gear the optical spectrum analyzer market.
Key Segment
By Product Type
Portable
Benchtop
Handheld
By Mode Type
Spectrometer Mode
Wavelength Meter Mode
By End Use
Spectrometer ModeIT & Telecommunication
Medical & Healthcare
Energy & Utilities
Automotive
Institutions
Aerospace & Defence
Semiconductors & Electronics
By Region
North America
Latin America
Europe
South Asia
East Asia
Oceania
Middle East and Africa
Need specific information?