IT & Telecom Industry Remains Key Revenue Generator
IT & telecom industry would remain the immediate customer of optical networking services, capturing over a third of total demand. Although 5G network is commercially in its nascency, it is rapidly marking its presence in the IT & telecom industry, which in turn, will bring bigger gains to market players. Moreover, optical networking is unleashing new use cases in government and banking, financial services and insurance (BFSI) security with the advent of 5G connectivity. About 2/5 of optical networking market revenues would be realized from these two end users.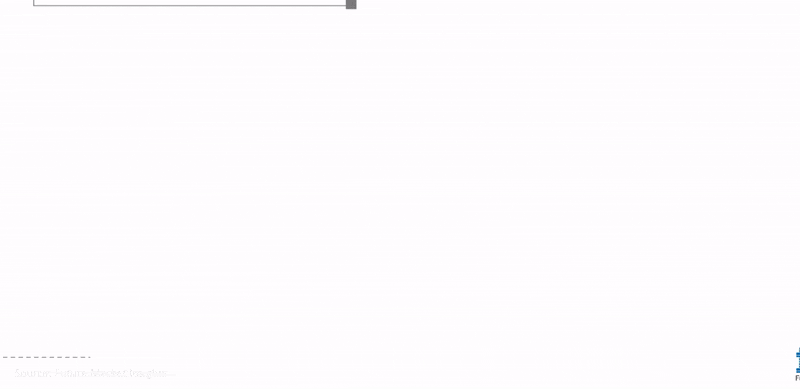 APEJ to Outpace North America in 2027
North America is at forefront in the optical networking market, with nearly 30% of overall value. The apparent bullishness of the developed regional market is primarily underpinned large-scale deployment of 5G network, especially in the US. However, the market in Asia Pacific (excluding Japan) is speeding up at a double-digit growth rate and will outperform that in North America during the latter half of projection period. Market players in the region are focusing on OTT content, 5G, and increasing dependency on low-latency, on-demand connectivity.
Companies Leveraging Cost-effective Benefit of ROADMs
Reconfigurable optical drop/add multiplexers (ROADM) fit in perfectly with the growing demand for connections that are highly scalable, software-enabled, and more automated. The optical networking technology speeds up service provisioning and enhance network and service availability using software control. Moreover, ROADMs curb the need for performing cost-intensive optical-electronic-optical (OEO) conversion within the network, thus, reducing capital costs. Market players must focus on leveraging this technology to expand their customer reach, and improve customer retention and loyalty.
How Growth will Unfold
Wavelength-division multiplexing (WDM) technology continues to hold a major chunk in the optical networking market. By 2020 end, WDM including, CWDM, and DWDM systems, worth around US$ 5 Bn would be deployed across various sectors. On the other hand, fiber channels are representing fast-pace growth, attributable to the introduction of 10 Gigabit Ethernet (10GBASE-T) support. As they maintain security, latency, and traffic management at lower costs, market players are also seeking avenues of growth and profitability from fiber channels.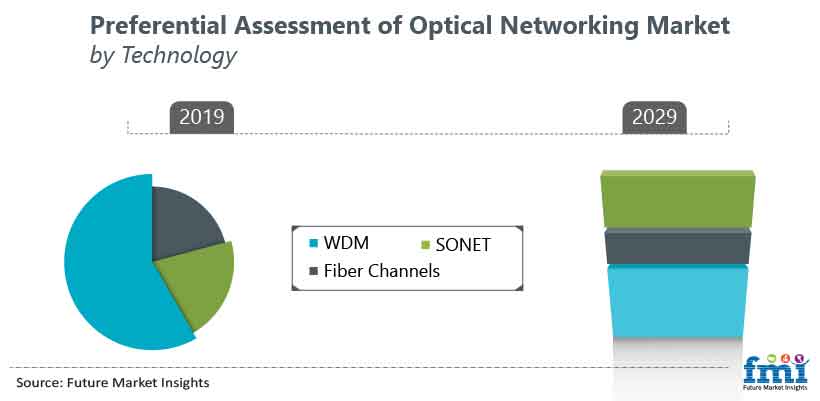 FREQUENTLY ASKED QUESTIONS ABOUT OPTICAL NETWORKING MARKET
How is the optical networking market expected to shape up in the next decade?
5G is presently evolving than preceding generation to make optical fiber deployments as an essential part of the network. This potentially makes 5G an incredible opportunity for the optical networking market growth.
What are major challenges for players in the optical networking market?
Organisations that carry sensitive information across fibre-optic cables are potentially vulnerable from criminal threats, as cabling is easily accessible and not well protected. To secure organisational data would be a huge challenge for companies in the optical networking market.
Which end user will account for the highest sales in the next five years?
The IT & telecom industry is expected to account for a majority of share in the optical networking market. As 5G is slowly replacing 4G and earlier systems, 5G equipment vendors are setting standards that is creating profitable opportunities for existing players in the optical networking market.
Which region is expected to lead the global optical networking market?
Asia Pacific excluding Japan is anticipated to remain at the forefront, offering high growth opportunities for players in the optical networking market. Players in the region, are focusing on OTT content, 5G, and increasing dependency on low-latency, on-demand connectivity that led to an inflection point where network providers are figuring out innovative methods to boost customer experiences.
Which technology will offer the most lucrative growth opportunities for market players?
The recent introduction of 10GBASE-T support for fiber channels, which enables data centers to have flexible or adjustable physical cabling while promoting any protocol at much lower cost. Fiber channel also maintain security, latency, and traffic management that create profitable opportunities for optical networking market players.
OPTICAL NETWORKING MARKET TAXONOMY
The global optical networking market is segmented in detail to cover every aspect of the market, and present a complete market intelligence approach to readers.
Component
Optical Fibers
Optical Switches
Optical Amplifiers
Optical Splitters
Optical Transceivers
Optical Circulators
Technology
Service
Network Design
Data Centre
Network Maintenance and Support
End User
Military & Defence
BFSI
IT & Telecom
Government
Others
Region
North America
Latin America
Western Europe
Eastern Europe
Asia Pacific Excluding Japan
Japan
Middle East & Africa
Need specific information?