Fructose Market – Key Research Findings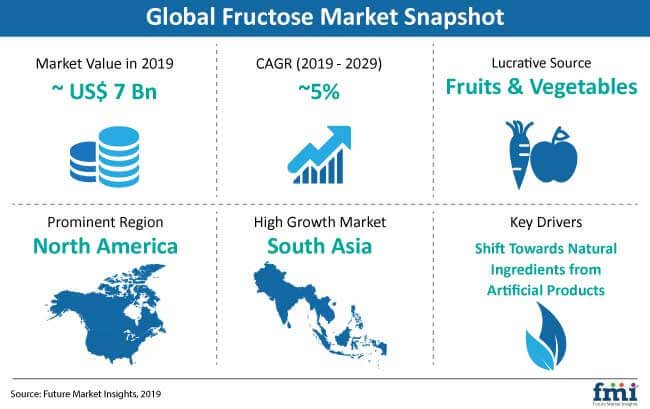 Global fructose market size valuated in 2018 was ~7 Bn.
Between 2019 and 2029, the global fructose market revenues are likely to witness a healthy increase, at an estimated 5.40% CAGR.
A mass shift away from synthetic content and a rapid switch to naturally sourced, clean-label products will prominently continue to benefit sales in various segments of the fructose market.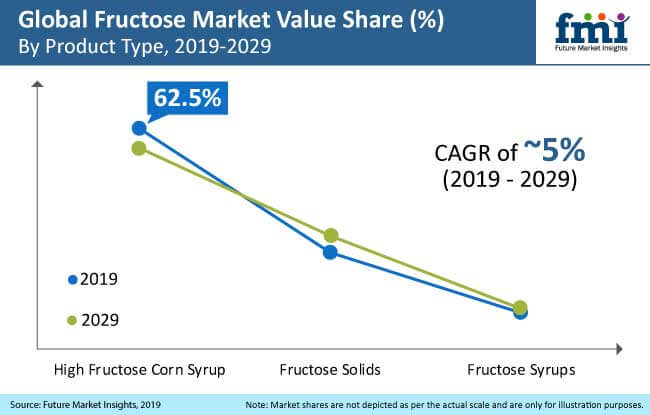 Top Factors Shaping the Fructose Market
Lower Manufacturing Costs of Fructose Creating Room for the Entry of New Market Players
Manufacturing costs of fructose, especially high fructose corn syrups and fructose syrups is lower as compared to the manufacturing of sugar. This is due to the liquid not having to be packed separately, which reduces time and labour costs.
Also, as high fructose corn syrup (HFCS) and fructose syrups are liquids, they can be easily incorporated into other liquids unlike granulated sugar, fructose and other sweeteners available in solid state. Heating is required to dissolve these solids, which requires more energy. Thus, these syrups save upon the cost of production.
The benefits of fructose in the food industry are immense and thus, increasing demand has led to new players entering the market. Also, the production of fructose from corn is higher than from any other source. However, the demand for HFCS is decreasing as the health concerns due to its consumption are increasing. The production of crystalline fructose is increasing as the demand for natural products is high as compared to artificial sweeteners that are available in the market.
Consumption of Convenience Food Products Surges in Line with Shifting Lifestyle Preferences in Developed Countries
The consumption of fast food and food away from home has increased in the United States in the past few decades. This is the case in all developed countries. Amongst these convenience foods, clean label and natural ingredients have become top priorities of consumers.
This increase in convenience food consumption has resulted in higher demand for natural food ingredients. This has increased the demand for fructose as it is increasingly being used in food products.
Also, the increasing direct costs of diet-related diseases have led to the consumers paying more attention to the food that they consume. This has pushed the manufacturers to use ingredients that are healthy and add a nutritional quotient to the food products and not just economical ingredients. This has replaced sugar with fructose in such products.
Fructose Extracted from Sources Such as Fruits and Vegetables High in Demand, with Rising Trend of Clean Label Products
The growing need for transparency and authenticity in the food and beverages sector in developed markets is to ensure that the food comes from recognizable ingredients. The pressure to reduce the use of artificial ingredients and increased legislative regulations around labelling are putting added expectations on brands worldwide.
For companies that do comply with these products, it is an added benefit as they can gain consumer trust and at the same time the product value increases. This has led to increase in demand for fructose that is extracted from other sources such as fruits and vegetables, in the upcoming years and the consumers are ready to pay a premium price for such products.
Fructose Market: Structure Analysis
The global fructose market is classified into three tiers, where tier-1 companies hold a prominent market share and have a strong presence across the globe.
Leading companies operating in the global fructose market include Archer Daniels Midland Company, Cargill Inc., Tate & Lyle Plc, Frères S.A., Ingredion Inc., etc.
Most of the key players in the global fructose market are based out of the U.S. or Europe, as industrial production is higher in these regions. Moreover, it has been observed that, majority of the organized players operating in the global fructose market are focusing on strategic mergers and acquisitions to broaden their product portfolios and strengthen their foothold in the global fructose market.
Fructose – Identifying and Leveraging the White Spaces
Use of fructose has been confined to the food & beverage industry as sweeteners, and alternative to sucrose. However, stakeholders are focused on identification and leveraging the white spaces in its application, which range from cosmetics to drug formulations. Capabilities of fructose, such as flavour enhancers in liquid medicines, and humectants in personal care formulations are increasingly being explored.
Market Set to Grow 1.7X between 2019 and 2029
The fructose market continues to benefit from the consumer shift away from artificial sweeteners to natural alternatives, abreast surging demand for processed and packaged food & beverages. Fructose is witnessing a pervasive adoption in the production of a wide range of food products, such as frozen food, juice concentrates, nutrition bars, and energy reduced products.
Attractiveness of Developed Markets Intact
Fructose manufacturers continue to witness lucrative opportunities in developed markets, namely, Europe and North America – collectively these two regions account for ~50% sales. Additionally, greater prevalence of diabetic and obese individuals in these markets, have added to the consumption of products with reduced sugar, thereby creating demand for fructose.
Developing markets, namely, East Asia and South Asia, are expected to present considerable opportunities, with growing demand for packaged & processed food abreast health & wellness trend in these regions.
The Broader Perspective
Clean-label food products are in high demand and 'sugar-reduction' is a trending influencer of the way food & beverages are being produced, making the industry most-lucrative for fructose manufacturers. However, its use in other industries such as cosmetics and personal care, drug formulations, and sports nutrition, has gained increased momentum in recent years.
How Growth will Unfold?
Beverages industry remains lucrative for fructose manufacturers, accounting for ~50% sales. Stakeholders will also benefit from growing demand for fructose from the baked goods and dairy products manufacturers – collectively accounting for ~30% market shares.
FRUCTOSE MARKET TAXONOMY
The global fructose market is segmented in detail to cover every aspect of the market and present complete market intelligence to the reader.?
By Source
Sugarcane
Corn
Others (Fruits and Vegetables)
By Product Type
High Fructose Corn Syrup

High Fructose Corn Syrup 42
High Fructose Corn Syrup 55
High Fructose Corn Syrup 65
High Fructose Corn Syrup 90

Fructose Syrups
Fructose Solids
By Application
Dairy Products

Ice Cream
Flavoured Milk
Yogurts
Frozen Desserts

Baked Goods

Pastries & Muffins
Biscuits & Cookies
Bread
Others

Beverages

Alcoholic Beverages
Non-Alcoholic Beverages

Cosmetics & Personal Care
Sports Nutrition
Drug Formulations
Other Applications (Canned Food, Condiments, Confectionery)
Region
North America
Latin America
Europe
South Asia
East Asia
Oceania
Middle East & Africa
Need specific information?