About the Report
Geocells are experiencing a substantial uptick in the post-pandemic scenario, with construction and infrastructure development activities rebound across key emerging markets. Although a gradual recovery, growth prospects will eventually be restored to the pre-pandemic levels, as deployment across key development projects are bound to rise.
Manufacturers are exhibiting a high inclination towards extremely lightweight and durable material, such as HDPE and polypropylene, attributed to their highly superior load bearing capacities. Furthermore, deployment across earth reinforcement operations to usher in robust infrastructure quality is expected to remain dominant.
In its new study, ESOMAR-certified market research and consulting firm Future Market Insights (FMI) offers insights about key factors driving demand for geocells. The report tracks the global sales of geocells in 20+ high-growth markets, along with analyzing the impact COVID-19 has had on the construction industry in general, and geocells demand in particular.
How will Future Projections Outpace Historical Ones?
General slowdown in the global construction industry growth through 2019 amid a global maturity trend led to a significant dip in infrastructure spending across such market as the United States. This was further reinforced throughout 2020, as the COVID-19 pandemic induced a global recessionary trend, attributed to worldwide shutdowns amid strict social distancing measures.
With the diminishing number of public and private infrastructure projects, growth prospects for the global geocells market appears significantly thin throughout this recessionary phase. Fortunately, as the pandemic's onslaught faded, construction activities have resurfaced, thereby raising hopes of a robust post-pandemic recovery.
Future growth prospects are heavily reliant on the ever increasing numbers of transportation infrastructure projects across such emerging economies as China and India, home to the world's largest population base. Emphasis on sustainable living solutions and incorporation of lightweight material are expected to play significant roles in alleviating future demand for geocells.
How are Increasing Urbanization Rates Widening Geocells Growth Prospects?
According to UNCTAD 2020 e-Handbook of Statistics, the proportion of urban population increased to 55.7% by 2019. Since the past decade, urbanization has been the most pronounced in developing economies, especially across Asia and Oceania, which experienced an increase in urban population from 42.3% in 2009 to 49.1% in 2019. As the world prepares to add an additional 2 billion people over the next three decades, the demand for public and private infrastructure is anticipated to witness a major incline.
Also, the World Bank estimates that expansion of urban land consumption outpaces population growth by as much as 50%, which is expected to add 1.2 million km2 of new urban built up area. Going by these facts and figures, countries are increasing their investments in developing housing, transportation and power distribution networks, water supply systems and a host of other projects. Furthermore, spending on digital infrastructure has also increased.
Factoring in all these trends, deployment of geocells is expected to incline sharply in forthcoming years. Growth is especially likely to be underpinned with the ever aggrandizing popularity of smart cities, which are expected to play an instrumental role in further sustainable development goals. Concepts such as greenroofs and hydroponics are expected to make maximum utilization of geocells, mostly to balance the weight across building structures.
Why is Deployment of Geocells in Agriculture becoming Important?
As global food demand increases, requirement for agricultural land to cultivate food crops is rising. While the existing global food system is expected to provide safe and nutritious food to nearly 10 billion people by 2050, it is also leaving behind a large environmental footprint in the form of improper and inconsistent farming practices which often leads to wastage of natural resources.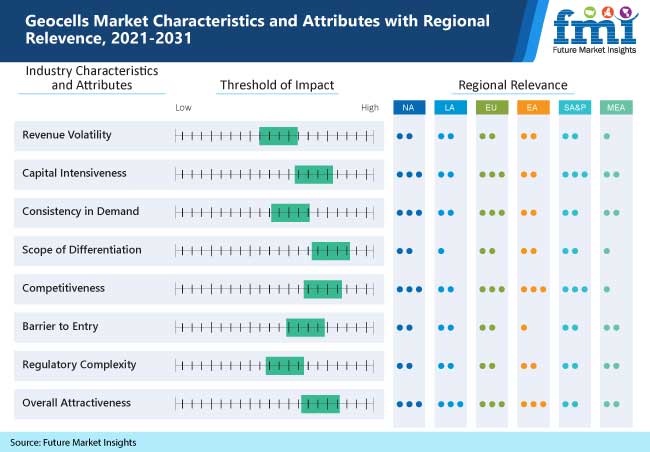 Problems such as surface run-off, soil erosion and water contamination by the deposition of inorganic chemicals are plaguing the global food economy. The Intergovernmental Panel on Climate Change (IPCC) advocates that improper agricultural practices contribute almost 11% of the total greenhouse gas emissions. Hence, to prevent such adverse environmental impacts, geocell deployment to check soil erosion and water run-off are increasing.
Hence, market players such as Presto Geosystems are offering a unique range of soil stabilization geocells. The company introduced its trademark GEOWEB® geocell, beginning in the 1980s, to address several site problems- from steep slopes to shorelines and channels to multilayered vegetated retaining walls, agricultural fields, landfills and dams to name a few.
How is Preference for Lightweight Construction Material Favoring Growth?
As technological advancements continue penetrating the global construction sector, preference for durable, lightweight and environmentally friendly material is rising exponentially. With concerns over increasing carbon emission levels, it is no surprise that key construction manufacturers are investigating alternative approaches.
Materials such as high density polyethylene and polypropylene definitely offers significant advantages over their conventional counterparts such as concrete, aluminium or steel. Worldwide, approximately 33 billion tons of concrete is produced annually, contributing to roughly 2.4% of the global carbon emissions. HDPE manufactured materials contribute comparatively lesser amounts, rendering them the most preferred choice.
Attributed to their cost-effectiveness, reduced emission levels, lightweight and durability, HDPE is considered the primary choice of material for manufacturing geocells. Simultaneously, popularity of polypropylene and neoloy geocells are also increasing.
Country-wise Analysis
How Lucrative are Growth Prospects across the US?
The US is expected to remain the dominant geocells market across North America. Being the progenitor of cellular confinement systems, geocells deployment is being witnessed in almost all spheres of commercial construction activity throughout the region. Geo Products LLC, GeoCHEM Inc., Strata Systems Inc. and Presto Geosystems are some dominant geocells manufacturers operating in the US market.
As recessionary pressures induced by the COVID-19 pandemic recede, the domestic construction industry is expecting a definitive uptick. Although gradual, the upswing will eventually restore pre-pandemic gains. Furthermore, the Federal Reserve anticipates GDP growth to surpass 4% for FY 2021-22, bulk of which is expected to be stimulated by the construction industry. Hence, an increase in geocells deployment projects are expected to incline significantly.
Leveraging artificial intelligence is expected to be a major influencing trend prevailing across the US geocells market in forthcoming years. Progress in this direction was already made in 2017, when Strata Systems Inc. launched its StrataProTM engineering software to analyze a variety of faced systems on geosynthetically reinforced soil (GRS) structures. Furthermore, in 2020, ASTM International announced a new standard governing use of geocells in geotechnical projects, further expected to heighten growth prospects.
How are Soil Erosion Prevention Efforts Bolstering across the UK?
According to a 2018 report published by the World Wildlife Fund (WWF), the UK, especially England, will need to invest £ 10 million annually in forthcoming years to ensure that its soil productivity is enough to sustain food crops production by the end of the 21st century. Over the years, improper farming practices have induced major soil erosion and watercourses pollution, putting the entire £ 8 billion farming industry at risk.
The report further claimed that poor farming and land management practices are causing soil to be destroyed at approximately 10 times the rate it was created, costing both England and Wales £ 1.2 billion every year. Hence, a targeted payment scheme encouraging farmers to usher in environmentally beneficial changes in land-use is being enforced, calling for a fair and effective enforcement regime, costing nearly £ 6 million pounds until 2023.
Such surging soil erosion rates are providing a wide platform for the entry and emergence of key geocells manufacturers. Greenfix is a highly prominent soil stabilization and erosion control specialist player, offering a broad spectrum of erosion prevention cellular containment solutions, including the highly popular Geoweb® series. The Tree Root Protection System is one such solution, safeguarding roots located within the top 600 mm of the surface layers of the soil, helping distribute the load laterally and reducing compaction.
Why are Manufacturers Targeting the German Market?
Germany is expected to emerge as a highly lucrative geocells market across Europe, mostly driven by increasing efforts to bolster transportation infrastructure. The 2030 Federal Transport Infrastructure Plan (FTIP) is expected to play a central role in furthering this objective. As per its forecasts, total number of passenger kilometers traveled in Germany will increase by a total of 12.2% by 2030. Hence, structural maintenance and replacement of aged infrastructure are priority policy areas.
The FTIP 2030 has allocated nearly € 270 billion for this purpose, out of which € 226.7 billion covers maintenance of the structural fabric plus the upgrading and new construction projects. Structural maintenance of existing rail, road and waterway networks alone will require around € 141.6 billion until 2030, equivalent to 69% of FTIP's planning framework.
Based on the aforementioned investment figures, it is no surprise that the scope for geocells is expecting a major incline in forthcoming years. Bermuller & Co. GmbH is a prominent geosynthetics fabrics manufacturer, providing innovative solutions for transport infrastructure. The company offers the BONTEC NW non-woven fabrics which perform important functions in earthworks, road construction and civil engineering. These are incorporated in geocells designs to filter soils which need to be drained during the construction process.
Will India Emerge as a Prominent Geocells Market?
India is expected to provide fertile ground to geocells manufacturers, largely motivated by a promising real estate sector. The industry is the 2nd largest employer after agriculture, and is expected to grow by nearly 20% in the forthcoming decade. This growth is majorly attributed to the ever expanding popularity of the Smart Cities Mission. A total of US$ 14 billion was sanctioned by the Union Government for this purpose.
Amongst a host of attributes associated with smart cities, achieving reduced carbon emissions by promoting green buildings is one of the most important objectives. With much of the international development dialogue centered on the idea of a green recovery, cities are increasingly experimenting with unconventional infrastructure development plans. Hence, concerted efforts are being made to promote the idea of greenroofs.
Recently, in August 2020, Strata Geosystems bagged a large deal to design sloped greenroofs on residential structures. The company's civil engineering technical team designed a geocells solution to address the challenges of additional rooftop weight as well as constant maintenance cycles arising out of soil erosion. This cost-effective and long-term design approach provided an HDPE geocell confinement system that prevented the soil from slipping while reducing the overall system weight. To achieve this, StrataWeb® panels were placed across the roof, filled with either soil or mulch and compacted using minimal weight.
China to Emerge as a Heavyweight in the Geocells Market?
At the 2020 National People's Congress, the Chinese Communist Party (CCP) announced that, in addition to doubling down on its Made in China 2025 and China Standards 2035 initiatives, it is likely to earmark approximately US$ 1.4 trillion on a digital infrastructure public spending program. This new infrastructure program includes seven key areas: 5G networks, industrial internet, intercity transportation and rail systems, data centers, AI, EV charging stations and high voltage power transmission.
Moreover, transport infrastructure is experiencing a massive stimulus across the East Asian giant, with the New Silk Road initiative providing massive tailwinds. Expected to boost the Chinese economy by around US$ 2.5 trillion in the forthcoming decade, the New Silk Road program aims to enhance road, rail and maritime infrastructure across international borders. This ever widening need for transport infrastructure is expected to stimulate the demand for geocells during the construction process.
Huifeng Geosynthetics is a prominent face in the Chinese market, offering a broad range of welding geocell, integrate link geocell and high strength fusing geocell solutions. Based on the GeoMax® technology, these product offerings come in different textures customized according to construction specific requirements.
Category-wise Insights
Why are Geocells Highly Suitable for Earth Reinforcement Operations?
Geocells for the purpose of earth reinforcement are acquiring widespread popularity, owing to greater degree of flexibility and cost-effectiveness. Terram Geosynthetics' Series 500 geocell is a popular earth reinforcement structure, fabricated from permeable geotextile, meaning that the deep cell walls provide no room for cracking, spalling, splintering, or corrosion associated with concrete, steel and timber facings.
The aforementioned structure is suitable for deployment across steep slopes, dams & flood bunds, retention bunds, green walls, culvert head walls and sound bunds respectively. Likewise, TYPAR Geocells are 3-dimensional cellular confinement panels that can be filled with native or imported fill materials to stabilize slopes up to 45 degrees, or create a mechanically stabilized earth (MSE) wall.
Why is High Density Polyethylene (HDPE) the Preferred Material Choice?
High density polyethylene (HDPE) manufactured geocells are expected to garner massive traction, commanding nearly 70% of the revenue share across the forthcoming decade. HDPE geocells are eco-friendly, offering soil stabilization solutions which easily mix in the natural environment. Moreover, it is able to withstand intense construction activities due to its 3D structure.
However, other polymeric alloys, such as neoloy geocells, are also surging in popularity. Neoloy geocells offer a longer lifespan- with 10x greater creep resistance, a higher tensile strength of up to 24 kn/m or higher, and higher elastic modulus- around 2-5x higher dimensional stability while loading. Furthermore, it also increases pavement layer modulus by approximately 2.7x.
Competitive Landscape
Prominent manufacturers operating in the global geocells market landscape include, but are not limited to*:
Polymer Group Inc.
TMP Geosynthetics
Armtec Infrastructure Inc.
PRS Mediterranean Ltd.
Maccaferri S.p.A.
Miakom Group
Wall Tag Pte. Ltd.
Tensar International Ltd.
Admir Technologies
Polyfabrics Australasia Pty Ltd.
Low & Bonar
ABG Geosynthetics
Huifeng Geosynthetics
SABK International
CeTeau Group.
*This list is indicative- full details about prominent geocells manufacturers in available upon request
The aforementioned market players have a broad product portfolio, offering application specific solutions. For instance, Presto Geosystems offers the GEOWEB® geocells which help stabilize soils that would otherwise be unsuitable for loading operations. It achieves this by establishing an interconnected honeycomb like network, providing a 3D arrangement. Besides, it also offers porous pavement and construction mat designs.
Furthermore, a significant proportion of spending is directed towards fostering research & development of innovative solutions. For example, PRS Mediterranean Ltd. provides the Neoloy® Geocell research platform, welcoming papers and studies on how to improve existing geocell incorporation methods as well as discovering new application domains.
Moreover, companies are also looking to penetrate emerging markets by undertaking long-term construction and stabilization projects. For instance, Maccaferri Ltd. has been actively pursuing a rockfall protection and stabilization project across the North Indian state of Uttarakhand, providing a simple drapery system consisting of steel wire mesh geocomposite with 5 to 8 m long top anchors and 3m long bottom anchors. This arrangement is designed to prevent possible landslides and avoid accidents during monsoons.
Geocells Market- Report Scope
Attribute

Details

Forecast Period

2021-2031

Historical Data Available for

2016-2020

Market Analysis

US$ Mn for Value

Key Regions Covered

North America, Latin America, Western Europe, Eastern Europe Middle East & Africa, APEJ and Japan

Key Countries Covered

U.S., Canada, Brazil, Mexico, Germany, Italy, France, U.K., Spain, Russia, Poland, China, Japan, ASEAN, Australia & New Zealand, India, Turkey and South Africa

Key Segments Covered

Application & Material Type

Key Companies Profiled

Presto Geosystems
Polymer Group Inc.
TMP Geosynthetics
Armtec Infrastructure Inc.
Strata Systems Inc.
PRS Mediterranean Ltd.
Maccaferri S.p.A.
ACE Geosynthetics
Miakom Group
Wall Tag Pte. Ltd.
Tensar International Ltd.
Tencate Geosynthetics
Admir Technologies
Polyfabrics Australasia Pty Ltd.
Low & Bonar
ABG Geosynthetics
Huifeng Geosynthetics
SABK International
Wrekin Products Ltd.
CeTeau Group.

Report Coverage

Market Overview, Forecast Factors, Segmental Analysis, Regional Profiling and Competition Landscape

Customization & Pricing
Key questions answered in the report
How will the geocells market expand in 2021 and beyond?

The global geocells market is anticipated to experience substantial gains through 2021, experiencing a resurgence in the post-pandemic scenario. Growth is expected to remain highly reliant on an expected resurgence across the construction and infrastructure sector

Which key factors shall drive the geocells market growth?

Increasing public infrastructure spending to accommodate the ever increasing population combined with efforts to strengthen the global food delivery system by preventing excessive soil and water erosion are expected to act as key growth levers for the geocells market

Which is the most likely geocells manufacturing hub through 2021?

China is anticipated to experience the maximum growth, owing to its apex position in the global construction and infrastructure landscape. Progressive government policies to bolster transportation infrastructure development is likely to remain the principal expansion driver

Which prominent players operate within the global Geocells market?

Presto Geosystems, Polymer Group Inc., TMP Geosynthetics, Armtec Infrastructure Inc., Strata Systems Inc., PRS Mediterranean Ltd., Maccaferri S.p.A., ACE Geosynthetics, Miakom Group, Wall Tag Pte. Ltd., Tensar International Ltd., Tencate Geosynthetics and Admir Technologies are some of the players profiled in FMI's report
World's Most Profilic Intelligence Engine
Get Access To The World's Largest Market Research Database. Ngage with a revolutionary intelligence engine that scale and pricing that flexes as per your needs
Sign Up Now
Key Segments Covered
Application
Slope Protection
Earth Reinforcement
Load Support
Tree Root Protection
Channel Protection
Material Type
HDPE
PP
Polyester
Other Polymeric Alloys
Region
North America (US & Canada)
Latin America (Brazil, Mexico & Rest of Latin America)
Western Europe (Germany, UK, France, Italy, Spain & Rest of WE)
Eastern Europe (Russia, Poland & Rest of Eastern Europe)
APEJ (ASEAN, Australia & New Zealand, India, China & Rest of APEJ)
Japan
MEA (Northern Africa, Turkey, South Africa & Rest of MEA)
Need specific information?