Geosynthetics Market - Key Research Findings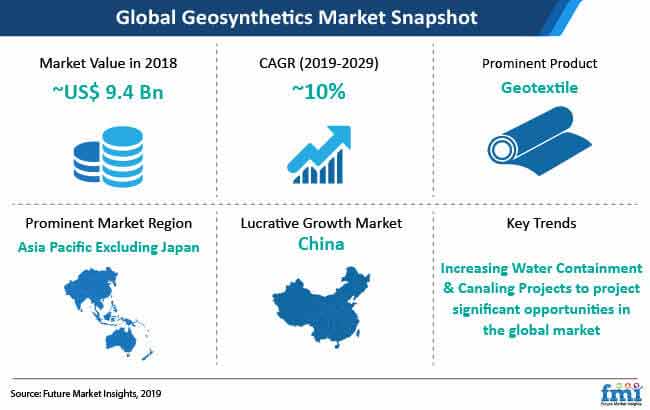 The global geosynthetics market size was ~US$ 9.4 Bn.
The geosynthetics market is estimated to grow at a CAGR of ~10% over the forecast period of 2019-2029.
Among various types of geosynthetic products, geotextiles are likely to continue witnessing significant traction.

High adoption for various applications in the construction industry, and the presence of a large number of local players offering application-specific sizes and grades of geotextiles, are collectively projected to fuel the market demand for geosynthetics.

Owing to significant adoption of various geosynthetic products in road network building, the road applications remain the leading employer of geosynthetic materials.
In terms of market share, Asia Pacific excluding Japan (APEJ) and North America are anticipated to be the prominent regional markets, collectively holding more than half the value and volume shares in global geosynthetics
In terms of growth rate, APEJ's market for geosynthetics is most likely to witness substantial growth through 2029.
Considering the pace at which companies are penetrating into the geosynthetics business, it is highly likely that the leading market participants will prioritize innovative and cost competitive products as key differentiators.
India and China are expected to be emerging countries in the global geosynthetics market.

With growing demand for geosynthetic products in various regions, several new start-ups involved in the manufacturing and supply of geosynthetic products have been established.
These manufacturers are characterized by their direct presence in the market, and continue to operate at relatively lower profit margins by offering cost-effective products.
Factors Shaping the Global Geosynthetics Market
Significant Demand in Water Containment and Canaling Projects
Rising population is leading towards more water usage. Shrinking water resources are raising an alarm for various government authorities to efficiently manage the available water resources in order to fulfil the current and future water demands.
Governments, along with NGOs and several private firms, are actively encouraging water management projects, which can be useful for different industrial applications and irrigation purposes. Also, several central & state governments are implementing projects aiming to interlink rivers and canals.
Geosynthetic Products for Waste Management and Landfill Capping
In recent years there have been many advancements in the understanding of issues related to the use of geosynthetics such as geomembranes and geosynthetic clay liners (GCLs), as contaminant barriers. As a consequence, there has also been a significant increase in geo-environmental applications.
Manufacturers involved in product innovations are focusing on developing technologies that could be successfully deployed for waste management applications such as food waste management, e-waste management and medical waste management.
Propriety products of Varicore Technologies - Multi-Flow Drainage Systems and LDVS Drain/Vent Systems (Leak Detection Venting System) are two common examples. Moreover, deployment of geosynthetic materials for containment purposes is estimated to grow significantly due to high demand in dams, canals, erosion control, and several other purposes over the forecast period.
Growing International Trade and Emphasis on Uplifting the Small-Scale Fabric Industry
Over the past few years, several countries have strengthened their trade relationships. Various countries have signed agreements for sharing goods, services and technologies. Global geosynthetic products are gaining high demand as some of the leading woven and non-woven textile producing countries are encouraging trade with major construction-booming countries. China and the U.S. are among the largest exporters of man-made staple fibre, while Vietnam has emerged as one of the largest importers in the same category.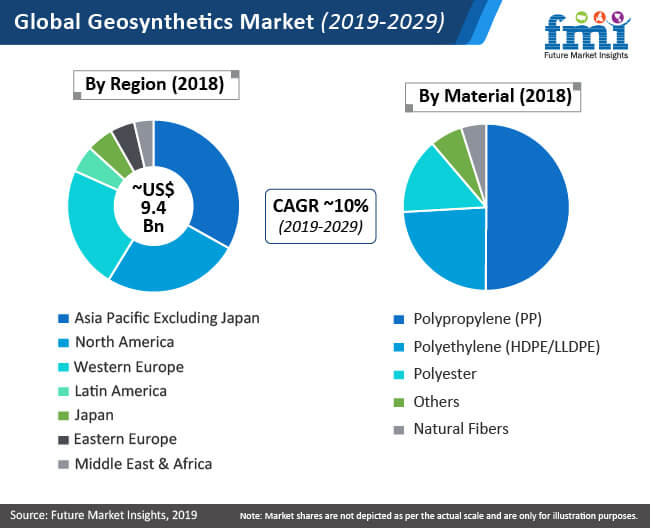 Geosynthetics Market Structure Analysis
The global geosynthetics market is highly competitive due to the presence of a large number of global and regional players.
The market conditions are fairly different in various regions, mainly depending on the regional construction industry growth and the direct presence of manufacturers in the regional market.
Europe and North America have witnessed significant infrastructure growth during the last two decades, and have become hubs of majority of geosynthetic manufacturers and suppliers. As the growth is now shifting towards developing countries of Asia and Latin America, the regions are gaining high attraction among manufacturers.
Some of the prominent competitors in the geosynthetics market landscape include Koninklijke Ten Cate B.V., GSE Environmental Inc., Officine Maccaferri S.p.A., Low & Bonar PLC., Tensar Corporation, and others. These comapnies are estimated to hold a value share of 40-45% in the global geosynthetics market.
Key Segments
Based on product type
geotextile
geomembrane
geogrid
geonet
geocomposite
geosynthetic clay liner
others
Based on material type
polyethylene (HDPE/LLDPE)
polypropylene (PP)
polyester
natural fibers
others
Based on primary application
separation
drainage & filtration
reinforcement
containment
based on the end-use
roads (paved & unpaved)
railways
retaining walls
waterworks and waste treatments
landfill & erosion control
others
Need specific information?