Introduction
Nutricosmetics find application in overall beauty and health management sector. They are often regarded as a convenient solution and support for beauty enhancement without having any ill effects on the health of the user.
Growing concern for personal care and rising awareness among consumers about the side effects of cosmetic ingredients on their health are key factors driving the global nutricosmetics market. Consumers are growing more conscious about the things they use and ingredients they consume. The concerns regarding the side effects of chemical components in a product is propelling people to look for a natural alternative.
Nutricosmetics with their natural and organic components provide a holistic beauty regimen for skin, nails and hair along with taking care of the health of the person consuming it, giving more reasons for growth in demand for global nutricosmetics market.
Since the concept of nutricosmetics is new and the market is relatively younger, it is expected to provide sustainable penetration opportunities in the next few years to new entrants and existing players alike in the market.
Also, there are not many players in the market saturating it, which gives a relief to the companies when it comes to competition.
According to Future market insights (FMI), the global nutricosmetics market is expected to have a sustainable and steady growth over the forecast period 2020-2030 with a CAGR of above 8%. With the growing demand witnessed across the world, the global market value of nutricosmetics is projected to double the current value by the end of 2030.
Consumers Focusing on Wellness and Natural Ingredients
Nutricosmetics refer to products developed by using natural foods and their byproducts. These consist of active ingredients, minerals and nutrients aimed at improving skin nutrition, hair and nails which are absorbed orally.
Nutricosmetics are the result of the convergence of food and cosmetic industry which enable beauty enhancement from within. These new generation beauty products are characterized by oral supplementation of nutrients, also identified as beauty pills and oral cosmetics.
Consumers are growing more conscious about the wellness rather than focusing only on external beauty, making 'feeling good' more important than 'looking good'. They are more concerned about things they use on their body and are demanding transparency for ingredients and components used in the products they use.
Nutricosmetics use compounds from fruits, vegetables, medicinal plants and other natural sources for their unique properties like anti-aging owing to high anti-oxidants present in them.
A holistic and eco conscious consumer approach towards health, lifestyle and personal care is paving way for the evolution of market for these beauty from within products by blurring the lines between wellness and beauty.
Advent of Micro-Biome Skincare Products Driving Growth
Micro-biome products add bacteria to the skin along with gentler products that help the skin to maintain its balance. Consumer interest towards organic and natural ingredients combined with probiotics is increasing demand for micro biome products, providing sustainable opportunities for global nutricosmetics market.
The paradigm shift in consumer behavior is the result of the holistic approach towards health and the way beauty is perceived. Apart from being considered as key to enhance skin appearance, Micro-biome skin care products are also addressing the various causes and symptoms for skin conditions.
Challenging current perceptions about bacteria residing on the skin, these products aim at using the bacteria to enhance and maintain overall health of the skin.
Most popular claims made by these products are their anti-aging and anti-wrinkle properties. However, overall skin health care, emphasis on natural and green beauty are also some of the characters attracting consumers towards micro-biome skin care products.
Key Challenges
Nutricosmetics is a relatively novel concept and thus is unfamiliar to a significant number of consumers. The awareness among people regarding the long term benefits of these products is on the rise but the market still has a long way to go.
Though nutricosmetics have many long lasting benefits, the market faces challenges when it comes to adaptability of these products. Consumers show reluctance to shift from topical cosmetic products as changing their mindset and perception entirely is difficult.
The convenience of topical products with their quick fixes poses as another major challenge for nutricosmetic companies as these products may take some time to show effects owing to slow skin metabolism.
Furthermore, the traditional topical products are a part of the beauty regimen and have been so for the longest of time and hence it is difficult for people to switch to nutricosmetics altogether
Regional Analysis
North America Nutricosmetics Market
North America is one of the leading markets for Nutricosmetics. It is expected to cover nearly 1/5th of the global nutricosmetics market by the end of the forecast period 2020-2030.
Though the regular consumer in the region still prefers using topical cosmetics, a significant shift in the perception is witnessed. This change in thought process is likely to reflect in terms of market value in the next decade. A substantial growth is projected owing to the consumers changing perceptions towards healthier alternatives to beauty and wellness.
Additionally, changing lifestyles owing to rise in income is making it possible for consumers to opt for healthier alternatives for themselves as well as the environment which were considered inaccessible before. Nutricosmetic products are a part of this category. This factor is driving the market towards significant growth in the region.
Request a sample specific to North America market
Europe Nutricosmetics Market
Market in Europe is seeing an upward growth thanks to the changing lifestyles of the consumers in the region. This growth is expected to continue over the forecast period 2020-2030 as people are adapting to the new way of personal care and beauty enhancement using nutricosmetics.
The region is expected to see a boost in the growth in premium segment in the nutricosmetics market. Also, multi-functional products, offering skin care, nails and hair maintenance along with other properties are predicted to lead the market by the end of 2030 which will be followed by skin care products.
Request a sample specific to Europe market
East Asia Nutricosmetics Market
East Asia is projected to witness highest growth during the forecast period. Nutricosmetics have been an integral part of beauty rituals in the region for centuries. Moreover, new product launches remain a key factor to drive growth along with availability of the products to common people.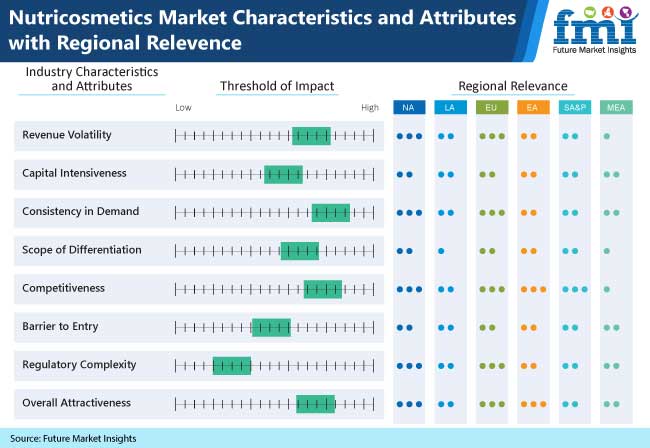 Though beauty supplements like tablets, capsules and powder still rule the nutricosmetics market in the region, beauty beverages are expected to gain momentum by the end of forecast period 2030.
Request a sample specific to East Asia market
Category Wise Analysis
Supplements Continue to Rule among Products
Supplements such as tablets, powder, capsules and powder are expected to continue the market dominance, with more than 80% market covered globally.
Although these are in the majority, beauty drinks or beauty beverages are expected to witness an accelerated growth during the forecast period 2020-2030.
Multi-Functional to Emerge Dominant
Nutricosmetics cover a wide range of skin care and personal care functions. It includes products for skin care, sun care, anti-aging, weight management among others. Of these, demand witnessed in the hair and nail care segment is considerably high. However, on account of changing consumer preference growth witnessed in the skin care and multi-functional segments will rise at a higher pace over the forecast period. Multi-functional nutricosmetics are likely to account for the lion's share of the market by the end of 2030.
Medium Range Products Fuel Demand
Nutricosmetics is a relatively newer and younger market. Hence the pricing plays a very important role when it comes to attract new customers.
Economy and medium range products are expected to cover more than half of the total market in terms of price range by the end of 2030. However, premium products are seeing a surge in demand in western countries and it is expected to continue during the forecast period as well.
Departmental Stores at the Top Distribution Channel
Nutricosmetic products have multiple channels for their sales, which include both online and offline channels.
Conventional methods of direct selling such as departmental stores are projected to be the top distribution channels. Even with e-commerce gaining prominence, physical retail platforms like specialty stores, supermarkets, hyper markets, convenience stores are expected to stay in demand over the forecast period.
Growth witnessed in direct selling and specialty stores is expected to be considerably high. Accelerating sales recorded in these channels will enable them account for higher share in the market by 2030.
Competitive landscape
Players in the market are focusing on innovations more than anything else to gain edge over the competitors. Additionally, the formulations are finding a key place in strategies by companies as majority of consumers are demanding to know the ingredients used and their sources before buying.
Also an important strategy followed by companies is maximizing benefits in a single product, which means providing multiple health benefits and personal care benefits in one product.
For instance, Herbal Life has products that are extensively used for weight management but they also provide additional benefits of skin care, nails and hair care.
Some of the leading companies operating across key regional segments profiled are:
Pfizer Inc.
Herbalife Nutrition Ltd.
Amway Corporation
Phyto Botanical Power
Viviscal Limited
Everest NeoCell LLC
Amazing Nutrition
PureLogical International
Ivy Bears
Vitabiotics Ltd.
MartiDerm
Shiseido Co. Ltd.
H&H Group
Origo Cosmecuticals Pvt. Ltd.
*The list is not exhaustive, and only for representational purposes. Full competitive intelligence with SWOT analysis available in the report.
Nutricosmetics Market Report: Scope
| | |
| --- | --- |
| Attribute | Details |
| Forecast Period | 2020-2030 |
| Historical Data Available for | 2015-2019 |
| Market Analysis | US$ Million for value |
| Key Regions Covered | North America, Latin America, Europe, East Asia, South Asia & Pacific, and Middle East & Africa (MEA) |
| Key Countries Covered | US, Canada, Brazil, Mexico, Germany, Italy, France, U.K., Spain, BENELUX, Russia, China, Japan, South Korea, India, Thailand, Indonesia, Malaysia, Australia, New Zealand, GCC Countries, Turkey, Northern Africa, South Africa |
| Key Segments Covered | Product Type, Primary Function, Price Range Distribution Channel and Region |
| Key Companies Profiled | Pfizer Inc., Herbalife Nutrition Ltd., Amway Corporation, Phyto Botanical Power, Viviscal Limited, Everest NeoCell LLC, Amazing Nutrition, PureLogical International, Ivy Bears, Vitabiotics Ltd., MartiDerm, Shiseido Co. Ltd., H&H Group, Origo Cosmecuticals Pvt. Ltd. |
| Report Coverage | Market Forecast, brand share analysis, competition intelligence, DROT analysis, Market Dynamics and Challenges, Strategic Growth Initiatives |
| Customization & Pricing | |
Key Questions Answered in the Report
How has COVID-19 impacted nutricosmetics market?

Sales of nutricosmetics dipped in 2020 on account of COVID-19 impact; however, the long-term outlook on the market remains bullish. It is estimated that nutricosmetics market growth will hover around 8%. To know the exact impact of COVID-19 on nutricosmetics demand, you can get in touch with report authors.

Have sales of nutricosmetics though e-commerce gained traction?

Although brick-and-mortar remains the preferred sales channel for nutricosmetics, sales through online channels peaked in 2020. According to FMI's analysis, online sales will grow at a higher CAGR owing to rising consumer preference.

Which is the largest market for nutricosmetics and why?

The US remains the largest market for nutricosmetics and it accounts for nearly 20% market share. Higher awareness, combined with availability of a wide range of nutricosmetics products has led to steady sales over the years. For more details on lucrativeness of US in nutricosmetics market, you can request a sample

Which are the lucrative sales channels for nutricosmetics?

Physical retail remains the most lucrative channel for nutricosmetics although online sales peaked in 2020 due to COVID-19 pandemic. Some of the leading sales channels for nutricosmetics include,

Wholesale/distributors
Hypermarkets and supermarkets
Specialty Stores
Pharmacy Stores
Enquiry before Buying
Is this report analysis evaluated by Future Market Insights?

Yes, each aspect of this report is evaluated by the experts of Future Market Insights through primary and secondary research methods. If you wish to know more, then kindly speak to our research analyst.

What are the primary research methods used by FMI?

FMI follows the strategy relating to the demand assessment of the market through the supply-side analysis. This analysis is evaluated considering standard market structure, method, and definitions.

Who are the respondents for primary research?

FMI connects with stakeholders across the spectrum, including C-level staff, distributors, product manufacturers, and experts. Contact us for more information on the primary research respondents.

What are the other sources of secondary level research?

The research report is conducted through detailed databases, including information available on paid domains. Besides referring to industry information, we look over the press release, annual report, presentations, and research papers.

Is the sample report available for future analysis?

Yes, you can request a sample that would be available to you via email.

How may I purchase this report?

You can seamlessly buy the report with safety measures on our channel.
Market Segmentation
Product Type
Supplements

Tablets
Capsules
Powder
Liquid

Beauty Beverages/Drinks
Primary Function
Skin Care
Sun Care
Anti-Aging
Radiance & Glow
Anti-acne/ pimple
Hair & Nail Care
Weight Management
Multi-Functional
Price Range
Economy
Mid-Range
Premium
Distribution Channel
Hypermarkets/Supermarkets
Convenience Stores
Specialty Stores
Direct Selling
Departmental Stores
E-Commerce
Other Retail Formats
Region
North America
Latin America
Europe
East Asia
South Asia
Oceania
MEA
Need specific information?
Talk Show:
The Rise of Intelligent Packaging
Personalized, Connected and Sustainable
November 18, 2021
11:00-11:45 AM PST (USA & Canada)
This is a LIVE session