An Incisive, In-depth Analysis on the Oryzenin Market
This study offers a comprehensive, 360 degree analysis on the Oryzenin market, bringing to fore insights that can help stakeholders identify the opportunities as well as challenges. It tracks the global Oryzenin market across key regions, and offers in-depth commentary and accurate quantitative insights. The study also includes incisive competitive landscape analysis, and provides key recommendations to market players on winning imperatives and successful strategies.
A glutelin type found in seeds of rice, Oryzenin, is a much better alternative as it does not lead to any kind of disorders such as celiac disease. The global oryzenin market is influenced by several aspects which revolve around the benefits and uses of oryzenin. The rising incidences of celiac diseases has triggered the use of oryzenin in several regions. There is a direct correlation between the growth of the global oryzenin market and prevalence of gastrointestinal diseases and irritable bowel syndrome. Oryzenin does not cause any of these problems, unlike wheat or barley or rye, and hence it pushes the adoption of oryzenin. Moreover, the rising demand for rice proteins owing to functional properties has contributed towards the growth of the global oryzenin market. Other important growth influencers which drive the global oryzenin market are low cost of production of rice proteins, high gelling properties and high protein content makes oryzenin to be used extensively in food and beverage industry, increasing health awareness, rising consumption of oryzenin in sports nutrition and its use as an enhancer of nutritional value in several food products. North America regions is a highly lucrative region for the growth of the global oryzenin market.
Oryzenin is a type of glutelin/protein which is typically found in seeds of rice. Consumers who are looking for alternatives to non-allergen, lactose free as well as gluten free source of proteins, can look forward to oryzenin as a better alternative. Oryzenin does not cause any kind of disorders with respect to digestion.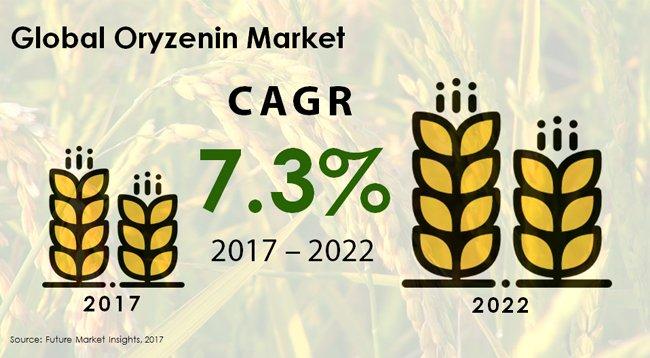 According to Future Market Insights's research report on the global oryzenin market, the global market is expected to reach a value of about US$ 112 Mn by the end of 2022, growing at a robust CAGR throughout the period of assessment, 2017-2022.
North America Region to Dominate the Global Market in Terms of Revenue and Growth Rate
Global oryzenin market finds North America to be the most lucrative region which reflects higher market attractiveness. The region is poised to grow at the highest rate showing a robust CAGR of 9.0% throughout the period of assessment. The regions dominated the global market in 2017 with respect to market share and is poised to continue dominating the global market due to high growth rate during the assessment period.
Isolates no Longer Isolated, Gone Global
Isolates segment by product type have dominated the global market with a high market share in 2017 and are poised to continue this trend in the coming years. This segment also poised to grow at a robust growth rate to register a CAGR of 8.3% during the assessment period 2017-2022. The concentrates segment also shows high growth potential and is expected to grow at a very high CAGR throughout the period of assessment. The isolates segment is expected to gain the highest BPS by the end of 2022.
Gelling Poised to Swell Faster
Gelling segment by function is poised to grow at a highest growth rate throughout the period of assessment. The segment is anticipated to register a robust CAGR of 7.8% throughout the assessment period. The emulsifying segment dominates the global market in terms of revenue share and also expected to gain a high BPS by the end of 2022.
Sports and energy Nutrition Expected to Lead the Global Market
The sports and energy nutrition segment by application is expected to dominate the global market in terms of revenue share. Based on statistical analyses in 2017, this segment lead the global market by reflecting higher market share and this trend is poised to grow in the coming years as it also reflects robust growth rate.
Bakery and Confectionary Segment Outpaces Other Segments
Bakery and confectionary segment by application shows the highest growth rate followed by sports and nutrition segment during the assessment period 2017-2022. This segment also expected to gain high BPS by the end of 2022, and it is posed to hold significant market share in the coming years.
Dry Segment Shows High Potential
The dry segment by form shows high potential with respect to growth rate as it is poised to register a CAGR of 8.8% throughout the assessment period 2017-2022. Also, it is expected to gain the highest BPS by the end of 2022. The liquid segment, however, has shown high market share, almost three times more than that of dry segment in 2017 and this trend is expected to continue in the coming years.
Competition Tracking
The research report has profiled companies which are expected to remain active in the expansion of global oryzenin market throughout 2022. Companies such as Aidp Inc., BENEO GmbH, Kerry Group PLC, Shenzhen Beike Biotechnology Co. Ltd., Axiom Foods, Inc., Golden Grain Group Limited, Ribus, Inc., Rice bran Technologies, Inc., The Green Labs LLC and Bioway (Xi'An) Organic Ingredients Co., Ltd., are profiled.
Understand Your Competition
The research report on global oryzenin market covers the strategies adopted by the key companies, their growth patterns, mergers and acquisitions, product portfolios and new innovations coming up, analysis of the technological aspects, their global presence, etc. It becomes easier to track the market once a view of the players steering the market are studied to achieve growth and stability.
Understanding the Global Market, a Holistic Angle
The comprehensive research report on global oryzenin market provides exhaustive analysis on market shares, demand and supply analysis, sales volume and value analysis of various products, competition etc., with respect to important geographies of North America, Europe, Asia Pacific excluding Japan (APEJ), Latin America, Japan and Middle East and Africa (MEA) along with a regional breakdown. These regions are analysed keeping in view several aspects which influence the growth of the global oryzenin market. This gives an idea of how to plan market entry strategies, connect with the various customers and target audience and to establish hold in that area. The unbiased holistic 3600 view of the global oryzenin market is what the research report puts forth and assists in making informed decisions basis the market survey.
A Robust Intelligence Backbone is Applied
For every research, a plan is essential to make it more fruitful. A more robust, unique and effective research methodology which is followed at Future market Insights which enables a near 100 percent accuracy with respect to all angles. The research process uses primary research, secondary research and expert opinions to get a thorough understanding of the market. Triangulation of market data so gathered by this method is carried out to obtain specific figures representing the market share and growth rate in that particular year, which have high accuracy owing to multiple cross examinations of data. With this study it is possible to obtain actionable intelligence which can be used from the conceptualization phase to the execution phase.
An extensive segmentation of the global oryzenin market includes categories such as product type (isolates, concentrates and other type), application (sports and energy nutrition, beverages, bakery and confectionary, meat analogs and extenders and dairy alternatives), function (emulsifying, texturizing, gelling and others) form (dry and liquid) and region.
| Region | Product Type | Application | Function | Form |
| --- | --- | --- | --- | --- |
| | | Sports & Energy Nutrition | | |
| | | | | |
| | | | | |
| | | | | |
| | | | | |
| | | | | |

To Summarize, This Research Study Reflects:
An unbiased third party opinion is that the research promotes

Exploring all angles is not simple, but this research report includes every facet of the market which can be used as a tool to gain competitive edge

From product idealisation to product launch and extending to product commercialisation – a huge value add which this report delivers

A near to 100 percent accuracy in data and statistics

Expert opinions and recommendations to get valuable insights

Trends and opportunities shaping the market

A thorough analysis from new product developments and technology standpoints

Forecasts which help in formulating future strategies and the necessary changes in the current strategies applied

In depth analysis providing meaningful insights which can be actioned as per need
The comprehensive research study on "Oryzenin Market: Global Industry analysis (2012-2016) and Opportunity Assessment (2016-2022)" gives an exquisite feel and flavour to the reader covering all the angles in the market to assist him/her gain competitive advantage in the changing dynamics of the oryzenin market in the coming years.
COVID -19 : Impact Analysis
Request the coronavirus impact analysis across industries and markets
Request Covid -19 Impact
CASE STUDIES
See how our work makes an impact.
At FMI, we design strategies that are adaptive, impactful, and implementable.