An Incisive, In-depth Analysis on the Palletizers Market
This study offers a comprehensive, 360 degree analysis on the Palletizers market, bringing to fore insights that can help stakeholders identify the opportunities as well as challenges. It tracks the global Palletizers market across key regions, and offers in-depth commentary and accurate quantitative insights. The study also includes incisive competitive landscape analysis, and provides key recommendations to market players on winning imperatives and successful strategies.
COVID -19 : Impact Analysis
Request the coronavirus impact analysis across industries and markets
Request Covid -19 Impact
Artificial Intelligence in Palletizers has Propelled the Global Palletizers Market
The key driving factor propelling the demand for palletizers globally is the continuously advancing technology for the palletizing systems and increasing availability of economical palletizers. The global palletizers market is projected to expand with a CAGR of 4.9% by the end of 2028.
On the basis of Machine type, the palletizers market is segment into conventional palletizers and robotic palletizers. The conventional palletizers are further sub-segmented into low-level palletizers and high-level palletizers. The robotic palletizers are further sub-segmented into anthromorphic and gantry.
With increasing price of industrial land area, the requirement of efficient storing and setting up a facility have also increased. For handling large volume of material, material handling equipment are preferred to achieve high productivity. Along with manufacturing facilities, palletizers are often required at warehousing facilities to serve complex orders efficiently in minimum lead time. Palletizers are capable of handling very high load which is not feasible in manual palletizing, at high speed and with minimum probability of mishandling of the material. Continuous developments introduced in the palletizers have resulted in low floor space consumption and highly productive operations.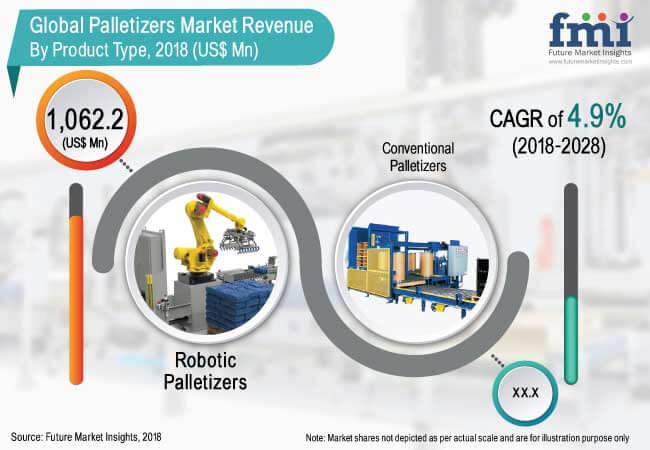 Conventional palletizers are equally productive when compared to robotic palletizers, which is in terms of load handling capability and speed of palletizing. The economic price of the conventional palletizers is the winning imperative that has driven the conventional palletizers market. High-level and low-level palletizers differ on the basis of functioning. The high-level palletizers are estimated to account for more than half of the conventional palletizers market share. This sub-segment is basically driven by the technological advancements introduced in the high-level palletizers resulting into higher operating speed. On the other hand, the low-level palletizers are basically preferred for the very high load handling applications. Huge availability of conventional palletizers at economic prices has served the large requirement of high output manufacturers, as well as low output manufacturers, leading to a market share of around half of the global palletizers market.
Robotic palletizers has attracted a large number of end-user industries leading to a high growth rate of the segment. Furthermore, the anthromorphic robotic palletizers has higher market share as well as higher growth rate as compared to gantry palletizers. The key driving factor for the anthromorphic robotic palletizers is the much less space required by the system. The demand for robotic palletizers is increasing due to the declining prices for the highly advanced technology. The probability of any accident or mishandling of materials with the implementation of robotic palletizers is very low as compared to conventional palletizers. The global leaders in the robotics industry such as ABB Ltd., Fanuc and Kuka Group have observed large incremental opportunity in the palletizers market and have developed several robotic palletizing solutions.
Several advancements such as implementing artificial intelligence in the robotic palletizers has enhanced the system's operational capability. Despite several developments, the conventional palletizers have shown higher productivity by handling very high loads at high speed which is difficult to achieve with a robotic palletizers. Mixed-case palletizing capability has enhanced the stability of the pallet by arranging differently sized cases in a stable form. Also, mixed-case palletizers can arrange bags in a pattern which results into high stability for the pallet. With the enhanced stability of the pallet, the floor space required to store the volume of material is greatly reduced. The key players in the market have developed palletizers which can be accommodated in the industry 4.0 standards. All these technological developments have reduced the impact of various restraints on the demand for palletizers.
Detailed profiles of companies are also included in the report to evaluate their strategies, key product offerings and recent developments. The key players of the global palletizers market are Premier Tech Chronos Ltd., ABB Ltd., FANUC Corp., Kion Group, Kuka Group, Honeywell International Inc., Okura Yusoki Co., Ltd., Columbia Machine, Inc., Fuji Yusoki Kogyo Co., Ltd. and Concetti S.P.A.
This report provides forecast and analysis of the palletizers market at the global level. It provides historical data of 2013-2017 along with forecast from 2018 to 2028 in terms of revenue (US$ Mn) and volume (Units). The report also includes macroeconomic indicators along with an outlook on packaging demand and industrial robots demand globally. In addition, it includes global drivers, restraints and recent trends of the palletizers market. The report also comprises the study of opportunities for palletizers manufacturers and also includes detailed value chain analysis.
In order to provide users of this report with comprehensive view of the market, we have included detailed competitiveness analysis and company players with their SWOT analysis and strategy overview. The dashboard provides detailed comparison of palletizers manufacturers on parameters such as operating margin, total revenue, product portfolio, and what we call 'innovation scale'. The study encompasses market attractiveness analysis by machine type, product type, end-user industry, and region.
The report includes unit sales of palletizers and the revenue generated from sales of palletizers globally and across all important regional economies. The global palletizers market is segmented on the basis of Machine type into conventional palletizers and robotic palletizers. Conventional palletizers segment is further segmented into low-level palletizers and high-level palletizers.
On the basis of product type, the global palletizers market is segmented into cases & boxes, bags & sacks, pails & drums, trays & crates and bundles.
On the basis of end-user industry, the global palletizers market is segmented into food, beverage, pharmaceutical, cosmetics, chemical, building & construction and others (ceramics, glass, etc.)
Palletizers market numbers have been assessed based on sales and weighted average pricing of palletizers by machine type and then aggregate revenue is derived through country pricing trends. Palletizers market size and forecast for each segment have been provided in the context of regional markets. The palletizers market has been analyzed based on expected demand and current palletizers market scenario. Pricing is considered for the calculation of revenue that are average country prices obtained through primary quotes from numerous regional palletizers manufacturers, suppliers, and distributors. All key end users have been considered on the basis of secondary sources and feedback from primary respondents. Country demand patterns have been considered while estimating the palletizers market for various end uses of palletizers in different regions across the globe. Top-down approach has been used to estimate the palletizers market by country. Palletizers market numbers for all the regions by machine type, by product type and by end-user industry have been derived using the bottom-up approach, which is cumulative of each region's demand. Company-level palletizers market share has been derived on the basis of revenues reported by key manufacturers. The palletizers market has been forecast based on constant currency rates.
A number of primary and secondary sources were consulted during the course of the study. Secondary sources include Factiva, World Bank, Packaging Digest, Hoover's, and company's annual reports and publications.
Detailed profiles of companies are also included in the report to evaluate their strategies, key product offerings and recent developments. The key players of the global palletizers market are Premier Tech Chronos Ltd., ABB Ltd., FANUC Corp., Kion Group, Kuka Group, Honeywell International Inc., Okura Yusoki Co., Ltd., Columbia Machine, Inc., Fuji Yusoki Kogyo Co., Ltd. and Concetti S.P.A.
Key Segments Covered
By Machine Type

Conventional Palletizers
Robotic Palletizers

By Product Type

Cases & Boxes
Bags & Sacks
Pails & Drums
Trays & Crates
Bundles

By End-Use Industry

Food
Beverage
Pharmaceutical
Cosmetics
Chemical
Building & Construction
Others

By Region

North America
Latin America

Brazil
Mexico
Argentina
Rest of Latin America

Western Europe

Germany
Italy
France
UK
Spain
Benelux
Nordic
Rest of Western Europe

Eastern Europe

Russia
Poland
Rest of Eastern Europe

Middle East & Africa (MEA)

GCC Countries
South Africa
North Africa
Turkey
Rest of MEA

Asia Pacific excluding Japan (APEJ)

China
India
ASEAN
South Korea
Australia & New Zealand
Rest of APEJ

Japan
Akshay Godge
Client Partner - Global Business Development
CASE STUDIES
See how our work makes an impact.
At FMI, we design strategies that are adaptive, impactful, and implementable.