Introduction
The pharmacovigilance is defined as an exercise of monitoring the effects of drugs after they have been approved for use, particularly in order to identify and assess previously unreported adverse reactions. Rise in the prevalence of acute and chronic diseases has consequently led to an increase in the incidences of drug consumption, thus leading to growth in the number of adverse drug events and drug toxicity cases.
Furthermore, factors such as safety regulations, risk of high-profile safety issues and large volume of post-market events to be reviewed along with negative media coverage have compelled the pharmaceutical players to take support of various outsourcing services for drug monitoring. Intensifying regulatory expectations, tougher inspection system and instant need for patient reporting are boosting the adoption rate of pharmacovigilance among pharmaceutical companies.
Pharmaceutical companies are now entering into long-term partnerships/service agreements with CROs and BPOs to reduce the pharmacovigilance process related expenditure, incurred right from drug discovery to post-marketing approvals.
Market Value and Forecast
In terms of value, the global pharmacovigilance market is estimated to expand at a CAGR of 14.2% over the forecast period (2015-2020). The global pharmacovigilance market value is anticipated to increase from US$ 2,759.1 Mn in 2014 to US$ 6,104.1 Mn by 2020 end.
Market Dynamics
Growth of the pharmacovigilance market is mainly driven by rising prevalence of acute and chronic diseases, continuously increasing drug event monitoring as a result of the increasing drug consumption, surge in adverse drug reactions and drug toxicity and rise in adoption of outsourcing services.
However, high risk associated with maintaining data security in pharmacovigilance outsourcing as well as unavailability of an appropriate pharmacovigilance system for herbal products in Asia Pacific might obstruct growth of the global pharmacovigilance market in the coming years.
Market Segmentation by Phase of Drug Development
On the basis of phase of drug development, the market has been segmented into preclinical studies, phase I clinical trial, phase II clinical trial, phase III clinical trial and phase IV clinical trial or post-marketing surveillance. The post marketing surveillance or phase IV segment is accounted as largest market contributor, accounting for US$ 630.7 Mn in 2014.
However, the clinical trial phase III segment is projected to expand at a CAGR of 15.5% during the forecast period from 2015 to 2020 due to strict regulatory compliances, increasing realisation among pharmaceuticals industries regarding the critical significance of safety data and need for complying to stringent public health policies.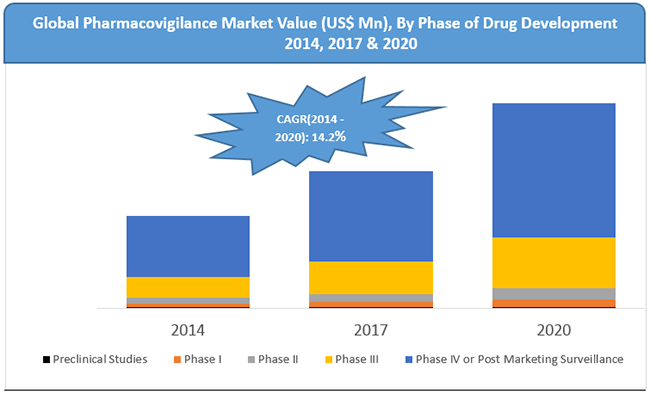 Key Players
Some of the key players identified in the global pharmacovigilance market report are:
Accenture plc, Bristol-Myers Squibb, Clinquest Group B.V., Cognizant Technology Solutions, Covance, Inc., F. Hoffmann-La Roche Ltd., GlaxoSmithKline plc (GSK), ICON plc, iGATE Corporation, iMEDGlobal Corporation, inVentiv Health, Inc., Novartis International AG, PAREXEL International Corporation, Pfizer, Inc., Pharmaceutical Product Development, LLC. (PPD), PRA Health Sciences, Inc., Quintiles Transnational Holdings, Inc., Sanofi S.A., Synowledge LLC and Wipro Limited. The above mentioned companies are focused on monitoring proper documentation of adverse drug reactions, monitoring and regulating proper drug usage and identifying the proper drug administration levels – the basic tenets of pharmacovigilance.
Key Segments Covered
By Phases of Drug Development
Preclinical Studies
Phase I
Phase II
Phase III
Phase IV or Post Marketing Surveillance
By Type of Method
Spontaneous Reporting
Intensified ADR Reporting
Targeted Spontaneous Reporting
Cohort Event Monitoring
EHR Mining
By Type of Service Provider
In-house Pharmacovigilance
Contract Outsourcing
Key Regions/Countries Covered
North America
Latin America

Brazil
Argentina
Mexico
Rest of Latin America

Western Europe

U.K.
France
Germany
Spain
Italy
Nordics
BENELUX
Rest of Western Europe

Eastern Europe

Poland
Russia
Rest of Eastern Europe

Asia Pacific Excluding Japan (APEJ)

Greater China
India
ASEAN
Australia and New Zealand
Rest of APEJ

Japan
Middle East & Africa

GCC
South Africa
Rest of MEA
Need specific information?