About the Report
In recent years, rapid pharmaceutical progress with respect to drug development has led to the emergence of numerous institutional level research and development studies, culminating into clinical trials with highly conclusive results. Furthermore, rising hospital admissions for multiple ailments is prompting healthcare settings to streamline their workflows. Hence, the scope for pharmacovigilance services has significantly broadened.
Currently, majority of all clinical trials are in the third or fourth stages, which are the most important as they provide the basis for future product launches in the global market. In order to ensure minimal side-effects, clinicians are required to conduct extensive tests and data crunching, prompting major pharmaceutical giants to collaborate with prominent pharmacovigilance service providers.
In its new study, ESOMAR-certified market research and consulting firm Future Market Insights (FMI) offers insights about key factors driving demand for pharmacovigilance services. The report tracks the global sales of pharmacovigilance solutions in 20+ high-growth markets, along with analyzing the impact COVID-19 has had on the healthcare industry in general, and pharmacovigilance in particular.
How do Historical Outlook and Future Projections for Pharmacovigilance Market Compare?
According to FMI's analysis, the pharmacovigilance market posted highly impressive gains until 2020. The market registered a valuation of over US$ 6 billion, expanding at a CAGR exceeding 14%. Initiation of numerous clinical trials for multiple drug candidates has prompted regulatory authorities to issue multiple good practice directives, providing a high pedestal for expansion.
Amidst the COVID-19 pandemic, the scope for pharmacovigilance has only broadened, as major healthcare providers are working tireless to stave off the recessionary effects of the highly contagious disease. With numerous countries experiencing a second wave, a scramble for discovering more effective therapeutic options is prompting enhanced drug development initiatives, widening pharmacovigilance solutions deployment.
The market is anticipated to make highly lucrative gains in the forthcoming decade, as macro level collaborations and partnerships between major pharmaceutical companies and contract research organizations and BPOs are increasing. This is expected to usher in a double-digit growth rate for the market through 2031.
How Increasing Frequencies of Clinical Trials are Bolstering Growth?
Over the years, the incidence of prominent chronic ailments, including cancers and cardiovascular diseases, have witnessed a major uptick. Consequently, healthcare practitioners worldwide have been accelerating clinical trials to develop highly effective therapeutic drugs and reduce the global burden of such chronic and debilitating ailments.
According to the World Health Organization, more than 60,000 clinical trials were conducted across 2018. Moreover, as per estimates published by the US National Library of Medicine, over 300,000 clinical trials and studies were registered as of April 2021- with non-US only trials amounting to 51% and US only at 33%. Hence, pharmacovigilance solutions to verify efficacy of these trials is witnessing a stupendous incline.
As the number of pharmaceutical companies seeking to introduce effective drug candidates' increase, the degree of competition is also rising. Extensive collaborations and partnerships to accelerate new molecule development has augmented demand for more robust R&D activities and streamlined workflows, prompting companies to invest in pharmacovigilance solutions.
Is Rising Healthcare Expenditure Paving Way for High Pharmacovigilance Solutions Adoption?
According to the World Health Organization's Global Spending on Health: Weathering the Storm report published in 2020, global spending on health continually rose between 2000 and 2018, reaching US$ 8.3 trillion, representing a tenth of global GDP. Out-of-pocket spending remains high, representing 2/5th of total health spending in 2018, while public spending amounted to 60% of global spending as of 2019.
It is expected that global healthcare spending could reach over US$ 10 trillion by 2022. Massive investments to boost existing infrastructure capacity to accommodate the ever increasing number of patients for numerous ailments. Consequently, pharmaceutical companies will be required to intensify clinical trials to develop new drug candidates and vaccines.
Furthermore, as hospital workflows become increasingly complex, key healthcare providers are investing in advanced solutions to automate their procedures, relying on such approaches as electronic health record (EHR) maintenance to collect patient data, for which pharmacovigilance solutions are of utmost importance. Moreover, governments worldwide are legislating stringent laws governing proper healthcare infrastructure development, by drafting best pharmacovigilance practices, thereby widening growth prospects.
How has COVID-19 Pandemic Elevated Growth Prospects?
As the novel coronavirus pandemic rages on in several regions, with most countries experiencing a second wave of infections, prospects for pharmacovigilance have only served to heighten in the near future. As frontline workers continue working ceaselessly to bring the situation under control, implementing pharmacovigilance programs to ensure success of public health initiatives is becoming very important.
As numerous therapeutic approaches are being implemented, safety reporting and medical monitoring are necessary. With the ever growing infection burden, collecting and analyzing data from both clinical trials and existing post-marketing settings to monitor the safety of vaccines and drugs is becoming necessary.
In June 2020, the European Medicines Agency (EMA) added nine additional active substances- chloroquine, darunavir, emtricitabine-tenofavir, filgrastim, ivermectin, nitric oxide, oseltamivir, prednisone and ritonavir- which are being investigated as potential treatment options, to the list of active ingredients for the monitoring of medical (MLM) literature screening.
Country-wise Analysis
How are Good Pharmacovigilance Practices Widening US Growth Prospects?
The US pharmacovigilance market is expected to reach new heights in the future, majorly attributed to the prevalence of a Pan-American good pharmacovigilance practice code. In 2005, the US Food & Drug Administration, in conjunction with the Department of Health and Human Services, the Center for Drugs Evaluation and Research (CDER) and the Center for Biologics Evaluation and Research (CBER) drafted the Good Pharmacovigilance Practices document.
According to the publication, all healthcare settings must ensure good reporting practices by acquiring complete data from spontaneous adverse event reports, incorporating computer assisted interview technology and targeted questionnaires for data collection exercises. Moreover, observational studies are highly encouraged through pharmacoepidemiological studies, maintenance of registries and conducting patient health surveys.
Furthermore, the US implements these practices as established in the International Conference for Harmonization of Technical Requirements for Human Use (ICH). As per those guidelines, healthcare providers must maintain individual case safety reports (ICSRs), periodic reports and a risk evaluation and mitigation strategy (REMS). Hence, there are various national pharmacovigilance systems and centers which are attracting various solutions providers.
What is the Growth Scenario for Pharmacovigilance across the UK?
Presently, a series of clinical trials are expected to be conducted to test the efficacy of various drug candidates, thereby opening up growth frontiers for pharmacovigilance solutions providers across the region. A case in point is that of the London Trials which are expected to begin in summer 2021. These trials are being conducted by the Hammersmith Medicines Research organization.
These are a series of 13 trials which include the 21-003 antiviral drugs including for COVID-19 trial (April 2021), the 20-019 Gp1 and Gp2 trial for autoimmune diseases (May 2021), the 20-010 Part 4 trial for treating NASH, a liver disorder (April 2021), the 18-502 psoriasis treatment trial (May 2021) and the 20-510 trial for treating high lipoprotein levels to name a few. All these trials will require a detailed assessment of drug efficacy based on patient history, response and other relevant data.
Amongst all the trials mentioned, drug development exercises for addressing the COVID-19 pandemic. A series of clinical trials in the past year which ultimately translated into the development of a vaccine has provided significant momentum to pharmacovigilance adoption throughout the UK. Some prominent pharmacovigilance manufacturers include Kinapse Life Sciences, Simbec-Orion, and QVigilance PV Service Providers to name a few.
Why is India Likely to be an Emerging Hub for Pharmacovigilance Solutions?
India ranks high in the list of the world's largest pharmaceuticals in the world. There are over 8000 licensed drug manufacturers in India which will generate employment prospects for major pharmacovigilance professionals. India, being the 4th largest manufacturer of pharmaceuticals in the world, has over 6000 licensed drug manufacturers and over 60,000 branded formulations.
According to the India Brand Equity Foundation (IBEF), the Indian pharmaceutical sector is expected to reach US$ 100 billion by 2025. Moreover, domestic pharmaceutical revenue amounted to over US$ 20 billion as of 2019, representing a tenth of an increase since 2018. With the government slated to permit 100% FDI in the sector, prominent pharmacovigilance solutions providers are expected to accrue significant future gains.
Indian companies are increasing efforts and investment in research and development to enhance the capacity of developing and marketing new drugs that meet pharmacovigilance requirements of Indian regulatory authorities. Moreover, prominent international pharmacovigilance companies are looking to India to outsource their operations, in view of inexpensive labor costs and presence of highly skilled medical and technical personnel.
How Will China Emerge as a Pharmacovigilance Solutions Hub?
Prior to 2018, pharmacovigilance systems in China were not comparatively mature, while companies' adherence towards drug safety standards were relatively passive. Since that year, a turning point was achieved, with authorities implementing the market authorization holder (MAH) responsibility clause in adverse drug reaction (ADR) reporting.
Subsequently, it introduced provisions firmly establishing pharmacovigilance systems in its Supreme Law of Pharmaceutical Supervision & Management. It released these principles in its 2019 China Drug Administration Law, and by 2020, released a draft on good pharmacovigilance practice to standardize responsibilities. The draft calls on companies to conduct comprehensive drug safety evaluation and pharmacovigilance audits throughout the drug's life cycle. In 2017, China acceded to the International Council for Harmonization (ICH), and continues to follow its regulations.
A number of solutions providers are currently operating within the Chinese landscape. In 2018, ArisGlobal, a leading provider of integrated cloud-based software solutions, received approval for its LifeSphere® Safety MultiVigilance Pharmacovigilance Solution through its local partner. Two CROs- DeltaMed Co. Ltd. and R&G PharmaStudies also chose this platform to support pharmaceutical companies in China.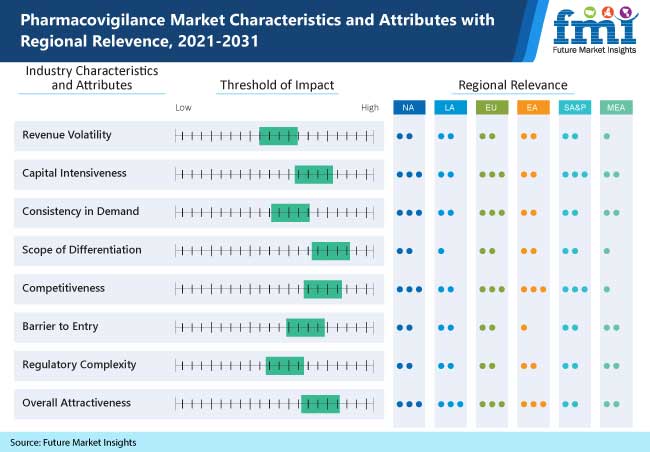 Category-wise Insights
Why are Phase-IV Clinical Trials acquiring Importance?
In terms of phase of drug development, phase-IV clinical trials are expected to emerge as the primary application areas for pharmacovigilance solutions deployment. The segment accounted for more than three out of four pharmacovigilance solutions deployments in 2020. These solutions are imperative to ensure additional safety.
Phase IV trials are the most important in the drug development life cycle. Hence, the data collected and assessed during this stage is likely to be of utmost relevance, as these findings would be the foundation for commercial availability. As numerous drugs are currently in their final stage, deploying pharmacological solutions is expected to incline significantly.
Why is Targeted Spontaneous Reporting Attracting Major Investments?
Based on method type, targeted spontaneous reporting is likely to experience the fastest growth, attributed to multiple benefits accrued in terms of reduced labor costs, greater affordability and feasibility in poor resource settings. This technique is extensively deployed across antiretroviral therapy drugs.
At the same time, electronic health records (EHR) mining is increasing uptake of pharmacovigilance services, as identification of risk factors for patients post discharge is an important aspect of patient care. Furthermore, EHRs are highly effective in streamlining hospital workflows by automating record maintenance procedures.
What is the Scope for Contract Outsourcing of Pharmacovigilance?
By service type provider, contract outsourcing is likely to hold the dominant position, amid rising emergence of small and medium sized businesses in the global pharmaceutical domain. Since these businesses have small-scale operations, it makes sense to outsource their operations to facilitate enhanced workflow.
The contract outsourcing segment accounted for nearly three-fifths of the revenue share as of 2020. Majority of contract outsourcing operations are concentrated across emerging economies, especially in India and China, as they possess highly productive workforce and reduced labor costs.
Competitive Landscape
Prominent pharmacovigilance market players are experiencing an upswing in their revenue prospects, mostly attributed to patent expiration of branded drugs which is spurring renewed clinical trials to develop new candidates.
Collaborations with leading biopharmaceutical companies is an important tactic deployed by certain market players. For instance, in December 2019, Accenture Plc. collaborated with UCB to build a safety solution based on Accenture's INTIENTTM Pharmacovigilance to accelerate the process of individual patient safety case reports, using artificial intelligence.
Additionally, outsourcing of operations to developing economies is assisting leading players in enhancing their business prospects. In 2017, Bristol-Myers Squibb (BMS) moved a portion of its drug safety monitoring operations to India, given its high prominence in the pharmaceutical drugs industry. The pharmacovigilance center is currently being operated by Accenture employees.
Recently, in April 2021, Cognizant Technology Solutions was named as one of the leading companies in the pharmacovigilance market, offering end-to-end spectrum of patient safety services. This comes in the wake of the company's constant efforts to strengthen its technology enabled solutions to better help clients achieve digital transformation.
Prominent players profiled include:
Accenture Plc.
Bristol-Myers Squibb
Clinquest Group B.V.
Cognizant Technology Solutions
Covance Inc.
F. Hoffmann-La Roche Ltd.
GlaxoSmithKline Plc.
ICON Plc
iGATE Corporation
iMED Global Corporation
inVentiv Health Inc.
Novartis AG
PAREXEL International Corporation
Pfizer Inc.
Pharmaceutical Product Development LLC. (PPD)
PRA Health Sciences Inc.
Quintiles Transnational Holdings Inc.
Sanofi SA
Synowledge LLC
Wipro Ltd.
*This list is indicative - full details about prominent pharmacovigilance market players are available upon request.
Pharmacovigilance Market - Report Scope
Attribute

Details

Forecast Period

2021-2031

Historical Data Available for

2016-2020

Market Analysis

US$ Mn for Value

Key Regions Covered

North America, Latin America, Europe, Asia-Pacific and Middle East & Africa

Key Countries Covered

U.S., Canada, Brazil, Mexico, Germany, Italy, France, U.K., Spain, Russia, China, India, ASEAN, Japan, GCC and South Africa

Key Segments Covered

Phase of Drug Development, Type of Methods and Service Type Provider

Key Companies Profiled

Accenture Plc.
Bristol-Myers Squibb
Clinquest Group B.V.
Cognizant Technology Solutions
Covance Inc
F. Hoffmann-La Roche Ltd.
GlaxoSmithKline Plc.
ICON Plc
iGATE Corporation
iMED Global Corporation
inVentiv Health Inc.
Novartis AG
PAREXEL International Corporation
Pfizer Inc.
Pharmaceutical Product Development LLC. (PPD)
PRA Health Sciences Inc.
Quintiles Transnational Holdings Inc.
Sanofi SA
Synowledge LLC
Wipro Ltd.

Report Coverage

Market Introduction, Market Dynamics, Segmental Analysis, Regional Profiling, Market Recommendations and Company Profiles

Customization & Pricing
Key questions answered in the report
How will the global pharmacovigilance market expand in the future?

The global pharmacovigilance market is poised to register an impressive double-digit growth across the 2021-2031 forecast period. Short-term prospects are largely being fueled by a rapid scramble to discover new therapies to combat the COVID-19 pandemic, as well as the conclusion of final stage clinical trials of previously initiated studies

Which are the prominent drivers of the global pharmacovigilance market?

Increasing number of R&D initiatives and research studies for future drug and vaccine candidate developments, increased complexities of hospital workflows and an overall increase in global healthcare expenditure to expand existing infrastructure capacities are all acting as prominent growth catalysts for the market

Which is the most promising market for pharmacovigilance market?

According to FMI's report, the United States is expected remain the dominant pharmacovigilance market, attributed to a large number of ongoing clinical studies for various drugs. Moreover, the presence of robust good pharmacovigilance practices is also helping the market grow. Simultaneously, emerging markets such as China and India are also expected to be highly promising market, as major pharmaceutical giants are outsourcing their operations to these regions to reduce operational costs

Which are the prominent players operating within the pharmacovigilance landscape?

Prominent pharmacovigilance service providers as profiled by FMI include Accenture Plc., Bristol-Myers Squibb, Clinquest Group B.V., Cognizant Technology Solutions, Covance Inc, F. Hoffmann-La Roche Ltd., GlaxoSmithKline Plc., ICON Plc, iGATE Corporation, iMED Global Corporation, inVentiv Health Inc., Novartis AG, PAREXEL International Corporation, Pfizer Inc., Pharmaceutical Product Development LLC. (PPD), PRA Health Sciences Inc., Quintiles Transnational Holdings Inc., Sanofi SA, Synowledge LLC and Wipro Ltd.
Key Segments Covered
Phase of Drug Development
Preclinical Studies
Phase I
Phase II
Phase III
Phase IV
Type of Methods
Spontaneous Reporting
Intensified ADR Reporting
Targeted Spontaneous Reporting
Cohort Event Monitoring
EHR Mining
Service Type Provider
In-house Pharmacovigilance
Contract Outsourcing
Geography
North America (US and Canada)
Europe (Germany, UK, France, Italy, Spain, Russia and Rest of Europe)
Asia-Pacific (China, India, ASEAN, Japan and Rest of APAC)
Latin America (Brazil, Mexico and Rest of LATAM)
Middle East & Africa (GCC, South Africa and Rest of MEA)
Need specific information?