About the Phospholipids Market
The market for phospholipids is expected to witness surge in demand owing to increasing application in cosmetics, nutrition & supplements, pharmaceutical and industries. Moreover, consumer inclination towards naturally sourced ingredients is driving the phospholipids market. Additionally, increasing awareness about healthy life style with rising consumption of functional and convenience foods are increasing the use of phospholipids ingredient in final product.
Phospholipids are important for health and they act as a key component of cell membranes and facilitate transportation and absorption of essential omega-3 fat in the body. These factors are responsible for increasing use of phospholipids as a key ingredient in various food products.
In its new study, ESOMAR-certified market research and consulting firm Future Market Insights (FMI) offers insights about key factors driving demand for phospholipids. The report tracks the global sales of edible nuts in 20+ high-growth markets, along with analyzing the impact COVID-19 has had on the food and beverage industry in general, and phospholipids in particular.
How the Historical and Future Outlook for Phospholipids Market Match Up?
The positive effects of dietary phospholipid have been mentioned from early 1900's in relation to different symptoms and illnesses such as cancer, coronary heart disease and inflammation. According to FMI's analysis, phospholipids sales has grown 5% CAGR between 2016 and 2020.
In developing countries such as Brazil, Argentina, India and others, investment in healthy foods, pharmaceutical, and nutraceutical products is increasing. Additionally, awareness about various natural cosmetics and personal care products in the developed countries has triggered the demand for phospholipids.
Natural phospholipids have been witnessing increasing demand since they are produced from renewable sources, with more ecologically friendly processes and are available in larger scale at relatively low costs compared to synthetic phospholipids. In addition, they are used in products for any administration route and are fully accepted by regulatory authorities. In contrast, synthetic phospholipids are only used in a few pharmaceutical products. These factors are enabling growth in the phospholipids market at a CAGR of 7.4% in the forecast period 2021-2031.
Why is there Surge in Demand for Phospholipids in Cosmetic Industry?
Consumers are becoming more careful about appearance and are using various cosmetics and cream to maintain their skin. But the cosmetic products available in the market have many chemicals which can damage the skin and may cause skin irritation. Hence, people are inclining towards cosmetics made with ingredients derived from natural sources.
Phospholipids are considered an ideal component because of their natural origin and multifunctional properties that help in solving various skin problems. Hence the demand for phospholipids is increasing, a trend which is expected to continue though the forecast period and will catapult the cosmetics and personal care industry as a key end user.
Why are Phospholipids Used in Food Sector?
Phosphatidylcholine (PC) is a phospholipid attached to choline particle. Lecithin is a part of phospholipid which is made up of PC. Food products that contain lecithin are considered as the best dietary source of PC. PC helps to boost cognitive function, it improve liver function and keep in control the cholesterol level.
Moreover, some medicine such as NSAIDs nonsteroidal anti-inflammatory drugs may cause gastrointestinal side effects such as intestinal perforation, stomach pain and gastric bleeding. PC helps in preventing gastrointestinal damage. Furthermore, phospholipids have been an essential ingredient in infant formula with containing rich source of omega-3, omega-6 and fatty acids. Phospholipid is gaining traction in the infant supplementary industry also. The health attribute associated with phospholipids will boost the market.
How is Multiple Application of Phospholipids Propelling Growth?
The demand for phospholipids is increasing due to its versatile application in different sectors. This is particularly true in case of phospholipids derived from natural sources. The availability of raw material had enabled manufacturers utilize the resource and expand their product portfolio. Hence, they are investing more on R&D to innovate products. Key players of global phospholipids are focusing on new product launch and offer wide range of products to the customers in the market.
For instance, in 2017, A global key manufacturer LECICO GmbH from Germany launched new phosphatidylcholine from soy source named as LIPAMINE PC 30 P IP. Specially launched this product for as nutraceuticals in functional foods formulations, excipients in pharmaceutical and liposomes.
In 2021, the New Zealand market player Fonterra Co-Operative Group Limited launched milk phospholipids under its brand name of NZMP, called "NZMP milk phospholipids 70". This product specially manufactured for solve nutraceuticals and mental stress problems.
Country-wise Insights
How big is the Opportunity in India for Phospholipids Sales?
Increasing consumer preference towards green and natural components have fuelled the demand for phospholipid products in the market. With the increase in young population and growing awareness towards health, more consumers are opting for healthier alternatives like food supplements.
Owing to increase in demand as functional food and easy availability of raw materials the demand for phospholipids is expected to surge. The increasing demand of phospholipid for nutraceutical for treating illnesses like aging problem and cognitive disorder is will enable growth in the country, especially since consumers are likelier to spend on maintaining a healthy living.
Why the Demand for Phospholipids is rising in Argentina?
Due to changing lifestyle and urbanization, the demand for packed and convenience foods is rising and this is in turn fuelling the demand for phospholipids in the market. Consumers in Argentina are progressively looking for wellness and health packed food.
Phospholipid is used as an emulsifier in food industry, flow agent for manufacturer of chocolate, baking stabilizer, wetting agent for food instantising and animal feed additive. Infant formula segment is one of the fastest growing segment. Many companies are producing baby food and supplement such as DHA/ALA. This attribute will impact positively the phospholipid based nutritional supplement segment in the market.
For instance, in 2019 Advanced Lipids has launched two new products in infant formula range. Two premium products are Infat pro which offers high level of sn-2 palmitate and Infat MF, it is a special blend containing milk fat.
What are the Factors Driving Phospholipid Sales in U.S?
The U.S is expected to witness surge in the demand of phospholipid over the forecast period. Increasing demand for cosmetic products and rising willingness to spend on haircare and skincare products including natural ingredients will boost sales in the country.
Expansion of the cosmetics sectors will remain a chief driver of the market in the U.S. The U.S. also has emerged as a key market for packed food. However, increasing focus on health and wellness have rendered consumers skeptical about ingredients used in food. This has been compelling manufacturers to include natural ingredients, which will aid the expansion of the phospholipids market in the U.S.
Demand in Pharmaceutical Sector Driving Sales in Germany
Germany has emerged as a key market for phospholipids in Europe. The application of phospholipid in pharmaceutical ingredients boost the demand of phospholipid in the market. Phospholipid is widely used in pharma technology as emulsifier, wetting agent and many more.
These functional properties are used in many pharmaceutical formulations such as solid dispersion, suspension, emulsions, drug complexes, and others. The increasing application of phospholipid in pharmaceutical industry will increase the demand of phospholipid in Germany.
What is Driving Phospholipid Sales in China?
China hold the largest market share of the phospholipids market in East Asia. The demand for phospholipids is expected to rise at an accelerated pace in China. Due to its multi functionality such as rising application in feed industry, food and beverage industry, the demand for phospholipids is increasing.
China is home to several thriving industries, food and cosmetics industries are included in the list. Food sector in China has remain a compelling proposition for foreign investors. According to 2019 Taobao Food Live Streaming Trend Repor, dietary supplements are among the list of popular foods in live shows in China. This is indicative of attractive prospects for the expansion of phospholipids market in China.
Category Wise
Which is the Key Application of Phospholipids?
The fast altering consumer standard of living and increasing health awareness amid consumers, specifically in urban regions, have led to a sudden development of nutraceutical market. Additionally, increasing focus on general well-being and fitness is fuelling the demand for additional requirements of antioxidants, proteins, vitamins, and other. Increasing awareness about healthy food and living standard, has been fuelling the demand for nutritious food and supplements. This will in turn increase applications of phospholipids.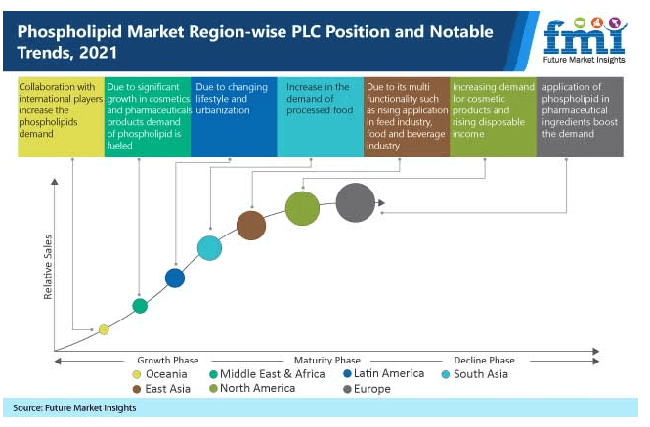 Why are Natural Phospholipids Preferred More?
Increasing awareness about environmental wellbeing and human health is inspiring food manufacturers to utilize more sustainable and natural food ingredients. Precisely, there is growing interest in replacing artificial ingredients with natural ingredients, and in substituting animal-based ingredients with plant-based ingredients. This is expected to fuel the demand for natural phospholipids.
Which is the Key Function of Phospholipids?
Phospholipid is used as an emulsifier because they migrate to interface between water and oil and reduce the inter-facial tension and stabilizing an emulsion. Emulsifiers are used in many food products because of to their ability to stabilize water and oil dispersions. Emulsifiers also control crystallization, prevent separation and reduce stickiness.
Competitive Landscape
Phospholipids market is estimated to grow on account of increasing application in food and beverages, personal care, cosmetics products, and pharmaceuticals industries. Key manufacturers are focusing on strategic collaborations to gain competitive advantage:
For instance, in 2016 American Lecithin company has launched sunflower derived phospholipid and lecithins, including glycerophosphocholine, phosphatidylserine and phosphatidylcholine. These product is launched under the brand ALCOLEC of natural emulsifiers.
In 2020, Avanti acquired Croda to expand its pharmaceutical services, life science products, pharmaceutical and life science research consumer globally.
In Jan 2021, Fonterra has launched milk phospholipid in US market. This product is launched with aim of expanding the product portfolio into mental wellness space.
In 2017, VAV Life Science has inaugurated it manufacturing facility in Ratnagiri, Maharashtra. The facility is set up in India due to emerging application of phospholipids in pharmaceuticals, functional food, cosmetic and nutritional supplements.
Some of the leading companies operating in the phospholipids market are:
ADM (Archer Daniels Midland Company)
Bunge Ltd.
Cargill, Inc.
DowDuPont, Inc.
Kewpie Corporation
Lasenor Emul SL
Lecico GmbH
Lipoid GmbH
Sime Darby Unimills B.V. (The Netherlands)
SojaProtein a.d.
Stern-Wywiol Gruppe
VAV Life Sciences Pvt. Ltd.
Wilmar International Ltd.
*The list is not exhaustive, and only for representational purposes. Full competitive intelligence with SWOT analysis available in the report.
Scope of the Report
Attribute

Details

Forecast Period

2021-2031

Historical Data Available for

2016-2020

Market Analysis

USD Million for Value and MT for Volume

Key Regions Covered

North America, Latin America, Europe, East Asia, South Asia, Oceania, MEA

Key Countries Covered

US, Canada, Brazil, Mexico, Argentina, Rest of Latin America, Germany, Italy, France, U.K., Spain, BENELUX, Nordic, Russia, Poland, Rest of Europe, Japan, China, South Korea, India, Thailand, Indonesia, Malaysia, Vietnam, Philippines, Singapore, Rest of South Asia, Australia, New Zealand, GCC Countries, Turkey, South Africa, Rest of MEA

Key Segments Covered

Product Type, Application, Function and Region

Key Companies Profiled

ADM (Archer Daniels Midland Company)
Avanti Polar Lipids, Inc.
Bunge Ltd.
Cargill, Inc.
DowDuPont, Inc.
Kewpie Corporation
Lasenor Emul SL
Lecico GmbH
Lipoid GmbH
Sime Darby Unimills B.V. (The Netherlands)
SojaProtein a.d.
Stern-Wywiol Gruppe
VAV Life Sciences Pvt. Ltd.
Wilmar International Ltd

Report Coverage

Market Forecast, brand share analysis, competition intelligence, Drivers, Restraints, Opportunities and Threats analysis, Key factors, Market Dynamics and Challenges, Strategic Growth Initiatives

Customization & Pricing
Key Questions Answered in the Phospholipids Report
At What Rate The Demand For Phospholipids Is Expected To Grow For The Next 5 Years?

The global phospholipids market is estimated to grow at a CAGR of 7.4% in the next 5 years due to increasing awareness about natural cosmetics and personal care products.

Which is the preferred type of Phospholipid?

The natural phospholipids hold leading share in the market. The rising demand for ingredients derived from organic sources will fuel the demand for natural phospholipids.

Which leading companies are offering phospholipids?

Some of the leading companies offering phospholipids are ADM (Archer Daniels Midland Company), Avanti Polar Lipids, Inc., Bunge Ltd., Cargill, Inc., DowDuPont, Inc., Kewpie Corporation, Lasenor Emul SL, Lecico GmbH, Lipoid GmbH, Sime Darby Unimills B.V. (The Netherlands), SojaProtein a.d., Stern-Wywiol Gruppe, VAV Life Sciences Pvt. Ltd., Wilmar International Ltd among others.

Which are the key factors driving phospholipids market?

Increasing demand for cosmetics made from natural ingredients will fuel the demand for phospholipids. Besides this, application is expected to rise in pharmaceutical and nutraceutical segments, increasing phospholipids sales.

What are factors negatively affecting phospholipids sales?

Some of the key factors affecting the phospholipids market growth are: unpredictable timeline of the virus that led to shortage of raw materials and created logistic and trade restraints. Low per capita disposable income in most affected countries could hamper phospholipids sales.
World's Most Profilic Intelligence Engine
Get Access To The World's Largest Market Research Database. Ngage with a revolutionary intelligence engine that scale and pricing that flexes as per your needs
Sign Up Now
Phospholipids Market by Category
Product Type
Natural Phospholipids

Soybean Phospholipids
Sunflower Phospholipids
Rapeseed Phospholipids
Egg Phospholipids
Others (corn phospholipids and canola phospholipids)

Synthetic Phospholipids
Function
Emulsifiers
Texturizers
Stabilizers
Binding Agent
Releasing Agent
Application
Cosmetics
Pharmaceuticals
Nutraceuticals
Region
North America
Latin America
Europe
East Asia
South Asia
Oceania
Middle East & Africa
Need specific information?