About the Report
Lecithin is a naturally occurring fat essential for functioning of body's cells. Numerous foods including egg yolks, sunflower and soybeans are rich sources. Lecithin is a substance that has found roles in drug development and is used extensively in the production of pharmaceuticals.
Lecithin is used to treat a number of health issues including Alzheimer's and dementia. It's also used in the treatment of eczema, liver disease, gallbladder disease, high cholesterol, depression, and anxiety. Lecithin is also used as a food additive, to prevent the separation of ingredients. Furthermore, it acts as a lubricant or emulsifier that can be used in the production of processed meats and ready-to-eat meals. These wide ranging applications are key to demand through the end of the forecast period in 2031.
In its new study, ESOMAR-certified market research and consulting firm Future Market Insights (FMI) offers insights about key factors driving demand for Lecithin Market. The report tracks the global sales of the Lecithin Market in 20+ high-growth markets, along with analyzing the impact COVID-19 has had on the medical device industry in general, and Lecithin in particular.
How Does the Historical and Future Outlook of Lecithin Market Match Up?
Healthy lifestyles have become a prominent trend in recent years, with people including healthy and nutritional food products in their diet around the globe. Also, rising demand for nutrient-rich foods, beverages, and supplements, are contributing to the lecithin industry's growth.
Manufacturers are constantly increasing investments into R&D activities to achieve sustainable production and growth levels, which could help to improve lecithin demand in the long term. Across Europe, government guidelines regulations, and protocols on phospholipid food content, play a critical role in food processing application, which could boost lecithin demand.
In the United States, soy is one of the most commonly grown crops, with 94% of it being cultivated from genetically modified sources. Soybeans are a low-cost, rich source of lecithin. To extract the lecithin from soybean oil, chemicals such as acetone and hexane are used extensively.
However, due to strict requirements to declare allergens in foods, lecithin derived from sunflower oil is becoming increasingly common. Sunflower lecithin is also an option for those who want to avoid genetically modified crops. Rather than using chemical solvents, the extraction process is normally gentler and involves cold pressing. Moreover, leading manufacturers are focusing on adding healthier lecithin option in their product portfolio as the demand for the non-GMO and all-natural product is increasing.
The European commission regulatory body has approved lecithin as a food additive in the EU, which is furthermore helping the growth of lecithin market. According to FMI's analysis, the global Lecithin Market reached a size of almost US$ 1,113.7 million in 2021. The market is further projected to expand at a CAGR of 6.7% over the forecast period of 2021-2031.
Lecithin is used as an additive in many foods products, such as chocolate, ice cream mayonnaise, and salad dressing. Because of its ability to serve as an emulsifier, lecithin is used in a variety of ready-to-eat foods. to bind oil and water together while keeping fat separate, which is why lecithin is used in many creamy foods with high oil content. Lecithin, for example, keeps a chocolate bar intact by holding the cocoa butter and cocoa solids connected. Aside from emulsification, lecithin is used to preserve foods, add moisture, and extend the shelf life of products. The food industry's diverse use of lecithin would drive up demand.
What Are Prospects For Lecithin Applications In The Cosmetic And Pharmaceuticals Industry?
Diets high in lecithin aid in boosting good HDL cholesterol levels while lowering bad LDL cholesterol. Supplements of lecithin are also said to increase immune system function, specifically in people with diabetes.
The US Food and Drug Administration has designated lecithin as "generally known as safe" (GRAS) (FDA). It is unlikely to cause adverse reactions when taken in safe quantities. This is helping in raising awareness regarding the consumption of lecithin as a supplement.
Lecithin is also gaining ground in the cosmetics sector primarily in skin care products. Additionally, lecithin aids in the formation of emulsions by lowering the surface tension of the emulsified substances. Leading manufacturers in the cosmetic industry are introducing various skincare or personal care products.
For instance, in 2019, Praan Naturals launched both Organic Sunflower & soy Lecithin Powder and Liquid into its ethically derived product range of over 500 certified organic and traditional natural ingredients for personal care product manufacturing.
The rising demand for natural ingredients in the pharmaceutical and cosmetics industry is boosting the demand for soy-based lecithin at a global level.
How is the Demand for Plant-Based Ingredients Influencing Growth?
The demand for plant-based foods is rapidly expanding on a global scale, and oils and fats can make a significant difference in the final product's consistency and sensory experience. The use of lecithin for emulsification has been viewed as a significant opportunity in the lecithin market.
The vegan movement has become fairly popular in Europe during the past decade. This has given rise to the trend of 'going meatless' with customers embracing meat- and dairy-free diets across various countries in the region. Furthermore, plant-based ingredients have shot up in popularity with the rise of vegetarians, vegans and the flexitarian population. Lecithin a plant-based additive ingredient is widely accepted by the vegan and vegetarian population all over the world.
How is Convenience Food Production Boosting the Lecithin Market?
The growing demand for convenience foods, functional foods, and beverages are driving the lecithin market exponentially. The industry is expected to benefit from the rising demand for green and organic food products, increasing the scope for revenue generation. With customers looking for balanced nutrition food choices that promote weight loss and resolve calorie concerns, the lecithin market in developing countries is expected to grow significantly.
Additionally, functional and natural ingredients in food and beverage products provide nutritional value that aid in the maintenance of healthy lifestyles. As a result, the demand for de-oiled lecithin is likely to continue increasing through the assessment period.
Country-wise Insights
Why is the United States Lecithin Market Holding the Lead?
North America is expected to remain one of the most lucrative markets in the forecast period, according to FMI accounting for more than 30% of the global market share. One of the main drivers of growth is the high purchasing power available to the United States.
Furthermore, the United States is one of the world's largest producers and consumers of processed foods, creating demand. According to FMI, the United States will account for more than 76%of the market share in North America in 2021. The rising prevalence of health and diet-related issues is a key factor driving market developments.
Aside from relatively higher levels of disposable income, Americans' increased awareness of chronic diseases has prompted efforts towards the adoption of a healthier lifestyle. As a result, lecithin sales in the country are expected to increase significantly.
Will the U.K. Lecithin Market Show Significant Growth in Coming Years?
During the forecast period (2021–2031), the U.K. Lecithin Market is expected to expand at a CAGR of 4.1%. The accumulation of scientific evidence of lecithin's multiple health benefits over conventional emulsifiers has aided market development. Consumers in the United Kingdom are becoming increasingly aware of the nutritional benefits of lecithin, which is driving the market growth.
Furthermore, sales of plant-based goods are expected to rise by 13% in the United Kingdom alone over the next five years. Immunity and diet are becoming increasingly important aspects of an acceptable standard of living in the country.
FMI has listed the United Kingdom as one of the leading markets for lecithin. Increased healthcare spending is one of the main drivers of this growth. According to the Office for National Statistics in the United Kingdom, overall healthcare expenditure in the country accounted for 10% of GDP in 2017.
With a growing emphasis on healthcare, the United Kingdom will offer attractive opportunities for the lecithin market to grow.
What Factors are Influencing the German Lecithin Market?
Germany continues to be one of the most important markets for lecithin. With the rise of veganism in the country, the demand for lecithin is skyrocketing. Many major skincare brands in Germany are adopting lecithin in their products, resulting in niche, lucrative development opportunities.
According to FMI, Germany is estimated to account for 23% of the European market share in 2021. Customers are more likely to invest in balanced dietary supplements that aid in their overall well-being as they become more health-conscious. Consequently, the market for Lecithin in Germany is expected to grow as a result of the increased demand for good immunity boosting supplement products.
What is Supporting Growth in India's Lecithin Market?
Lecithin is used extensively in the manufacture of convenience foods and in skincare products across India. Furthermore, as a developing country with the world's second-largest population, key lecithin manufacturers are focusing on collaborating with local participants in the Indian market, as this will provide lucrative opportunities, allowing key manufacturers to enter the market at a relatively faster pace. The Indian market is expected to grow with a very promising CAGR of 8.4%, accounting for a market share of over 45% in the South Asia region during the valuation period.
Why is Lecithin Market Gaining Traction in China?
China is likely to present a highly profitable growth opportunity. The country has gained the nickname "the world's factory" due to its robust business environment, lack of regulatory compliance, low taxes and duties, and competitive currency activities. The rise in the demand for lecithin is contributing to the country's output. In addition, following the covid-19 impact on the country, health trends such as immunity-raising foods have become fairly common in the world. As a result, consumers prefer lecithin content in food products. China is projected to rise at a CAGR of 9.6% in the East Asia region through 2021, with a market share of 47.3%.
Category-wise Insights
Why does Lecithin Fluid Hold the Largest Share?
The fluid lecithin segment in holds the largest share of the overall lecithin market owing to standardized fluid blends of vegetable oils and natural phospholipids that are naturally stable and easy to use. Key players are currently manufacturing only the fluid lecithin with high nutritional content with a global presence, which is helping fluid lecithin sales to grow exponentially. Additionally, increasing demand for protein-enhanced immunity-support products like lecithin is in demand globally.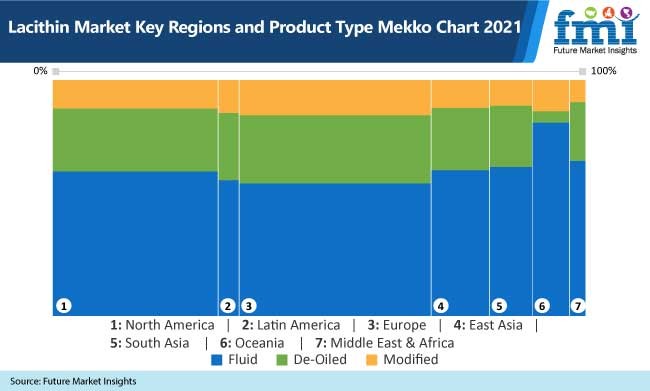 Why is Soy Lecithin Expected to Grow at a Higher Rate?
Soy lecithin holds over 70% of the market share globally when it comes sources owing to wide availability of the crop, with 94% of the yield being genetically modified. Soybeans are considered a low-cost source of lecithin.
Global demand for soy-based lecithin is being fueled by growing personal income, modernization, and an increase in the numbers in the global working population. Another reason for the strong demand for soy-based lecithin is the rising middle-class population, which is leading to greater penetration of soy-based lecithin products on global markets.
Why Lecithin Application in the Food Industry hold the Largest Share?
In food processing, lecithin serves as an emulsifier, a viscosity reducer, a wetting agent, a crystallization control agent, and a release agent, among other things. Lecithin can also be used in a variety of industrial applications. Lecithin holds a prominent share in the food industry which is estimated to be 32.8% in 2021 with a CAGR of 4.8% in the valuation period of 2021-2031.
Competitive Landscape
Lecithin manufacturers are increasing the pace of product releases to better engage with customers and meet the rising demand for lecithin-based goods. New market players, on the other hand, are focusing on the development of a wider variety of lecithin formats for incorporation into food items including bakery and confectionery, cosmetic, pharmaceutical, nutraceuticals, animal feed, and others, appealing to a wider end user demographic.
Additionally, manufacturers have been developing new technologies for producing lecithin in recent years. Novel products, such as fast-dissolving ready-to-mix lecithin powders, are being introduced to the market.
In March 2021, Lecico announced a distribution partnership with Ciranda for lecithin and phospholipids across North America with a focus on clean label food trends in addition to local commercial and technical support.
In February 2021, Sternchemie announced the release of soy lecithin dairy alternatives for the European market. The company has also received a GRAS no objection letter from the FDA for its range of sunflower-based lecithin in April 2021.
In November 2020, Lactalis Ingredients are offering a range of instant whey protein products based in sunflower lecithin, which aim to be minimally processed with sunflower lecithin.
Some of the leading companies operating in the Lecithin Market are:
Archer Daniels Midland Company
Sonic Biochem
Americal Lecithin Company
Fishmer Lecithin
Lasenor Emul
Sodrugestvo Group
Kewpie Corporation
*The list is not exhaustive, and only for representational purposes. Full competitive intelligence with SWOT analysis available in the report.
Scope of the Lecithin Report
Attribute

Details

Forecast Period

2021-2031

Historical Data Available for

2016-2021

Lecithin Market Analysis

USD Million for value and '000 MT for Volume

Key Regions Covered

North America, Latin America, Europe, East Asia, South Asia, Oceania, Middle East & Africa

Key Countries Covered

US, Canada, Brazil, Mexico, Argentina, Rest of Latin America, Germany, France, U.K., Spain, Italy, BENELUX, Nordic, Russia, Poland, Rest of Europe, India, Thailand, Malaysia, Singapore, Rest of South Asia, China, Japan, South Korea, Australia, New Zealand, GCC Countries, Turkey, Iran, South Africa, Rest Of MEA.

Key Segments Covered

Product Type, Source, Application and Region

Key Companies Profiled

Lecio Gmbh
Archer Daniels Midland Company
VAV Life science Pvt. Ltd.
Sonic Biochem
American Chemie Inc.,
Americal Lecithin Company
Fishmer Lecithin
Lasenor Emul
Sodrugestvo Group
Kewpie Corporation

Report Coverage

Lecithin Market Forecast, brand share analysis, competition intelligence, DROT analysis, Lecithin Market Dynamics and Challenges, Strategic Growth Initiatives

Customization & Pricing
Key Questions Answered in the Lecithin Report
Which is the most lucrative market for lecithin?

Europe is one of the leading markets for Lecithin. The rising prevalence of immunity and overall health has been encouraging consumers to the adoption of supplement. This is expected to have a considerable impact on the market.

Which product type of lecithin is used widely?

Fluid lecithin in the nature segment holds a larger market share as compared to another product type of lecithin, while significant growth in CAGR of other product types segment can be witnessed with the rising demand for plant-based ingredient products.

Which are the application of lecithin?

Lecithin is majorly used in foods; a variety of processed food products are being developed by integrating lecithin as an emulsifying agent. The pharmaceutical industry also makes use of lecithin as a dietary supplement that offers nutritional and immunity boosting benefits.

Which are some of the leading companies offering the lecithin market?

Some of the leading companies offering Lecithin are Lecio Gmbh, Archer Daniels Midland Company, VAV Life science Pvt. Ltd., Sonic Biochem, American Chemie Inc., Americal Lecithin Company, Fishmer Lecithin, Lasenor Emul, Sodrugestvo Group, Kewpie Corporation and other players.

Which are the key success factors supporting the growth of the lecithin market?

Some of the key success factors supporting the Lecithin Market growth are as follows: Nuanced Marketing Campaigns, Implementation of New Production Techniques, Widening Product Portfolio, Exploiting Economies of Sales, and Strategic Promotional Activity among others.
Lecithin Market by Category
Based on Product Type, the global lecithin market can be segmented as:
Fluid Lecithin
De-oiled Lecithin
Modified Lecithin
Based on Source, the global lecithin market can be segmented as:
Soy Lecithin
Sunflower Lecithin
Rapeseed Lecithin
Egg Lecithin
Others
Based on Application, the global lecithin market can be segmented as:
Food
Pharmaceuticals
Cosmetics
Animal Feed
Nutraceuticals
Others
Based on Region, the global lecithin market can be segmented as:
North America
Latin America
Europe
East Asia
South Asia
Oceania
The Middle East and Africa (MEA)
Need specific information?