Hand Tools Market - Key Research Findings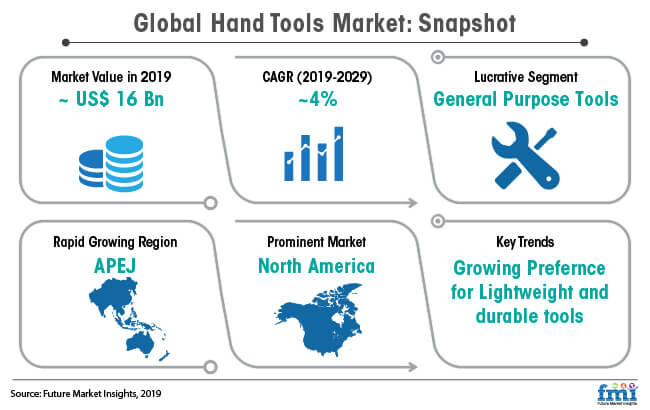 The hand tools market size is estimated to reach ~US$ 16 Bn in 2019.
Through 2029, the hand tools market is likely to grow at a CAGR of ~4%.
In the hand tools market, general purpose tools are expected to push market growth.

In the U.S. and Canada, the demand for hand tools is growing substantially due to rising consumer preference for lightweight, durable, hand tools for DIY activities.
Moreover, adoption of fibre-glass and nylon-handed tools, which serve for longer period of time is currently trending across the globe.

Online sales are the most procured area for hand tools, followed by retail sales, owing to increasing consumer preference for online shopping rather than purchasing from retail and speciality stores.
North America is expected to hold a prominent market share in terms of value, followed by Western Europe. APEJ is forecast to grow significantly over the forecast period.
The hand tools market landscape is fragmented and has major key players that are continuously focusing on enhancing their product offerings by offering lightweight and handy tools, and customized products according to consumer requirements. Additionally, procurements and alliances with local market players are trending in the hand tools market.
Emerging market players in the hand tools market are improving their product hand-outs by investing in research and development activities and offering innovative hand tools and similar products.
Hand tool markets in India and China are expected to grow with increasing number of two-wheelers, auto garages, as well as service and maintenance stores in the region.

Rapid growth in the hand tools market can be attributed to increasing DIY initiatives among consumers. Main reason for these being growing shortage of skilled workers.
For instance, according to a study, labour workforce that fall under 16 to 24 years of age, is likely to experience a slight decline from 14.3% in 2008 to 12.7% by 2018, owing to factors such as rapid growth in urbanization in developing economies and adoption of technologically sound & innovative hand tools and similar products as a substitute for labour workforce.
Factors Shaping the Hand Tools Market
Ergonomic Design of Hand Tools
Major players in the hand tools market are focusing on ergonomic design elements of hand tools to make them precise and comfortable to operate.
For Instance, IRWIN VISE-GRIP Fast Release locking pliers have a trigger-less and one-handed release making them twice as easy to open as conventional pliers. Anti-pinch, non-slip Pro-Touch Grips provide control, comfort, and less hand fatigue.
In 2014, Klein Tools introduced a new series of ergonomically efficient tools, including single-handled and double-handled tools such as 1 1/4" screwdrivers and 3" pliers and cable cutters.
Multi-featured Hand Tools for Various Applications
The hand tools market is mainly growing due to multi-purpose features of hand tools such as reduced tool kit size, weight and maintenance, and growing preference for many-in-one tools for multiple applications across various industries.
For instance,
In 2014, JK Files (India) Limited introduced a new Hammer Tough screwdriver that can be used as hammer as well as a screwdriver.
In 2015, Klein Tools introduced a new set of screwdrivers, namely multi-bit screwdrivers and screwdrivers with built-in wire connector wrenches.
Increasing DIY Activities
Increasing consumer inclination towards leisure and recreational activities along with rising disposable incomes of people across the globe is leading to growing uptake of DIY activities.
Moreover, rapid growth of the automobile industry has created an impact on consumers to perform DIY activities on their own vehicles for temporary maintenance and repair purpose owing to rise in expensive repairs and maintenance of automobiles, primarily for four wheelers This provides tremendous potential for manufacturers of hand tools to introduce new and innovative products in the market, in order to compete with the innovation and ease of power tools.
For instance, household & DIY segment accounted for ~US$ 5.9 Bn in the global hand tools market in 2015 and is estimated to increase to US$ 9 Bn by the end of 2027.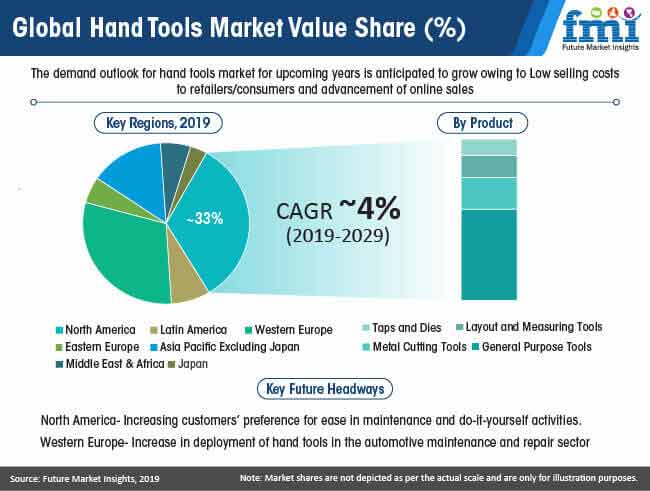 Hand Tools Market Structure Analysis
The hand tools market is a highly fragmented landscape, wherein tier-1 players grasp a majority of revenue shares.
Key market players in the hand tools market, such as Akar Tools Limited, Apex Tool Group, Channellock, Inc., JK Files (India) Limited, Kennametal Inc., Klein Tools Inc., Snap-On Incorporated, Stanley Black and Decker, and Wera Tools, are expanding their product listings by incorporating elasticity in hand tools.
Key manufacturers in the hand tools market are aiming for market penetration in North America and Western Europe regions, where most of the people carry their own hand tool kits.
Tier-1 players are strengthening their positions in the hand tools market by offering innovations in hand tools and similar products according to customer needs.
Key Segment
Based on application
Based on product type
general purpose tools
metal cutting tools
layout and measuring tools
taps
dies
Based on the sales channel
online sales
retail sales
distributor sales
Need specific information?