This Handheld Dc Torque Tools market study offers a comprehensive analysis of the business models, key strategies, and respective market shares of some of the most prominent players in this landscape. Along with an in-depth commentary on the key influencing factors, market statistics in terms of revenues, segment-wise data, region-wise data, and country-wise data are offered in the full study. This study is one of the most comprehensive documentation that captures all the facets of the evolving Handheld Dc Torque Tools market.
Handheld DC Torque Tools Market: Introduction:
Growing demand for advancements in traditional nutrunners to meet high speed, better accuracy, high durability and exceptional up time availability requirements has led to the introduction of handheld DC torque tools across aviation, automotive and energy industries, among others. Handheld DC torque tools work with high accuracy and provide safe fastening without the need for a reaction device, which eliminates the need for regular maintenance of the tool as no oil is required due to no reaction device. Furthermore, handheld DC torque tools available in the market have built-in angle encoders and torque transducers having a high capacity of torques Upto 250 Nm coupled with of lower energy consumption rates. Hydraulic valve assembly, gearbox assembly, counter weights and swing bearing are some of the applications where handheld DC torque tools find major usage. The tool helps to simply carry out the fastening in continuity by avoiding the troublesome channel change operation and continuously defining the necessary fastening channels as one multi-channel system. Inline, inline offset, pistol grip, angle nutrunners, among others, are some of the latest handheld DC torque tools which offer various features, such as one-handed operation, comfortable ergonomic grip, etc. The overall production process for handheld DC torque tools uses finest electronic machinery and control and program technology. Moreover, these tools have an ergonomic design, are of high-quality and are environment friendly
Identify Key Market Forces and their Long-Term Forecast
Sneak Peek into Key Forecast Factors and thier Impact
COVID -19 : Impact Analysis
Request the coronavirus impact analysis across industries and markets
Request Covid -19 Impact
Handheld DC Torque Tools Market: Reason behind Title Selection:
Industries, such as aerospace or aviation, automotive, energy, among others, are now shifting their focus towards automation to manufacture parts and equipment in bulk to meet the customers' demand in a very short period of time. Due to growing demand for products with enhanced performance, better durability and longer lifetime span, the focus of original equipment manufacturers and suppliers is shifting from conventional nutrunners to their new version, which are expected to witness substantial growth over the next decade. The introduction of handheld DC torque tools has made it possible for workers to reduce the reaction during fastening and tightening of the parts with the help of pulse technology and enhanced productivity.
Low Power Consumption Aligned with High Accuracy may augment the Growth of the Market
The conventional nutrunners were slow and required effort and time, which often slowed down the process of production assembly and thus, the total efficiency of the plant. The cordless feature of the handheld DC torque tools allows workers to carry along the torque tools to places where the power supply is not feasible. Furthermore, high accuracy offerings to comply with industry requirements along with low power consumption are expected to drive the global handheld DC torque tools market during the forecast period.
Handheld DC Torque Tools Market: Key Market Participants:
Some of the market participants in the global handheld DC torque tools market are:
APEX Tool Group, LLC.
AIMCO Global
Ingersoll Rand Company Limited
TRUMPF
MINT GmbH
Ansomat
Design Tool, Inc.
WEBER Screwdriving Systems Inc.
Sanyo Machine Works, Ltd.
Core Tool Technologies
Dobco Equipment Ltd.
Makita Corporation
Sumake Industrial Co., Ltd.
STANLEY Engineered Fastening
Dobco Equipment Ltd.
Atlas Copco Industrial Technique
Handheld DC Torque Tools Market: Key Developments:
In 2017, APEX tool Group brand, Cleco, introduced cordless tools for the LiveWire family which combines real-time wireless capabilities with the flexibility and freedom offered by cordless tools
In 2018, Ingersoll Rand introduced the INSIGHTqc controller for critical assembly manufacturing applications to provide advanced fastening strategies to heavy equipment and automotive manufacturers to take control of their assembly processes quickly
In 2017, TRUMPF opened a new technology center in Chicago as its first smart factory for Industry 4.0 solutions to introduce digitally connected production solutions
Global Handheld DC Torque Tools Market: End-Use Industry Growth Prospects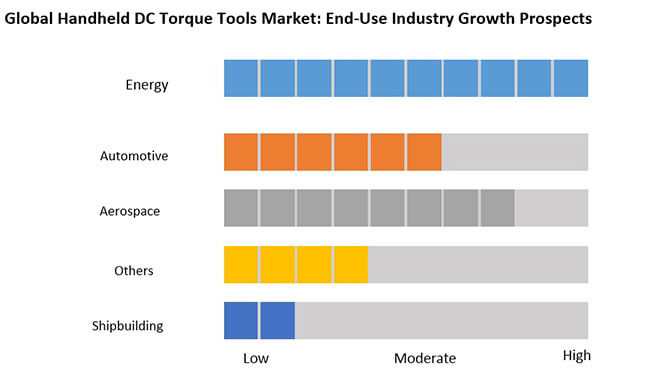 Handheld DC Torque Tools Market: Region-wise Outlook:
The global handheld DC torque tools market is segmented into the following regions -- North America, Latin America, Western Europe, Eastern Europe, South East Asia-Pacific, China, Japan, India and the Middle East and Africa. Western Europe is estimated to dominate the global handheld DC torque tools market owing to growing awareness about technologically advancements for smooth fastening and tightening of nuts in the aerospace and automotive industries. North America is further expected to dominate the global handheld DC torque tools market owing to strong penetration of electric tools in automotive, construction and aerospace industries, among others. China and India are estimated to witness substantial growth during the forecast period owing to the robust growth of the automotive as well as aerospace industry in the region.
Handheld DC Torque Tools Market: Research Methodology:
FMI will follow a modelling-based approach and triangulation methodology to estimate data covered in this report. A detailed market understanding and assessment of the nature, product type of the product segments covered in the study is followed by a demand-side analysis to estimate the sales of target product segments, which is then cross-referenced with a supply-side assessment of value generated over a pre-defined period. The statistics and data is collected at a regional level and consolidated and synthesized at a global level to estimate the overall market sizes.
Furthermore, on the regional level, penetration rate across key end-use industries is analyzed by conducting surveys and collecting responses from industry experts to understand the trend for projections over the next decade.
Key Data Points Covered in the Report
Some of the key data points covered in our report include:
An overview of the Handheld DC torque tools market, including background and evolution
Macroeconomic factors affecting the Handheld DC torque tools market and its potential
Market dynamics, such as drivers, challenges and trends
Technology roadmap involved from inception period to present date
Detailed value chain analysis of the Handheld DC torque tools market
Cost structure of the products and segments covered in the global Handheld DC torque tools market
In-depth pricing analysis, by key product segments, regions and by major Handheld DC torque tools market participants
Analysis of supply and demand, such as top producing and consuming geographies, imports/exports and overall trade scenario in the global Handheld DC torque tools market
Analysis of the global Handheld DC torque tools market structure, including a tier-wise categorization of key Handheld DC torque tools market participants
Competitive landscape of the market, including detailed profiles of top players in the Handheld DC torque tools market
The research report presents a comprehensive assessment of the market and contains thoughtful insights, facts, historical data, and statistically supported and industry-validated market data. It also contains projections using a suitable set of assumptions and methodologies. The research report provides analysis and information according to market segments such as geographies, application, and industry.
The report covers exhaust analysis on:
Market Segments
Market Dynamics
Market Size
Supply & Demand
Current Trends/Issues/Challenges
Competition & Companies involved
Technology
Value Chain
Regional analysis includes:
North America (U.S., Canada)
Latin America (Mexico. Brazil)
Western Europe (Germany, Italy, France, U.K, Spain)
Eastern Europe (Poland, Russia)
Asia Pacific (China, India, ASEAN, Australia & New Zealand)
Japan
Middle East and Africa (GCC Countries, S. Africa, Northern Africa)
The report is a compilation of first-hand information, qualitative and quantitative assessment by industry analysts, inputs from industry experts and industry participants across the value chain. The report provides in-depth analysis of parent market trends, macro-economic indicators and governing factors along with market attractiveness as per segments. The report also maps the qualitative impact of various market factors on market segments and geographies.
Unique Requirements? Customize this Report
Customize by Region, Country, Application, Product, & other segments
Integrate our Insights with your Existing Data
Determine the scope of the study to suit your requirements
Gain Insights on Key Handheld Dc Torque Tools Market Impacting Forces
Know the Winning Strategies of Market Leaders
Get Deep-Dive Analysis on Each Segment
Identify the Sources that will Drive Top-Line Revenue
Handheld DC Torque Tools Market: Segmentation:
The global handheld DC torque tools market can be segmented on the basis of type, control system and end-use industry.
On the basis of type, the global handheld DC torque tools market is segmented into:
On the basis of control system, the global handheld DC torque tools market is segmented into:
On the basis of end-use industry, the global handheld DC torque tools market is segmented into:
Automotive
Aerospace
Construction
Shipbuilding
Energy
Others (Railway, Medical Device, Metal Working, etc.)
Report Highlights:
Detailed overview of parent market
Changing market dynamics in the industry
In-depth market segmentation
Historical, current, and projected market size in terms of volume and value
Recent industry trends and developments
Competitive landscape
Strategies of key players and products offered
Potential and niche segments, geographical regions exhibiting promising growth
A neutral perspective on market performance
Must-have information for market players to sustain and enhance their market footprint
Frequently Asked Questions
---
What research methodology is used to develop the Handheld Dc Torque Tools Market report?
FMI utilizes three branched methods to derive market measurements used to compile any report study (data derivation, triangulation and validation).
These approaches include accumulating data from both primary and secondary sources
Primary research involves interviews with industry operators and FMI's network of contacts spanning the world's value chain of the Handheld Dc Torque Tools Market. This is supported by a comprehensive literature analysis of information gathered through secondary sources
Analysis of several middle market stakeholders for country-wise data
What else does FMI offer apart from Handheld Dc Torque Tools Market report?
In addition to up-to-date market figures and customized of the Handheld Dc Torque Tools Market, FMI offer consulting services to help businesses within industry navigate challenges and take well-informed decisions amidst the breakneck competition.
How do you define competitors based on market structure? What aspects about a competitor are included in the company profile section?
Most of the competitors are segregated according to their market share in 'Tier' wise statures.
Global market participants are scrutinized and global competition metrics are included with numerous competitor profiles referring to their business background and go-to market strategies.