Wireless Handheld Spectrometer Market
Market Insights on Wireless Handheld Spectrometer covering sales outlook, demand forecast & up-to-date key trends
Wireless Handheld Spectrometer Market: Global Industry Analysis 2013 - 2017 and Opportunity Assessment; 2018 - 2028
Wireless Handheld Spectrometer Market overview
FTIR, NIR and Raman spectrometers are very common in a majority of R&D facilities. Spectrometers are used to for a number of applications that include identification of bulk materials, checking contamination, ensuring intermediates are processing as expected and for confirming that the final product is within the required specifications.
However, most of these spectrometers are confined to the lab as they are large but not portable. Thus, it would take at least two days for a sample to be sent to the lab, get processed and reports to be presented. With the introduction of the wireless handheld spectrometers the results can now be available almost instantly on a smart phone. A number of companies such as Phison Group (UPRtek), Carl Zeiss and Thermo Fisher Scientific offer a number of such wireless handheld spectrometers.
Factors Driving the Growth of the Wireless Handheld Spectrometer Market
The need for quick results and potable systems is increasing the demand for wireless handheld spectrometer. For instance, the requirement of small handheld device that can scan substances and highlight the chemical composition in raw materials in the pharmaceutical and life science industry.
This will reduce the considerable amount of time required for testing of theses substance in the lab. Significant technological advancements enable the development of low-cost devices. One of the major drawbacks of these devices is the limited range of test and sensitivity that may hinder the market growth to some extent.
Advancement in the Wireless Handheld Spectrometry through Handheld Mass Spectrometer
For all testing such as environmental testing, food testing, forensic testing, chemical analysis, and others, mass spectrometry is the best tool available. However, these devices are large and confined to the lab and thus may take a long time for the results to be available. BaySpec offers one such device called the Portability Transportable Mass Spectrometer. The device is small enough to be used in the field and yet offer ppb-level detection. MIT further has planned to develop a mass spectrometer of the size of a smart phone. Miniaturizing the mass spectrometer has a very large potential and will aid the market growth of the wireless handheld spectrometers.
Applications of Wireless Handheld Spectrometer in the Food and Agriculture Industry
The applications of wireless handheld spectrometers is the most widely spoken of in the field of food and agriculture. Food hazards can't be detected by naked eyes, but require a number of tests. However, with the introduction of wireless handheld spectrometers we can now test food in a non-destructive manner. Food and beverages can now be scanned for impurities and other dangerous and unwanted elements. The wide application and advancement in technology in the field gives wireless handheld spectrometer a strong growth potential.
Talk to Analyst
Find your sweet spots for generating winning opportunities in this market.
Talk to Analyst
Wireless Handheld Spectrometer Market Assessment by Product Type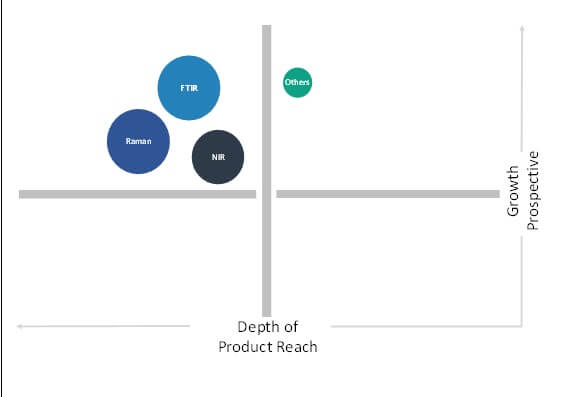 Download Report Brochure
Regional Market Outlook
North America is a region saturated with technology that finds wider applications every day. The adoption of wireless handheld spectroscopy devices is high in the region due to the technology advancement. North America also has a significant investment in R&D that further drives the growth of the market in the region. Furthermore, with growing research potential in the European and the Asia Pacific regions the adoption and growth of the wireless hand held spectrometer market will continue to grow in the near future.
Become a MarketNgage Insider
An unified Market Research Subscription Platform, built for today's disparate research needs.
Competition Outlook
Small-Scale Manufacturers/Providers
Designs and Prototypes
MIDAC Corp
Grabner Instruments
Surface Optics Corp
GASMET technologies
Medium-Scale Manufacturers/Providers
Pasco Corporation
Bruker Daltonics, Inc
Large-Scale Manufacturers/Providers
Phison Group (UPRtek)
Carl Zeiss
Hamilton Sundstrand Applied Instrument Technologies
Thermo Fisher Scientific

Research Methodology
FMI/PMR utilizes a triangulation methodology that is primarily based on overall expenditure on life science research and R&D funding and capital equipment installed base to obtain precise market estimations and insights on life science and biotechnology associated products, technologies, applications and services.
Bottom-up approach is always used to obtain insightful data for the specific country/regions. The country-specific data is again analysed to derive data at a global level. This methodology ensures high quality and accuracy of information.
Secondary research is used at the initial phase to identify the feasibility of the target products/technology categories and its respective segments, product and service offerings, equipment installed base in end use facilities, adoption rate and future impact of new technologies. Additionally, per capita consumption of kits, reagents and consumables among end users is tracked at a granular level to obtain the most accurate information.
Each piece of information is eventually analysed during the entire research project which builds a strong base for the primary research information.
Primary research participants include demand-side respondents such as laboratory managers, procurement managers, research supervisors at academic and research institutes, as well as key opinion leaders in addition to supply-side respondents such as equipment and reagent manufacturers, custom solution and service providers who provide valuable insights on trends, research application of products and technologies, purchasing patterns, services offered and associated pricing.
Quantitative and qualitative assessment of basic factors driving demand, economic factors/cycles and growth rates and strategies utilized by key players in the market is analysed in detail while forecasting, in order to project year-on-year growth rates.
These Y-o-Y growth projections are checked and aligned as per associated industry/product lifecycles and further utilized to develop market numbers at a holistic level.
On the other hand, we also analyse annual reports of various companies, investor presentations, SEC filings, 10k reports and earning call transcripts operating in the market to fetch substantial information about the market size, trends, opportunity, drivers, restraints and to analyse key players and their market shares.
Key companies are segmented at tier-level based on their revenues, product portfolio and presence.
Please note that these are the partial steps that are being followed while developing the market size. Besides this, forecasting will be done based on our internal proprietary model which also uses different macro-economic factors such as overall life science research expenditure, R&D funding, industry based demand driving factors impacting the market and its forecast trends apart from other macroeconomic factors.
Key Data Points Covered in Report
The report covers exhaustive analysis on
Wireless Handheld Spectrometer Market by Product Type, Distribution Channel and Region
Regional level market analysis of North America, Latin America, Europe, Asia Pacific, China & Middle East & Africa by Product Type, Distribution Channel and Country
Wireless Handheld Spectrometer Market Dynamics & Opportunity Assessment
Historical Market Size, 2013 - 2017
Wireless Handheld Spectrometer Market Size & Forecast 2018 - 2026
Wireless Handheld Spectrometer Current Trends/Opportunities/Challenges
Competition & Key Companies involved
By Product Type
By Applications
Material Chemistry
Drug Discovery
Life Science
Forensic Science
Environmental testing
Food and Agriculture
Others
By Region
North America
Western Europe
Eastern Europe
Latin America
Asia Pacific
Japan
Middle East & Africa
Table of Content
NA
List of Tables
NA
Talk to Analyst
Find your sweet spots for generating winning opportunities in this market.
Talk to Analyst
List of Charts
NA