Food Testing Market - Key Research Findings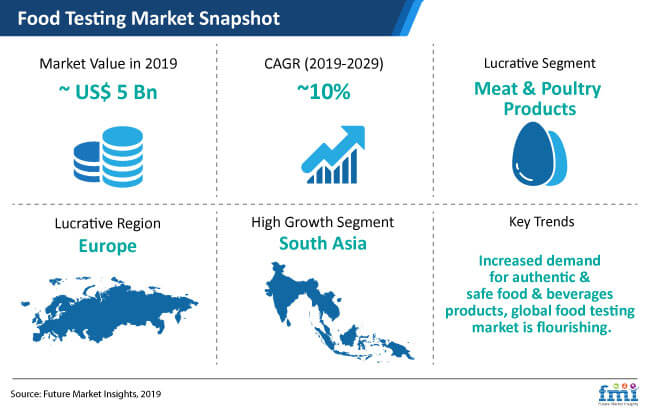 The availability of new and improved techniques for the detection of various test targets with simplified procedures and cost-effective nature are resulting in the increase application of food testing in various fields. New food and beverage products such as dietary supplements, fortified food products, nutraceuticals, and infant formulas are entering continuously in the global food and beverage industry.
Subsequently, new test technologies with upgraded functions are required to regulate the new food products entering in the market. Innovative and cost-effective technologies with the short time span of test being developed by key players are likely to shape the food testing market in the near future.
In addition, increased incidents of food adulteration and food fraud scandals are obliging the government bodies to mandatorily apply rules and regulation on the food manufacturers to test their products.
Key Factors Shaping the Food Testing Market
Globalization of Food Supply Chain
With continued digitization and urbanization, the food & beverages sector in developing economies such as China, India, Brazil and other MEA countries is increasing at a rapid rate. On the one hand, developed countries such as the U.S., Germany, Japan, the U.K., and the Netherlands depend on other countries for food supply and import most of the food from other countries.
Such globalization of food supply chain is resulting in increased demand for food testing, in the view of stringent rules and regulations imposed in the importing countries.
Growing Preference for Certified Food Products
In recent years, consumers have been significantly inclining towards foods with clean labels and certification such as Kosher and Halal, thereby potentially raising the need for food testing. With cloud swirling around the 'health halo' effect, consumers are becoming more aware of nutritional content in their food, and its effect on their body. Moreover, rising consumer preference for certified and health-oriented food products is likely to result in high growth of the food testing market.
Manufacturers' Focus on M&A Activities
The global food testing market is reshaping with emerging trends of merger and acquisition activities. In last few years, prominent players in the global food testing market have invested in various M&A activities, and the trend is likely to continue in the years ahead. In addition, key participants of the food testing market are focusing on expanding their global reach, tapping into opportunities in remote areas of the world.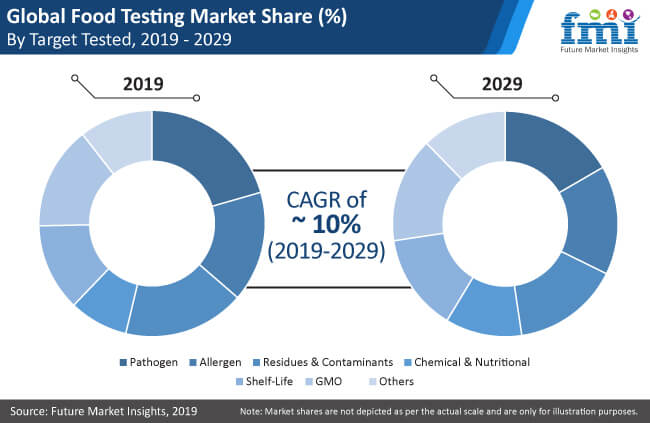 Food Testing Market: Structure Analysis
The global food testing market is classified into three tiers, where tier-1 companies hold a prominent market share and have a strong presence across the globe.
Leading companies operating in the global food testing market include Intertek Group Plc., SGA SA, Bureau Veritas SA, Eurofins Scientific SE, ALS Limited, Thermo Fischer Scientific Inc., etc.
Most of the key players in the global food testing market are headquartered in European and North American region, with the most upgraded test technologies available. Moreover, it has been observed that the majority of the organized players operating in the global food testing market are focusing on expanding their global presence and to launch innovative solutions and services. This will help the companies strengthen their foothold in the global food testing market.
Separating Bio Molecules in Consumables with High-Performance Liquid Chromatography
Food testing methods, such as high-performance liquid chromatography (HPLC), split and recognize biological molecules - amino acids, carbohydrates, lipids, nucleic acids and proteins - as well as track non-volatile substances existing in food packaging materials with good precision. HPLC exhibits greater speed and sensitivity as compared to LC (liquid chromatography), owing to application of high pressure - up to 4000psi.
Ion-exchange HPLC aids in determining the amount of nitrogen, sulfur, phosphorous, and halide ions in food and beverage industry. In addition, the method helps in deducing the dissolved inorganic and organic ions in natural and processed waters.
The column housing in HPLC comprises of stainless steel owing to high tolerance towards multitude of liquids. The detector - nuclear magnetic resonance (NMR) - in a HPLC system identifies and quantifies the constituents of the analyte that separate from the columns in a single integrated process. Multi-piston pumps decrease instability in the separation under high pressures, maintaining the flow rate.
The software-enabled data collection systems receive the signal from the detectors to process, acquire, and recreate chromatographic data. In addition, the advanced data recorders exhibit features such as, peak-fitting, base line rectification, automatic concentration calculation, and molecular weight determination. Further, the computer decodes and integrate the chromatographic data, producing a comprehensible chromatograph.
However, HPLC is a cost prohibitive process. The testing method, in reverse phase, is ineffective in separating certain solvents, including polysaccharides, polynucleotides and hydrophobic compounds.
Rapid and Accurate Recognition of Pathogens with LAMP
Loop-mediated isothermal amplification (LAMP) testing method depends on a DNA polymerase capable to intensify DNA at stable temperature (60oC-65oC). The testing process involves four to six loop primers to identify six to eight distinct areas in the target DNA or RNA, boosting the reaction rate, and reactivity with additional identification regions.
LAMP technique delivers high accuracy by preventing background noise and hindrance by non-target DNA existing in the analyte. Food and beverages are complex and variable by nature. The testing process is highly tolerant to inhibitory materials, making it suitable for fast-paced testing of pathogens such as, salmonella, in food analyte. LAMP method is easily deployable in hard-to-access or under-developed areas following elimination of specialist equipment, or large laboratory setup. As such, the initial expenses of the technology is reduced.
Will Developed Regions Offer Greater Opportunities?
The U.S. Food and Drug Administration (FDA) anticipates that ~48 million cases of food-related diseases outbreaks occur in the US, resulting in 3,000 demises. In addition, a majority of the outbreaks are caused due to pathogenic entities - Salmonella, E. coli and Norovirus.
In Europe, ~23 million incidents of food-transmitted diseases are observed every year. The EFSA (European Food Safety Authority) is ensuring food safety by a precautionary method of employing internationally approved criteria - good hygiene and manufacturing practices (GHP and GMP) and hazard analysis critical control point (HACCP) regulations. The criteria need to be employed by food enterprise owners at each phase of food manufacturing, refining and distribution. Such factors are garnering significant attention of food testing service providers.
'Target-Specific' Testing Methods - Key Tenet to Define Stakeholders' Tactics
Incidents of allergy from lactose, nuts, and other food ingredients among diverse ethnic groups across the world is rising. In addition, a certain proportion of global demographic suffers from lactose intolerance, influencing market players to drive food testing methods for allergens.
Food manufacturers look for quick approval of products to avoid expiration concerns. Traditional PRC (Polymerase Chain Reaction) testing procedure requires about a week. As such, market forces are turning to fast-track LAMP technique for pathogen detection.
Poultry farmers in developed countries are embracing advanced technologies, and hygienic practices for proper maintenance of poultry farms. However, foodborne illnesses due to meat and poultry products remain persistent to human health. Service providers are targeting their focus on testing meat and poultry products for identifying bacteria – E. coli, and Salmonella.
How Growth Will Unfold
Concerns regarding quality of food tend to remain the center of gravity among consumers across the world. The WHO (World Health Organization) suggests that ~600 million cases of food-related disease outsets happen globally a year, with a major fraction ending in mortality. Inefficient food testing procedures pose negative impacts on the food sector - expensive recalls, brand image effect, and possible legal penalties.
The existence of pathogens in food is aperiodic, with a few cells of pathogenic entity affecting the consumers. As such, legacy food testing methods based on sampling prove to be inept for ensuring consumables' authenticity, thereby fueling the need for precautionary plans, where method approval - proficiency testing - remains a crucial aspect to achieve food genuinity.
Regulatory bodies and food testing methods are garnering prominence realizing the continuous advent of genetically modified food in the global landscape. Further, concerns associated with food adulteration and food fraud scams are compelling governments to institute mandatory rules and regulation on the food manufacturers to test the consumables.
Key Segment
By Target Tested
Pathogen
Allergen
Residues & Contaminants
Chemical & Nutritional
Shelf-life
GMO
Others
By Application
Bakery & Confectionery
Dairy Products
Processed & Packaged Food
Infant Food
Alcoholic & Non-alcoholic Beverages
Functional Food
Meat & Poultry Products
Seafood
By Test Technology
Traditional

Agar Plating
Biochemical Tests

Rapid

PCR
Chromatography
Mass Spectrometry
ELISA

Others
By Region
North America
Latin America
Europe
Middle East and Africa
East Asia
South Asia
Oceania
Need specific information?
Talk Show:
The Rise of Intelligent Packaging
Personalized, Connected and Sustainable
November 18, 2021
11:00-11:45 AM PST (USA & Canada)
This is a LIVE session