About the Report
Greater adoption of cordless power tools across industries and construction sites is a key driver of the power tools market. This equipment is designed to enable a greater speed of production in comparison to hand tools. The technology has become highly sought-after thanks to substantial developments in electric power tools such as brushless technology, and others. These developments are intended to offer improved performance over the pneumatic tools. Spurred by these factors power tools consumption is expected to increase during the forecast period.
In its new study, ESOMAR-certified market research and consulting firm Future Market Insights (FMI) offers insights about key factors driving demand for power tools. The report tracks the global sales of power tools in 20+ high-growth markets, along with analyzing the impact COVID-19 has had on the economic and industrial growth, and power tools market in particular.
How Will Power Tools Market Perform in Future in Comparison to Historical Growth Pattern?
Power tools have applications in a variety of operations, which has been enabling growth in their adoption across various industries. Rapid expansion in end-use industries including aerospace, automotive, furniture, and others is positively fuelling the demand for power tools. With features such as electric motors, power tools applications have been surging to eliminate strenuous manual labor across industries.
As per FMI, the power tools market had showcased year-on-year growth of 3.7% between 2016 and 2020 in comparison to 5.1% CAGR predicted between 2021 and 2031. Increasing sales via online channels have been a prominent trend expected to create positive growth prospects over the forecast period. Increasing focus of leading power tool manufacturers on developing technologically advanced products with higher efficiency and improved shelf life is projected to give tailwinds to growth over the coming years.
For instance, leading market players such as Robert Bosch, Stanley Black & Decker, etc. are developing cordless power tools with implementation of Li-ion batteries for enhanced performance. These advancements by market participants have been crucial in fuelling demand for power tools.
What is the Commercial Potential of Power Tools?
The portability and easy maneuverability of power tools have been fuelling their demand at a higher rate than conventional hand tools. Demand from manufacturing assembly units, fabrication as well as service sectors are expected to fuel the demand of power tools. Construction sector is expected to be a crucial end user aiding the market growth.
Spurred by these factors, commercial opportunities are likely to soar for power tool manufacturers. Especially with innovation of cordless power tools leading to the launch of advanced versions of impact wrenches, circular saws, and hammer drills among others, sales prospects have improved.
Consequently, there is immense focus towards launching flexible, mobile, and compact tools to keep pace with dynamic consumer preferences. Moreover, nickel-metal hydride (Ni-MH) and nickel-cadmium (Ni-Cd) power tools are increasingly being replaced with lithium ion batteries. For instance, in 2019 Bosch launched cordless power tools, fitted with lithium-ion batteries to offer improved power and efficiency. These advances have been crucial in improving commercial potential of power tools.
How Are Innovations Resulting in Power Tools Sales?
Professionals around the world are seeking out solutions to make their jobs easier and ultimately save time and resources. As a matter of fact, they are looking for a good mix of solutions to increase productivity. While their evolving needs led to advancements in cordless technologies including motors, electronics, and batteries, the demand for productivity solutions has been encouraging innovations in the power tools market.
For example, there is immense focus on going green. Market players looking to carve a niche amid rising competition, have been consciously introducing eco-friendly alternatives to popular technologies. An increasing number of power tools manufacturers are therefore ruling out fossil fuel models to offer more energy-saving power solutions.
With the world struggling with massive storms, chaotic heat waves, and wildfires, the need to move away from pollutants is more than ever before. Catering to changing consumer preferences, Santa Monica, Calif.-based start-up Graze Mowing announced a next-generation autonomous robot for lawn mowing at a commercial scale in September 2020. While the company hopes to use solar power in the near future, currently it has been working with swappable batteries that promise to save significantly on the cost incurred on fuel and electricity.
How is the Price Sensitivity in the Market?
Raw materials predominantly used in power tools are steel and aluminum. With fluctuating costs of aluminum and steel, the cost of raw material is also bound to increase or decrease. This will have a significant impact on the power tools market in the near term which is set to witness a marginal downturn. In order to sustain through the slowdown, manufacturers will look at stabilizing the pricing of power tools through diversification and newer pricing strategies.
What are Leading Technology Developments in Power Tools?
A newer realm is being witnessed in charging technology for high-end electronic devices. Companies such as Bosch and Milwaukee have innovated on novel battery platforms that have solutions for myriad problems faced by end users in terms of charging and durability. Inductive charging, based on wireless transmission of alternating magnetic fields is a new technology that is currently only being offered by Bosch. Through inductive charging the battery can stay in the tool whilst being charged thus obviating the need to remove batteries. This has proved to be a boon for front line industrial workers who are working on tight schedules and time constraints.
Country-wise Insights
How big is the Opportunity in the U.S.?
FMI has projected North America to remain one of the most lucrative markets throughout the course of the forecast period. Growth within this region is expected to be spearheaded by the U.S. One of the key factors supporting expansion in the country is the substantial growth in commercial and residential construction. As per the U.S. Census Bureau, construction spending recorded by the country stood at US$ 1,459.4 Bn in November 2020. With both private and public spending on construction activities surging, power tools manufacturers will have lucrative prospects to capitalize on in the near future.
Besides this, prospects for growth will rise as the demand for MRO services rises within the automotive sector. SelectUSA has predicted automotive sales in the U.S. to gradually recover post-COVID-19, which will present attractive opportunities for power tool sales within the U.S. in the coming years.
How Lucrative Are Opportunities in the U.K.?
The remarkable growth in infrastructure development and construction activities in the U.K. is driving power tools sales within the country. The refined projections for the construction industry growth in the U.K. have been paving way for power tools sales. The gradually reviving construction sector is expected to offset a sharp decline in sales witnessed on account of COVID-19. According to the Office of National Statistics, U.K., construction output has improved marginally by 1% in October 2020.
Besides this, Britain is identified as one of the leading manufacturers in the world, which places it as a lucrative market for power tools globally. Make UK has reported annual output worth £192 billion, as manufacturing continues to drive exports and R&D in the country. Against this backdrop, power tools manufacturers are likely to find the country as a lucrative pocket for sales.
How Are Construction Activities Driving German Market?
FMI has identified Germany as the leading market for power tools within Europe. The growth outlook continues to be positive for the country, especially as demand is expected to soar amid improving construction activities. The upbeat performance exhibited by Germany's construction sector will continue aiding power tools sales.
According to the Federal Statistics Office, Destatis, construction sector turnover in Germany was up by 2.2% in October 2020 in comparison to the corresponding month of the previous year. Consistently rising spending towards construction will remain a chief driver, since the constructions sector will continue to be one of the leading end-users of power tools.
How Will China Market Ride-on Recovery Post COVID-19?
China has been among the few nations to have been exhibiting recovery post-COVID-19 at an impressive rate. Despite encountering a temporary slowdown amid COVID-19, China's rapid pace of economic recovery has bode well for the power tools market. According to the National Bureau of Statistics, exports and imports have significantly grown in the country from September 2020 onwards, with imports increasing by 13.2% and exports surging 9.9% in comparison to the previous year.
The aforementioned figures are indicative of improving industrial activities, which will present attractive opportunities for power tools sales. Also, China's unique response to COVID-19 to ensure an unhindered food supply amid COVID-19 has been aiding the steady growth of the power tools market. Their efforts have also been discussed by the Food and Agricultural Organization (FAO) of the United Nations.
How Is Expanding Agricultural Sector Supporting Growth in Brazil?
According to a United States Department of Agriculture (USDA) report, the agriculture sector in Brazil has transformed from one that includes indigenous systems of production with limited use of modern technologies to a global leader in agriculture. Macro-economic reforms undertaken by the country have been a key enabler of the growth of Brazil's agriculture sector. The report also mentioned that the country's value-added surged an average of 3.4% annually over the past two decades, with agricultural output nearly doubling during the time.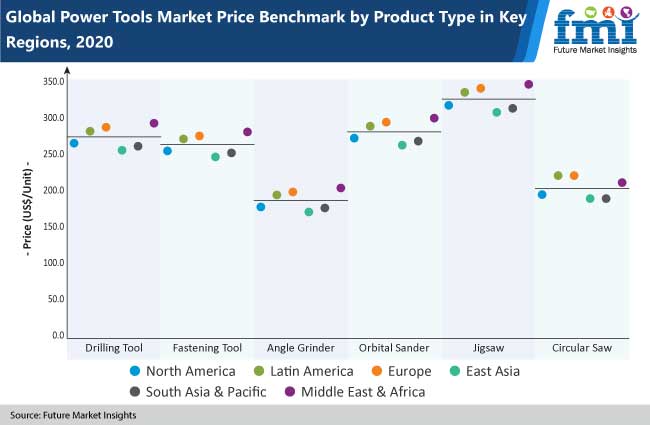 The rising investment towards technology has been a key enabler of the expansion of the agricultural sector in Brazil, which also is indicative of lucrative opportunities for power tools sales within the region.
Category-wise Insights
Which Product is highly Sought-after?
Drilling tools are highly sought-after power tools due to their increasing application across diverse industries, including construction, manufacturing, and others. In fact drilling tools also are used in various do-it-yourself projects, which has been fuelling their demand in commercial and household applications besides their increasing adoption across industries. The drilling tools segment is expected to account for above 17% of the market by the end of 2031 and is expected to remain dominant through the forecast period.
Why do Construction Applications Hold Higher % Share?
Accounting for nearly 30% of the overall share through the forecast period, construction applications drives continue to account for the bulk of demand for power tools. Growth in the segment is primarily due to the rapid development of the construction industry along with the bulk deployment of power tools in construction projects. Increasing construction spending in countries such as the U.S., the U.K., and China will continue aiding the expansion of the market.
Increasing do-it-yourself (DIY) activities and high capita spending on DIY tools in developed countries from North America and Europe are driving the consumer inclination towards DIY activities e.g. interior home renovation, plumbing, gardening, and others. The footprint of DIY tools is also expected to expand in developing regions. The use of DIY products lowers long-term costs than work outsourced to hired labor resulting in increased demand for power tools for DIY and household applications. Additionally, the advent of e-commerce has enabled easy access and discounts for consumers. These factors are expected to ascend the demand for power tools in DIY applications.
Why is Electric Technology More in Demand?
Electric and pneumatic are currently the leading technologies available, of which the demand for the former has been surging at a higher pace. The advent of cordless technology is expected to fuel growth opportunities within the market. Some of the leading players such as Bosch, Milwaukee, Hitachi, and others include cordless power tools in their portfolios.
Also driven by surging demand, they are increasingly investing in the launch of advanced technologies, which will ultimately fuel demand within the electric category. For instance, Bosch has recently launched cordless power tools in-built with lithium-ion batteries in June 2019. According to FMI, over 6 out of 10 power tools sold will be from the electric category in 2021.
What Supports Continuing Dominance of Offline Sales Channels?
According to FMI, offline sales channels will continue dominating through the forecast period. By 2021, offline sales are expected to account for 64.3% of the overall share. Offline sales offer instant gratification, which continues to be a key driver. However, the COVID-19 outbreak has exposed the vulnerabilities of this medium. As a result, there is an increasing focus on diversification. Market players are exploring opportunities across online sales channels. According to FMI, online channels will report growth at a higher pace than their offline counterparts.
Competitive Landscape
The power tools market is a highly competitive market, led by global players offering cost-competitive products. Some of the players are focusing to carve a niche for specific demography. Market players have left an indelible impact with their astute business expansion strategies and robust product offerings. Many of these players are focusing on product launches.
For instance:
In January 2019, DEWALT, which is a Stanley Black & Decker launched FLEXVOLT 60V MAX* 2-Inch Brushless SDS MAX Combination Hammer (DCH773), which featured an e-clutch system and advanced technologies
Makita U.S.A., Inc., one of the well-known manufacturers of accessories and high-quality professional tools launched 18V X2 LXT® Cordless/Corded Upright L.E.D. Area Light (DML810, tool only) in July 2020
Milwaukee also unveiled Cordless 1" D-Handle High Torque Impact Wrench in 2020
Some of the leading companies operating in the market are:
Robert Bosch Power Tools GmbH
Stanley Black & Decker, Inc.
Makita Corporation
Hilti Corporation
Atlas Copco AB
Techtronic Industries Company Limited
Snap-on Incorporated
Actuant Corporation
Husqvarna AB
Illinois Tool Works
Panasonic Corporation
Hitachi Corporation
Ingersoll Rand, Inc.
Enerpac Tool Group
Kyocera Corporation
Apex Tool Group
Ridgid Tools
Koki Holdings Co., Ltd.
*The list is not exhaustive, and only for representational purposes. Full competitive intelligence with SWOT analysis is available in the report.
Scope of the Report
Attribute

Details

Forecast Period

2021-2031

Historical Data Available for

2016-2020

Market Analysis

USD Million for value and Units for Volume

Key Regions Covered

North America, Latin America, Europe, East Asia, South Asia & Pacific, Middle East & Africa

Key Countries Covered

US, Canada, Germany, U.K., France, Italy, Spain, Russia, China, Japan, South Korea, India, Thailand, Malaysia, Vietnam, Indonesia, Australia, New Zealand, GCC Countries, Turkey, Northern Africa, South Africa

Key Segments Covered

Product Type, Technology, Application, Sales Channel, and Region

Key Companies Profiled

Robert Bosch Power Tools GmbH
Stanley Black & Decker, Inc.
Makita Corporation
Hilti Corporation
Atlas Copco AB
Techtronic Industries Company Limited
Snap-on Incorporated
Actuant Corporation
Husqvarna AB
Illinois Tool Works
Panasonic Corporation
Hitachi Corporation
Ingersoll Rand, Inc.
Enerpac Tool Group
Kyocera Corporation
Apex Tool Group
Ridgid Tools
Koki Holdings Co., Ltd.

Report Coverage

Market Forecast, brand share analysis, competition intelligence, DROT analysis, Market Dynamics and Challenges, Strategic Growth Initiatives

Customization & Pricing
Key Questions Answered in the Report
Q1. Which is the most lucrative market for power tools?
U.S. currently leads the global market for power tools. Sales in U.S. will be over 13% of total demand throughout the forecast period.
Q2. Which are the top-selling power tools?
Drilling Tools and Jigsaws are highly sought-after for many applications. The demand for Drilling Tools and Jigsaws is expected to remain high in the near future, especially due to its proliferated usage across different application across various applications.
Q3. Which application of power tools is highly sought-after?
Power tools are widely used in construction and manufacturing applications. Their usage in metal fabrication, railways, aerospace, automotive is rising day-by-day.
Q4. Which are some of the leading companies providing power tools?
Some of the leading companies manufacturing power tools are Robert Bosch Power Tools GmbH, Stanley Black & Decker, Inc., Makita Corporation, Hilti Corporation, etc.
Q5. Which technology of power tools is driving high sales?
The electric power tools specifically cordless power tools are driving sales of power tools because they are comparatively higher efficiency and durability and easy manoeuvrability and portability.
Key Segments
Product Type
Drilling Tool
Fastening Tool
Heat Gun
Angle Grinder
Chain Saw
Orbital Sander
Jigsaw
Impact Wrench
Circular Saw
Technology
Application
Manufacturing

Metal Fabrication
Automotive
Railways
Aerospace
Furniture
Others

MRO Services

Facility Management
Automotive
Aerospace
Other Industrial

DIY
Construction
Sales Channel
Region
North America
Latin America
Europe
East Asia
South Asia & Pacific
Middle East and Africa (MEA)
Need specific information?