Bandsaw Machines Market - Key Research Findings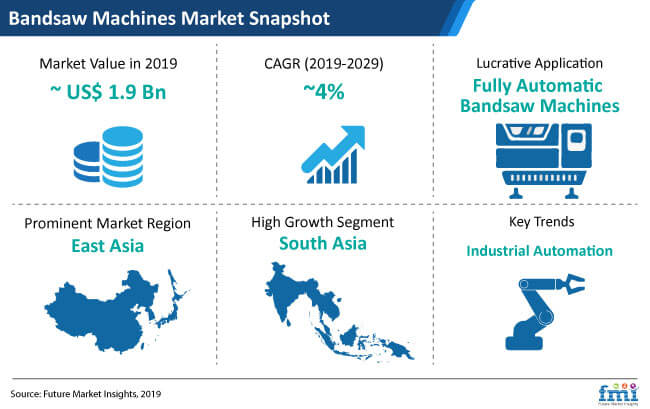 The global bandsaw machines market size in 2018 was valued at ~US$ 1.8 Bn.
The bandsaw machines market is expected to increase at a CAGR of ~4% over the forecast period of 2019-2029.
The horizontal segment is anticipated to remain as the most preferred orientation type segment in the bandsaw machines market.

The growth of this particular segment can be primarily attributed by the increasing production of automotive and wood pallets globally.

Collectively, North America, East Asia, and Europe are likely to hold 70% of the revenue shares in the bandsaw machines industry by the end of 2029.

The East Asia market is expected to remain as the prominent regional market for bandsaw machines manufacturers due to the presence of large number of end use manufacturing industries in the region.

The automotive and transportation segment is expected to lead the market share in terms of revenue generation followed by the others segment, which includes wood cutting and biomass generation. Growing inclination towards biomass for power generation is expected to create robust opportunities in the segment.

Key regions such as North America and Europe accounted for a substantial share in the round wood production. These regions are expected to create healthy demand for bandsaw machines.
Key Factors Shaping the Bandsaw Machines Market
Growing Automotive Industries Driving the Demand for Bandsaw Machines
Bandsaw machines are widely used in industries such as automotive, food, biomass production, construction, and several other industries for different metal and wood cutting applications. The growing industrialization in emerging countries and increasing population demands have been driving the automobile, construction, food, and power generation industries and is expected to grow significantly in the upcoming years.
An Inclination towards Biomass Usage for Energy Generation Creating Demand for Bandsaw Machines
The growth in the energy production through the use of biomass would increase the demand for biomass, subsequently boosting the global bandsaw machines market. The use of biomass pellets has significantly increased in the recent past for harvesting biomass energy.
For instance, in 2017, biodiesel accounted for 24.1% of the energy production in the market of Canada. This noteworthy share of biomass in the energy production will help the growth of the bandsaw machines market.
Greater Cost Savings Associated with the Use of Bandsaw Machines over Other Types of Saw Machines
Bandsaw machine blades are thinner than circular saw blades, resulting in a significantly smaller kerf or chip removal when compared to circular saw blades, generating significant material and cost savings over time. These traits of bandsaw machines have made them the preferred choice in many end-use industries.
Manufacturing Industries Embracing Industrial Automation
OEMs and system integrators of machine tools, such as band saw machines, are adopting the trend of industrial automation to gain a competitive edge by introducing PLC-based machines, which in turn, is expected to create ample opportunities in the global band saw machines market during the forecast period.
Untapped Potential in Precision Cutting Tools Industry
Fully automatic bandsaw machines are used for cutting complex edges but are not as widely adopted as other metal cutting machines owing to the slow speed and less accuracy. With advancements in the manufacturing technology of bandsaw machines and incorporation of PLC and robotics, bandsaw machines can tap into a wider market of machine cutting tools. The automotive, metal sheet cutting, and other industries demand the use of high precision cutting machines, where bandsaw machines can further extend their presence.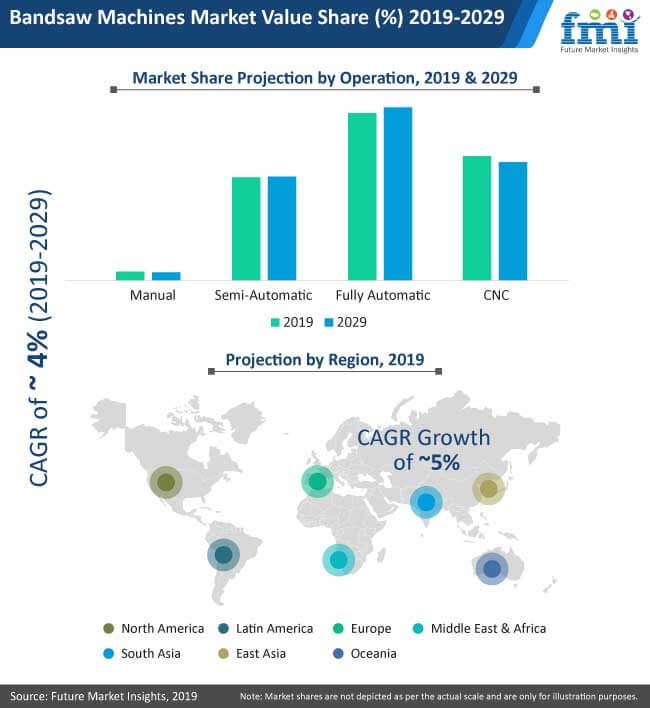 Bandsaw Machines Market Structure Analysis
The global bandsaw machines market is an extremely fragmented market. Tier 1 players hold ~29-31% share in the market.
Most of the key players sustain strategic focus on the development of new products and expansion of business in new regions and setup of the distribution and sales network.
Noteworthy investments in developing new and durable bandsaw machines by companies are expected to exploit the bandsaw machines market growth prospects.

Key players in the bandsaw machines market such as Amada Holdings Co., Ltd, Starrett, KASTO Maschinenbau GmbH & Co. KG, and Cosen Saws International, Inc., are developing new products and focusing on product innovations to sustain their positions in the market.

International and regional market players have an extensive marketing network of branch, regional, and global offices across tier 1 and tier 2 cities, providing support to its customers.
Bandsaw Machines - The New-age 'Power Saw'
Bandsaw machines were well-popular since the earlier half of the 19th Century and the idea was conceptualized in 1809 by a British individual named William Newberry. Though bandsaw machines were technically advanced but weren't considered to be usable for a long period of time, owing to associated tribulations of boosting the saw blades' strength or repairing them in case of breakage.
However, a significant patent was put forth by a London-based inventor Henry Wilson, which focused on enhancing the band saw functionality in relation to sudden strain while in use. The advancements in bandsaw machines, over the course of years, were carried out with a primary focus on enabling 'continuous cutting' that offers optimal outcomes.
The demand for bandsaw machines spans across domestic as well as international markets, for various applications of woodworking, lumbering, metalworking, and material cutting. Sensing its escalating demand from various industries, manufacturers are focusing on use of quality raw material and incorporation of precisely-balanced wheels that ensure operational steadiness and smoothness.
In addition, manufacturers are also focusing on development of bandsaw machines entailing minimal maintenance, coupled with additional benefits of sturdy construction and extended durability.
Bandsaw Machines Vs Chainsaw Machines – What's Winning the Productivity Battle?
Bandsaw machines are bringing the shine off chainsaw variants, owing to their unmatched efficiency and impeccable precision. The perfect placement of blade teeth and the matchless operating speeds underpin cutting abilities of bandsaw machines, and this has been further complemented by latest technological innovations incorporated in the existing as well as new product models.
Bandsaw machines possess the ability to cut materials almost as quickly as large chainsaw machines, yet with a relatively lower capital investment and higher accuracy. This, in turn, is working in favor of the manufacturers who are actively involved in development and commercialization of bandsaw machines.
Considering the requirements coming from modern cutting applications, bandsaw machines have come a long way in terms of versatility and functionality. Excellent bundle-cutting capabilities, accurate feed units via servo drives, gear motor speed & horsepower options, programmable workstations for recurrent jobs, and capability to get smooth cuts in rigid materials are some of the distinguished features that further push the relevance of bandsaw machines.
However, it remains indisputable that chainsaw and bandsaw machines will continue having their own unique places across industrial ecosystems, and the demand for chainsaw is unlikely to decline at once in light of its compatibility with a specific set of applications.
Automation in East Asia: The Precursor of Growth
Asia has been stealing the spotlight since the last few years, with respect to the trend of automation spreading its roots across the key countries. With China leading the pack, East Asia has been experiencing a myriad of economic and social benefits in the light of the massive-scale adoption of automation by industrial operators. OEMs as well as system integrators of machine tools, such as bandsaw machines, are drawing upon this trend by establishing strategic partnerships with prominent distributors in East Asia.
In addition, companies active in the global bandsaw machines market are endeavouring expansion of their operational bases in China and Japan, which will further help them lift their profit pools to new heights. Such particulars pin the lucrativeness of East Asia for the market players of bandsaw machines to focus their efforts on.
Winning Business Models of Market Players
Companies active in the bandsaw machines market are focusing on diversification of their product portfolios, in a bid to ensure long-term gains amid the competitive market space. Manufacturers are also shifting their focus on acquisition of local and domestic players that will help them amplify their geographical footprint via combined expertise and enhanced access to shared resource pools.
Long term service contracts with end users along with prompt maintenance & repair services remain conducive to rewarding relationships with end users, and market players will continue to direct their investments toward the same.
As 'energy efficiency' tops the list of the major end-user considerations, leading players are aiming at development of energy-efficient machines that will not only bring down overall energy consumption but also offer high compatibility with the evolving operational paradigms.
Bandsaw with 'PCL-Based' Controls: A Key Trend
The pervasive trend of 'automation' has set the stage for a massive inflow of PLC-controlled bandsaw machines, and the introduction of such machines is refashioning the way cutting activities were performed. With the continuous evolution of technological advancements over the past few decades, the PLC-controlled bandsaw machines have made their way into the industrial cutting scene and successfully enabled a higher degree of functionality and performance.
High ownerships costs and time-to-time maintenance remain two among the key factors challenging adoption of bandsaw machines. In addition, manufacturers of bandsaw machines remain hard-pressed to follow government established policies and regulations, which, in turn, imposes specific restrictions in the design conceptualization processes.
Manufacturers, in order to succeed and grow, are vying to wade through these limitations by devising effective product development models that focus on steadfast production whilst adhering to the regulations put into place.
World's Most Profilic Intelligence Engine
Get Access To The World's Largest Market Research Database. Ngage with a revolutionary intelligence engine that scale and pricing that flexes as per your needs
Sign Up Now
Key Segment
By Orientation
By Operation
Manual
Semi-Automatic
Fully Automatic
CNC
By Cutting Type
Mitre
Circular
Ring
Straight
By End Use
Automotive & Transportation
Construction
Mining
Aerospace
Shipbuilding
Food
Others
By Region
North America
Latin America
Europe
South Asia
East Asia
Middle East & Africa
Need specific information?