KEY GROWTH INFLUENCERS - CUP FILLING MACHINES MARKET
Rising Consumption of Milk and Milk Products to Shape Market Growth
As per the food and agriculture organization of the United Nations report and survey (FAO), the global milk production is expected to witness a notable rise in 2019. Continuously increasing consumption of dairy products, owing to its nutritional features, and necessity of cup filling machines to pack and seal these dairy products are flourishing market growth for cup filling machines.
Countries such as India and the United States account for ~35% of the overall milk production in the world, each year. This, ultimately, creates tremendous opportunities for cup filling machines manufacturers to expand their business footprints in these regions.
Transformation of Packaging Machinery is Pushing Demand
End users are not only purchasing products but also consider their experience regarding those products. Leading food manufacturers adopt advanced packaging machineries to make their end products more attractive and affordable. This factor insists manufacturers to design and introduce innovative cup filling machines in the market.
There are automatic and semi-automatic cup filling machines that help fill cups with exact volume at a rapid pace. Over the years, the packaging machinery industry has witness a drastic change in terms of technological advancement. This transformation of packaging machinery industry is driving the global cup filling machines market during the forecast period.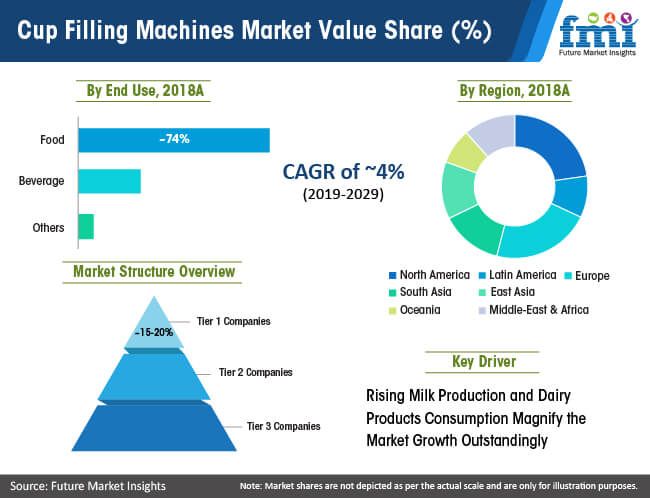 CUP FILLING MACHINES MARKET STRUCTURE ANALYSIS
I.M.A. INDUSTRIA MACCHINE AUTOMATICHE S.P.A, R.A Jones, Barry-Wehmiller Companies, Robert Bosch GmbH and Shikoku Kakoki Co., Ltd. are leading manufacturers of cup filling machines, worldwide. Food manufacturers are adopting cup filling machines on high scale, as the demand for ready-to-eat food surges.
Leading manufacturers are capturing a major portion of market share by targeting the food and beverages industry. The cup filling machines market is relatively moderate in size, which remains a key factor for its dynamic and competitive nature.
In the cup filling machines market, prominent companies hold a revenue share of ~20%. Some of the prominent players in the cup filling machines market are R.A Jones, Robert Bosch GmbH, Serac Group, I.M.A. INDUSTRIA MACCHINE AUTOMATICHE S.P.A, Barry-Wehmiller Companies, Shikoku Kakoki Co., Ltd., NHM Machinery, and Paxiom. In this report, individual strategies followed by these companies in terms of improving their product portfolio, creating new marketing strategies, and acquisitions and mergers, have been elaborated on.
Noteworthy Traction in Dairy Industry
The Food and Agriculture Organization (FAO) of the United Nations reports that global milk production is estimated to witness significant rise in 2019 which is a clear booster to demand for cup filling machines in the near future. FMI's study reveals that these will a notable upsurge in demand for dairy products such as milk, yogurt, ice cream, and curd in upcoming years, particularly in developing countries. This would be an important factor fueling demand for cup filling machines.
East & South Asia Presenting a Platter of Opportunities
While developed regions represent established markets nearing maturity, stakeholders in cup filling machines market should now explore white spaces lying in the East Asian and South Asian regions. India recorded highest milk production globally, in 2017, which indirectly offered an impetus to the cup filling machines market of South Asia. On the other side, China's primacy in food & beverages industry also signals lucrative opportunity for sup filling machine manufacturers.
Moreover, rising prominence of singleton households in countries such as South Korea and Japan will indicate a strong need for specific-sized or single-serve product packages, which is again a significant factor driving the market growth.
High Installation and Maintenance Costs Limiting Market Growth
Advanced cup filling machines are equipped with multiple features, which accounts for their high installation costs. Moreover, their operation requisites skilled technicians without whom there are high risks of critical damages to machines. Developing regional markets particularly continue to face the challenges posed by scarcity of proficient labor, which is straightaway limiting the sales of cup filling machines.
How Growth will Unfold
In line with the industry's accelerated shift towards automation, fully automatic cup filling machines have been taking the market by storm. As time- and cost-efficient machinery continues to be favored by Industry 4.0, automatic cup filling machines will continue to gain higher preference over semi-automatic and manual counterparts. Semi-automatic cup filling machines also account for a sizeable revenue share in market, further witnessing a modest adoption rate, automatic variants are generating returns that are twice as much.
CUP FILLING MACHINES MARKET TAXONOMY
The global cup filling machines market is segmented in detail to cover every aspects of the market and present a complete market intelligence approach to readers.
By Machine
By Technology
Automatic
Semi-automatic
Manual
By Capacity
Below 1000/Hr
1000 to 3000/Hr
3001 to 6000/Hr
Above 6000/Hr
By End Use
Food

Dairy Products
Cereals & Dry Fruits
Ready-to-Eat
Jam, Sauces & Pickles
Spices & Condiments
Bakery & Confectionery
Others

Beverages

Fruit Juice
Alcoholic Drinks
Others

Others
Regions
North America
Latin America
Europe
South Asia
East Asia
MEA
Oceania
Need specific information?