Virtual Machine Market By Type (Process/Application Virtual Machines, System Virtual Machines), Platform (Windows, Mac, Linux), Enterprise Size (Small & Medium Enterprises (SMEs), Large Enterprises), Industry (BFSI, IT & Telecom, Retail, Healthcare, Manufacturing, Government) & Region - Forecast to 2021 - 2031
Virtual Machine Market - Analysis, Outlook, Growth, Trends, Forecasts
March 2021

REP-GB-1490

413 pages
About the Report
The global virtual machine market is expected to reach a valuation of US$ 119.89 Bn by 2031. Increasing adoption of heavy applications among organizations and rise in cloud computing technologies across the globe has fuelled the demand for virtual machine systems and solutions. Moreover, virtual machines enables time and money saving for businesses.
Adoption of VMs allows businesses to be flexible, create mobile work forces, and virtualize work environments. More and more enterprises are adopting virtual machines due to the simplicity it offers for end users and IT professionals alike. Thus, the increasing adoption of VMs among enterprises across several industries is expected to propel the growth of virtual machine market.
In its new study, ESOMAR-certified market research and consulting firm Future Market Insights (FMI) offers insights about key factors driving demand for virtual machine products. The report tracks the global adoption of virtual machine products in 20+ high-growth markets, along with analyzing the impact of COVID-19 on the global adoption of virtual machine solutions, along with the pre-COVID and post-COVID market growth analysis.
How Historical & Future Projections for Virtual Machine Market Match Up?
Between 2016 and 2020, global virtual machine market has registered the CAGR of 15.0%. Increasing adoption in data science and AI technologies has fueled the demand for virtual machines systems.
Data science is a banquet of data cleaning, analysis, and preparation, an umbrella term for several scientific methodologies to discover hidden patterns from raw data. Data science also involves solving business problems in multidimensional processes deploying prototypes, algorithms, predictive models, and custom analysis.
The explosion of structured and unstructured data through emails, financial transaction numbers, audio files, web pages, business documents, social media messages, and among many more sources, has created a huge need of flexible solutions for data scientists to explore and build data science models quickly, often more quickly and flexibly than traditional on-premises IT hardware can provide.
VM vendors have created a Data Science Virtual Machine (DSVM), which is a customized image of VM that is specifically used for doing data science. The platform has many popular data science and other tools pre-installed and pre-configured to jump-start building intelligent applications for advanced analytics.
Data science has become fuel for industries. There are various industries such as banking, finance, manufacturing, transport, e-Commerce, education, etc. that use data science for their business processes.
Thus, organizations across various industries are adopting DSVM solutions to generate meaningful insights from their organizational data.
How will Adoption of Heavy Applications Impact Growth?
The term workload is defined as the amount of work performed by an application in a given period. Every application has limited capability to handle and process work. Several organizations use heavy applications for their business processes, and if the assigned applications goes beyond the workload capacity, it may take a long time to complete or often it gets crashed. It becomes even more severe in cases where a workload requires high compute resources, such as servers or database systems assigned a workload upon creation.
VMs offer an efficient and optimal way to address the problem of heavy workloads, irrespective of platforms or industry. VM provides parallel processing of heavy applications to execute intensive workloads of varying size, by creating a pool of VMs to tackle these loads. VM offers several options tailored to suit various requirements like RAM, storage, low-cost option, general computing, data protection, and enable running of heavy-memory applications such as SAP, High Performance Computing (HPC), video encoding, and massive multiplayer games.
Rising Digitalization and Continuous Growth in IT Infrastructure
Businesses and organizations are finding themselves in an increasingly complex network world. As businesses continue to generate a staggering volume of data on a daily basis, they are looking at transformation through automation and virtualization to optimize the cost and scale of experiences. There is ongoing trend of using mobile devices, apps, and a variety of collaboration tools to communicate with other teams across geographies, platforms, and devices.
The workforces are transforming the way their employees carry out their daily activities. Enterprises are moving beyond being desktop-centric to a multi-device anywhere, anytime workplace. Furthermore, the changing IT consumption trends and increasing adoption of cloud computing solutions are creating potential growth opportunities for virtual machine market. Apart from this, the increasing investment by government of various regions in transforming and digitalizing IT infrastructure is also supporting the growth of virtual machine market.
How is Lack of Isolation Affecting Virtual Machines Sales?
One of the major factors hampering growth and adoption of virtual machines is the lack of isolation between multiple VMs. Virtual machine brings several benefits to enterprises. It can enhance IT agility, flexibility, and scalability while creating significant cost savings. However, with several advantages there are few key challenges associated with VMs. Lack of isolation between multiple VM instances is one of the major challenges for system administrators.
Virtual infrastructure platforms include software that can migrate running VM instances from one physical device, which often causes a lapse in app availability. For example, two applications running in two separate VM instances but on the same host compete for a single set of resources on that host. It is well known that because of lack of proper isolation of some shared resources; a VM may perceive varying performance based on how many other VMs are competing for the same resource.
Some administrators prefer to avoid using virtual machines for running business applications in relatively small organizations due to the lack of isolation between VM instances, which is considered as the major challenge in the market.
Cost-Effectiveness to Enable VM Sales
VMs have the ability to transform a physical workplace into a more mobile, flexible workplace where traditional hardware equipment such as storage, networking, and computing resources are replaced with virtual environments, infrastructure, and storage. VMs enable users to access virtual environments from anywhere at any time, allowing businesses to forgo the upfront costs of expensive hardware. Moreover, the cloud VMs have one substantial advantage that – they only incur costs when they are actually in operation.
For instance, Microsoft Azure, an IaaS-based VM solution can be deployed flexibly and is only billed according to the actual usage. This produces numerous scenarios in which dynamic modifications/provisioning can lead to noticeable cost savings.
Huge workload mobility, increased performance and availability of resources, automated operations are some of the key benefits of VMs that make IT simpler to manage and less costly to own and operate. More and more businesses are opting for VMs due to the simplicity for end users and IT professionals alike.
Market Share Analysis of Virtual Machine Vendors
The virtual machine market is highly concentrated and the concentration of global market may be attributed to the majority share held prominent virtual machine vendors. The companies that hold market share near to 50% are tier-1 companies and this group includes players like Amazon Web Services, Microsoft Corporation, Google, and Alibaba Group.
The companies with market share of above 10% and below 15% are the promising players. These companies are likely to showcase a quick growth trend and harness the opportunities that the global market has to offer to accommodate business expansion and revenue generation. This group includes IBM Corporation, VMware, Hewlett Packard Enterprise, and Citrix.
Companies that have a relatively lower size with a market share worth less than 10% are strategizing to attract new clientele in foreign markets. The companies in this group are Proxmox Server Solutions, Parallels International, and among others.
Country-wise Analysis
What is the U.S. Virtual Machine Adoption Trend?
Until 2020, virtual machine value across the United States experienced a Y-o-Y growth of over 11.8% to reach US$ 29.01 Bn. The market is set to further aggrandize at an impressive CAGR through 2031. FMI has projected the U.S. to remain one of the most lucrative markets in North America throughout the course of the forecast period, owing to presence of prominent virtual machine and cloud computing service vendors in the region.
According to estimates, the virtual machine adoption in U.S. is increased by 2.5%, as businesses are continuously shifting their entire server virtualization environment to the virtual cloud. Moreover, the increasing demand, specifically from the healthcare and manufacturing sector has propelled the growth of U.S. virtual machine market.
How are Maritime Shipping and Communication Trends Enabling Growth in the U.K?
As a G7 economy, U.K. is among the matured IT and related services markets, the country is one of the most important global markets for cloud computing. With the U.K. being one of the most advanced global markets for cloud computing, there is a sizeable business ecosystem serving the primary market, for example in data centers and Cloud VMs.
Cloud computing is a key driver of the UK's data-driven economy, with cloud-based virtual machine platforms, infrastructure and services supporting UK businesses across every industry and sector.
Moreover, the country exhibits the presence of multiple data centers located across different states. The prominent data center vendors in the country includes Amazon, Microsoft, and Google.
The growing demand for virtual machine products across several industries is driving the growth of U.K. virtual machine market. The U.K. virtual machine market is estimated to reach a valuation of 5,614.6 Mn by the end of 2031 by registering a CAGR of 27.5%.
China Leading Virtual Machine Providers and Development Trends
China is estimated to record an incremental opportunity surpassing US$ 11.27 Bn during the forecast period. It is among the world's largest cloud computing markets. Companies such as Alibaba, Tencent and Huawei are among ones best-positioned to capitalize on opportunities prevalent in China.
It cloud computing market is growing at a rapid pace. With the cloud infrastructure spending set to rise considerably, China will attract several leading market players. Coupled with this, the Chinese government is dedicated to pushing the cloud computing market in the country, creating major business opportunities for virtual machine vendors.
The government is continuously focusing on investing on cloud and related ICT technologies to enhance digital transformation, which in return, would drive the growth of China virtual machine systems market.
What is Driving Virtual Machine Adoption in China?
Cloud computing offers immense potential and benefits for all types of organizations. In India, the adoption of cloud computing is gaining momentum and growing exponentially. The main reason behind the growth is because of the government's support in embracing emerging latest technologies and best practices derived from different cloud deployment scenarios and application areas.
The India cloud computing market is a very vibrant one and the country has presence of all of the major global cloud providers such as Amazon, Microsoft, IBM, Google, and among others. Small and medium-sized businesses in the country are actively migrating to cloud-based virtualization technologies and large enterprises are also following suit.
The manufacturing sector in India virtual machine market is witnessing the high growth with a CAGR of 35% and is estimated to record the incremental opportunity of above US$ 2.4 Bn during the forecast period.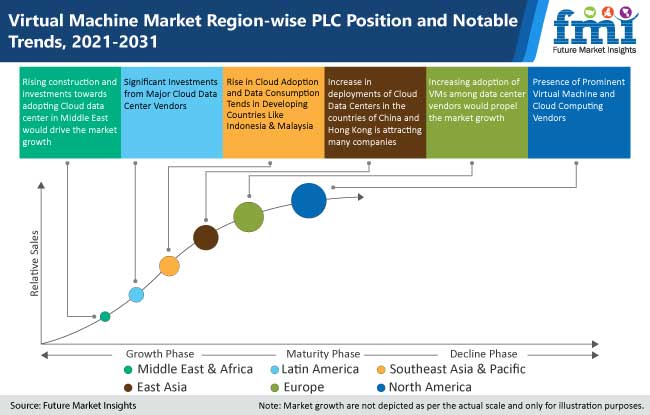 Category-wise Insights
How will adoption of Virtual Machines in Manufacturing Sector Impact Growth?
Technology is constantly changing and computers are more powerful than ever. However, with the presence of aging manufacturing plant infrastructures, tighter regulations, technology upgradation, and numerous other challenges, manufacturing companies are continuously trying to get the most from their IT-based plant assets. Companies are trying to focus on having a strategic solution to manage application usage in such a volatile environment that has become a priority for manufacturers.
To deal with these challenges, several manufacturing companies have included VMs in their automation migration plans. VM helps manufacturing companies to consolidate multiple physical computers into one and swap data between computers with no downtime. In a virtual environment, manufacturers can simply create a new VM, load the new updated software to it, test it, bring down the running VM with the old software and bring up the new one.
Moreover, manufacturing companies are leveraging VMs to coordinate different PLCs and HMI systems throughout the plants. VM is rapidly transforming the manufacturing IT landscape, and fundamentally changing the way engineers use hardware resources in manufacturing plant. The technology is gaining traction and is expected that half of all the manufacturing applications will leverage VM in the next 5 years.
How will Adoption of Virtual Machines in SMBs Create Opportunities?
The concept of virtualization started out decades ago as a way to make better use of large, expensive, mainframe computers. However, the IT landscape has changed dramatically since then, VMs are continuously been adopted by several businesses irrespective of their sizes to optimize the use of their existing server resources and, in turn, lower IT costs.
Over the past few years, the adoption of virtual machines has been increased among the mid-sized businesses. With rise in number of applications and to manage those across different OS's companies are implementing VMs to make better use of hardware, lower costs, and increase business agility. A growing number of VM solutions are emerging that target mid-sized businesses, which helps them optimize their limited IT resources and enable them to focus on their business processes.
Competition Landscape
Companies operating in the market rely on multiple expansion strategies to deepen penetration across lucrative markets. These strategies include product launches, collaborations with key players, partnerships, acquisitions and strengthening of regional and global distribution networks.
In June 2020, Microsoft announced the availability of its Azure general purpose and memory optimized Virtual Machines based on the 2nd generation Intel Xeon Platinum 8272CL, to deliver up to ~20 percent CPU performance improvement compared to their predecessors, the Dv3 and Ev3 VM.
In December 2020, VMware released its new update of VMware vSphere 7. The new update is the most powerful version of VMware vSphere to date and provides the capabilities that organizations need for traditional and modern applications and workloads.
In November 2020, AWS has announced the new Mac instances (EC2 Mac instances) for Amazon EC2. Built on Mac mini computers, EC2 Mac instances enable customers to run on-demand macOS workloads in the AWS cloud that offers extended flexibility, scalability, and cost benefits of AWS to all Apple developers.
FMI has profiled the following prominent virtual machine providers in its report:
Microsoft Corporation
VMware, Inc. (Dell Technologies)
Amazon Web Services, Inc.
Google
IBM Corporation
Oracle Corporation
Hewlett Packard Enterprise
Citrix
Huawei Technologies
Proxmox Server Solutions GmbH
Parallels Inc.
Marine communication Market Report Scope
Attribute

Details

Forecast Period

2021-2031

Historical Data Available for

2016-2020

Market Analysis

US$ Mn for Value & Units for Volume

Key Regions Covered

North America, Latin America, Europe, East Asia, South Asia & Pacific, and Middle East & Africa

Key Countries Covered

U.S., Canada, Germany, Italy, France, U.K., Spain, GCC and South Africa

Key Segments Covered

Type, Platform, Enterprise Size, Industry and Region

Key Companies Profiled

Microsoft Corporation
VMware, Inc. (Dell Technologies)
Amazon Web Services, Inc.
Google
IBM Corporation
Oracle Corporation
Alibaba Group
Hewlett Packard Enterprise
Citrix
Huawei Technologies
Proxmox Server Solutions GmbH
Parallels Inc.

Customization & Pricing
World's Most Profilic Intelligence Engine
Get Access To The World's Largest Market Research Database.
Sign Up Now
Key Segments Covered of the Virtual Machine Market
Type
Process/Application Virtual Machines
System Virtual Machines
Platform
Enterprise Size
Small & Medium Enterprises (SMEs)
Large Enterprises
Industry
BFSI
IT & Telecom
Retail
Healthcare
Manufacturing
Government
Others
Region
North America
Latin America
Europe
East Asia
South Asia & Pacific
Middle East & Africa (MEA)
Key Questions Answered in the Report
How will Virtual Machine market expand until 2031?
FMI projects the global virtual machine market to register a CAGR of 19.7% between 2021 and 2031. Increasing adoption of cloud computing services across small and mid-sized enterprises is expected to drive the growth.
Which is the most lucrative region in the global virtual machine market?
North America is the most lucrative region in the global virtual machine market and the trend is likely to continue in the near future. Within the region, the demand from the U.S. is expected to be higher.
Who are the leading players in virtual machine market?
Some of the leading players operating in the global virtual machine market include Microsoft Corporation, Amazon Web Services, Google, IBM corporation, and among others.
Who are the leading end users of virtual machines?
Healthcare and manufacturing sectors together are expected to account for over half of sales in the market through 2031.
Need specific information?
Our Clients