Virtual event platform market Outlook & Key Findings
The global market is estimated to record a strong CAGR worth more than 20% during the forecast period as social networking keeps the global population connected
Live event support services estimated to record highest incremental opportunity as demand for attendee engagement at virtual events continuous to increase
Event management agencies are the primary contributors to the growth of the global virtual event platform market
Enterprises and corporates projected to record the fastest adoption of virtual event platforms during the forecast period as lockdowns push for remote working
Educational institutes are likely to be the primary end users, especially in countries like India, China and Brazil, where governments have legislated stringent lockdowns amidst COVID-19
SMEs with Low Travel Budgets to Opt for Virtual Event Platforms
As the nature of business turns more and more international, virtual meetings and events are expected to replace actual events. Conventions and international events that cost a hefty amount can easily be eliminated by SMEs that have tight budgets, which is winning the global virtual event platform market a steady stream of revenue.
Possibilities by virtual events such as reduction in travel and allied costs associated with actually attending an event have changed the outlook towards it. It has allowed smaller companies and even big ones to save on budgets of networking and PR and yet be of part of grander scheme of things.
The seamless connection enabled by virtual event applications has boosted market growth, opening avenues for vendors to earn revenue by building meaningful interactions. Virtual event can be accessed on a smartphone or hosted on a web browser as per the convenience of the user. This attribute has made it a clear winner in the world that is vying to be connected amidst a stringent lockdown.
Designed to emulate real life elements of an event such as registrations, participation, Q&A, and certifications, these applications have established them as indispensable to business owners. The intuitive navigation of these applications, breakout rooms for group chats, and time-based sessions make it no different from actual events or meetings. These design attributes has led to an exponentially growing subscriber base through the years.
Availability of Custom Platforms and Multiple Deployment Models Boosting Market Growth
Software-as-a-Service (SaaS) models and Unified Communications-as-a-Service (UCaaS) models are the most attractive deployment models in the global virtual event platform market. There is an increasing demand for virtual event platforms and standalone software solutions from small and medium sized operations.
However, large businesses and event management agencies are the primary contributors to the growth of the global virtual event platform market due to bigger budgets and larger workforce. SaaS and UCaaS deployment models are being increasingly preferred in education, healthcare, finance and banking, and hospitality industries.
Virtual event platform vendors are striving to gain a competitive edge over other players in the market by launching customized and state-of-the-art solutions. End-users are adopting digitally simulated platforms to launch their offerings. These platforms are expected to enable end users to promote their offerings in the market.
COVID-19 Turns Positive for Virtual event platform market
Virtual event vendors were the true beneficiary of strict lockdowns implemented by governments across the globe. As work migrated to remote, virtual events become the only possible way to connect, collaborate, and create to keep companies afloat, up and running.
From entertainment to educational institutes the pressing urgency to go virtual to ensure business and learning continuity has upped the demand for solutions offered by virtual event platform market. With no certain end in sight to the ongoing pandemic, this market will stand to benefit in the coming months.
In order to avoid losses, event management agencies are partnering up with media companies, entertainment platforms, and education industries to procure virtual event platforms. This remains one of the exceptional market that is showing positive growth rate during COVID-19.
Future Market Insights predicts that in the new world order, as companies look at operating from a remote workspace, the demand for virtual events will continue gaining momentum.
Feature-rich Virtual Conference Software Eases Transition
Feature-rich services that come with augmented reality to create immersive experience of tradeshows and fairs have drastically changed the perspective for end users. Encompassing every element of physical events, the demand for virtual events software and solution is projected to rise as it ensures harmonious business continuity.
Digitally simulated gatherings that have a wide range of space types, which bears a strong semblance to in-person event such as lobbies, exhibition hall, meeting rooms, sponsor space, and networking lounge have achieved excellent engagement models.
An important feature making virtual events as real as the physical events is the "live" features. Being a part of an event in real-time, participating in Q&A, polling, and interacting with esteemed hosts, celebrity, or faculty have made virtual event an equal contender to its counterpart.
Integration with social media platforms have further increased the scope of the vendors in the market. It has increased traffic by spreading the word through screenshots and check-ins, creating a wider base of subscribers. Vendors are trying to monetize this space through clever advertisement displays. Thus, in the coming years, virtual events are expected to run along with physicals if not wholly replacing them.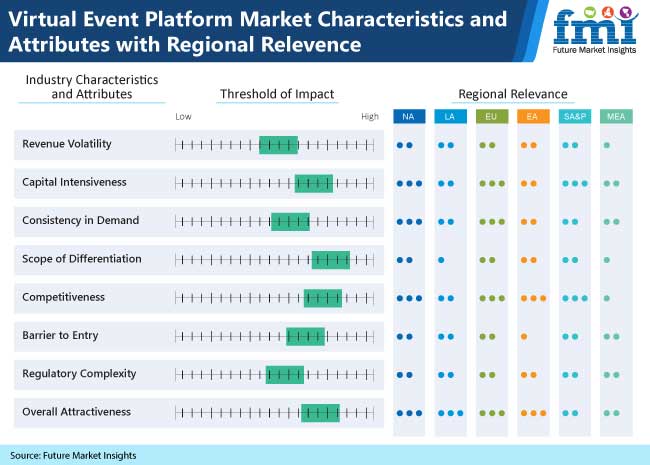 Virtual event platform market: Region-wise Analysis
Currently, virtual event platform market in North America dominated the global market, and recorded a market share of more than 40% in 2019. The regional market is estimated to continue leading the global market throughout the forecast period. Early and wide scale adoption of digitally simulated solutions is driving the virtual event platform market in North America.
The virtual event platform market in Southeast Asia and Pacific region is estimated to record the fastest growth during the forecast period. Advancements in 4G LTE and 5G technologies is estimated to play a crucial role in boosting the adoption during the forecast period, especially in countries like India, New Zealand, and Australia.
Increasing number of start-ups and multi-national companies focusing on expanding their business are the primary factors steadily driving virtual event markets in Latin America and Middle East and Africa regions.
Competitive Innovation Strategies in the Virtual event platform market
Key vendors operating in the global virtual event platform market are focusing on offering custom-made marketing and advertising features that would help end users to entice target audiences into signing up for the virtual events. The end users use these tools to add attractive info graphics, clips of keynote speakers, performers and attractions on to their pages.
Virtual event platform vendors are helping their customers enhance attendee experience by integrating innovative technologies and features, such as virtual and augmented reality, chatbots, facial recognition for registration and access, and natural language processing capabilities into their offerings.
Following are the key players operating in the global virtual event platform market –
ALIVE
ALE International
Cisco Systems, Inc.
Eventxtra
GES
Martiz Holdings Inc.
Pathable, Inc.
Veritas Events
Zoom Communications, Inc.
6Connex
Avaya Inc.
Arkadin Cloud Communications
Cvent Inc.
George P. Johnson
Kestone
Microsoft
uBivent GmbH
vFairs
*The list is not exhaustive, and only for representational purposes. Full competitive intelligence with competition deep dive available in the report
Virtual Event Platforms to be the Next Important Spot for Crucial Data Collection
Vendors are deploying virtual event platforms integrated with the ability to translate the sentiments and demands of target audiences into actionable insights. Enterprises, event management agencies, academic institutions, and trade show organizers, among other end users, are collecting real-time sentiment and registration data in order to offer their target audiences an opportunity to provide feedback.
The collected data is used to interpret public opinion, which helps the end users make insight-based decisions regarding technology procurement or addition and modification of content. The end users of virtual event platforms are using this ability to gain traceable reports, statistics, and analytics.
The e-mail marketing strategy used for marketing the invite is also expected to feed into this data collection, which will be used to understand popularity of certain events versus non-popularity of others. In a world that will be driven by virtual connections, being specific to consumers will be essential. To this end, social media platforms will play a critical role in marketing campaigns designed to attract specific audiences.
Virtual event platform market is expected to leap ahead as the world grapples with social distancing. The role of educational institutes will be a mammoth one in defining the monumental success of this market. From graduation days to first day of school, virtual events for educational institutes will encompass every possible experience.
Furthermore, lectures by visiting faculty can now occur through virtual event platforms that can be prerecorded and made reachable to scores of students who cannot always attend physical events. Virtual event platforms are expected to bring in revolutionary changes in the way interactions are approached in the near future, thus paving the way for a successful run in this decade.
Virtual event platform market: Segmentation
Component
Solutions

Integrated Virtual Event Platforms
Standalone Software Solutions

Services

Live Event Support
Post Event Processing Services
Event Consulting Services
Support Services
End-user
Enterprises/Corporates
Event Management Agencies
Academic Institutions
Trade Show Organizers
Others
Region
North America
Latin America
Europe
East Asia
Southeast Asia and Pacific
Middle East and Africa
Need specific information?