An Incisive, In-depth Analysis on the Anesthesia Machines Market
This study offers a comprehensive, 360 degree analysis on the Anesthesia Machines market, bringing to fore insights that can help stakeholders identify the opportunities as well as challenges. It tracks the global Anesthesia Machines market across key regions, and offers in-depth commentary and accurate quantitative insights. The study also includes incisive competitive landscape analysis, and provides key recommendations to market players on winning imperatives and successful strategies.
COVID -19 : Impact Analysis
Request the coronavirus impact analysis across industries and markets
Request Covid -19 Impact
Anaesthesia machines are used to administrate anaesthesia to patients during medical procedure. These machines are installed in ambulatory surgical centres, hospitals, clinics and other nursing facilities. Anaesthesia machines include various mechanical, computer controlled and electrical components to regulate and control general anaesthesia administration. Continuous developments have been observed in designing of anaesthesia machines with a view to enhance operating efficiency, patient safety, outcome and convenience. Market players are focusing on new product development and launching of innovative products with additional features and capabilities.
A resourceful research report on global anaesthesia machines market by Future Market Insights reflects the value trajectory of the global market for a period of ten years, from 2017 till 2027. The research report includes value analysis on various segments of the market and their respective scenarios across key regions in the globe. As per this analytical research study, the global market for anaesthesia machines is projected to expand at a CAGR of 5.7% throughout the period of assessment (2017-2027). In 2017, the global anaesthesia machines market was valued at about US$ 1400 Mn and is estimated to reach a valuation of more than US$ 2.4 Bn by the end of the year of assessment (2027).
Reduction in the cost of anaesthesia machines coupled with innovations and development can improve sales
As compared to international players, regional or domestic market players sell their products at a relatively low price. This aspect makes it imperative for market leaders to gauge the pricing scenario in the respective region in order to gain successful penetration in that regional market. Increasing investments in research and development to develop cost effective and at the same time innovative anaesthesia solutions is expected to provide high growth opportunities for players in this market with respect to sales volume of their products in the local as well as international markets.
Anaesthesia machines to witness increased adoption in hospitals in the coming years
Anaesthesia machines are widely used in several healthcare and nursing facilities such as hospitals, ambulatory surgical centres and clinics. Both small and large size hospitals have included advanced anaesthesia machines to deal with day to day surgical procedures. Several manufacturers are targeting hospitals for sale of their devices owing to increasing use of these machines in various surgical procedures. Multi functionality hospitals deal with various surgical procedures every day which increases the use of anaesthesia machines. In the end user category, the hospital segment is the most lucrative from sales point of view. This segment led the global market in 2017 and is expected to continue with its dominating streak in the coming years. This fact is backed up with data presented in this research report, which portrays a high growth potential of this segment by the end of the assessment period. The hospital segment stood at a value a bit under US$ 740 Mn in 2017 and is estimated to reach a valuation high than US$ 1 Bn by the end of the year of assessment. It is projected to expand at the highest rate compared to other end user segments during the forecast period.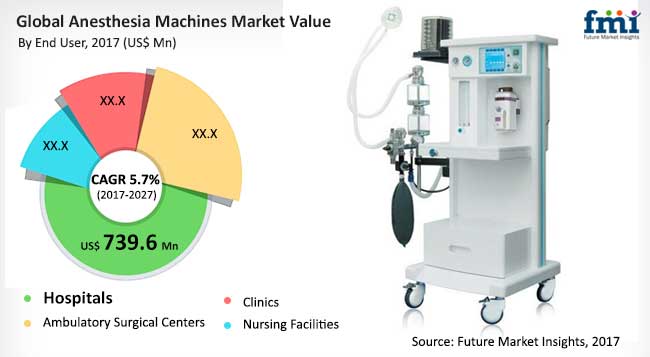 Sales of anaesthesia machines in ambulatory surgical centres to reflect a value of around half a billion by 2027 end
Ambulatory surgical centres in the end user category is expected to be the second most attractive segment. This segment is estimated to reach a valuation a bit over US$ 500 Mn by the end of the year of assessment and projected to grow at a robust rate during the forecast period. Ambulatory surgical centres segment is expected to showcase a market attractive index of 0.9 by the end of the year of assessment. Also, the sales of anaesthesia machines in clinics is expected to contribute to the global market revenue.
A new report on anaesthesia machines market at a global level provides perceptive insights on the chronological growth flight of the market along with the future prospects and present scenario of the market. The report offers an exclusive analysis and intelligence on the global market and also presents insights on vital market segments across with region specific analysis.
Anaesthesia Machines Market: Overview
The report offers a complete summation of the market including an official abstract that draws out the centre examples progressing in the market. It also discusses on a couple of facets, for example, drivers, obstacles, and predictions that have been found in the global market. It also acquaints readers with figures related to volume, value, and development rate of the market from a growth point of view. With reverence to market segmentation, each segment is analysed and presented in the report. It also gives an assessment in light of the market condition, and moreover presents a value chain analysis of the products and applications in concern. A year to year progression of the market has likewise been offered in the report for the reader to be predominantly aware of the altering scenario of the market.
Anaesthesia Machines Market: Research Methodology
The report is the end result of the cautious research work on anaesthesia machines market by our analysts. The information introduced has been studied carefully by industry experts of Future Market Insights. The data that has been presented here is assembled from various tried and tested sources. The figures have also been checked multiple times by analysts and can be used to settle on key decisions and formulate strategies.
Anaesthesia Machines Market: Competitive Dashboard
The market study conveys an immense outlook on the engaged scene of the overall anaesthesia machines market. It features the rivalry prevalent among the present vendors in the market and also puts weight on the future circumstance of the market. The profile of the players is based on a SWOT examination sought down by company angle, product portfolio, strategies, finance related information, and year-to-year projections. The organizations have been explored minutely covering their key developments, innovations as well as mergers and acquisitions and agreements with other prominent establishments.
Reasons to invest in our report
The reports made by our industry analysts are credible and have been researched and validated from several primary and secondary resources. What makes us unique is the fact that along with presenting an analysis of the market's historical and present scenario, we also present a forecast review of the market for the benefit of our reader. The presentation is exclusive in the form of various charts, tables, and diagrams. Every bit of information present in the market research report is unique. Expert opinions are also present in the study that can be directly used by the readers to make future decisions.
Market Segmentation
By Modality

By End User

By Region

Standalone Anaesthesia Machines

Portable Anaesthesia Machines

Hospitals

Surgical Ambulatory Centres

Clinics

Nursing Facilities

North America

Latin America

Western Europe

Eastern Europe

Asia Pacific Excluding Japan (APEJ)

Japan

Middle East and Africa (MEA)
Harish Tiwari
Global Head - Business Development
Akshay Godge
Client Partner - Global Business Development
CASE STUDIES
See how our work makes an impact.
At FMI, we design strategies that are adaptive, impactful, and implementable.