GENERAL ANAESTHESIA DRUGS MARKET - KEY RESEARCH FINDINGS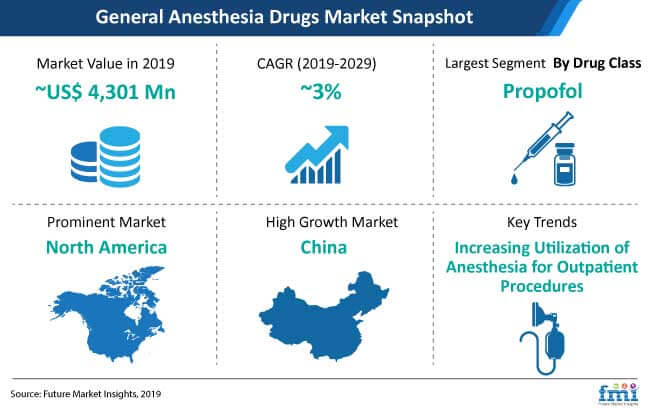 The global general anaesthesia drugs market size in 2018 was ~US$ 4.2 Bn.
The general anaesthesia drugs market is expected to grow at a CAGR of ~3% during the forecast period of 2019-2029.
General anaesthesia drugs are widely used in several surgeries, and increase in the number of cardiovascular and other diseases is expected to fuel the growth of the general anaesthesia drugs market. Moreover, the availability of technologically advanced drug delivery devices and the development of specific targeted drugs is likely to foster the growth of the general anaesthesia drugs market. In addition, the proliferating general anaesthesia drugs portfolio and the number of clinical trials for the development of general anaesthesia drugs with respect to specific indications is expected to foster substantial revenue generation in the general anaesthesia drugs market.
Collectively, North America and Europe are likely to contribute a significant share in the general anaesthesia drugs market by the end of 2029.

North America continues to be a prominent regional market for general anaesthesia drugs manufacturers owing to an increase in the adoption of novel therapeutics as well as the launch of new general anaesthesia drugs into the market.
Europe has also witnessed significant growth in the general anaesthesia drugs market owing to an increasing number of surgeries and the rising demand for the latest technologies and healthcare facilities.

East Asia is likely to witness growth in the general anaesthesia drugs market due to increasing disposable income and the emergence of several cost-effective generic drugs.
Propofol is expected to remain a prominent drug class segment in the general anaesthesia drugs market.

Due to its lipophilic nature and rapid onset of action with minimal side effects, the general anaesthesia drug Propofol is highly preferred for surgeries.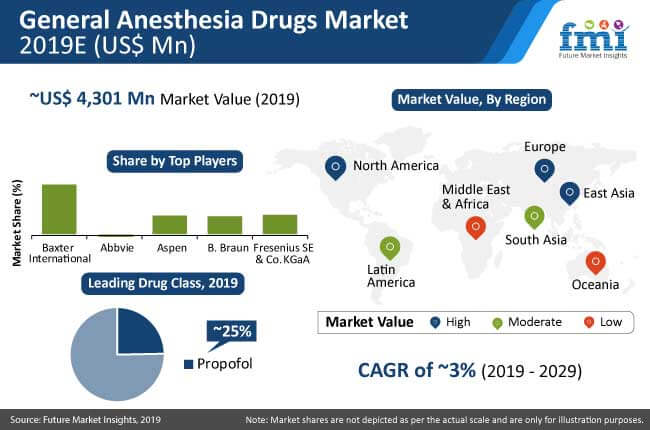 KEY FACTORS SHAPING THE GENERAL ANAESTHESIA DRUGS MARKET
Increasing Demographic Trends in the Geriatric Population to Boost the General Anaesthesia Drugs Market
People aged 65 years and above are more prone to chronic diseases, due to which they are likely to require a larger number of procedures. According to a Population Reference Bureau report in 2016, the number of Americans aged 65 and above is projected to be 98 million by 2060, and the group share of the elderly population from the total population is estimated to be nearly 24%. Moreover, the increasing burden of cardiovascular diseases that require surgeries is fuelling the growth of the general anaesthesia drugs market.
In addition, the increasing frequency of co-morbidities among the aging population increases the risk of toxicities and surgical complications related with general anaesthetics. The rising population and increase in the number of procedures that require anaesthesia are some of the factors that are likely to spur the growth of the general anaesthesia drugs market.
Rising Utilization of Anaesthesia Drugs for Outpatient Procedures to Contribute Significantly to the Growth of the General Anaesthesia Drugs Market
Ambulatory anaesthesia provides rapid recovery from general anaesthesia drugs, which leads to the early discharge of patients and, at the same time, provides several benefits to healthcare providers, patients, as well as third-party payers and hospitals. The number of ambulatory surgeries has been increasing at an alarming rate due to continuous improvements in general anaesthesia drugs & related techniques, and the easy availability of short-acting anaesthetics with minimal side effects. Moreover, appropriate discharge criteria and the availability of minimal invasive surgical techniques has led to an increase in the adoption of ambulatory surgeries.
Furthermore, an increasing number of minimally invasive diagnostic and surgical procedures that are performed on an outpatient basis require a large number of general anaesthesia drugs. General anaesthesia drugs have the potential to impact on the efficacy as well as the cost of care in these outpatient settings. Thus, the general anaesthesia drugs market is estimated to register significant growth due to an increase in the number of surgeries performed in outpatient settings.
Rising Launch of New Anaesthetic Drugs Expected to Propel the Growth of the General Anaesthesia Drugs Market
Manufacturers are focusing on the launch of new anaesthetic drugs. For instance, Vétoquinol, in collaboration with Jurox Pty. Ltd., will soon launch a new injectable anaesthetic. Manufacturers are also engaged in entering into various collaboration and licensing agreements to ensure the global availability of their products. Collaboration partners seek regulatory approval for the launch and commercialisation of their products in different geographies.
For instance, in September 2017, AstraZeneca and Aspen announced that they have entered into an agreement for the remaining rights to anaesthetics medicines. Moreover, various manufacturers aim at expanding and accelerating their pipeline drugs portfolio for the launch of new general anaesthesia drugs into the market.
For instance, Paion UK Ltd.'s lead candidate, Remimazolam (CNS7056), which is an intravenous general anaesthesia drugs, has submitted an NDA filing in 2018. Thus, rising research and development and the launch of new drugs is expected to significantly drive the general anaesthetic drugs market.
Surgical Complexities and Patient Safety Expectations to Drive New Developments
The migration of health care systems from 'fee-for-service (FFS)' to 'pay-for-performance (P4P)' models have been forcing the healthcare professionals to reevaluate how they approach the delivery of care. Over the years, a large number of intravenous and inhalation agents of general anesthesia drugs have been introduced, and in parallel various drugs have undergone clinical usage and then withdrawn when found unreliable.
The development of safer drugs were propelled by increasing surgical complexity and severity of patient illness along with growing expectations of patient safety. As general anesthesia drugs are commonly associated with several side effects, manufacturers are directing their investments towards the development of new formulations of existing agents or entirely new chemical entities in strides to improve safety, efficacy, recovery profile, and minimize side effects.
Considering the nature of the product, manufacturers are constantly focusing on keeping up with several regulations and guidelines on general anesthesia drugs which have been revised and updated to improve procedural safety and efficacy. Although the robotic or minimally invasive surgeries have significantly transformed the operational procedures, these processes can take longer than open surgery which may increase the possible risks of anesthesia, thereby compelling manufacturers to innovate their products with reduced side effects.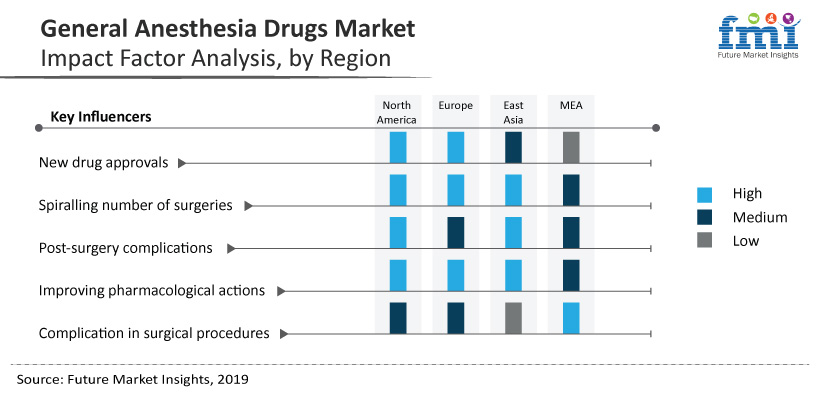 The U.S. Takes the Center Stage
Despite many advancements in anesthesia techniques and availability of newer and safer drugs, much more scientific exploration and large clinical trials are needed to provide the greatest level of evidence and safety, prior to widespread clinical implementation.
Growth prospects of the general anesthesia drugs market are relatively high in the U.S., driven by increasing risk of organ failures and cardiac diseases among baby boomers along with significant restructuring of the healthcare system in the country. Rapid adoption of innovative business models focused on novel strategies such as seeking faster approval of drugs for reduced time-to-market and more reliance on external partners, academia, and industry consortia will continue to favor the manufacturers operating in the nation.
Tracking the Lasting Effects of General Anesthesia Drugs on Human Health
Although the introduction of general anesthesia drugs dates back to 1840s, they continue to associate with several side effects including elevation in blood pressure and heart rate, respiratory depression, amnesia, and even hallucinations. For example, opioid-containing anesthesia has been linked with post-surgery nausea, vomiting, and drowsiness that can hinder the patient's recovery.
A focus on opioid-free general anesthesia, aligning with clinical strategies that include the use of multimodal analgesia and enhanced recovery after surgery (ERAS) initiatives, has been making a headway in reducing the use of addictive medications prior to surgical interventions.
Modern general anesthesia drugs have not only enabled complex surgical procedures to be performed safely on patients but also has significantly advanced human medicine. However, several studies regarding the impact of general anesthesia drugs on human health are still underway. The jury is still out as a new Israeli study links child born via C-section under general anesthesia with the risk of developing autism, while another study claims that general anesthesia in infancy has no detectable impact on brain development.
GENERAL ANESTHESIA DRUGS MARKET TAXONOMY
The global general anesthesia drugs market is segmented in detail to cover every aspect of the market and present a complete market intelligence approach to the reader.
By Drug Class
Propofol
Sevoflurane
Dexmedetomidine
Desflurane
Remifentanil
Midazolam
Others
(Others – Sufentanil, Fentanyl, Ketamine, Isoflurane, Thiopental etc.)
By Route of Administration
Intravenous Anesthesia
Inhaled Anesthesia
By End User
Hospitals
Ambulatory Surgical Centers
Specialty Clinics
By Region
North America
Latin America
Europe
South Asia
East Asia
Oceania
MEA
Need specific information?
Talk Show:
The Rise of Intelligent Packaging
Personalized, Connected and Sustainable
November 18, 2021
11:00-11:45 AM PST (USA & Canada)
This is a LIVE session