Clinical Trials Market By Area (Oncology, Infectious Disease, Metabolic Disorders), Phase (Phase 0, Phase IV), Sponsor (Industry-sponsored, Government / Public, Non-governmental Organizations) & Region Forecast to 2019 - 2029
Clinical Trials Market - Analysis, Outlook, Growth, Trends, Forecasts
July 2019

REP-GB-384

179 pages
Clinical Trials Market Outlook
[179 Pages Report] Global Clinical Trials Market spending was valued at US$ 95 billion in 2019, and is expected to record a 4% compound annual growth rate (CAGR) through 2029.
| | |
| --- | --- |
| Attributes | Details |
| Estimated Market Size (2019) | US$ 95 Bn |
| Global Spending on Clinical Trials by Europe and North America (2018) | 80% |
| CAGR (2019-2029) | 4% |
Due to well-established clinical infrastructure and the preference of trial sponsors and collaborators to conduct the Clinical Trials Market in countries with a robust regulatory landscape, Europe and North America accounted for 80% of worldwide spending on Clinical Trials in 2018.
Except for China, where the number of clinical trials for cardiovascular indications outpaced those in the United States in 2018, the country is one of the most popular destinations for clinical trials across various therapy areas.
Key Factors Shaping the Clinical Trials Market Landscape
Spending on Oncology Drugs Remains High, Despite Complexities
Clinical trials for various oncology indications accounted for approximately 30% of all trials registered, also representing the therapeutic indication with the most number of drug launches. Most of the top industry sponsors of clinical trials allocated a significant proportion of their R&D expenditure to the oncology drug portfolio.
Among various oncology indications, non-small cell lung cancer (NSCLC) and breast cancer were predominantly targeted for clinical development. However, clinical trials market for oncology are steadily becoming more complex in terms of patient recruitment, clinical trial design parameters such as endpoints, narrower eligibility criteria, among others.
Growing Focus on Enhancing Clinical Trial Design Using Predictive Analytics
Predictive analytics tools including artificial intelligence and machine learning are already being used in several companies to develop models and guide decisions. Considering the plethora of health data currently available to clinical trial investigators, predictive analytics tools can be effectively leveraged in clinical trial design to identify patient characteristics that are more likely to respond to a specific treatment pattern, thereby increasing the success rates and reducing risk to large, multi-center clinical trials.
It can also aid in the development of precision approaches by assessing the effect of a certain therapeutic approach on a subset of patient population based on certain biomarkers. The potential for predictive analytics to influence clinical trial design is likely to hinge on the understanding of complex disease models by clinical trial investigators, and collaborative efforts are still underway to unlock the maximum impact on clinical development.
Developing Countries Offer Unprecedented Value to Clinical Trial Sponsors
Despite a third of all clinical trials market registered are located in the U.S., clinical trial sponsors have been offshoring clinical trials market to countries such as China, India, Russia, and Brazil for the past few years. These countries are attractive for several reasons: a large patient pool, well-developed healthcare infrastructure in urban areas, an abundance of skilled clinical staff for monitoring clinical trials, among other factors.
Governments in certain countries are also offering incentives for clinical trial sponsors to carry out clinical trials in these countries, which typically tend to be shorter and thus, also cost-effective. There have also been several ethical questions raised pertaining to clinical trials in developing countries, which put a damper on offshoring clinical trials.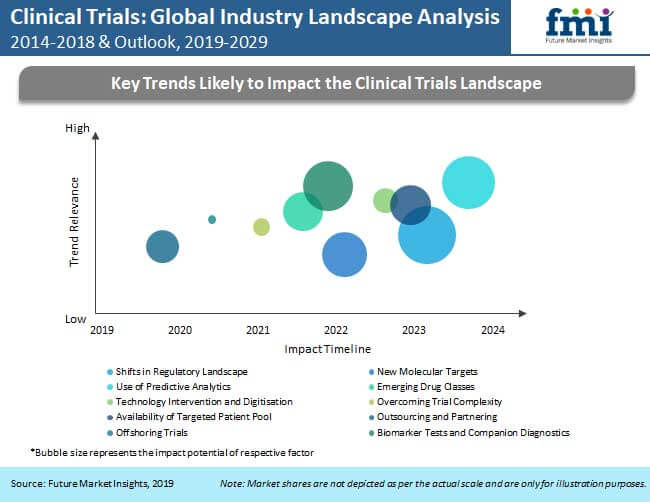 Clinical Trials Landscape: Stakeholder Assessment
A significant proportion of clinical trials were initiated by large pharmaceutical companies, with Bristol-Myers Squibb, AstraZeneca, Merck & Co., Roche, and Johnson & Johnson rounding out the top 5 in terms of the number of trials.
Emerging pharmaceutical and biotechnology companies are continuing to exert their influence on the clinical trials sector, with a robust pipeline of therapeutic agents paving the way.
Companies such as Bristol-Myers Squibb, Merck & Co., Amgen, and some others focused their efforts on clinical trials for currently approved drugs to obtain marketing expansion, while companies such as AstraZeneca, GlaxoSmithKline, Johnson & Johnson, among others have a greater focus on drugs with no prior marketing authorization.
While assessing the therapeutic area focus, most companies heavily depended on oncology, where the number of clinical trials initiated was disproportionately large compared to the rest of their respective portfolios. Only a limited number of companies had a diverse allocation of therapeutic focus.
'Clinical Trials' Metamorphosing into a Connected, Streamlined Landscape
Complexities and data volumes in clinical trials are on a ceaseless rise. There is an urging need for pharma companies to increase R&D efforts, as development costs break records and patent cliffs approach. Integration of cloud and analytics is pervasively evident, and digital transformation in healthcare are making holistic changes in the clinical trial process.
The healthcare models are undergoing tectonic shifts and seeing massive inflow of new clinical trial models, which are organized, streamlined, and nurture patient engagement. Pharmaceutical companies are pushing the limits of R&D efforts to improvise their clinical trial models, which will help them cope up with ever-increasing developmental costs.
The New-Age Clinical Trials Are 'Web' Based
Biopharmaceutical companies are focused on implementing digital health in the clinical trials and operations. It is highly likely that pilot projects and investments to validate digital measures will continue to rise, abreast the uptake of patient centricity to empower convenient and personalized approaches.
The initial years of the 'digitalization era' also left some major imprints on the clinical trials landscape. Pzifer has already started focusing on new launches of web-based clinical trial outreach platforms, and other companies followed suit. Such efforts mark a new milestone for the global clinical trials space and fine tune the way clinical trials were conducted.
North America and Europe – The Goldilocks Zone
North America and Europe present a favorable and standardized ecosystem for the clinical trials landscape – collectively estimated to create an opportunity worth ~ US$ 76 Bn in 2019. These regions often gain the first mover advantage in almost every technological disruption in light of their economic vigor; and in case of clinical trials, pharmaceutical giants are adopting artificial intelligence to disrupt all stages of the process – from linking eligible patients to respective studies, to monitoring data collection and adherence.
The Broader Perspective
The clinical trials landscape is witnessing a revolutionary phase, where new sources of data are being generated and put in the hands of patients. Pharma and medical device companies are emphasizing to bridge the gap between current scope of patient access at present and future, to help them maintain a healthy lifestyle.
As today's clinical trials are way more sophisticated than the previous ones, the clinical trials landscape has been spectating persistent reformations to ensure that the essential supplies of patient kits are in right place at right time. High focus is also being placed on adaptive trial designs, which eases mid-study modifications based on accumulated data.
How Growth Will Unfold?
Faster clinical trials are crucial for pharma and medical device companies, as these are time- and capital-intensive. Spending on phase III clinical trials remains comparatively higher than phase II and phase I trials, owing to their greater complexity and need for larger patient pool.
Sponsors are highly likely to see greater room for success in developing regions, such as South Asia and East Asia. Moreover, the conduction of clinical trials across this fast-growing regions promises a new shade of advantages, including tax incentives and efficient regulatory pathways.
World's Most Profilic Intelligence Engine
Get Access To The World's Largest Market Research Database.
Sign Up Now
Key Segment
By Area
Oncology
Infectious Disease
Metabolic Disorders
Cardiovascular
Neuroscience
Respiratory
Others
By Phase
Phase 0
Phase I
Phase II
Phase III
Phase IV
By Sponsor
Industry-sponsored
Government / Public
Non-governmental Organizations
Others (Academic Medical Centers, Individuals, etc.)
By Region
North America
Latin America
Europe
East Asia
South Asia
Oceania
Middle East & Africa
Key Questions Answered in the Report
What is the Growth Outlook of the Clinical Trials Market?
The clinical trials market was valued at US$ 95 Bn by 2019, and is advancing at a CAGR of 4%.
Which are the Leading Companies in the Clinical Trials Market?
Chiltern, Omnicare, PPD, Parexel, Kendle, and Quintles, are some of the leading companies in the clinical trials market.
Need specific information?
Our Clients