Clinical Alarm Management Market - Key Research Findings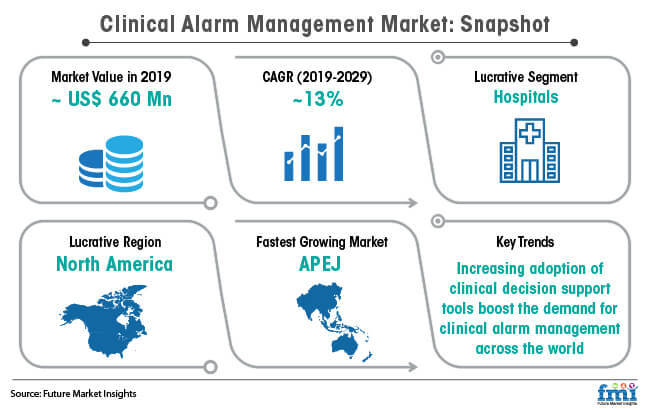 The global clinical alarm management market was valued at ~US$ 591 Mn in 2018.
The clinical alarm management market is likely to increase at a CAGR of ~13% during the forecast period of 2019-2029.
Rapid adoption of big data analytics, implementation of clinical decision support tools, and growing demand for clinical alarm reporting software are factors that have been driving the clinical alarm management market growth.
North America remains a prominent region for the clinical alarm management market, which accounted for a market share of ~40% in 2018. However, the clinical alarm management market in APEJ (Asia Pacific Excluding Japan) is expected to grow at a high CAGR during the forecast period, and become the most significant market for clinical alarm management.

APEJ, due to its strong economic growth and rising investment in the healthcare industry, will continue to be one of the prominent regional markets for clinical alarm management.

In order to stay ahead of the pack, companies are opting for product innovation strategy by integrating central monitoring systems in the clinical alarm management market. Such developments are likely to aid the market players in meeting the growing demand from various end users, including hospitals, clinics, ambulatory surgical centres, long-term and palliative care centres, home care, and others end users.

For instance, in March 2018, GENERAL ELECTRIC Healthcare launched the LOGIQ E10, a next-generation radiology ultrasound system integrating Artificial Intelligence (AI), cloud connectivity, and advanced algorithms, to acquire and reconstruct data faster than ever before. It helps clinicians in making a real difference in patient care.

Similarly, in October 2019, Koninklijke Philips N.V. and Spencer Health Solutions announced the expansion of their partnership to Europe. Technological solutions can help patients and their caregivers to improve medication plan compliance.
Key Factors Shaping the Clinical Alarm Management Market
Rising Adoption of Big Data Analytics

The volume of information in the healthcare industry has been on the rise, guided by enforcement and regulatory requirements, record keeping, and patient care. Currently, as the digitalization trend grows at rapid pace, the healthcare industry is moving towards the adoption of big data analytics to offer the best quality healthcare facilities with minimized cost.

Moreover, big data analytics has capabilities of storing a large volume of data regarding clinical and healthcare functions, which include clinical decision support, disease surveillance, and population health management.

Increasing Adoption of Clinical Decision Support Tools

The U.S. department of health and human services has been assertive towards reimbursement models, such as bundled payments. Medicare service centres are increasingly trying to achieve greater consistency for cancer care and predictability of costs by adopting clinical decision tools. These tools are identified for transforming safety, quality, and efficiency in healthcare services as these clinical decision support tools offer timely and relevant information to physicians and other clinicians.

These tools help improve the efficiency and safety at a potentially lower cost of care. Moreover, clinical decision support tools include order sets for particular condition and type of patients, databases, and recommendations that can provide relevant information to their patients and alerts about potentially harmful situations.

Growth Opportunities in Asia Pacific Region

Major clinical alarm management solution providers are focused on expanding their business across Asian Pacific countries such as India and China. Increasing investments in digitalization of technology by governments in these countries have led numerous companies to expand their businesses.

Furthermore, healthy economic growth in these areas, along with the continued adoption of advanced technology, including Big Data and rising healthcare investments, generate significant growth opportunities for the clinical alarm management market.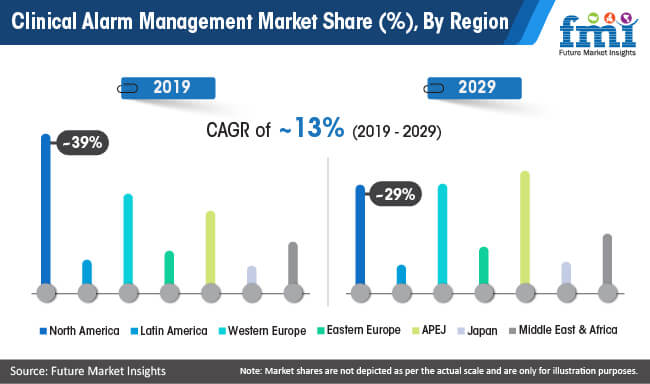 Clinical Alarm Management Market: Structure Analysis
The clinical alarm management market is highly competitive in nature, with majority of key players putting an emphasis on product innovations and business partnerships, to achieve a stronger global footprint.
Increasing application areas of clinical alarm management solutions and competitive market have resulted in the differentiation and expansion of products by clinical alarm management providers.
Tier-1 players of the clinical alarm management market account for ~40% revenue share. Vendors such as GE Healthcare and Koninklijke Philips N.V. are among the largest and most experienced in the industry and have significant regional coverage across the globe.
Clinical Alarm Management Market: Segmentation
Component
Solution
Clinical Decision Support Tool
Central Monitoring System
Mobility Solution
Clinical Alarm Reporting Software
Alarm Auditing Software
Service
Consulting
Implementation and Integration
Monitoring and Analytics
End User
Hospitals
Clinics
Ambulatory Surgical Centres
Long-term and Palliative Care Centres
Home Care
Others
Region
North America
Latin America
Western Europe
Eastern Europe
Asia Pacific
Excluding Japan

Japan
Middle East & Africa
Need specific information?