Digital Transformation in Healthcare Market By Solution (Software, Service), End User (Hospitals & Clinics, Pharma Companies, Life Science & Biotech Companies, Healthcare Insurance Providers) & Region - Forecast to 2021 - 2031
Digital Transformation in Healthcare Market - Analysis, Outlook, Growth, Trends, Forecasts
May 2021

REP-GB-708

322 pages
About the Report
Digital health has become a buzz word with increasing deployment of digital health platforms such as telehealth, mobile health, and other wireless solutions across hospitals and nursing homes so as to provide patients with real time healthcare services. Impact of digital technology across various verticals such as public, retail, banking, financial service and insurance (BFSI) and manufacturing sectors is phenomenal, but it is becoming a game changer technology in healthcare sector with increasing dependency of end users on digital health platform.
Future Market Insight's new study covers comprehensive insights about the market trends, value (US$ Bn) projections, recent developments, and dynamics in the global digital transformation in healthcare market for the forecast period of 2021-2031. The report tracks the global value of thermal printing in 10+ high-growth markets, with the regions of South Asia & Pacific, Middles East, and Latin America offering the most profitable opportunities to stakeholders. The report also analyzes the impact COVID-19 has had on the economy in general, and the market in particular.
How Historical & Future Projections for Digital Transformation in Healthcare Market Compare?
From 2016 to 2020, the digital transformation in healthcare market registered a CAGR of 10.4%. Surge in adoption of novel and advanced technologies across various applications within the healthcare industry is likely to drive the market over the coming years.
Introduction of healthcare mobile applications and incentive programs by government agencies have played a crucial role in the healthcare sector. With this trend forecast to continue through the coming years, the digital transformation in healthcare market will rise at a positive pace.
Moreover, digital healthcare is seen as a trending technology in developed economies such as Germany, the U.S., China, and so on. Overall, the global market for digital transformation in healthcare is projected to fare even better over the coming years, expanding at a remarkable CAGR of over 14% through 2031.
Is Connected Healthcare Crucial for Digital Transformation in Healthcare?
The increasing penetration of connected health technologies, along with the convergence of digital media, health technology, and mobile devices is among the major factors driving the digital transformation in healthcare market. Various digital healthcare solution providers are now focusing on offering technology-enabled care solutions to enable the easy access of data and information and to improve the quality and outcome of health and social care. Moreover, with the development of healthcare technology and increasing penetration of smart devices and wearable, the usage of connected health solutions is increasing.
Furthermore, the rising need for remote monitoring for checking the health status of patients and the increasing demand for digital messages will alert patients to adhere to their long-time course of treatment are supporting the demand for connected health, thus fueling the growth of digital transformation in healthcare market.
Government Initiatives and Increasing Per Capita Healthcare Spending Enabling Growth
Increasing per capita healthcare spending is fuelling the demand for enhanced healthcare services. Various government and healthcare organizations such as hospitals, clinics and pharmaceutical companies are increasing investments in IT infrastructure in order to better cater to customer needs. This, in turn is expected to drive demand for digital healthcare services and solutions in the near future.
Moreover, governments of countries such as Canada and the U.S. are focusing on introducing digital initiatives to promote innovation and digitization in the healthcare sector. This is primarily to encourage hospitals and clinics to adopt enhanced diagnostic tools and digital healthcare services to serve patients efficiently. These factors are likely to fuel the demand for digital healthcare solutions in the near future.
Data Processing and Cybersecurity Challenges to Restrain Growth
A major challenge in the healthcare industry is the processing and analysis of data. Part of the problem is due to the sheer amount of data that hospitals, clinics, and health professionals collect. Collecting and synchronizing data is another important challenge. With the rise of telemedicine, doctor visits are taking place across multiple channels making it harder for health professionals to update patients' health records.
Furthermore, cybersecurity is a challenge in every industry, and healthcare is no different. Organizations must remain extremely vigilant against cyber threats, which can be extremely costly. For example, a study by IBM revealed that healthcare organizations had the highest costs associated with data breaches, which were three times higher than in other industries. In healthcare, user authentication deficiencies, endpoint leakage, and excessive user permissions are the three most common vulnerabilities. Taking the appropriate measures to strengthen these areas is essential to the security of the healthcare industry.
How has COVID-19 Impacted Digital Transformation in Healthcare?
The pandemic is creating opportunities for digital healthcare solution providers as the usage of telehealth and cloud-based technologies is gaining traction. M-health technology is used for monitoring patient with mild symptoms who have tested positive for COVID-19.
During the pandemic, AI specifically played a significant role in COVID-19 diagnosis. The initial time-consuming blood tests were replaced by doctors attempting disease diagnosis using X-rays and CT scans. The virus being new and its characteristics and indications unknown, doctors were faced with high data volumes and a shortage of time.
AI helped by auto-learning from available data to make accurate predictions. Due to pandemic the demand is increased for remote patient monitoring and companies are introducing innovative solutions to remotely monitor and screen patients infected with COVID-19. Therefore, the demand for digital healthcare solution is estimated to grow in 2020 and 2021 as well.
Country-wise Analysis
What is Driving Digital Transformation in Healthcare in the U.S.?
Until 2020, digital transformation in healthcare market across the U.S. registered a Y-o-Y growth of over 6% to reach close to US$ 11.0 Bn. The market is set to further magnify at a CAGR of nearly 9% through 2031. The American Medical Association (AMA), for example, is aggressively trying to accelerate its journey to digital in order to ensure that members can get the right kind of support in their own efforts to embrace technology.
Moreover, the United States is viewed as an attractive market for digital healthcare software and services, as several companies offering the solutions have their presence in the country, in order to capture a large set of customers, hence, allowing them to achieve economies of scale. This further adds to the growth of the market in the US.
Mexico Digital Healthcare Market to Offer Lucrative Opportunities
Various areas of health technology are rapidly developing in Mexico. These include mobile apps, robots, 3D printing, telemedicine, machine learning, genome research, and drones and healthcare. In relation to the above, recent advances in digital health in Mexico have been mainly concentrated in three disease areas: ischaemic heart disease, breast cancer and diabetes.
With a current population of over 120 million people, the Mexican government and the healthcare industry are seeking new technological solutions to traditional healthcare challenges. The digitization of medical records and implementation of new hospital information systems are some of the core strategies Mexico is using to achieve improvements on a national scale.
Why is India Considered an Attractive Market for Digital Transformation in Healthcare?
India digital transformation in healthcare market is expected to grow at a noteworthy CAGR during the forecast period. Factors such as growing demand from various industries, adoption of new technologies, among others are expected to drive the digital transformation in healthcare in India. The healthcare sector as an industry is expanding rapidly in India and has not been as severely impacted by the economic slowdown as some of the other industries.
India, one of the biggest emerging markets, is currently an important destination for Foreign Direct Investment ("FDI"). Moreover, the digital health mission announced by the government is an ambitious plan to address India's public health crisis. The key components of the mission include a health ID, telemedicine, health records, and health registry, along with digi-doctor and e-pharmacy services.
Electronic Health Records (EHRs) of citizens are envisaged to be created for ensuring continuity of care and other associated benefits. In addition, Major I.T. initiatives by the Ministry of Health & Family Welfare include various mHealth initiatives for improving efficiency and efficacy of public healthcare across the country under the digital India programme. This is expected to further fuel the market demand for digital transformation in healthcare in India.
How is China Contributing towards Digital Transformation in Healthcare?
The China healthcare industry is currently ranked the second largest in the world behind the U.S. Traditionally, The healthcare sector in China is driven by relationships between patients and healthcare providers and 'face-to-face' culture in business. But the country is now leading the way in the digital world, widely adopting new technology that ranges from mobile devices to innovative digital applications and tools. This has transformed many marketplaces, certainly including health care.
Battling the pandemic has caused China to rethink its priorities within the healthcare system – pushing critical health infrastructure, digital services, and public health promotion much higher on the list than if the infectious outbreak had not occurred. Now, as China is tasked with rebuilding and reorganizing its healthcare system, the government has started to signal its priorities for the next era of its healthcare transformation.
Technological changes that are taking place in the healthcare industry in China includes key health sectors such as telemedicine and digital healthcare, medical devices, and pharmaceutical industry. Thus the Chinese healthcare industry is set to witness a tremendous growth rate throughout the forecast period.
What is Driving Digital Transformation in U.K.'s Healthcare?
Usage of digital healthcare services as studied by the UK's National Health Service (NHS) soared in 2020, according to data compiled by NHS Digital. Since the start of the coronavirus outbreak, tech services provided by NHS Digital saw unprecedented levels of usage by both patients and frontline staff, as a result of social distancing and the need to access healthcare remotely.
Healthcare and life sciences are among the biggest impact industries in the UK that use big data. In the UK, there have been a number of high profile government initiatives to spur the digital health system market. These actions led to early and considerable user penetration, with over two-thirds (68%) of general practitioners (GPs) in the UK having multifunctional health information technology capabilities and 97% having some form of more basic electronic health records (EHR).
Category-wise Insights
Electronic Health Record (EHR) Software to Witness Fastest Growth
New expansion activities, product approvals, product launches, partnerships, and acquisitions have positively impacted the market in recent years. Furthermore, there has been a significant increase in the demand for electronic health records due to the growing digitalization, which, in turn, is fueling the market growth.
Centralization of health information management is driven by a value-based model, which aims at streamlining operations, standardizing processes, reducing costs, and improving the quality of care that results in patient satisfaction. Additionally, growing focus on incorporation of healthcare information technology (IT) and digital health solutions will boost the demand of global digital transformation in healthcare market over the forthcoming years.
The Information Technology Association of Canada recommends fast adoption of digital technologies to the private and public sectors. Thus, rapid uptake of electronic health solutions will accelerate the demand for EHR over the estimation period.
Why are Hospitals & Clinics Gaining Momentum?
Digitizing patient records and moving from paper-based to Electronic Medical Records (EMRs) is now a standard practice. Hospitals are moving from unconnected, relatively immobile or room-bound equipment toward medical sensors, BioMed devices, medical wearables and even surgery robots.
With the expansion of the medical devices and applications market comes new opportunities for automation, data collection and analysis. Connected devices are intended to ease the burden on hospital staff and help them in reporting key patient observations. These technological advancements will help providers to efficiently increase the quality of care delivered to every patient.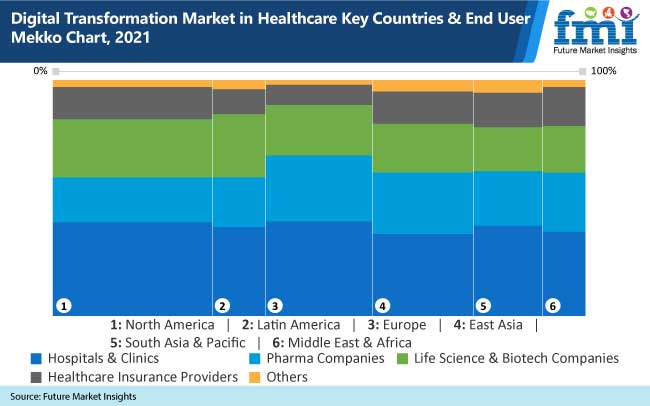 Competition Landscape
The digital transformation in healthcare market represents a fragmented competition landscape, where top players are focusing on entering into the partnerships and collaborations with local & regional manufacturers and distributors to strengthen their global footprint.
For instance, in February 2021, HCL Technologies, and Alteryx, Inc., a leader in analytic process automation (APA), announced a global strategic alliance to help companies across the globe succeed in their analytics automation and digital transformation priorities. As part of this strategic engagement, HCL has also been named an Alteryx Elite Alliance Partner.
In June 2020, Wipro Ltd., announced its collaboration with IBM Corporation to assist Wipro customers embark on a seamless and secure hybrid cloud journey. Through this alliance, Wipro will develop hybrid cloud offerings to help businesses manage, migrate, and transform mission-critical workloads and applications, with security across private or public cloud and on-premises IT environments.
Future Market Insights has profiled the following prominent digital healthcare solutions providers in its report:
CGI Group Inc.
Deloitte LLP
AT&T Inc.
PWC LLP
GE Healthcare Limited
Atos Syntel
Medtronic
Dell Inc.
Cisco Systems, Inc.
Wipro Limited
Cognizant
Microsoft Corporation
Oracle Corporation
SAP SE
Equinix, Inc.
Siemens Healthineers AG
Tech Mahindra Limited
Digital transformation in healthcare market Report Scope
Attribute

Details

Forecast Period

2021-2031

Historical Data Available for

2016-2020

Market Analysis

US$ Mn for Value

Key Regions Covered

North America, Latin America, Europe, East Asia, South Asia & Pacific, and Middle East & Africa

Key Countries Covered

U.S., India, Canada, Germany, China, Italy, France, U.K., Spain, GCC and South Africa

Key Segments Covered

Solution, End User, and Region

Key Companies Profiled

IBM Corporation
Accenture PLC
Deloitte LLP
HCL Technologies
AT&T Inc.
PWC LLP
GE Healthcare Limited
Atos Syntel
Dell Inc.
Cisco Systems, Inc.
Wipro Limited
Cognizant
Microsoft Corporation
SAP SE
Equinix, Inc.
Siemens Healthineers AG
Tech Mahindra Limited

Customization & Pricing
World's Most Profilic Intelligence Engine
Get Access To The World's Largest Market Research Database.
Sign Up Now
Key Segments Covered
Solution
Software

Electronic Health Record (EHR) Software
Connected Medical Billing
Healthcare Information System (HIS)
Healthcare CRM Software
Healthcare ERP Software
Healthcare Collaboration Tools
Telehealth Software (Remote Patient Monitoring)
Others

Service

Digital Transformation Consulting
Digital Transformation Technology Implementation & Integration
Support & Maintenance
Others
End User
Hospitals & Clinics
Pharma Companies
Life Science & Biotech Companies
Healthcare Insurance Providers
Others
Region
North America
Latin America
Europe
East Asia
South Asia & Pacific
Middle East & Africa (MEA)
Key Questions Answered in the Report
How will the digital transformation in healthcare market expand until 2031?
Future Market Insights has projected the market to register a CAGR of over 14% over the assessment period, starting from 2021 to 2031. The digital transformation of healthcare will be boosted by institutional interest in cost reduction and improvement in patient engagement.
What is driving digital transformation in healthcare?
Digital transformation in healthcare is mainly driven by increasing per capita healthcare spending, growing ageing population, increasing introduction of e-health initiative by governments, and proliferation of wearable and mobile devices.
Who are the leading providers of digital healthcare solutions?
Prominent players providing thermal printing systems and services include IBM Corporation,HCL Technologies, CGI Group Inc., AT&T Inc., GE Healthcare Limited, and Medtronic among others.
Who are the leading end users of digital healthcare solutions?
Hospitals & Clinics have emerged as the leading end users of the digital healthcare solutions. The focus on improving patient services has resulted in higher uptake of digital software and services in hospitals & clinics.
Need specific information?
Our Clients