An Incisive, In-depth Analysis on the Digital Forensics Market
This study offers a comprehensive, 360 degree analysis on the Digital Forensics market, bringing to fore insights that can help stakeholders identify the opportunities as well as challenges. It tracks the global Digital Forensics market across key regions, and offers in-depth commentary and accurate quantitative insights. The study also includes incisive competitive landscape analysis, and provides key recommendations to market players on winning imperatives and successful strategies.
Mobile device forensics to take over computer forensics in the global digital forensics market
The global digital forensics market includes various types of forensics such as computer forensics, mobile forensics, network forensics, database forensics, and forensic data analysis. Among these, the computer forensics market was seen leading the global market till 2016, as computers were used widely by digital forensics teams to collect critical evidences from digital data and identify the culprits responsible for a particular crime. While the use of computer devices remains the same in the corporate sector, the mobile devices market keeps growing given an increase in the demand for mobile phones all over the world. This has also impacted the digital forensics market, with mobile devices being widely used now to gather useful evidence from digital data.
According to Future Market Insights' analysis, mobile device forensics has taken over the market with a projected valuation of more than US$ 2,300 Mn by 2027, up from just about US$ 507 Mn in 2017. The mobile device forensics market is expected to grow at a CAGR of 16.4% during the period of study.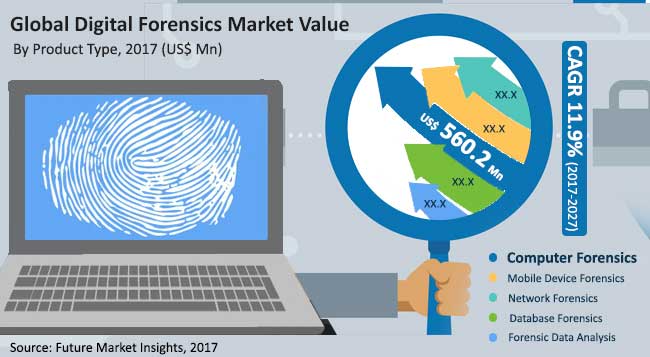 Rising digital crime and concerns about information security to widen the scope of the digital forensics market
Cyber criminals employ a combination of sophisticated technologies to be successful in their target crime missions. Cyber criminals target individuals as well as businesses and rewards achieved are much greater with security protocols being somewhat lax at the other end. Not only this, cyber criminals use multiple channels and mislead security by a series of attacks that takes off the attention of security personnel from the main crime site. Moreover, rising information security concerns by individuals and businesses are expected to increase in the digital forensics market. The information provided by people on various social media platforms has increased, which has led to a rise in concerns regarding the safety of critical and sensitive personal information.
Digital transformation is also a major driver of the market, which will eventually reform some of the business activities that will transform business processes and provide new revenue models using digital technologies, which includes information security, forensics technologies, data governance, cyber security, big data, cloud technologies, social media and mobility and IoT technologies. Manufacturing and retail industries are an early adopter of digitalisation. Digital forensics tools have been the most commonly embraced platform for tracing hacks, recovering data from damaged or erased hard drives, gathering and maintaining digital evidence and in investigation analysis. Increasing technological transformation across various industries will positively impact the growth of the digital forensics market.
The current scenario of digitisation has led to an increase in the trend of cloud based network forensics
As the cloud is a convenient and cost-effective way to store critical business data, its adoption is increasing among SMEs and large enterprises worldwide. Consequently, the demand for cloud security solutions such as cloud network forensics is also growing. As on-premise security solutions are expensive, their adoption is limited among SMEs due to budget constraints, limited resource availability, and the lack of expertise to address security problems. Cloud-based network forensic solutions scan the data traffic before it reaches the network, providing better protection and reduced bandwidth congestion. Cloud-based network forensics solutions do not require any hardware or software and can be controlled remotely, making them cost-effective for end users. These solutions also respond faster to new security threats and unauthorised access.
This new research report by Future Market Insights is your complete guide to understand the digital forensics market. The report titled 'Digital Forensics Market: Global Industry Analysis (2012-2016) and Opportunity Assessment (2017-2027)' presents an overview of the market. It is a comprehensive data analysis of all main segments of the digital forensics market across the key assessed regions and provides a 360o forecast of the digital forensics market along with pertinent insights capable of helping market investors, manufacturers, and resellers make the right business decisions. This process of studying the digital forensics market involves a team of Future Market Insights' expert analysts who have done extensive research to identify the various elements that form the core components of study as well as the several factors that are likely to impact the digital forensics market during the period of assessment. This involves estimation of market volume in Bn units and market value in US$ Mn; regional average pricing of products to arrive at the revenue estimates; and factor analysis and CAGR and Y-o-Y growth used to deduce market projections. Data reporting involves establishing qualitative and quantitative data and facts as well as market dynamics.
The segmentation of the Digital Forensics Market
By Type

By Application

By Components

By End User

By Region

Computer Forensics

Mobile Device Forensics

Network Forensics

Database Forensics

Forensic Data Analysis

Crime and Civil Investigations

Corporate Litigations

Cyber Crime

Information Security

Software

Service

Digital Investigation and Consulting

Implementation and support

Private Agencies

Government

Corporate

North America

Latin America

Western Europe

Eastern Europe

APEJ

Japan

MEA
An extensive research methodology to arrive at near accurate market estimations
Future Market Insights has carried out extensive research with the help of a proven and tested research methodology. Our report methodology involves in-depth primary research that helps in identifying top industry players, products, applications, market size etc. Key stakeholders in the global market are interviewed with the help of a special questionnaire prepared specifically for this purpose. Supporting data is also collected using primary sources (LinkedIn, Zoominfo, Salesforce, Avention, Research Gate) and secondary sources (company websites, company annual reports, white papers, financial reports, and paid publications such as Factiva, GBI, Genios, Meltwater, Morningstar, BVD). All the data gathered is thoroughly validated using the triangulation method to ensure factual accuracy and authenticity.
Reasons to invest in this report
This research report is structured in a manner that helps readers get a detailed idea about the global market scenario and the most lucrative segments. The businesses aiming to stand out in the race of leading the market will get the most help from this research report as it includes a section on competitive analysis of the market. This analysis provides a brief profile of all the top players in the industry along with their current developments as well as the future market strategies. This helps them become capable enough to plan their own counter strategies even in a situation of intense competition, and emerging as a strong player in the industry. The report provides useful information on the current market trends including the recent technological developments in the digital forensics market that will prove to be of immense benefit to companies competing in this market.
COVID -19 : Impact Analysis
Request the coronavirus impact analysis across industries and markets
Request Covid -19 Impact
CASE STUDIES
See how our work makes an impact.
At FMI, we design strategies that are adaptive, impactful, and implementable.