Digital Printing for Packaging Market – Key Research Findings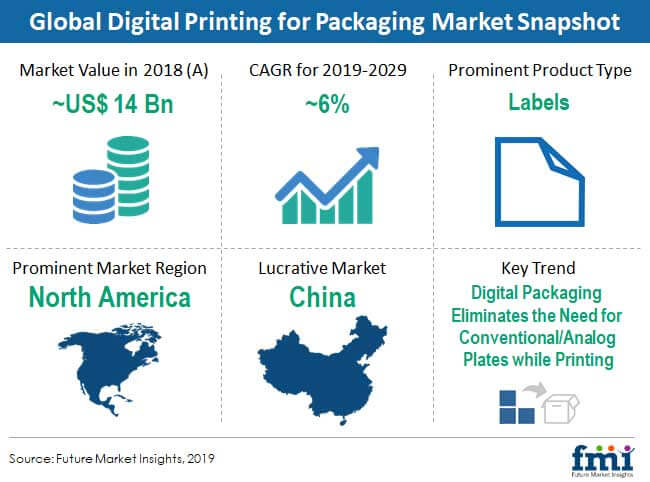 The global digital printing for packaging market size in 2019 is expected to be ~US$ 15 Bn.
The digital printing for packaging market is anticipated to witness a CAGR of ~6.0%, during 2019-2029.
North America is expected to account for a fourth of the global digital printing for packaging market in terms of revenues.
Among the various product type segments, labels are expected to be prominent in terms of sales, followed by flexible packaging.
Tier 1 manufacturers of digital printing for packaging are increasing their product offerings to cater to the extensive demand for digital printing.
The liquid toner electrographic printing segment is observed to be one of the most lucrative segments in the global digital printing for packaging market.
Digital Printing for Packaging Market Outlook
Digital printing is fast emerging as the next go-to technology attributed to the multifarious benefits it offers. It is becoming high lucrative due to greater production flexibility, fast marketing time and greater degree of personalization. On the operational side, the ability to integrate digital presses has been a welcome development.
As the COVID-19 pandemic expands its tentacles, social distancing norms across several countries are tightening. This is generating massive demand across the e-commerce sector for various consumer products. Consequently, packaging companies are experiencing heightened business prospects as retailers seek robust packaging solutions.
In order to ensure timely delivery of goods, packaging companies are relying heavily on digital printing solutions so as to reduce the packaging time. Techniques such as virtual and smart labelling are becoming highly prevalent across the global digital printing for packaging landscape.
In October 2020, HP Inc. officially announced the launch of a series of new print solutions for the healthcare industry. These solutions include a new Healthcare Edition MFP Keyboard series and touch-enabled control panels, capable of regular disinfection, reducing the risk of transmitting hospital acquired infections, especially in light of the current pandemic.
In April 2020, Kodak unveiled the SONORA NX2 Process Free Plate, with the objective of providing more efficient printing solutions to Japanese newspaper and media houses. The SONORA NX-2 Plate is purpose specific, with the intention of shaving off printing time and costs. However, the performance quality is not likely to be compromised.
Also, in October 2020, Thimm Packaging Group sold its production site in Puebla, Mexico, to the Tri-Wall group, with the objective of maintaining a consistent supply of single-use and reusable multi-material packaging to existing customers across North America. Moreover, the company intends to concentrate more on further development of their European domestic markets.
Key Factors Shaping the Global Digital Printing for Packaging Market
Digital Printing Highly Preferred for Printing Jobs of Shorter Run Lengths

Conventional printing technologies incur high initial setup cost and hence, per unit cost is high for low volume printing. Moreover, high frequency of orders of shorter run lengths require scheduling multiple jobs and frequent plate changing. Customized communications, as part of packaging strategy, have led to a downward trend in run sizes.

Manufacturers are looking for more precise ways of defining the equipment type and longer run lengths for printing. It is also observed that print service suppliers are mainly aiming to automate their printing technology. Therefore, short print jobs for packaging have permitted digital printing machinery manufacturers such as HP and Xeikon, to supply technology, which addresses the challenges in modern printing.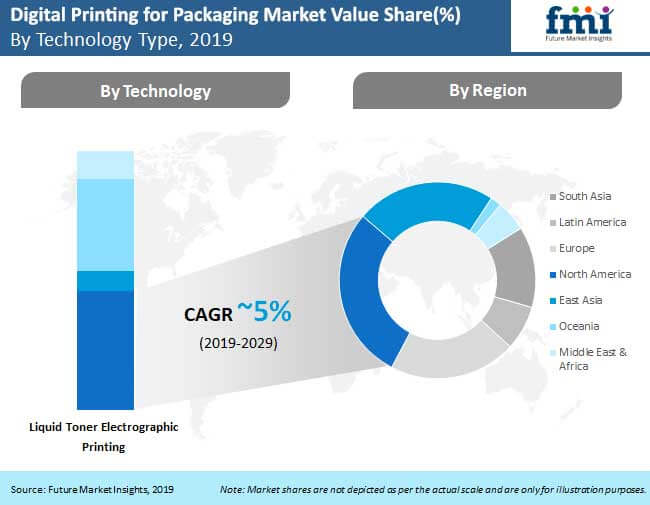 Solutions for Variable Data Printing (VDP) Requirements

Digital printing for packaging incurs lower total cost for smaller amounts of printing jobs as compared to conventional printing technologies. Thus, companies can now print smaller quantities of packaging solutions with digital printing, with variable information, allowing the possibility of an innovative approach to packaging solutions. Variable data printing has ensured business opportunities for the digital printing for packaging market through possibilities, including printing static elements onto packaging or printing a combination of static and variable elements.

In March 2017, Xeikon launched Xeikon PX3000 digital printer that allows variable data printing through multiple file formats and prints at higher speeds as compared to previous presses.
Digital Printing for Packaging Market: Structure Analysis
The global digital printing for packaging market is a fragmented market due to the extensive presence of regional players.
Some of the major players in the digital printing for packaging market include Eastman Kodak Company, Xeikon N.V., HP Inc., and Quad/Graphics, Inc.
Leading manufacturers in the digital printing for packaging market are improving their global footprint through an expansion strategy.
In February 2017, Elanders AB collaborated with HP Inc. for the expansion of its LGI site in Germany.
In May 2016, Colordruck Baiersbronn expanded its printing packaging operations by implementing the Landa S10 nanographic press in its folding carton manufacturing plant.
Digital Printing for Packaging - Enhancing Customisation and Flexibility
The packaging industry is witnessing a paradigm inclination toward digital on-package printing to enhance customisation and flexibility in high as well as low volume runs. Brands continue to uptake new possibilities, offering customers with more personalised designs that get their products to sell faster from store shelves.
Market Set to Grow 1.8X between 2019 and 2029
The digital printing for packaging continue to gain unabated popularity, as end-users look to benefit from dynamic on-package printing, to include a range of designs under same category. New opportunities are coming to the fore, as the digital printing continues to simplify design handling complexities, reduce operational time, and enhance flexibility in product customisation and order placement.
Developing Markets Present Downstream Opportunities for Stakeholders
Stakeholders in the digital printing for packaging market continue to witness measurable returns on investments in developed markets, namely, North America and Europe – collectively, these two regions account for ~50% shares. Developing markets are likely to send ripples of growth opportunities for the market, and stakeholders are leveraging these by supporting their customers with future-proof technologies.
The Broader Outlook
Leading players in the digital printing for packaging market are focused toward helping end-users explore new pathways with a 'smart' package, by catering to their need for greater traceability, smaller batch sizes, and product customisation.
How Growth Will Unfold
Digital printing for packaging will witness the largest adoption in the food industry. However, revenues from adoption in beverage, pharmaceutical and personal care & cosmetics industries will grow relatively faster through 2029.
Digital Printing for Packaging Market- Report Scope
| | |
| --- | --- |
| Attribute | Details |
| Forecast Period | 2014-2018 |
| Historical Data Available for | 2019-2029 |
| Market Analysis | US$ Mn for Value and Units for Volume |
| Key Regions Covered | North America, Latin America, Europe, Middle East & Africa, East Asia, South Asia and Oceania |
| Key Countries Covered | China, Mexico, India, U.S, Canada, Brazil, Germany, Italy, France, U.K., Spain, BENELUX, Russia, Thailand, Indonesia, Malaysia, Japan, South Korea, Australia, New Zealand, GCC, Turkey, Northern Africa and South Africa |
| Key Segments Covered | Product Type & End-Use |
| Key Companies Profiled | HP Inc., Xeikon N.V., Eastman Kodak Company, Landa Corporation Ltd., Quad/Graphics Inc., Tailored Label Products Inc., Creative Labels Inc., Reynders Label Printing, DS Smith Plc, Thimm Group, Traco Manufacturing Inc., WS Packaging Group Inc., Elanders, Colordruck Baiersbronn and Mondi Plc. |
| Report Coverage | Market Overview, Demand Analysis, Market Background, COVID-19 Impact Insights, Segmental Analysis, Regional Profiling, Market Structure Analysis and Competition Analysis |
| Customization & Pricing | |
Key Segment
By Print Technology Type
Liquid Toner Electrophotography Printing
Nano-graphic Printing
Inkjet Technology
Others (Dye tonner)
By Product Type
Labels
Flexible Packaging

Films & Wrap
Bags & Sacks
Pouches & Sachets

Corrugated Packaging
Folding Cartons
Bottles & Jars
Metal Cans
Others
By End Use
Food
Beverage
Alcoholic
Non-Alcoholic
Pharmaceutical
Personal care & cosmetics
Electronic comp.
Chemicals
Other (Automotive, etc)
Need specific information?