Home Healthcare Market Size Analysis
Chronic disorders that require prolonged treatment have replaced infections as the major cause of age-related mortalities across the world in the recent past. The World Health Organization (WHO) reckons that the geriatric population is expected to double in the coming decades. This aging demographic is accenting for the need of patient-centered healthcare services. Home healthcare is an alternative to hospital stays and is a cost-effective approach. In addition, governments in various countries are providing either partial or complete coverage for home healthcare services. By the end of forecast period, 2020-2030, the global home healthcare market will hit the US$ 4 Bn mark.
Key Research Findings
The global home healthcare market in 2019 was valued US$ 2.9 Bn.
A shift from specialists to self-care and hospitals to home care is one of the key factors driving the growth of the home healthcare market.
Infusion pumps are expected to remain the leading product segment followed by ostomy bags.
Collectively, Europe and North America, are expected to account for 3/5th of the revenue of the home healthcare market by 2030.

North America will continue to be a prominent regional market for home healthcare due to the increasing adoption of homecare services and presence of a number of key manufacturers allowing easy access to products.

Stoma care is the leading application of the home healthcare market holding over 36% market share
Key Factors Shaping the Home Healthcare Market
Shift from Specialists to Self-care, Hospitals to Home Care, and Relationship-based Homecare Model
Introduction of portable devices and easy to use products has triggered the shift from healthcare settings to homecare settings in order to increase daily dose medication among elderly people while staying at home. This is leading to more services taking place in the traditional healthcare settings. Patients with remote access to data through smart insulin pens manage their own insulin levels at home without the need of visiting a doctor, thus, managing the overall cost. This also allows physicians to remotely monitor the patients' health ensuring effective communication between caregiver and patient.
Relationship-based home care aims at healthy and independent care recipients simultaneously addressing acute needs. Relationship-based home care offers umpteen benefits to geriatrics and disabled. Such transitions from specialist to self-care, hospital to homecare and further improvement in quality of care through relationship-based homecare models are fueling the adoption of homecare services. This in turn will support the growth of home healthcare market.
That said, the coronavirus (COVID-19) pandemic is dampening the adoption of home healthcare. Countrywide lockdowns, and self-isolation regulations have put a strain on homecare service organizations. In addition, shortage of raw materials and labor has compelled manufacturers to leave their production units on temporary standstills. However, the home healthcare market is poised for a rapid recovery after the pandemic subsides.
Rising Demand for Medication Adherence
Aged patients, particularly those suffering from multiple chronic conditions usually have complex medication regimens. Majority of elderly patients, particularly those with dementia, find it difficult to follow regular treatment regimes. Non-adherence to treatment regime results in a negative impact on health further leading to discomfort that can be easily avoided. Adherence to a prescribed regimen is vital to maintaining health of such patients to manage chronic conditions and support daily activities.
Medication non-adherence costs the UK's National Health Service an estimated £500 million per year. According to the WHO, increasing the effectiveness of adherence interventions have a far greater impact on population health compared to any improvement in specific medical treatments. Homecare services offer greater medication adherence, thus are witnessing soaring adoption.
Advances in In-home Technology
Upcoming advances in medical technology for homecare setting have the potential to help foster community-based independence for patients. Homecare services provide patients with greater independence, which is among the key priorities of elderly and disabled patients. The past decade has witnessed scores of innovation in homecare for patients, resulting in reduced emergency room visits and costly nursing home stays. Among the most common advancements is the remote patient monitoring (RPM), wherein home healthcare transmit key patient information such as vital signs to their care providers. Fueled by high patient demand, home healthcare will undoubtedly continue to evolve rapidly through the forecast period. Advancements in technology will increase the adoption of homecare services thereby propelling the growth of the market for home healthcare.
Home healthcare Market Structure Analysis
Overall, the current market scenario depicts a moderately consolidated with top 8 players holding 60% market share.
Top market players are focused on geographic and portfolio expansion through organic and inorganic strategies, while many emerging players are focused on development of innovative global home healthcare technology.
Report Scope
| | |
| --- | --- |
| Report Metric | Details |
| Base year considered | 2019 |
| Actual estimates/Historical data | 2015 - 2019 |
| Forecast period | 2020 - 2030 |
| Forecast units | Value (USD) Mn |
| Segments covered | Product, Application, and Region |
| Regions covered | North America (US & Canada), Europe (UK, Germany, France, Spain, Italy, Russia, BENELUX and Rest of Europe), Latin America (Brazil, Mexico, and Rest of LA), East Asia (China, Japan and South Korea) South Asia (India, Indonesia, Malaysia, Thailand and Rest of South Asia), Oceania (Australia and New Zealand) and MEA (GCC, South Africa, Turkey, Northern Africa and Rest of MEA) |
| Key Players | Coloplast A/S, B. Braun Melsungen AG, Baxter International Inc, Hollister Incorporated, Becton Dickinson and Co, ConvaTec Group Plc, and Medtronic plc. |
| Report coverage | Revenue forecast, company share, competitive landscape, growth factors, and trends |
Home Healthcare Market Analysis by Product
Infusion pumps or systems, at present, capture a bigger pie in home healthcare market. Under the product category, infusion disposable sets would generate greater value, while syringe pumps would experience rapid CAGR. Moving ahead, market players are also allocating their capital investments to ostomy drainage bags, especially colostomy drainage bags, to sustain their revenue pool. FMI finds that, ostomy drainage bags would outpace infusion systems towards end of the projection period.
Regional Analysis of Home Healthcare Market
Home healthcare is an established trend in North America and Europe. Favorable regulatory environment supportive initiatives by the Centers for Medicare and Medicaid Services in these developed regions are propelling the adoption of home care services. In addition, presence of advanced healthcare infrastructure, and rising shift towards in-home healthcare services from nursing homes would drive the home healthcare markets in both, North America and Europe. This study underlines that, both the developed regions capture around 60% of overall market revenue.
Home Healthcare Market Trends - In-home Technology
Advances in healthcare technology for homecare settings pose the potential to help deliver community-based independence to patients – a key priority among elderly and disabled patients. Homecare for patients has undergone myriads of innovations over the past decade, resulting in reduced emergency room visits and cost-sensitive nursing home stays. Remote patient monitoring (RPM) devices are among those innovations, wherein home healthcare help care providers capture crucial patient data such as vital signs. Such tech-driven advances in home healthcare will bode well for home healthcare market.
Infusion systems remain highly preferable
Ostomy drainage bags to gain momentum
Stoma care remains primary application area
Adoption in IV medication on stable rise
How Growth will Unfold
Procuring over a third of total market stack, stoma care would be the key application area of home healthcare. Stoma specialists or nurses provide stoma care at home, warding off travel hassles, and ensuring convenience to the patients. Adoption of home healthcare in stoma care would follow a positive trajectory. Going forward, intravenous (IV) medication would also offer potential growth avenues to manufacturers of home healthcare. By 2030, the application area would represent a multibillion-dollar opportunity.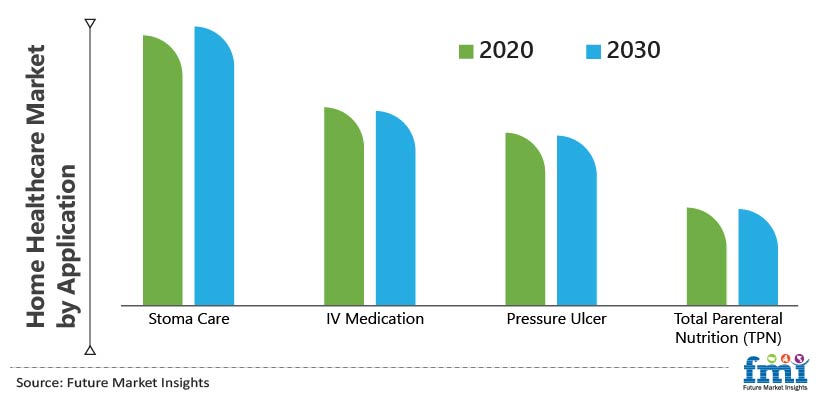 * This data is only a representation. Actual data may vary and will be available in report.
Click Here To Know How The Growth Will Unfold
Custom Market Research Services
FMI offers custom market research services that help clients to get information on their business scenario required where syndicated solutions are not enough.
Overview
A recent market study published by Future Market Insights (FMI) on the home healthcare market including global industry analysis for 2015-2019 & opportunity assessment for 2020-2030, delivers a comprehensive assessment of the most important market dynamics. After conducting a thorough research on the historical as well as current growth parameters of the market, growth prospects are obtained with maximum precision.
Home Healthcare Market Taxonomy
The global home healthcare market is segmented in detail to cover every aspect of the market and present a complete market intelligence approach to the reader.
Product
Infusion Systems

Ambulatory Infusion Pumps

Disposable Ambulatory Infusion Pumps
Reusable Ambulatory Infusion Pumps

Implantable Infusion Pumps
Infusion Disposable Sets
Syringe Pumps

PCA Syringe Pumps
Standard Syringe Pumps

Volumetric Pumps

Pressure Relief Devices

Mattress Overlays

Dynamic Mattress Overlays
Static Mattress Overlays

Mattresses

Dynamic Mattresses
Static Mattresses

Specialty Beds

Hydrocolloids Dressings

Antimicrobial Hydrocolloid Dressings
Non Antimicrobial Hydrocolloid Dressing

Hydrofibres Dressings

Antimicrobial Hydrofibre Dressings
Non Antimicrobial Hydrofibre Dressings

Hydrogels Dressings

Antimicrobial Hydrogel Dressings
Non Antimicrobial Hydrogel Dressings

Semi-Permeable Films Dressings

Antimicrobial Film Dressings
Non Antimicrobial Film Dressings

Superabsorbents Dressings

Antimicrobial Superabsorbents
Non Antimicrobial Superabsorbents

Wound Contact Layers

Antimicrobial Wound Contact Layers
Non Antimicrobial Wound Contact Layers

Gauze Sponges

Non-Woven Gauze Sponges
Woven Gauze Sponges

Gauzes

Non-Woven Gauzes
Woven Gauzes

Sponges

Non-Woven Sponges
Woven Sponges

Ostomy Drainage Bags

Colostomy Drainage Bags

One - Piece Colostomy Drainage Bags
Two - Piece Colostomy Drainage Bags

Ileostomy Drainage Bags

One - Piece Ileostomy Drainage Bags
Two - Piece Ileostomy Drainage Bags

Urostomy Drainage Bags

One - Piece Urostomy Drainage Bags
Two - Piece Urostomy Drainage Bags
Application
Total Parenteral Nutrition (TPN)
IV Medication
Pressure Ulcer
Stoma Care
Region
North America
Latin America
Europe
South Asia
East Asia
Oceania
Middle East & Africa
How the research was conducted?
Primary Research
Marketing Directors
Product Managers
Business Development Officers
Production Managers
Sales Executives
Industry Experts
Current Market Dynamics and Challenges
Yesteryear Trends
Market Characteristics
Market Performance and Growth Quadrants
Strategic Growth Initiatives
Near-term and long-Term Market Growth Prospects
Market Segment Splits and Authenticity
Opinions on Market Projections and Validity of Assumptions
Secondary Research
Associations
Factiva
Company Press Releases
Annual Reports and Investor Presentations
Research Papers
Government Websites and Publications
Primary Interview Splits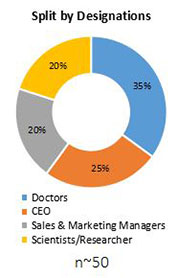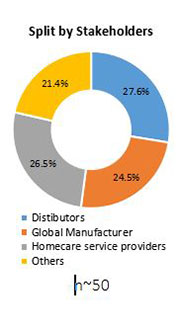 To Learn More About our Comprehensive Perspective on Home Healthcare Market,
Get in touch
COVID -19 : Impact Analysis
Request the coronavirus impact analysis across industries and markets
Request Covid -19 Impact
CASE STUDIES
See how our work makes an impact.
At FMI, we design strategies that are adaptive, impactful, and implementable.