Market Introduction
Plywood is a wood panel made of veneer sheets called plies, pasted together using an adhesive to create a panel equally strong or stronger than wood. Plywood consists of odd number of plies, which helps in keeping the grains of the adjacent layers perpendicular. The veneer layers or plies on the outside are called front and back face while the plies in between make up the core.
The most common sizes in plywood are 4' x 8', 4' x 6', 4' x 10', 3' x 6'. Throughout the forecast period, the 4' x 8' size plywood segment is anticipated to maintain its dominance in the global market as these plywood lead to minimum wood wastage in downstream applications, making them the most economical size among all sizes.
Apart from different sizes, different thicknesses are also available in plywood. Based on thickness, the market can be categorized into < 8mm thickness, 8mm – 18mm thickness, and > 18mm thickness segments. It is proven fact that a thicker plywood offers higher mechanical stability and dimensional stability. Hence, plywood with thickness greater than 18mm are generally preferred in high load bearing applications while 8mm – 18mm thick plywood are significantly consumed during the manufacturing of furniture. Globally as well as regionally, the > 18mm thickness segment is anticipated to remain dominant throughout the forecast period.
The global market is estimated to be valued at US$ 64.5 Bn by the end of 2018 and is expected to reach a market value of US$ 115.1 Bn by the end of 2028 while expanding at a CAGR of 6.0% over the forecast period. The global market is anticipated to represent incremental opportunity worth US$ 50.5 Bn between 2018 and 2028.
Global Plywood Market Is Expected to Witness Robust Growth During the Forecast Period
Plywood is used in construction & flooring applications where it is used to provide enhanced mechanical strength while substantially reducing the overall weight of the structure. Plywood also offers better insulation properties and is largely water and weather proof.
Due to the rising development of residential and office spaces and growing inclination of homeowners towards interior designing, home decor and aesthetic furnishing, the furniture industry is indirectly impacting the plywood market. Growing use of ready-made and easy-to-install furniture can be attributed to the lightweight properties of plywood and increasing disposable income of the users.
The fact that plywood consumption boosts plantation and cultivation of timberlands is expected to work in favor of the market and is expected to have an optimistic impact on the overall market. Several market players have been observed to be developing a backward integrated supply chain and are owning or possessing licenses to maintain and cultivate forest lands in an attempt to maintain cultivation as well as production of plywood and other wood-based panel products. Regulations and codes and conducts of doing business are completely in line with the Sustainable Forest Management initiatives in every region.
China Dominates the Global Plywood Market While Eastern Europe Is Estimated to Be a Slow Growing Market During the Forecast Period
From a regional perspective, the plywood market is dominated by China, in terms of production as well as consumption. Owing to rapidly developing infrastructural activities and over 35% share in total global furniture production, China is estimated to account for a larger market share in value – volume terms throughout the forecast period. Rising infrastructural investments by public and private entities around the world are widening the demand for plywood.
With international events, such as Summer Olympics 2020 in Tokyo, Japan and Expo 2020 in Dubai, The U.A.E., nearing, the plywood market is estimated to create lucrative opportunities for market participants throughout the forecast period. The structural grade and MR grade are estimated to witness high demand throughout the forecast period.
Push from public authorities in Japan in the form of regulations, such as the "The Act for Promotion of Use of Wood Products in Public Buildings, 2010", is boosting the use of plywood in the construction industry as well as building materials. Similarly, several wooden skyscrapers projects are well under way and are estimated to have a significant impact on the plywood market, thereby creating opportunities throughout the forecast period.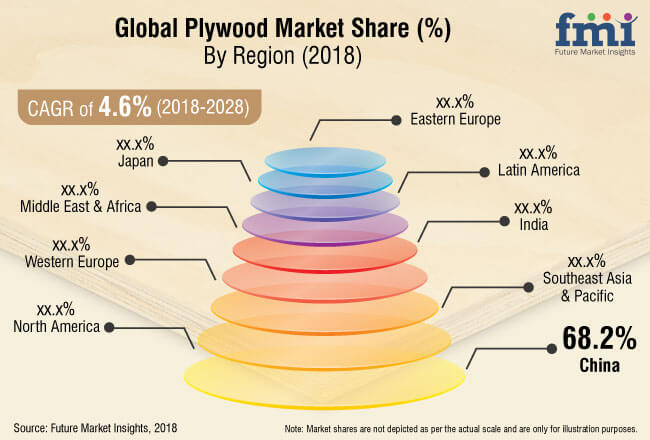 Presence of Several Small- and Medium-Scale Manufacturers in the Global Plywood Market Make the Market Moderately Fragmented
The global plywood market is fragmented due to the presence of numerous local manufacturers. SME manufacturers, especially in China, are mainly focused on exporting plywood to other parts of the world. Ease of doing business coupled with low labor cost in the country allow the manufacturers to produce large amounts of plywood. The India plywood market is estimated to be divided into an almost 70:30 proportion with unorganized players accounting for 30% share and organized players accounting for 70% share.
However, with the introduction of GST (Goods and Services Tax) and reduced tax rate on plywood, i.e. from 28% to 18%, the market is estimated to move from an unorganized state to an organized state. The prominent manufacturers in the plywood market are reported to hold a major share in their respective regions and in the global plywood market.
Significant amount of plywood is exported to Europe and North America regions but with anti-dumping duties coming into picture, the export of lower quality plywood is expected to downsize. Local and smaller players in the market are listed under the Tier 3 category of the global plywood market and the prominent manufacturers are listed under Tier 1 category. The rest of the manufacturers are listed under the Tier 2 category.
Key Trends
Supply and demand of plywood in different regions depends on various macro-economic factors affecting the market. The market players are focusing on domestic and neighboring countries to expand their geographic reach. Moreover, increased use of internet as a medium to market is gaining momentum. Social media platforms and e-commerce and search engines can play a vital role in deepening the presence of small and medium scale players in the supply chain.
Rising use of plywood as a substrate in inkjet printing applications is one of the new trends in the market. Plywood offers better weather resistance and is non-reflective when compared to aluminium and plastic sheets. An even surface of plywood is considered to be a suitable substitute in digital printing applications.
However, the cost of plywood acts is one prominent restraining factor in the market. Other wood-based panel products, such OSBs (Orient Strand Boards), MDFs (Medium Density Fiberboard) and particleboards and other composite wood products, are relatively inexpensive as compared to plywood.
Furthermore, the glue used to attach the veneer layers emits VOCs (Volatile Organic Compounds). This is compelling manufacturers to use zero – VOC emitting adhesives. Modifying manufacturing technologies increases the cost of the product and high cost is a restrain for the market.
Key Players
Some of the players reported in this study include Weyerhaeuser Company, Boise Cascade Company, Century Plyboards (India) Ltd, Greenply Industries Limited, Georgia-Pacific, LLC, Uniply Industries Ltd, JAYA TIASA HOLDINGS BERHAD, UPM-Kymmene Oyj, SUBUR TIASA HOLDINGS BERHAD and Sveza-Les LLC, among others.
Plywood Market: Segmentation
Size
4' x 8'
4' x 6'
4' x 10'
3' x 6'
Others
Thickness
Grade
MR Grade
BWR Grade
Fire Resistant Grade
BWP Grade
Structural Grade
Wood Type
Number of Ply
3 Ply
5 Ply
7 ply and More
Sales Channel
Direct Sales
Distributors/Retailers
Application
Furniture
Flooring & Construction
Automotive Interior
Packaging
Marine
Others
Region
North America
Latin America
Western Europe
Eastern Europe
Southeast Asia & Pacific
China
India
Japan
Middle East & Africa
Need specific information?