Plywood Market By Wood Type (Softwood, Hardwood), Grade (MR Grade, BWR Grade, Fire Resistant Grade, BWP Grade, Structural Grade), Sales Channel (Direct Sales, Distributors/Retailers), Application (Furniture, Flooring & Construction, Automotive Interior, Packaging, Marine) & Region – Forecast 2022 – 2028
Plywood Market - Analysis, Outlook, Growth, Trends, Forecasts
December 2021

REP-GB-3463

400 pages
Plywood Market Outlook (2022-2028)
[400 pages Report] The global plywood market size is estimated to be valued at US$ 80.5 Bn in 2022, and register a CAGR of 6.1% to reach a valuation of US$ 115 Bn by 2028.
| | |
| --- | --- |
| Plywood Market Size (2022) | US$ 80.5 Bn |
| Sales Forecast for Plywood (2028) | US$ 115 Bn |
| Global Market Growth Rate (2022 to 2028) | 6.1% CAGR |
| Market Share of Top 5 Plywood Providers | 55% |
Softwood plywood is expected to hold a significant share in the global plywood market across the assessment period of 2022 to 2028.
Plywood Consumption Analysis (2013-2021) Vs Market Outlook (2022-2028)
The global plywood market experienced a positive expansion trajectory from 2013-2021, registering a CAGR of 6.7%.
Plywood is a wood panel made of veneer sheets called plies, pasted together using an adhesive to create a panel equally strong or stronger than wood.
Plywood consists of odd number of plies, which helps in keeping the grains of the adjacent layers perpendicular. The veneer layers or plies on the outside are called front and back face while the plies in between make up the core.
Plywood sheets are used in construction & flooring applications where it is used to provide enhanced mechanical strength while substantially reducing the overall weight of the structure. Plywood board offers better insulation properties and is largely water and weather proof.
Due to the rising development of residential and office spaces and growing inclination of homeowners towards interior designing, home decor and aesthetic furnishing, the furniture industry is indirectly impacting plywood sales growth.
Growing use of ready-made and easy-to-install furniture can be attributed to the lightweight properties of plywood sheets and increasing disposable income of the users.
The fact that plywood consumption boosts plantation and cultivation of timberlands is expected to work in favor of the market and is expected to have an optimistic impact on the sales of plywood boards.
Plywood dealers have been observed to be developing a backward integrated supply chain and are owning or possessing licenses to maintain and cultivate forest lands in an attempt to maintain cultivation as well as plywood manufacturing and other wood-based panel products.
A CAGR of 6.1% is projected for the plywood market from 2022 to 2028.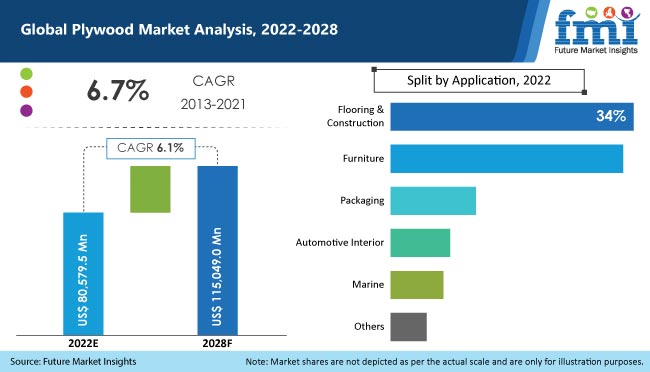 Why is Asia Pacific a Prominent Regional Market for Plywood?
Asia Pacific with the highest market share will largely contribute to the growth of plywood revenue across the assessment period of 2022 to 2028. Expansion of the plywood market in Asia Pacific is being fueled by rising demand for softwood plywood in construction projects.
Rising infrastructure development, rapid industrialization, and a huge proportion of furniture manufacture are the factors contributing to the growth of the market in the region.
Huge construction sector growth, the existence of key plywood dealers, rising indigenous plywood manufacturing demand, and increase in disposable income among the prosperous and middle classes are all driving the plywood market growth.
Country-wise Analysis
How Will the U.S. Create Growth Opportunities for Plywood Suppliers?
Growing plywood use in the building industry, as well as increased investment by private and public firms to develop commercial complexes, are all contributing to the growth of the plywood market in the U.S.
What is the Plywood Market Outlook for China?
The market in China holds a major value share in the global market and is likely to maintain its dominance over the forecast period.
The plywood market is dominated by China, in terms of production as well as consumption. Owing to rapidly developing infrastructural activities China is estimated to account for a larger market share in value-volume terms throughout the forecast period.
Rising infrastructural investments by public and private entities around the world are widening the demand for plywood.
Structural grade plywood and MR grade plywood are estimated to witness high demand throughout the forecast period.
Similarly, several wooden skyscrapers projects are well under way and are estimated to have a significant impact on the plywood market, thereby creating opportunities throughout the forecast period.
Category-wise Insights
Which Plywood Type is Set Exhibit High Demand in the Market?
The worldwide plywood market is divided into two types of wood: softwood and hardwood. Because of its better qualities, softwood plywood will dominate the market over the forecast period.
Softwood plywood sheets are made to be installed on the outside of a structure. Because softwood plywood is lighter and more malleable, it is regarded to be simpler to work with.
Softwood plywood comes in a variety of grades, widths, and thicknesses, depending on how it will be used; nevertheless, the finest grades are occasionally implemented for aesthetic reasons such as woodwork and cabinet construction.
Softwood plywood is utilized in a variety of applications, such as skateboard ramps and work tables, in addition to home construction.
Which Application of Plywood Has the Most Potential?
The flooring & construction application segment is expected to account for over 34.3% of the global market share by 2022.
Global infrastructural development has reached newer heights in the last few years, with massive constructions in both residential and commercial sectors across the world.
This has led to impressive growth of the global flooring and construction industry and as a consequence positively impacted revenues of ancillary industries. Plywood is an inherent component of the construction industry being widely used in manufacturing readymade and customized furniture.
Global construction projects focusing on wooden skyscrapers such as the Oakwood Timber Tower are also expected to positively impact demand for plywood over the coming years.
Wood and wood based products such as plywood are eco-friendly in nature, encouraging the plantation of trees to meet the rising demand. Plywood and other ancillary wood products contribute to environmental protection. This is another factor acting in favor of the plywood market.
Growth in global consumption of plywood is attributable to the continuous demand from end use industries, especially the flooring and construction industry.
Impact of COVID-19 Crisis on Plywood Demand
Almost every business has been affected by the COVID-19, including the plywood industry. Due to disruptions in supply chains as a result of trade restrictions and a drop in demand as a result of government-imposed lockdowns around the world, the pandemic has had a significant impact on the plywood goods manufacturing business.
Industrial activity has been halted since the start of the containment in March 2020. About 90% of output in panel factories, furniture, carpentry, and industrial joinery has ceased.
Only repair and maintenance activities are continuing in the public works and building departments. To ensure that construction sites can continue, a guide to precautionary measures is being drafted.
On the other hand, the plywood market is expected to recover from the loss. The increase is mostly due to enterprises reorganizing operations and recuperating from the effects of the coronavirus.
Competitive Landscape
Plywood providers are focusing on domestic and neighboring countries to expand their geographic reach. Moreover, increased use of internet as a medium to market is gaining momentum. Social media platforms and e-commerce and search engines can play a vital role in deepening the presence of small and medium scale players in the supply chain.
Massive growth of the global construction industry has resulted in the pumping in of huge infrastructure investments by both private sector and public sector enterprises. This is likely to broaden the horizon for regional plywood manufacturers with endless possibilities for revenue growth.
Plywood Industry Report Scope
Attribute

Details

Forecast Period

2022-2028

Historical Data Available for

2013-2021

Market Analysis

Value in US$ Mn

Key Regions Covered

North America
Latin America
Europe
East Asia
South Asia & Pacific
Middle East & Africa (MEA)

Key Countries Covered

U.S.
Canada
Mexico
Brazil
Mexico
Argentina
Germany
Italy
France
U.K
Nordic
Spain
Japan
China
India
Malaysia
Thailand
Australia
GCC Countries
South Africa
Turkey

Key Market Segments Covered

Size
Thickness
Grade
Wood Type
Number of Ply
Sales Channel
Application
Region

Key Companies Profiled

Weyerhaeuser Company
Boise Cascade Company
Greenply Industries Limited
Georgia-Pacific, LLC
JAYA TIASA HOLDINGS BERHAD
UPM-Kymmene Oyj
SUBUR TIASA HOLDINGS BERHAD

Pricing

Available upon Request
World's Most Profilic Intelligence Engine
Get Access To The World's Largest Market Research Database.
Sign Up Now
Key Segments Covered in Plywood Industry Research
By Size :
4' x 8' Plywood
4' x 6' Plywood
4' x 10' Plywood
3' x 6' Plywood
Others
By Thickness :
< 8mm Plywood
8mm – 18mm Plywood
> 18mm Plywood
By Grade :
MR Grade Plywood
BWR Grade Plywood
Fire Resistant Grade Plywood
BWP Grade Plywood
Structural Grade Plywood
By Wood Type :
By Number of Ply :
3 Ply
5 Ply
7 ply and More
By Sales Channel :
Direct Sales
Distributors/Retailers
By Application :
Plywood for Furniture
Plywood for Flooring & Construction
Plywood for Automotive Interiors
Plywood for Packaging
Plywood for Marine Use
Others
By Region :
North America Plywood Market
Latin America Plywood Market
Europe Plywood Market
East Asia Plywood Market
South Asia & Pacific Plywood Market
Middle East & Africa (MEA) Plywood Market
Key Questions Answered in the Report
At what CAGR is the global plywood market projected to rise over the forecast period (2022-2028)?
The global plywood market is projected to rise at approximately 6.1% CAGR over the assessment period (2022-2028).
What are the major tailwinds pushing the growth of the global plywood market?
Increasing disposable income, changing consumer preferences, and expanding construction sector are pushing the growth of the global plywood market.
Which is the largest application segment in the global plywood market?
Flooring and construction accounts for 34.3% share in the global plywood market.
How much is the global market for plywood set to be worth by 2028?
Valuation of the global plywood market is estimated to increase to US$ 115 Bn by the end of 2028.
Who are the top plywood manufacturers in the world?
Weyerhaeuser Company, Boise Cascade Company, Greenply Industries Limited, Georgia-Pacific, LLC, and Uniply Industries Ltd are the top plywood suppliers.
Need specific information?
Our Clients