Propanol Market By Type (n-Propanol, Isopropanol), Application (Solvents, Chemical Intermediates, Pharmaceuticals) & Region - Forecast to 2019- 2029
Propanol Market - Analysis, Outlook, Growth, Trends, Forecasts
January 2020

REP-GB-7742

300 pages
East Asia – Ground Zero for Propanol Market
[300 pages Report] The propanol market unveils huge potential in East Asia, which accounts for around a third of global demand. China and Japan are emerging as the epicenter of both, production and end-use consumption of propanol.
With burgeoning chemical and pharmaceutical industries in these countries, Propanol market players are viewing East Asia from both, manufacturing and target market perspectives. While the markets in North America and Europe also contribute decently to global revenue, the former will outpace the latter over the next few years in terms of value.
Isopropanol Holds Over 90% Share
Isopropanol continues to account for a voluminous share of Propanol Market revenue as compared to n-propanol. By 2025, isopropanol worth around US$ 3 Bn will be sold globally, which is why market players are significantly focused on this chemical.
However, the sustainability trend is translating into rising demand for low volatile chemical compound (VOC) emitting chemicals, especially in food processing and pharmaceutical applications. This is paving the way for n-propanol, which will witness a slight increase in demand in the near future.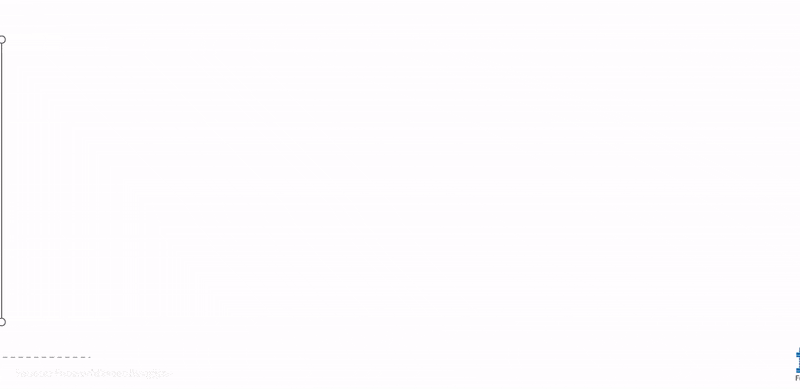 Acetone-based Isopropanol – A Possible Breakthrough
Increased preference for light-feed petrochemicals in developed regional propanol market, dearth of propylene supply, and subsequent price hike are likely to impact the production of isopropanol from propylene feedstock. Such volatility in propylene prices, is, therefore, influencing isopropanol manufacturers to embrace acetone-based isopropanol production approaches. As the method delivers pharma- and electronic-grade isopropanol, production will be beneficial for the growth of the propanol market.
How Growth will Unfold
In 2019, propanol worth US$ 1.3 Bn was used as a direct solvent in paints & coatings, and inks, or to produce other solvents such as lacquer formulations and window cleaning agents.
Owing to its high miscibility and low toxicity attributes, the adoption of propanol as a direct solvent across various industries - automotive and construction – will significantly contribute to stakeholders' bottom lines. Manufacturers are also focusing on capitalizing on other application areas such as pharmaceuticals and household & personal care products.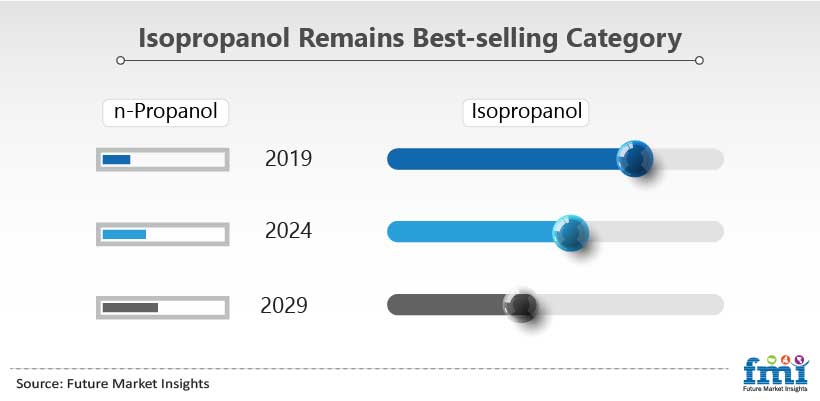 Frequently Asked Questions About Global Propanol Market
How will the propanol market fare in the future?
The propanol market is projected to register stable growth over the coming years. Rising environmental concerns over VOC-emitting chemicals could slightly decrease isopropanol sales, benefitting n-propanol during the projected timeline of the market.
Will increasing prices of petroleum feedstock affect the future trajectory of the propanol market?
Yes, volatility in petroleum feedstock prices could adversely impact propanol market growth. Propylene is the key petroleum feedstock that is used for propanol production. However, to achieve growth in the future, manufacturers are inclined towards acetone-based propanol production.
Which application area holds potential growth opportunities for market players?
Solvent application is continuously dominating the propanol market . Growing application in pharmaceuticals and household & personal care products is likely to surge the demand for propanol in the near future.
What is the degree of competition in the propanol market?
The global propanol market is moderately consolidated, as limited number of regional and local players operate in the landscape. Some players such as ExxonMobil Corporation, Royal Dutch Shell Plc, The Dow Chemical Company, and Sasol are estimated to account for over 40% of the global market
Which region will lead the global sales of propanol?
Asia Pacific remains the vanguard of the propanol market, with the emergence of China and India as two of the world's largest chemical markets. China is continuously working on becoming self-sufficient in propanol to reduce imports from overseas.
World's Most Profilic Intelligence Engine
Get Access To The World's Largest Market Research Database.
Sign Up Now
Propanol Market Taxonomy
The global propanol market is segmented in detail to cover every aspect of the market and present a complete market intelligence approach to the reader.
By Type
By Application
Solvents
Chemical Intermediates
Pharmaceuticals
Household and Personal Care Products
Others
By Region
North America
Latin America
Europe
East Asia
South Asia
Oceania
Middle East & Africa
Need specific information?
Our Clients