Propanol Market Snapshot
[286] Future Market Insights (FMI) has estimated the market of propanol to witness a year over year growth of 3.2% in 2022 reaching a value of about US$ 3,099.4 Mn by the end of 2022. The global business is projected to witness a growth rate of 3.3% over the forecast period of 2022 and 2029.
| | |
| --- | --- |
| Attribute | Details |
| Propanol Market Value (2021A) | US$ 3,002.8 Million |
| Propanol Market Demand (2022E) | US$ 3,099.4 Million |
| Projected Propanol Market (2029F) | US$ 3,878.6 Million |
| Value CAGR (2022-2029) | 3.3% |
| Collective Value Share: Top 3 Countries (2022E) | 45.9% |
Growing demand for propanol as a direct solvent, chemical intermediate, cleaner as well as raw material for derivatives in various end-use industries such as paints and coatings, household cleaners, and personal care and cosmetics products is anticipated to bolster the consumption rate in the coming years. Considering this, FMI has projected the global Propanol sales to reach a value of US$ 3,878.6 Million by 2029 end.
Don't pay for what you don't need
Customize your report by selecting specific countries or regions and save 30%!
How The Market Progressed Till June 2022?
| | |
| --- | --- |
| Market Statistics | Details |
| H1,2021 (A) | 3.2% |
| H1,2022 Projected (P) | 3.0% |
| H1,2022 Outlook (O) | 3.1% |
| BPS Change : H1,2022 (O) - H1,2022 (P) | (+) 10 ↑ |
| BPS Change : H1,2022 (O) - H1,2021 (A) | (-) 10 ↓ |
Future Market Insights predict a comparison and insightful analysis of the dynamics of propanol market along with industrial developments influencing the growth of the market. Some driving factors for the propanol market are the growing demand for propanol as a direct solvent, chemical intermediate, cleaner as well as material for derivatives in various end-use industries.
In addition to this, the rising use of propanol in paints and pharmaceutical industry is anticipated to boost the consumption.
The market growth has been subjected to an array of industrial and macro-economic trends including industrialization, chemical industry development, pharmaceutical industry, increase in FDI in the manufacturing sector and others.
According to FMI analysis, propanol demand is estimated to grow with CAGR 3.1% during first half 2022 and the market is expected to witness a spike of 10 BPS as compare to the earlier growth projections.
The growth trends of the market to vary significantly across the regions, with higher growth prospects in India and China, where significantly growing industrial sector to bolster the sales outlook. Growing demand for solvents in Chemical and pharmaceutical industry to remain key growing factors for the market.
Despite the positive prospects of the market, demand to likely witness certain challenges in the coming years, such as, switching towards other alternatives instead of propanol. In addition to this, stringent norms on volatile organic compound emission is also one of the key reason for the decline of the market.
2014-2021 Propanol Market Outlook Compared To 2022-2029 Forecast
Sales of propanol increased at 2.5% CAGR, between the period of 2014 and 2021, owing to moderate demand outlook from the end use sectors such as pharmaceuticals and chemical intermediate.
A decrease in the demand for n-propanol from certain end users during the pandemic crisis has impacted the overall growth of the market, although in upcoming years the growth is expected to bounce back to its original pace based on the recovery of the economic conditions. However, substantial demand for sanitizers has boosted the market for isopropyl alcohol.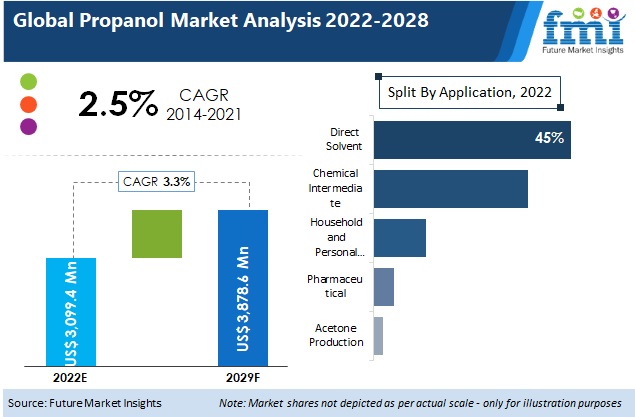 The key driver of the market is the rising use of propanol in paints and resin, pharmaceuticals, personal care products, de-icers, cosmetics, inks, food, and adhesives. Most end users are shifting their focus from isopropanol to n-propanol.
Considering the new law regarding the utilisation of low volatile chemical compounds, n-propanol has capitalised on a modest increase in demand in food processing and pharmaceutical applications. An increase in the demand for sanitizer all over the globe has bolstered the growth outlook for iso-propanol.
How Will Growing Demand Of Propanol From Pharmaceuticals Industry Impact Sales Of Propanol?
Isopropanol is an essential raw material for rubbing alcohol, hand sanitizers, and disinfecting pads. It also serves as a disinfectant, pain reliever, and skin soother.
Hence, worldwide, pharmaceutical manufacturers are widely consuming pharmaceutical grade isopropanol for the production of various pharmaceutical products that contain around 60–67% isopropanol in water. Moreover, in the research and development activities of pharmaceutical laboratories, isopropanol is utilised in the process of DNA extraction.
Moreover, in the recent past, the global pharmaceutical industry has registered significant growth owing to hefty investments in research and development activities to develop innovative solutions and pharmaceutical products that meet consumer demand. In the foreseeable future, the same trend is anticipated in the pharmaceutical industry, which in turn is expected to bolster demand for propanol.
Propanol is less toxic and volatile than methanol, so it has some interesting properties as a fuel, although it is rare to consider it a fuel. Biopropanol is an n-propanol that is produced from biomass. Biopropanol has become more feasible than biobutanol. This factor is expected to boost the propanol market's growth.
Which Applications Are Propelling The Propanol Market Growth?
Prominent end-use industries for propanol are paints, coatings and adhesives, cleaners, printing inks, and cosmetics. Of all these end-use applications, the paint and printing ink sectors are thriving in the Asia-Pacific region, which holds a prominent share in the global propanol market. In particular, the demand for water-based inks is expected to increase at a very high growth rate.
Additionally, propanol is a major ingredient in "gas dryer" fuel additives in the automotive industry. Hence, the substantial growth of the automotive industry is expected to drive propanol market growth. Increasing industrial, automotive, and chemical activities across the globe are expected to drive the market for propanol over the forecast period.
Propanol possesses the ideal chemical and physical properties for the formation of a supersaturated layer of vapour by condensing the radiation particles, ultimately leading to its small-scale use in cloud chambers.
What Was The Impact Of COVID-19 Crisis On Global Propanol Market?
The COVID-19 outbreak has hampered the global business of propanol. A rise in cases in the first quarter of 2020 led to nation-wide lockdowns in numerous countries. The propanol market was contracted due to the surge in COVID-19 cases. Many production sites were forced to shut down and curtail demand from end-use industries.
Although the propanol market is expected to stride up with a captivating hold owing to the rising demand from end-use industries. Demand for n-propanol-based sanitizers will not remain significant in the global market as these products are not being authorised by the FDA. Iso propanol, on the other hand, experienced significant growth during the pandemic crisis due to increased demand for hand sanitizer.
Get the data you need at a Fraction of the cost
Personalize your report by choosing insights you need
and save 40%!
Country-Wise Insights
What is the Demand Outlook for Propanol in the U.S.?
According to FMI, the United States is expected to account for a substantial share of the global market. U.S. is projected to generate an incremental $ opportunity worth US$ 171.4 Mn between 2022 and 2029 in the market of propyl alcohol. Increase in the demand for sanitization had also boosted the market of iso-propanol in the country.
The sales revenue of propanol in the U.S. is expected to expand at a considerable growth rate during the forecast period owing to the increasing demand for the product in various end-use industries, such as solvents, chemicals, intermediates, household and personal care products, pharmaceuticals, and acetone production.
Why China is witnessing a significant growth in the Propanol Consumption?
China is projected to create a valuation of US$ 769.9 Mn by the end of 2029. Significant development in the end use industrial sector including chemical intermediates, solvent, pharmaceutical, household and personal care products and acetone production many others have remain key driving factors.
An increase in the production of household and personal care products as well as pharmaceutical products in the country has also benefited the business. Significant demand for propanol has also been met by the presence of several market participants in the country.
A key exporter all over the globe, China is also expected to remain a key exporter owing to its surplus production rate. Strong development in the chemical industries in the country has also benefited the consumption rate.
Category-Wise Insights
How Iso-Propanol growth will derive demand from various application segments?
The iso-propanol segment is expected to grow at a prominent value of 3.3% CAGR, over the forecast period of 2022 to 2029. Growing utilization of iso-propanol as a direct solvent across various applications such as paints and coatings, household cleaners, and personal care and cosmetics products is expected to pave the way for robust growth during the foreseen trajectory of the market.
Growing demand for propanol in pharmaceutical and cosmetic industries, especially in emerging economies such as China, India, Mexico, etc., is expected to drive demand. Demand for iso-propanol has witnessed a substantial increase in the consumption rate as it is a highly preferred chemical for hand sanitizing.
Moreover, in the pharmaceutical industry, propanol demand has registered exponential growth in the past few years. Propanol is used as a processing solvent in drug manufacturing, in medical wipes, and in some medicinal formulations. In the coming era, rising investment in R & D and increasing healthcare expenditure are projected to grow significantly, which, in turn, is positively swaying propanol consumption.
Will Solvent remain a prominent application segment for Propanol?
As propanol is completely miscible in most solvents, including water, it is used as a solvent for several compounds such as acrylic resins, epoxy resins, alkaloids, and some essential oils. The propanol solvent segment is forecast to reach a market value of US$ 1,722.2 Mn by 2029.
Propanol is used in various end-use industries as a solvent, like the paints and coatings industry, which accounts for a fair share of the solvent consumption, whereas adhesives, printing inks, industrial cleaners, and chemical processing are other contributors.
Propanol is used as a direct solvent for solvent-based coatings, as a coalescent for industrial water-based coatings, and as a coupling agent for architectural water-borne coatings. Moreover, some manufacturers use propanol as a chemical intermediate and as a solvent in the production of agricultural pesticides.
Furthermore, as compared to ethanol, propanol evaporates quickly, leaving zero oil traces. Among other solvent alternatives, propanol is comparatively less toxic, which is an important factor contributing to its adoption rate across the globe.
Competitive Landscape
The global propanol industry is expected to be consolidated and the well-known market participants are engaged in widening their market share and trying to maintain their superiority in the global business.
Key manufacturers are focusing on forward amalgamation through various joint ventures, collaborations, and strategic agreements to enhance their presence in the global market. Major players are also focusing on bringing in small and medium-sized manufacturers to boost their market footprint.
For Instance,
In January 2019, Deepak Fertilisers and Petroleum Corporation Limited announced a plan to invest around US$ 64 Million to expand production capacity of isopropyl alcohol (IPA) and Di-isopropyl ether (DIPE) at its plant in Taloja, Mumbai.
The latest study conducted by Future Market Insights covers all the strategies and success factors of key manufacturers of the market.
*The list is not exhaustive, and only for representational purposes. Full competitive intelligence with SWOT analysis is available in the report.
Scope Of Report
Attribute
Details
Forecast Period
2022 to 2029
Historical Data Available for
2014 to 2021
Market Analysis
USD Million for Value and Kilo Tons for Volume
Key Regions Covered
North America, Latin America, Europe, East Asia, South Asia, Middle East & Africa, & Oceania
Key Countries Covered
US, Canada, Germany, UK, France, Italy, Spain, Russia, BENELUX, China, Japan, India, ASEAN, Oceania, South Korea, Brazil, Mexico, GCC Countries, South Africa, and Turkey,
Key Segments Covered
Types, Application and Region
Key Companies Profiled

ExxonMobil Corporation
Sasol Limited
Royal Dutch Shell Plc
Mitsui Chemicals, Inc.
LG Chemicals Limited
Zhejiang Xinhua Chemical Co Ltd.
Oxea GmbH
ISU Chemical Co Ltd.
LCY Chemical Corp.
Deepak Fertilizers and Petroleum Corporation Limited
CNPC Northeast Refining & Chemical Engineering Company Limited (PetroChina Co. Ltd.)

Report Coverage
Market Forecast, Company Share Analysis, Competition Intelligence, DROT Analysis, Market Dynamics and Challenges, and Strategic Growth Initiatives
Customization & Pricing
Available upon Request
Propanol Market By Category
By Types :
By Application :
Solvent
Chemical Intermediate
Pharmaceutical
Household and Personal Care Products
Others
By Region :
North America
Latin America
Europe
East Asia
South Asia
Oceania
Middle East & Africa
Frequently Asked Questions
The Propanol global business is expected to create a valuation of US$ 3,099.4 Mn in 2022.
The Propanol has been estimated to exhibit a growth rate of 3.3% between the period of 2022 and 2029 on value basis.
Solvent segment is expected to significantly contribute to the growth of global market of propanol.
The Dow Chemical Company, ExxonMobil Corporation, Royal Dutch Shell Plc, Sasol Limited, BASF SE, Deepak Fertilizers and Petroleum Corporation Limited and many others are key market players in the global propanol market.
China is anticipated to reach a value of US$ 769.9 Mn by the end of 2029.