Spirometer Market Outlook & Key Findings
The global spirometer market is expected to witness a CAGR of over 9.1% between 2020 and 2030
North America and Europe collectively hold more than 50% of market share and this scenario is expected to continue in the forecast period
Covid-19 has prompted players to come up with safety measures in the usage of spirometers
Use of spirometers in treating cardiovascular ailments and respiratory disorders continues to be a key growth driver
Spirometer Market Snapshot
The spirometer market is witnessing an upswing due to growing incidences of COPD (chronic obtrusive pulmonary diseases), rise in air pollution, and technological enhancements with respect to monitoring solutions.
Spirometer manufacturers are coming up with innovative designs and features for simplifying lung volume testing procedures for medical personnel as well as patients.
As per the US Department of Health, people suffering from COPD increased by 27% in the last decade. COPD is amongst the second most common lung disorders across the globe. What concerns more is the fact that more than half of the people inflicted with COPD go undiagnosed.
The concerns mentioned above call for peak flow meters and spirometers. The European Respiratory Society and American Thoracic Society are showing proactive approach with regards to standardizing spirometry measurements.
However, the future belongs to desktop spirometers, as they use computer-based spirometry, thereby providing integrated information for improvised clinical decisions. Automatic result interpretation could also be provided.
Spirometers measure flow, volume, and peak volume. Peak flow measurement would be the most sought-after technology in future as it measures multiple parameters along with a pulse oximeter. The ailments coming under spirometers' perusal include pulmonary fibrosis, cystic fibrosis, COPD, and asthma.
Asthma stands second in terms of usage (with COPD holding the first position as stated above). The European Respiratory Society states that more than 230 Mn people around the world are suffering from asthma. The total expenditure for asthma management comes to US$ 20 Bn.
Moreover, loss of productivity owing to improper monetary management of asthma could equal US$ 10 Bn every single year. GINA (Global Initiative on Asthma) guidelines recommend using spirometry on frequent basis to render effective asthma management.
These days, demand for compact spirometers for home settings is growing at a rapid pace. Homecare for the patients having respiratory ailments does improve their chances of survival, reduces the morbidity, and adds value to the overall quality of life. It has been observed that COPD- and asthma-inflicted patients show better results with home care.
The factors and trends mentioned above are expected to boost the spirometer market in the forecast period (2020 to 2030).
New Strides in Spirometer Market
The spirometer market is witnessing novel strides on the count of addition of accessories.
For instance – In Aug 2020, Queset Medical, Inc. came up with a series of PFT Anti-Viral filters complying with the latest guideline regarding spirometry. These filters follow the guidelines given by the Canadian Respiratory Society, European Respiratory Society, and the American Thoracic Society. Plus, they are approved by the US FDA regarding provision of 99.9% cross contamination efficiency.
Recently, NovaAir tabled its novel product – a wireless, home-use spirometer that could be used hassle-free with connection to tablets/smartphones through Bluetooth. Henry Schein also came up with Henry Schein EasyOne Air spirometer to enable lung function testing. It claims to potentially improve diagnosis and recognition of COPD.
Covid-19 Impact
The outbreak of Covid-19 has resulted in an increase in the demand for spirometers, especially after filters being provided by the leading players. Between Apr and Jun 2020, the demand was sinusoidal, as people were pretty sceptical regarding opting for any other course of treatment amidst the pandemic. Later, the advent of filters (as mentioned above) made things simpler. The scenario is expected to continue going forward as well.
Spirometer Market: Region-wise Analysis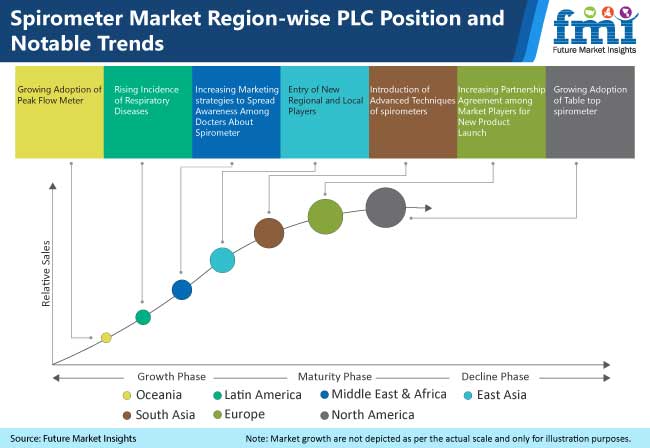 North America leads the spirometer market due to presence of huge patient base having respiratory disorders. Also, end-users across North America are quick to adopt new technology.
The WHO states that close to 12 Mn people are infected with COPD in the US. The number is 25 Mn for asthma. Europe comes in second with inorganic expansion being on the agenda.
The players emerging in Europe include Geratherm, Medset Medizintechnik GmbH, Medical International Research, Cosmed srl, Sibelmed, Ganshorn Medizin Electronic – to name a few.
Asia-Pacific is expected to grow at the fastest pace in the forecast period. This could be attributed to entry of local players and also key players shifting their base herein.
Latin America is also catching up due to rising incidences of respiratory diseases. Countries like Australia are witnessing an increasing adoption of the peak flow meter.
Spirometer Market Competitive Analysis
The spirometer market is home to a plethora of players who emphasize on design as well as development of spirometers. The main factor influencing the market is the same players tabling a broad range of solutions that serve a bigger segment of people for having a better presence all through the market.
For instance – Recently Schiller launched DIAGNOSTIC STATION DS20 that has PWA, spirometry, and ECG amalgamated. Retirement homes, physicians' offices, clinics, hospitals – all could use the device effortlessly. It could address non-critical patients the best.
The other players in the spirometer market include:
nSpire Health Inc.
Vitalograph Ltd.
Ndd Medical Technologies Inc.
Recorders & Medicare Systems Pvt Ltd.
Welch Allyn Inc.
Chest M.I. Inc.
Minato Medical Science Co Ltd.
Spirometer Market: The Way Forward
The global spirometer market is expected to witness a robust CAGR (~9.1%) between 2020 and 2030. The growing incidences of cardiovascular diseases and respiratory disorders are the major driving factors. Covid-19 has also helped the market sail through after initial hiccups, as manufacturers are coming up with safety measures (say – filters)
More number of market players need to look for safety measures while providing spirometers. These measures will drive more end-users and also compel the players to bring out multi-dimensional spirometers.
Spirometer Market: Segmentation
The global Spirometer Market is segmented in detail to cover every aspect of the market and present a complete market intelligence approach to the reader.
Product Type
device (hand held, desktop, table-top)
consumables and accessories
software
Application
COPD
Asthma
cystic fibrosis
pulmonary fibrosis
Technology
flow sensor
peak flow meter
volume measurement
End-Use
hospital
clinical laboratory
homecare
Geography
North America
Latin America
Europe
East Asia
South Asia
Oceania
MEA
Need specific information?
Talk Show:
The Rise of Intelligent Packaging
Personalized, Connected and Sustainable
November 18, 2021
11:00-11:45 AM PST (USA & Canada)
This is a LIVE session